AC Milan vs. Napoli: Player Ratings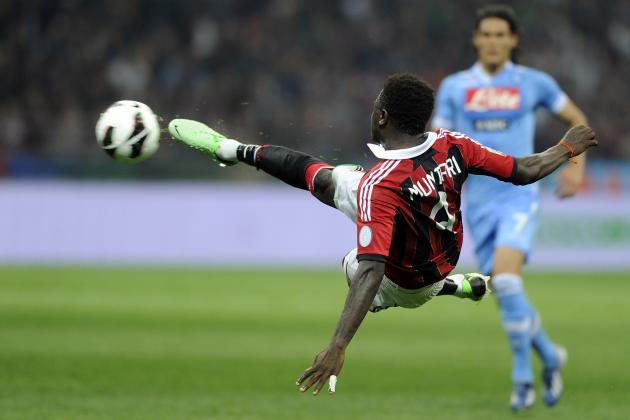 Claudio Villa/Getty Images

It was a game with a little bit of everything. Napoli looked a little slow to start, but after Mathieu Flamini opened the scoring in 29th minute for AC Milan, things really started moving. Goran Pandev answered back just four minutes later.
Kevin-Prince Boateng came off in the 36th minute with an apparent injury, Mario Balotelli wasn't available for the game and Stephan El Shaarawy didn't start.
Edinson Cavani came very close to putting his side ahead on a beautiful attempt in the 42nd minute that keeper Christian Abbiati just got his fingertips on to push high of the net.
El Shaarawy finally came on in the 74th minute, but not before Flamini was shown a straight red card after an incredibly physical challenge on Juan Zúñiga.
Giampaolo Pazzini and Miguel Britos battled hard all evening. There was plenty of physicality, though not a ton of scoring. Here are the ratings for both sets of players from AC Milan and Napoli.
Begin Slideshow

»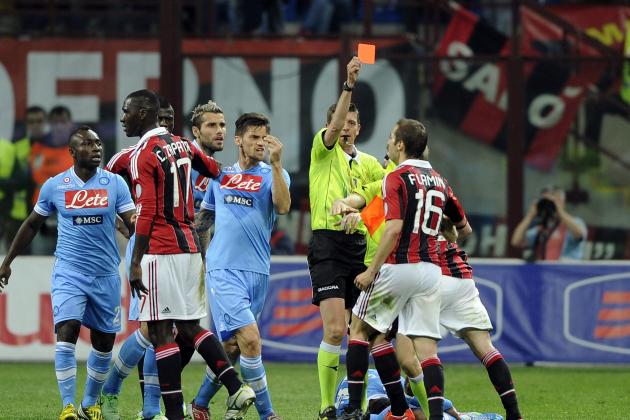 Claudio Villa/Getty Images

Christian Abbiati: 7.0 rating. As I said in the earlier slide, his save on Cavani late in the first half was amazing to say the least, and game changing. Napoli were dominant in the later minutes of the first half and Abbiati did well to keep the floodgates from opening for the Partenopei.
Defenders:
Kevin Constant: 5.9 rating.
Philippe Mexes 5.9 rating. Mexes was noticeably absent on Goran Pandev's goal. It was actually Riccardo Montolivo who was chasing Pandev down from behind, Mexes was nowhere to be found.
Cristian Zapata: 5.7 rating. He was also caught looking on Napoli's goal, just before, actually. It was Zapata who was three steps behind Marek Hamsik when he received Zuniga's ball that started the whole thing.
Ignazio Abate: 5.9 rating. Abate's lax defending started the whole chain reaction for Napoli's score. He gave Zuniga way to much space and an open lane to push the ball to a rapidly advancing Hamsik.
Midfield:
Sulley Ali Muntari: 6.0 rating.
Riccardo Montolivo: 6.5 rating. Montolivo had some decisive defensive plays, as well as many strong touches to give Milan plenty of opportunities to win the match. However, Montolivo left a lot to be desired with his set pieces from just beyond the box.
Mathieu Flamini: 6.4 rating. He opened the scoring, played well and could have proved decisive had he participated in the entire match. He was subbed, he was shown red after a reckless challenge on Juan Zuniga. It was total lack of restraint on his part, and cost his team dearly, forcing them to 10 men for the last 20 minutes of the match.
Forwards:
Robinho: 6.8 rating. Robinho was very active in the first half: he was creative, darting through Napoli's defense, and was very influential in the play that led to Flamini's goal. However, he was nowhere to be found in the second and was subbed off. If Robinho could have maintained his level of intensity throughout the match, the outcome could have been much different.
Giampaolo Pazzini: 6.5 rating. He was a bit of a non-factor throughout the game. Due in large part to strong defending by Napoli's Miguel Britos.
Kevin-Prince Boateng: 6.3 rating. He was remarkably active early on, but an injury forced him off the field early. Milan certainly could have used him later in the match, as he came very close to scoring in the first few minutes.
Substitutions:
M'Baye Niang: 6.0 rating. Niang had some quality moments, but for the most part was easily flustered when pressured with the ball. He has a ton of potential, but must learn poise and calm in big games.
Stephan El Shaarawy: 6.2 rating. He was never really given a chance to shine. When he came on, Flamini had just been sent off. Luckily, he didn't pick up a yellow and will be available for next week's match against Juventus.
Mattia De Sciglio 6.0 rating.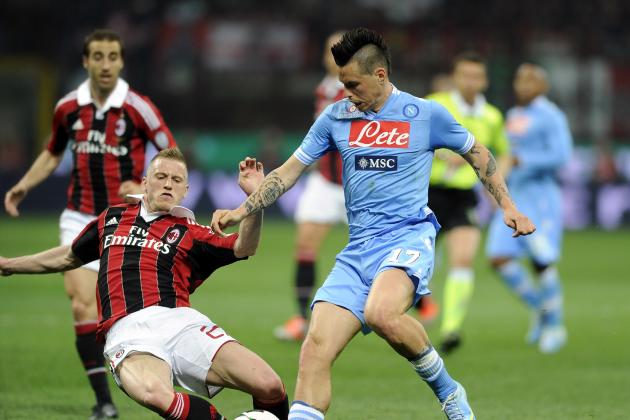 Claudio Villa/Getty Images

Morgan De Sanctis: 7.1 rating. He was in top form Sunday, making key save after key save to keep his side alive in this important game. He was cat-like in saving a ball deflected early in the game. He even got a piece of the ball that ended up beating him. He was decisive throughout the match, and aside from a yellow card for delaying the game, he had a strong performance Sunday.
Defenders:
Hugo Campagnaro: 6.8 rating.
Paolo Cannavaro: 6.9 rating.
Miguel Britos: 6.8 rating.
Midfielders:
Christian Maggio: 6.0 rating. Maggio was not his usual self Sunday. He wasn't strong on the ball, and didn't contribute much offensively, either.
Blerim Dzemaili: 6.5 rating. Dzemaili had a few quality runs. He's been in great form recently, but he wasn't able to score Sunday at the San Siro.
Valon Behrami: 7.3 rating. Behrami was remarkable against Milan. He was incredible defensively, and that may be understating it. He headed the ball out of harm's way—launching himself like a missile to do so—in the 58th minute. Then in the 80th minute, he had a tackle that was just remarkable to watch.
Marek Hamsik: 6.4 rating.
Juan Zuniga: 7.5 rating. He was my man of the match. He was remarkably creative and brought pace and intensity throughout the match. He started the chain reaction that led to Pandev's finish, and orchestrated plenty more. If he hasn't solidified himself as a starter at this point, he never will.
Forwards:
Goran Pandev: 6.8 rating. Pandev scored again. He's starting to make me look pretty silly for giving him so much grief. However, Pandev's fitness is hurting him. He was brilliant in the first, but looked tired in the second and had to be subbed out. Strong performance all around though.
Edinson Cavani: 6.4 rating. He was remarkably mediocre at the San Siro. Aside from a great touch that would have scored if Abbiati hadn't been sharp, he wasn't very effective throughout most of the match.
Substitutions:
Lorenzo Insigne: 6.2 rating. Insigne brought his usual speed when he was subbed on for Pandev, but he made a huge mistake when he rushed a free kick in the waning minutes of the game. He didn't give his teammates enough time to come forward and make a real go at the net.
Pablo Armero: 6.4 rating. Armero should start on the opposite wing of Zuniga. Can you imagine those two working the sidelines? They play with incredible speed and precision and could open up so many more chances for Napoli rather than just forcing the ball to the middle for Hamsik on every offensive push.
Emanuele Calaio: 6.0 rating.
What are you ratings and observations from Sunday's game? Leave them in the comments section below.