NHL Week 11: Who's Hot, Who's Not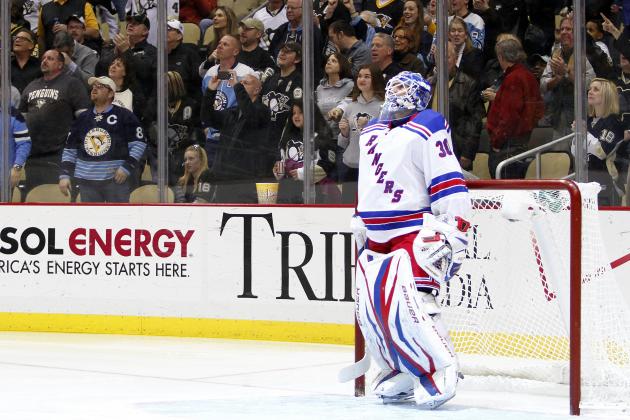 Justin K. Aller/Getty Images
Henrik Lundqvist and the New York Rangers have stood tall this week. Who else joins them?
Three weeks remain in the 2013 NHL season, and the drama is only beginning. In the Western Conference, five points separate the No. 4 seed and missing the playoffs. In the East, there is a six-point buffer between No. 5 and an early offseason.
Teams around the league are putting together their final playoff pushes as they look to not only secure a playoff spot but home-ice advantage. If the playoffs started today, 15 of the 16 teams have above-.500 records at home (New York Islanders, 8-11-2).
It's Week 11 in the NHL, and here is who is hot and who's not.
Begin Slideshow

»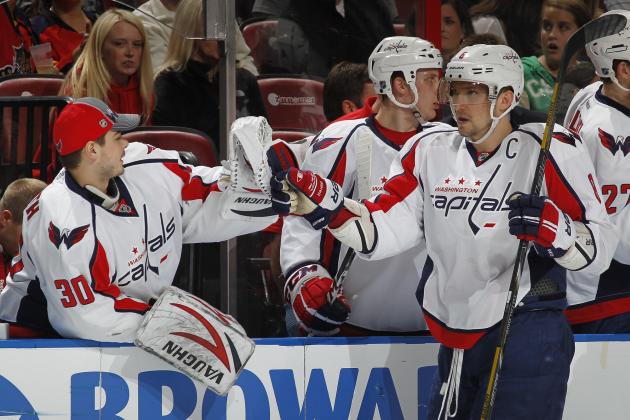 Joel Auerbach/Getty Images
Alex Ovechkin and the Washington Capitals control their own destiny in the Southeast Division after a hot week.
The Washington Capitals have figured things out thanks to superstar-level play from Alex Ovechkin and solid goaltending the last few weeks. The Caps have picked up points in five straight games and won three in a row.
Currently tied with the Winnipeg Jets (40 points), Washington has its eyes set on not only making the playoffs, but also securing the No. 3 seed. The Caps have two games in hand against the Jets and could all but eliminate the Tampa Bay Lightning with a win at home on April 7.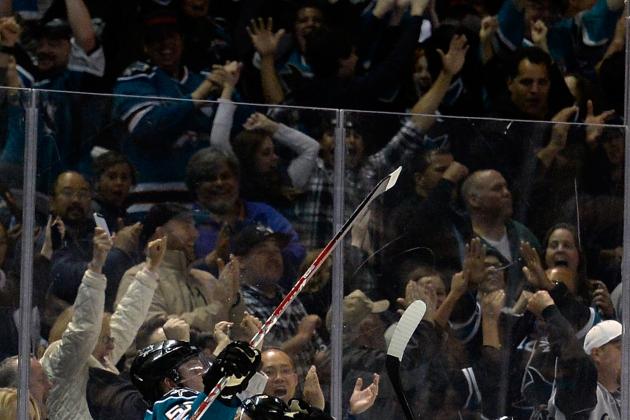 Thearon W. Henderson/Getty Images
The San Jose Sharks are the league's hottest team.
The San Jose Sharks are the hottest team in the league after winning seven straight contests. The Sharks beat Vancouver, Minnesota and Calgary this week to work up to the No. 5 seed in the Western Conference.
If the Sharks can stay hot, they could easily finish fourth in the West. Antti Niemi has been solid in net for San Jose. They will need him for an extended playoff run.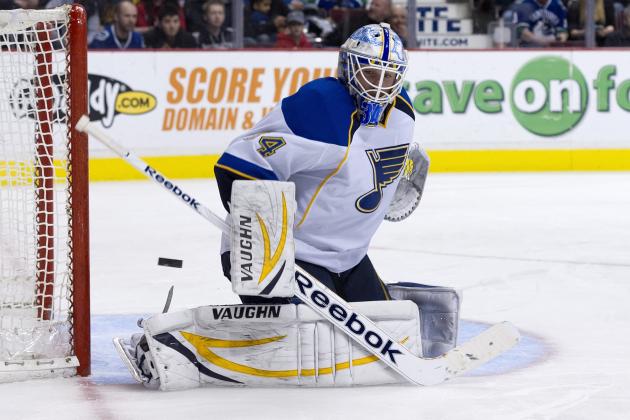 Rich Lam/Getty Images
Jake Allen and the St. Louis Blues are back in the playoff picture in the West.
St. Louis has bounced back from a rough week two weeks ago and rattled off three straight wins. One of those wins came against the best in the West—Chicago—a 4-3 shootout. Wins over a solid Minnesota squad and a feisty Columbus team have put St. Louis back in control.
Jake Allen picked up a big win for the Blues against Columbus to move the Blues two points ahead of Phoenix for the No. 8 spot.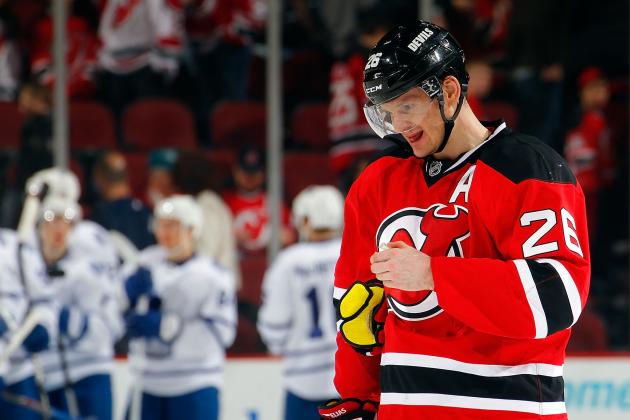 Paul Bereswill/Getty Images
The Devils need to snap out of this extended funk if they want to get back to the playoffs.
The magic from Martin Brodeur's return has worn off in New Jersey. The Devils dropped games to the Islanders, Bruins and Maple Leafs this week to fall out of the Eastern Conference playoffs.
Don't count the Devils out, though, as anything is possible with Martin Brodeur in net. If the offense can manage one goal per game, New Jersey has a shot.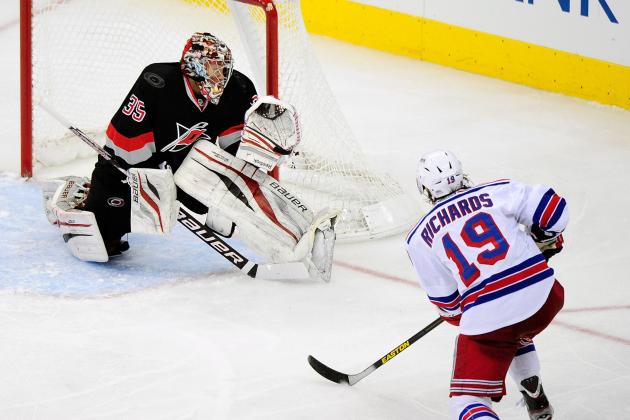 Grant Halverson/Getty Images
The Carolina Hurricanes used to be the No. 3 team in the East. Now, they are 13th.
Carolina was flying high and sitting comfortably atop the Southeast Division just a few weeks ago. Things have changed drastically.
The Hurricanes dropped all four games this week, including one each to division foes Washington and Tampa Bay. Carolina now sits eight points behind in the Eastern Conference (13th overall).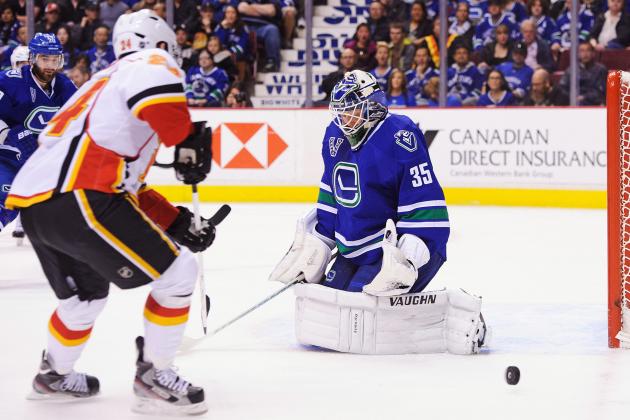 Derek Leung/Getty Images
Things aren't going well for the Calgary Flames. They might need to go into full rebuild mode this offseason.
Calgary traded away its longtime captain at the deadline, and the downward spiral just keeps getting worse. The Flames were outscored 19-6 this week in four losses. It's time for a rebuild in Calgary.
Paul Bereswill/Getty Images
Alex Ovechkin has been the "Great 8" this week. Who else joins him?
Alex Ovechkin of the Washington Capitals is silencing doubters and leading his team to the top of the Southeast Division. He had six goals and two assists this week to help the Capitals move into the No. 3 seed in the Eastern Conference. If he maintains a similar pace, he may be in the running for the Hart Trophy.
Taylor Hall of the Edmonton Oilers just keeps putting up points. Hall had another five assists this week as the Edmonton Oilers look to make their way into the Western Conference playoffs. He also added two goals on 16 shots.
Nicklas Backstrom of the Washington Capitals loves Ovechkin's goal-scoring abilities. Maybe it's Backstrom's passes that have led to Ovechkin's success, but either way both have been on fire. Backstrom had a goal and eight assists this week.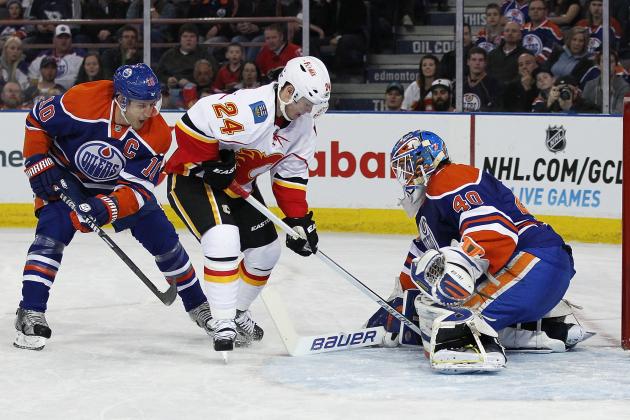 Perry Nelson/Getty Images
Jiri Hudler has really struggled since losing Jarome Iginla.
Ryan O'Reilly of the Colorado Avalanche hasn't recorded a point in the last six games and is minus-four in that time. He had just three shots on goal in four games this week. The Avalanche are struggling, and so is O'Reilly.
Jiri Hudler of the Calgary Flames was supposed to complement Jarome Iginla's scoring in Calgary. Iginla is gone, and so is Hudler's production. The winger had just one shot this week, no points and a minus-five rating.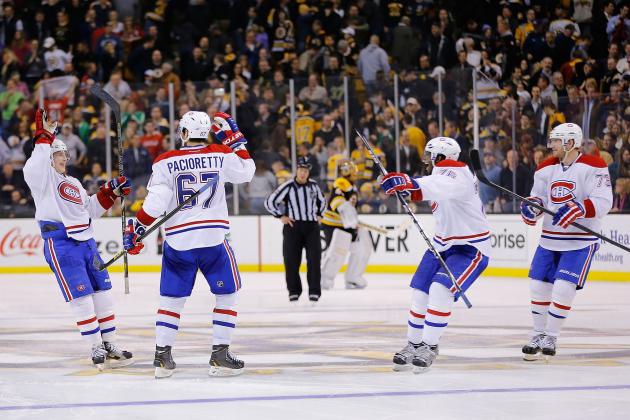 Jared Wickerham/Getty Images
P.K. Subban's strong all-around effort this week earns him top defenseman honors.
P.K. Subban of the Montreal Canadiens beat out some strong competition this week with a solid all-around performance. Subban had five assists—three on the power play—four penalty minutes and a plus-three rating to earn the top defenseman honors this week.
Honorable Mention: Mike Green (WSH), Keith Yandle (PHO), Kimmo Timonen (PHI) and Matt Carle (TBL)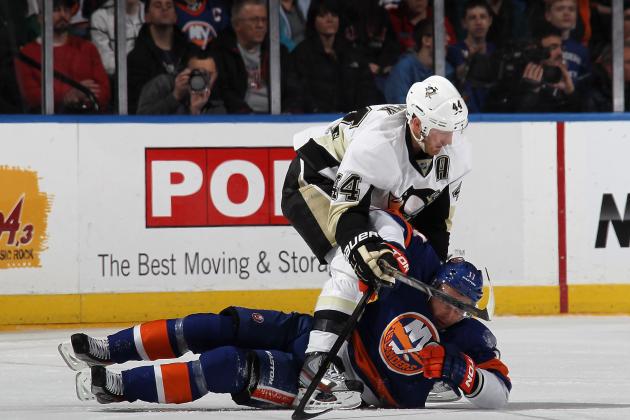 Bruce Bennett/Getty Images
Brooks Orpik ran into a tough week in the plus/minus department, but his physical play is never lacking.
Brooks Orpik of the Pittsburgh Penguins has been part of a rough week. The Pens put together two uninspired efforts last week, and Orpik was part of it. The extremely physical defenseman was minus-three this week. He did have 18 hits to help others feel a bit of his pain.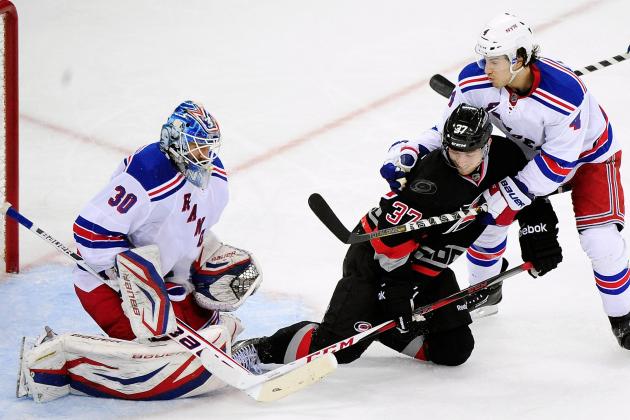 Grant Halverson/Getty Images
King Henrik picked up three wins and a shootout loss this week to earn top goalie honors.
Henrik Lundqvist of the New York Rangers is king again. Lundqvist made 126 saves on 131 shots this week. He picked up three wins this week and nearly snagged a fourth in a shootout loss to Pittsburgh. If Lundqvist keeps this up, the Rangers should be able to hold on to a playoff spot.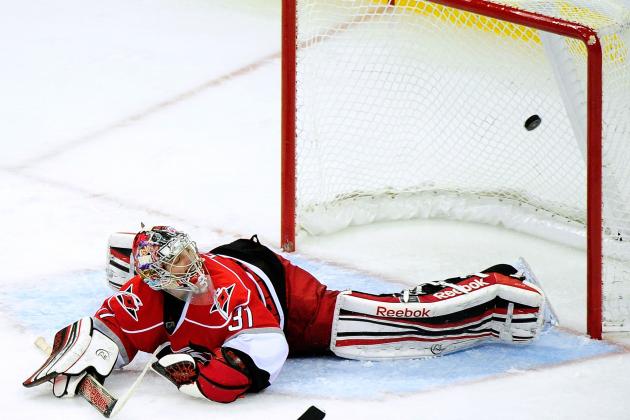 Grant Halverson/Getty Images
Pulled from two games this week, Dan Ellis has seen better days.
Dan Ellis of the Carolina Hurricanes gets the coldest goaltender mark for this week. He was yanked from his game against the Rangers after giving up three goals on 30 shots. Ellis gave up 11 goals in three appearances this week and was pulled from two of them. The only game he didn't get pulled was a 5-0 loss to Tampa Bay.