Which Napoli Stars Are in Danger of Leaving This Summer?
Valerio Pennicino/Getty Images
It's not a pleasant discussion but it's part of the game. This summer, players are going to leave Napoli. Who leaves and why remains to be seen.
Between now and then, there will be more rumors and rumblings than you can imagine. The key is to understand that nothing is in stone until something actually happens. Rumors are just rumors.
In the meantime, here are some players that could be on the move this summer for Napoli.
Goran Pandev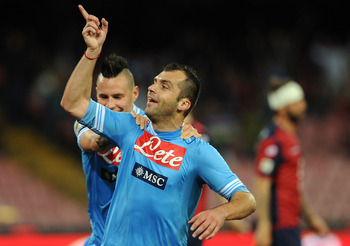 Giuseppe Bellini/Getty Images
He has his moments, but Goran Pandev can not be one of your main options up front. He commands a lot of money and should be sold if possible. I took some time to explain my position on Pandev a few weeks ago.
If you don't fancy checking out the link in the previous sentence, suffice it to say, Pandev's presence on the Napoli roster is detrimental at best.
Not because he's a terrible player, but because he's overvalued and will keep Aurelio De Laurentiis from getting more help up front this summer. If Cavani stays it cannot be on his shoulders to do all of Napoli's scoring.
Morgan De Sanctis
Giuseppe Bellini/Getty Images
He retired from the international team, but will he retire from calcio altogether this summer? The fact that he left the Azzurri is a good indicator, but we won't know for sure about his professional career until another announcement is made.
The likely answer is yes. His level of play has noticeably dipped, and even if he's not convinced that his time is up, Napoli must address their lack of depth at the position regardless of what De Sanctis decides to do.
If he doesn't initially bow out, perhaps the necessary addition of a true starting keeper would be the final straw.
Edinson Cavani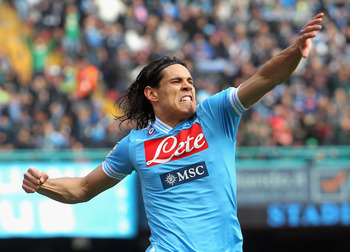 Maurizio Lagana/Getty Images
Hopefully, it's much ado about nothing, and Cavani realizes how close Napoli are to being a truly competitive side and how much he means to the club and the city.
That being said, there's a good chance he leaves this summer. His buyout clause is a deterrent for sure, but his father's comments about the likelihood of him heading to Real Madrid hurts.
No team was willing to pay Cavani's €63 million last summer. This summer the high-profile teams might because Cavani is Serie A's goal scoring leader. Last year's Serie A goal scoring leader no longer plays in Serie A.
Zlatan Ibrahimovic was bought by Paris Saint-Germain last summer after he had the league's most goals with AC Milan. It's likely Cavani will be the guy this year, and as a result, some big-spending team will likely pay whatever it takes to add his abilities to their club's roster.
Who else do you think could leave the shadow of Mount Vesuvius? Leave your thoughts below.
Keep Reading