It's hard to look at a UFC fight card objectively as it takes place. It's easy to get caught up in the moment, to become overwhelmed by the action and to think that everything that is happening at that very moment is "the best (insert x here) to ever happen inside the Octagon."
The purpose of this (hopefully) ongoing feature will be to look at each UFC event removed from the moment, reviewing the goings on from start to finish with a slightly colder eye.
What follows are my thoughts on UFC on Fuel 9.
The main event: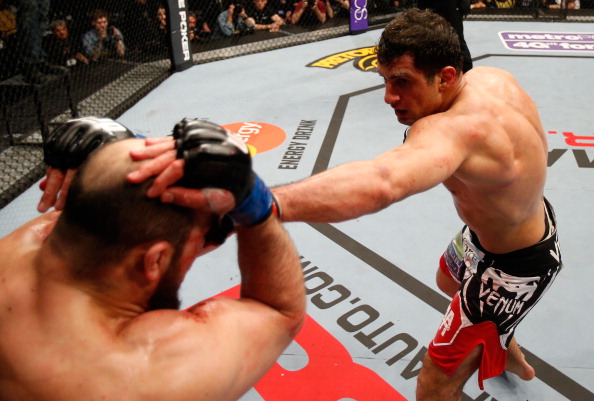 Did it live up to expectations? I would have to say that not only did it live up to expectations, but it most likely exceeded those expectations.
Let's be frank, it was the rare individual who didn't get the news that Alexander Gustafsson had been replaced in the main event by Ilir Latifi, with a softly muttered, "who the hell is that?" and then immediately began contemplating just how quickly Gegard Mousasi would earn the stoppage win.
After all, Mousasi was 33-3-2 entering the fight with 29 stoppages to his name and Latifi appeared to be some Swede that could make the weight on short notice.
Did the fight exceed expectations because Mousasi played it safe, or did it exceed expectations because Latifi was able to take a fair amount of abuse for 15 minutes without falling down? To be honest, who cares? Mousasi won the fight, Latifi lived to fight another day in the UFC and fans got to see a fairly entertaining scrap.
I would also like to give a nice hand to the crowd that packed the Ericsson Globe Arena on Saturday night. Their boos and catcalls were enough to crack the stone-faced countenance that Mousasi usually displays before, during and after his fights.
The reaction from the crowd when Mousasi was introduced brought a painful looking smile, awkward and somewhat painful looking smile to the face of Mousasi. Well done, Sweden, well done.
-----
The co-main event: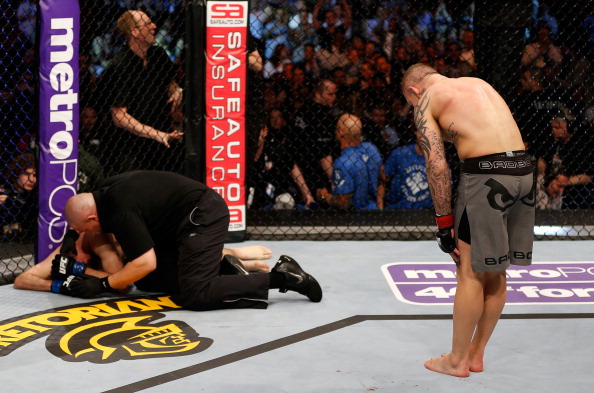 I'm sure I wasn't alone in my confusion when the UFC announced that the co-main event of UFC on Fuel 9 was going to pit Ross Pearson against a fighter who had never set foot inside the Octagon before, Ryan Couture.
Couture showed some promise early in the bout, but big picture, he didn't stand much of a chance against a fighter as experienced as Pearson.
When the booking was announced, it stank of the UFC looking to capitalize on the Couture name. Now that the fight is over, it still smells that way. Couture should never have been put in the Octagon against someone like Pearson for his UFC debut, and he never should have been in a co-main event-level fight.
Couture deserves another shot in the Octagon, but against a more suitable opponent and maybe not in a fight that is such a focal point.
-----
Mitrione vs. De Fries: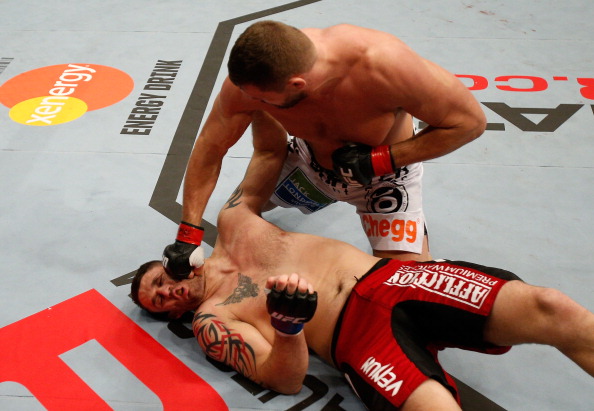 In one of the stranger knockouts in UFC history, the bout between Matt Mitrione and Phil De Fries ended in a mere 19 seconds.
Perhaps, Mike Goldberg knew something that we didn't when he twice referred to the matchup as a "heavyweight collision" prior to the start of the bout.
And a collision it was. Early in the first round, De Fries rushed for the takedown just as Mitrione was stepping in, and the impact knocked De Fries to his back where Mitrione quickly turned out the lights for his opponent.
The win saved Mitrione's job with the UFC.
Correct me if I'm wrong, but I think Mitrione was trying to rebuild some bridges he may have burned in the recent past when he said, in his in-cage interview with Kenny Florian, "I've been out for a long time so I appreciate the UFC giving me this fight. The UFC's been great to me. Whatever I can do I appreciate it, whoever they think it's appropriate for me to get down, let's get down."
The bridges needing repair were originally scorched when Mitrione turned down the chance to replace an injured Frank Mir against Daniel Cormier in Strikeforce. When Mitrione opted not to take that fight, UFC president Dana White said, "It f---ing makes me sick. Listen, you don't want big opportunities, I hear you. I get it, then. All I can say is, I guess he doesn't want big opportunities. I get it. Duly noted."
-----
Michael Johnson vs. Reza Madadi: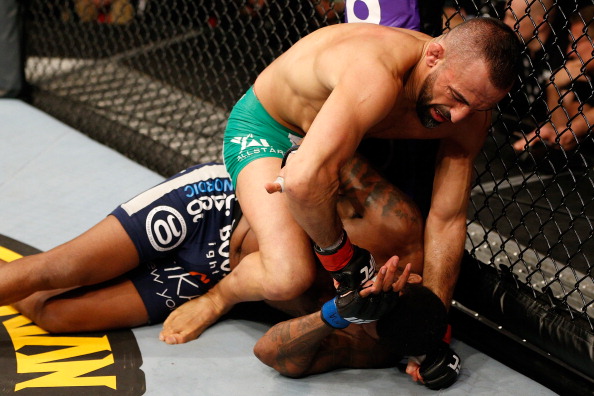 Michael Johnson looked very close to finishing this fight in the first round when he landed a perfectly timed kick to the head of Reza Madadi near the end of the first stanza. Madadi recovered well between rounds and went on to dominate Johnson, eventually earning a D'Arce choke submission in the third round.
Lazy analysis of this fight will write off the result as another example of how the seemingly snake-bitten Blackzillian camp can't buy a win, but that overlooks the fact that Madadi was very impressive in this bout. Johnson didn't lose this fight; Madadi won it. Give credit where it is due.
-----
Conor McGregor vs Marcus Brimage:
Connor McGregor came into his fight with Marcus Brimage with all kinds of hype behind him. In the past, we have seen that this type of talk can be more of a curse than a blessing, elevating expectations to the point where the result almost has to be a letdown. That was not the case for McGregor.
McGregor shrugged off the bullrush of Brimmage to start the bout and showed absolutely no fear or Octagon jitters in the process of earning a brutal first-round TKO as well as Knockout of the Night honors.
The brief UFC debut may have actually increased the expectations on McGregor, a fact that wasn't helped when UFC president Dana White threw out the following tweet:
So i guess @thenotoriousmma is for real!! twitter.com/danawhite/stat…

— Dana White (@danawhite) April 6, 2013
It's early in the process, but the kid looks like he has all the makings of a star, from his style of fighting to how he handled himself in the post-fight presser.
-----
Diego Brandao vs. Pablo Garza: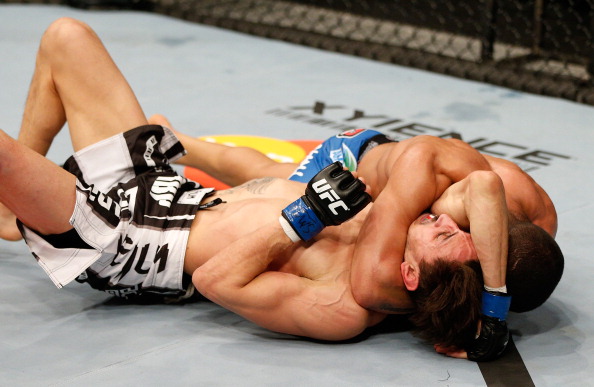 After winning Season 14 of The Ultimate Fighter, Diego Brandao lost a unanimous decision to Darren Elkins. Brandao got back in the win column in his next bout, defeating Joey Gambino, setting up a bout against Pablo Garza in Sweden.
It was a more mature Brandao we saw in Sweden, perhaps the calm of trainer Greg Jackson is wearing off on him or maybe he's realizing that growth is necessary in a sport where emotion can actually be a disadvantage. Either way, Brandao looks to be on the path to taking the step to the next level in the UFC.
-----
Tom Lawlor vs. Michael Kuiper: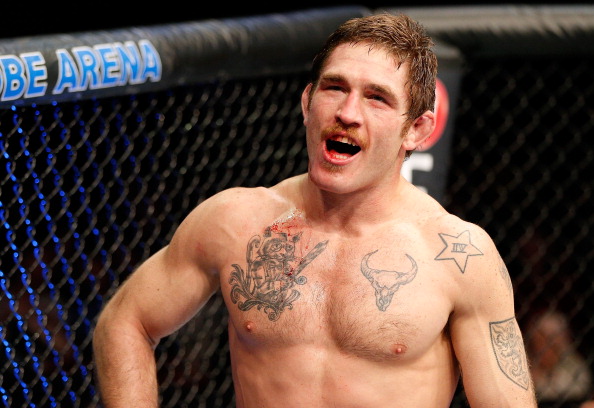 Subtle is not a word that is usually associated with "Filthy" Tom Lawlor. Lawlor, famous for his over-the-top weigh-in and Octagon entrances appeared to have toned down things for UFC on Fuel 9, walking to the Octagon sans any added accoutrements.
If the crowd was disappointed by that, those sad faces were quickly transformed when they caught the music Lawlor chose as his walkout song, entering to the music made famous by Silence of the Lambs character Buffalo Bill.
As far as the fight, Lawlor needed a win. Early in the fight, Lawlor didn't look like himself, perhaps the result of a noticeably hobbled leg.
The damaged Lawlor was able to find an opening in the second round, slapping on a guillotine choke and forcing the tap from Kuiper. It was a solid display of a fighter focusing on the task at hand instead of the physical pain he was enduring, and it may have saved Lawlor's job with the UFC.
----
Papy Abedi vs. Besam Yousef: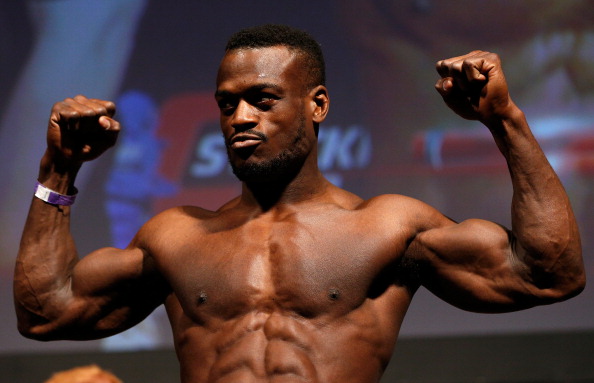 When Papy Abedi made his UFC debut, he did so with a major push and some pretty high expectations. Two first-round submission losses later he was competing in the opening fight on the UFC on Fuel TV 9 fight card.
In his first two UFC bouts, Abedi swaggered into the Octagon sporting a flat cap and holding an unlit cigar between his teeth, while draped in the flags of Sweden and the Democratic Republic of Congo.
For UFC on Fuel 9, the flat cap and cigar were gone as was most of the swagger. Perhaps by shedding some of the vestiges of his unsuccessful past, Abedi hoped to approach his bout against Besam Yousef as a rebirth—a fresh start with the UFC.
After 15 minutes, Abedi did enough to earn the split-decision victory, essentially saving his job. True, a win is a win, but if Abedi was hoping to shake the tag of disappointing prospect, he didn't. He'll most likely get another chance to make a positive impression, but don't expect that chance to be much higher on the card than this fight was.
-----
Dude, where's my shirt?
The "act like you've been there before" award has to go to the corner of Benny Alloway who, between the walkout and end of the fight, seemed to have lost their fighters' shirt. Lucky for Alloway, one of his corner men was quick to disrobe, possible saving some sponsorhip money for Alloway. After all, no sponsor is paying a fighter to stand shirtless on camera as fight results are read.
-----
Memorable post-fight quotes:
Tom Lawlor to Kenny Floria on his injury, "I didn't hurt my knee guys, Michael Kuiper hurt my knee on the first judo throw that he did. It was hard to fight back from it."
An emotional Lawlor would also take the time to dedicate his victory to his late sister, "I want to dedicate this fight to the memory of my sister Katie, her birthday was recently. She passed away in a car accident 12 years ago and that's what I was thinking about the whole time."
Akira Corassani was honest in his assessment of how hard he was hit by Robbie Peralta telling Kenny Florian during his in-cage interview, "I was rocked as hell, I was going down."
He was also quick to throw a lot of praise to his opponent, "Robbie Peralta is my idol. The guy has two kids and he works a full-time job and he comes in here and he gives everyone hell. I want to give all the credit to Robbie Peralta, everything is possible."
Conor McGregor to Kenny Florian after knocking out Marcus Brimage: "Dana, 60 g's baby!" He got his wish, earning the "Knockout of the Night" bonus.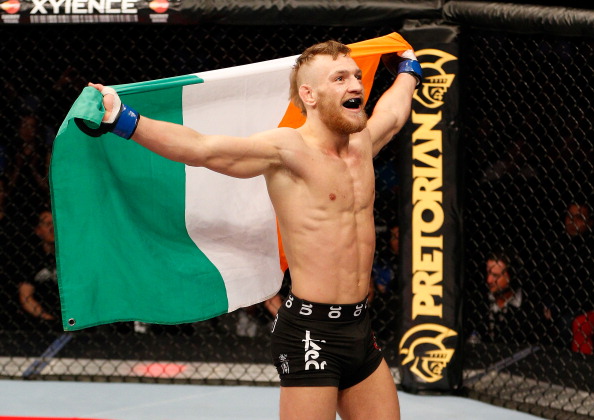 Reza Madadi to Kenny Florian on the kick Michael Johnson hit him with: "Very hard. He got me. Not 100 percent, 99. I was totally gone, but when you don't have any brain in your head."
Matt Mitrione brought a "translator" with him into the Octagon—former UFC fighter Chris Lytle. The joke fell a little flat, but he gets a "C" for effort.
Mitrione also revealed to Florian that he had an interesting Friday night, saying "I did almost get arrested last night. Your undercover cops almost arrested me last night going to get some food."
Mitrione then put his friend in a precarious position, "I got a really fat friend over here named Wood, anybody that slaps him gets a free beer." No news if anyone in Sweden drank for free on Saturday night.
Gegard Mousasi to Kenny Florian after the fight: "Coming into this fight I was injured and the last week I also got a cold so I didn't go berserk." Mousasi then pre-emptivley answered some of his critics, "I fought smart. Some people lay and pray, maybe I did a little bit of that stand up."