Newcastle United: 5 Takeaways from the Magpies' Last-Minute Win Against Fulham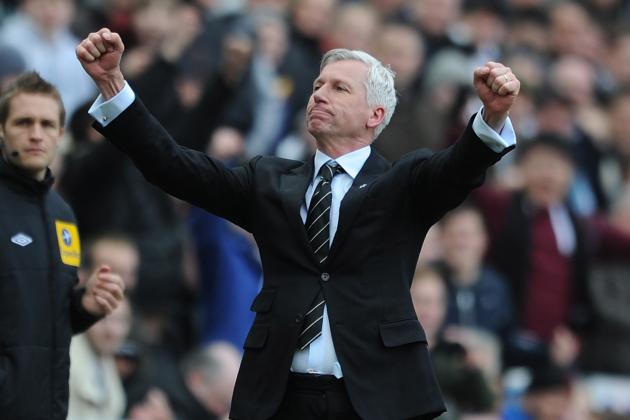 Chris Brunskill/Getty Images

It's too bad for Newcastle United that they have to play a full 90 minutes before they get to stoppage time.
Once again, Papiss Cisse is the late hero for the Magpies who squeak by Fulham 1-0 for a crucial three points.
Newcastle controlled the match from the get-go, and not taking three points from the match would have been absolutely devastating, but Alan Pardew's men dodged a bullet.
Newcastle have now overtaken Stoke City and Norwich City and sit 13th in the Premier League table. The team will end the day at least five points above drop zone.
This is no time for Pardew to relax, as the next two fixtures, Benfica in the Europa League and a Sunderland side that are in a much more precarious position in the table, will possibly be the two most important matches of the season.
But before the club moves on, let's examine what is important to take away from Sunday's match.
Begin Slideshow

»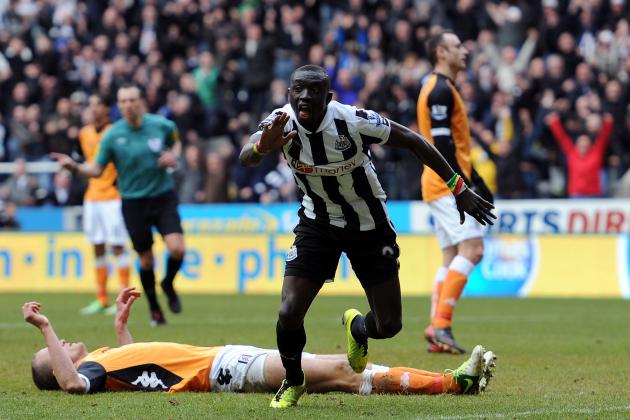 Chris Brunskill/Getty Images

Papiss Cisse's last four goals in the Premier League have all come in winning efforts.
Three of his last four in all competitions have come in stoppage time.
Say what you want about the man's overall performance this season, but there's no denying he's absolutely clutch.
After squandering several chances in the first half, including taking a shot instead of passing to a wide open Sylvain Marveaux in the 34th minute, Cisse found his scoring touch in extra time after a chaotic last few minutes seemed to be dooming Newcastle to dropped points.
Yohan Cabaye flicked a ball onto Cisse from outside the box, and after a clinical finish, the Senegalese international charged over to the 51,000-plus St James' Park supporters and leapt into the crowd.
It's been a tough year on Tyneside for Cisse, but if the Magpies are able to keep their heads above water and remain in the Premier League, he has to be recognized as a key figure in saving the club.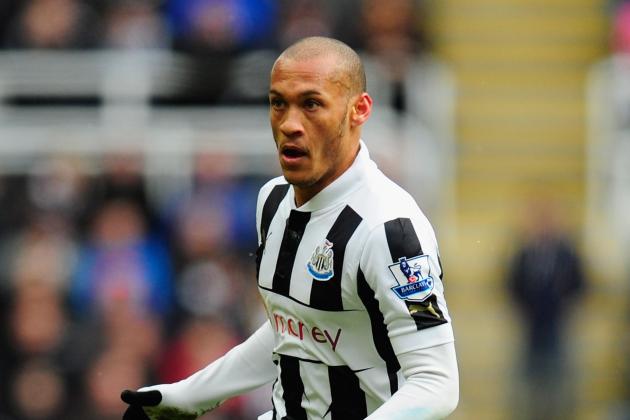 Stu Forster/Getty Images

Remember the 4-4-2 formation? It's definitely been a while.
Early on in the season, Alan Pardew used the 4-4-2 with Demba Ba and Papiss Cisse at the top.
It was completely ineffective, as the two would frequently attempt to make the same run and were very rarely on the same page.
Since the departure of Ba and the influx of new French signings, the 4-4-2 was packed in a closet far away from the club, but on Sunday against Fulham, Pardew decided to bring the formation out of retirement.
Surprisingly, things seemed to be going very well.
With Yoan Gouffran joining Cisse up front, Newcastle were in the driver's seat right out of the gate and looked very likely to score quickly.
Alas, it was not to last, as an injury to Davide Santon (which will be addressed later) led to a change in personnel and in formation. Jonas Gutierrez moved back, Moussa Sissoko moved up, and the 4-4-2 disappeared as quickly as it had arrived.
It will be interesting going forward to see if Alan Pardew wants to give it another crack, but if either Cheick Tiote or James Perch are 100 percent, it seems unlikely that he'll try anything other than the usual 4-2-3-1.
If formations were sentient, you'd have to feel sorry for the 4-4-2.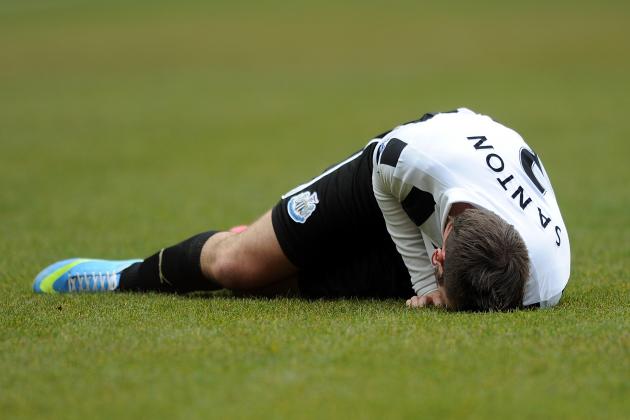 Chris Brunskill/Getty Images

When Davide Santon went down with a hamstring injury in the 18th minute, many Newcastle supporters must have thought it was some sort of sick joke.
Just how many more injuries can a club take?
Depending on the severity of Santon's injury, Newcastle could be down four full-backs at the same time. With Mathieu Debuchy, Massadio Haidara and Ryan Taylor already occupying the physio's time, things are getting just a little ridiculous.
Jonas Gutierrez, Vurnon Anita and James Perch are all capable of filling in at full-back slots, but the only true full-back remaining would be Danny Simpson.
Don't forget that club captain Fabricio Coloccini, dangerous playmaker Hatem Ben Arfa and up-and-coming attacker Haris Vuckic are all sidelined, and Tim Krul has just come back from injury as well.
As easy as it is to fall in a trap of blaming injuries for poor performances, the list of Newcastle casualties is getting to the point where it truly is becoming an excuse.
Chris Brunskill/Getty Images

Santon's injury necessitated the insertion of Vurnon Anita before the midway point of the first half. There wasn't much Pardew could have done about that.
From then on, he knew what to do.
Pardew saw a squad that was creating a great deal of near-chances but wasn't fully executing, and trusting his defense to continue to perform, he made two attacking substitutions.
Yoan Gouffran played very well on the day, but his business against Fulham seemed more to be about creating chances rather than finishing them. With Yohan Cabaye and a stellar Sylvain Marveaux already supplying a great deal of creativity, Pardew decided to pull Gouffran in the 69th minute and bring on the old Geordie war horse, Shola Ameobi.
To his credit, Ameobi had one of his better games as a substitute for the Magpies this season. He did his job as a strong man in the box and nearly scored a header off a Marveaux corner kick (on a side note, Marveaux's corners were mostly good, a rarity for Newcastle).
In the 81st minute, Pardew made what may be considered an unorthodox move when he pulled an impressive Danny Simpson for young Adam Campbell, a full-back for an attacker.
The 5'7" Geordie native, despite looking a tad skittish in possession, showed Newcastle supporters once again what kind of player he is: a winner.
He had two appearances in the Premier League with the first team. Both times, he was substituted on with less than 10 minutes left in the contest. And both times, the Magpies have taken all three points.
He's not exactly Alan Shearer yet, but Campbell has an undeniably bright future in a black and white uniform.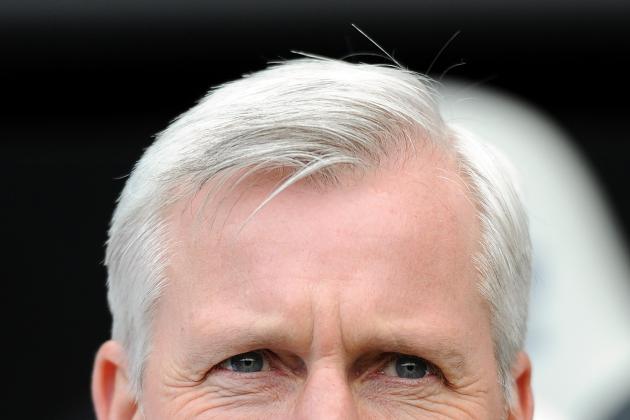 Chris Brunskill/Getty Images

It's hard not to be absolutely enthralled by Newcastle's Sunday performance.
They controlled the game entirely from start to finish against a quality Fulham side.
They picked up their first clean sheet in the Premier League since their January 12, 0-0 draw, against a wimpy Norwich attack, and with Dimitar Berbatov patrolling the pitch for Fulham, keeping a clean sheet was no small task.
But this is no time for relaxing.
No matter what, Newcastle will still be only two matches away from the relegation zone.
And one of the teams below the Magpies fighting to survive is none other than the Black Cats of Sunderland, who come to St James' Park next Sunday.
It will be without a doubt the biggest match of the year for Sunderland. New manager Paolo Di Canio will be hungry to get a win under his belt as a Premier League manager, and who would be better to beat than his new club's chief rival?
Alan Pardew must refocus his squad, because three more points will just about be the ticket to the 2013-14 Premier League.