5 Largest Salary Cap Hits for the Washington Redskins in 2013
Washington Redskins owner Dan Snyder, alongside GM Bruce Allen, welcomes coach Mike Shanahan to the organization January 2010.
Win McNamee/Getty Images
The Washington Redskins' five highest paid players in 2013 account for nearly one-third of the team's payroll for the entire season—led by second-year wide receiver Pierre Garcon, who will earn $8.2 million this season.
Much has been said during this offseason regarding the $18 million salary cap penalty assessed by the NFL to the Washington Redskins. A total penalty of $36 million was levied by the league following allegations the team, according to NFL.com, "took advantage of a loophole" regarding salary limitations in 2010—a charge the team has vigorously denied and fought in court.
While the team has performed remarkably well during free agency given the salary cap limitations, the penalty has also prevented any blockbuster deals from occurring.
Half of this year's free-agency signings are one-year contracts, according to Spotrac.com.
Last month, the NFL designated $123 million as the adjusted total cap per team on salaries for the 2013 season. Understanding the intricacies of such designations is difficult—given carryover from the previous season and so-called "dead money," as well as pro-rated signing bonuses and workout bonuses.
NFLPlayers.com reports the Redskins have 50 of 51 players currently under contract with just under $670,000 remaining, the smallest remaining amount in the NFL.
In comparison, the Cleveland Browns have nearly $34 million remaining with a full roster of 51 players.
Here is a breakdown of the top five salary cap hits, as reported by Spotrac.com, for the Washington Redskins in 2013.
1. Wide Receiver Pierre Garcon—$8.2 Million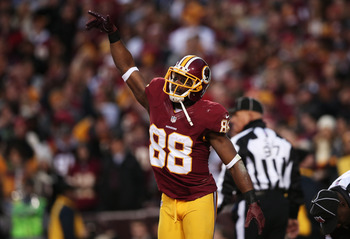 Win McNamee/Getty Images
Washington Redskins wide receiver Pierre Garcon enters his second season with the Redskins and accounts for the largest salary cap hit in 2013—$8.2 million.
He is the ninth-highest-paid wide receiver in the league this season—the Houston Texans' Andre Johnson is the top-paid wide receiver in 2013 at $14.6 million.
Garcon signed a five-year, $42.5 million contract in 2012. This year, his salary breakdown includes $5.6 million in base salary, $2.2 million pro-rated signing bonus and $400,000 in the category "Miscellaneous."
The NFL and the Redskins do not itemize what the miscellaneous category includes, but in many cases, and Garcon's in particular, it is a combination of a "roster bonus" and "workout bonus."
Garcon will receive $250,000 in roster bonus if he is still on the active roster on a designated date which is determined by the team, player and agent. A workout bonus of $150,000 is guaranteed if he participates in a pre-determined percentage of offseason workouts.
2. Offensive Tackle Trent Williams—$7.985 Million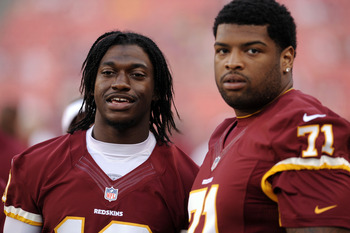 Washington Redskins QB Robert Griffin III with Trent Williams during the 2012 preseason.
Rafael Suanes-USA TODAY Sports
Washington Redskins offensive tackle and co-captain Trent Williams is coming off of his best season and was selected to the Pro Bowl following the 2012 season, despite a spate of injuries in the early part of last season.
He is entering his fourth season with the Redskins and is scheduled to count nearly $8 million against the salary cap in 2013.
Williams signed a six-year, $60 million contract with the team in 2010. This season, he will earn a base salary of $5 million, $500,000 as part of a pro-rated signing bonus and nearly $2.5 million in miscellaneous bonuses.
He is the eighth-highest-paid offensive tackle in the NFL this season—Cleveland Browns OT Joe Thomas tops the list at $11.4 million.
You may recall Williams was involved in an altercation while in Honolulu for the NFL Pro Bowl on January 27, 2013 which prohibited him from participating.
3. Defensive Tackle Barry Cofield—$6.3 Million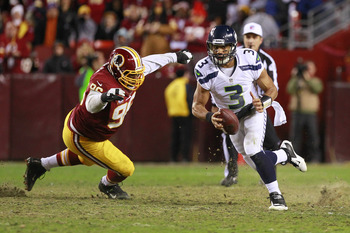 Redskins defensive tackle Barry Cofield bears down on Seahawks QB Russell Wilson in the January 2013 NFC Wild Card Game.
USA TODAY Sports
Washington Redskins defensive tackle Barry Cofield enters his seventh season in the NFL and is scheduled to count $6.3 million against the 2013 salary cap. In 2011, Cofield signed a six-year, $36 million contract with the team.
Cofield is scheduled to earn just over $4 million in base salary, $1.8 million in pro-rated signing bonus and $450,00 in miscellaneous salary this season.
He is the 14th-highest-paid defensive tackle in the NFL. The website Spotrac.com lists Baltimore Ravens DT Terrell Suggs as leading the league at the defensive tackle position with a reported 2013 salary of $13 million, although he is a linebacker with the Ravens.
NOTE: In order to use the same source for financial information, as some websites may differ, I know Terrell Suggs is a linebacker, as noted above.
4. Linebacker London Fletcher—$6.2 Million
Alex Trautwig/Getty Images
So much can be said about Redskins linebacker London Fletcher, who enters his 16th NFL season in 2013. Hobbled by injuries during the 2012 season, Fletcher managed to continue his NFL-leading consecutive-games-played streak and has never missed a regular-season game in his career.
Following separate surgeries to his ankle and elbow during the offseason, the four-time Pro Bowler decided to return for his seventh year with the team. Last season, he lead the team in tackles and interceptions.
In April 2012, Fletcher signed a two-year, $10.75 million contract.
This year, Fletcher's base salary is $5.5 million with a pro-rated signing bonus of $700,000. He is the 16th-highest-paid linebacker in the NFL—New York Jets linebacker David Harris tops the 2013 linebacker list with a $13 million salary cap hit against the team.
5. Defensive End Stephen Bowen—$5.5 Million
Geoff Burke-USA TODAY Sports
Washington Redskins defensive end Stephen Bowen enters his eighth NFL season and third year with the team after signing a five-year, $27.5 million contract in 2011.
This season, Bowen's distribution of salary cap hit to the Redskins includes $3.9 million in base salary, $1.5 million in pro-rated signing bonus and $100,000 in miscellaneous bonus pay.
He is the 19th-highest-paid defensive end in the NFL this season—Minnesota Vikings DE Jared Allen tops the list at $17 million.
Summary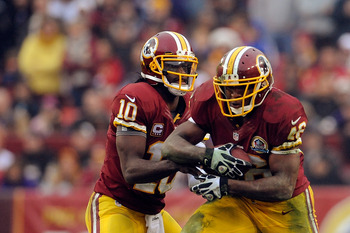 The 2012 stars of the Washington Redskins' offense—QB Robert Griffin III and RB Alfred Morris.
Patrick McDermott/Getty Images
A team's ability to manage money given all of the factors involved in the current salary cap rules and regulations is complicated to say the least. With the additional salary cap restrictions placed upon the team this season, the Washington Redskins' front office has performed above and beyond many fans' expectations to say the least.
A player negotiates an initial offer with the team, and restructuring a player's contract is not a year-by-year option based on the previous season's performance.
Nothing could illustrate this better than the case of second-year running back Alfred Morris.
The sixth-round pick in the 2012 NFL draft is scheduled to earn $510,000 in 2013—$480,000 in base salary and $31,000 in pro-rated signing-bonus money.
This season, Morris is the fifth-highest-paid running back on the team and near the bottom among all Redskins players. Among other running backs in the NFL, Morris ranks 107th in 2013 pay.
Quarterback Robert Griffin III will count just under $5 million against the salary cap in 2013—ranking him as the ninth-highest-paid Redskin and 22nd-highest-paid quarterback in the league.
If salary was performance-based, taking into account the players' accomplishments the previous season, undoubtedly this pair would lead the team in pay for the upcoming season.
NOTE: All of the salary information in this article provided by Spotrac.com.
Follow on Twitter @JohnBibb and view previous Bleacher Report articles I have written on the Washington Redskins here.

Keep Reading

Washington Redskins: Like this team?