Rating the Liverpool Players Against West Ham United in 0-0 Draw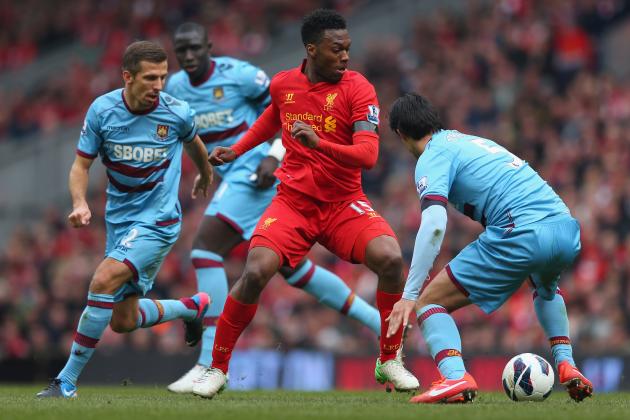 Alex Livesey/Getty Images

Liverpool dominated play at Anfield in their Premier League game against West Ham United on Sunday, but were unable to find the killer pass or chance to take the three points, instead having to settle for a frustrating 0-0 draw.
West Ham plainly came for a single point, and will be satisfied that they won it, even though the rigid and at-times unbearably negative approach to their game made for uninspiring watching for neutrals and both sets of supporters alike.
Even so, with the amount of attacking talent on the field and entering from the bench, Liverpool will be hugely disappointed to have not won the match.
Here are the player ratings for Liverpool from the 0-0 draw.
Begin Slideshow

»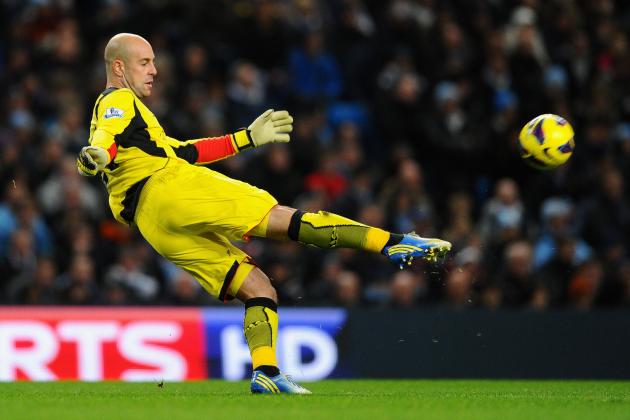 Laurence Griffiths/Getty Images

Liverpool's goalkeeper had the best seat in the house. He was left entirely redundant for most of the match, watching a game from a distance which took part almost exclusively in the Hammers' half of the field.
However he was called upon on a few occasions, notably to claim a few high crosses and set pieces which were thrown into the penalty area.
He took them confidently and with authority, and Reina's distribution was also quick and accurate.
Not much to do, but good concentration shown.
Reina: 6/10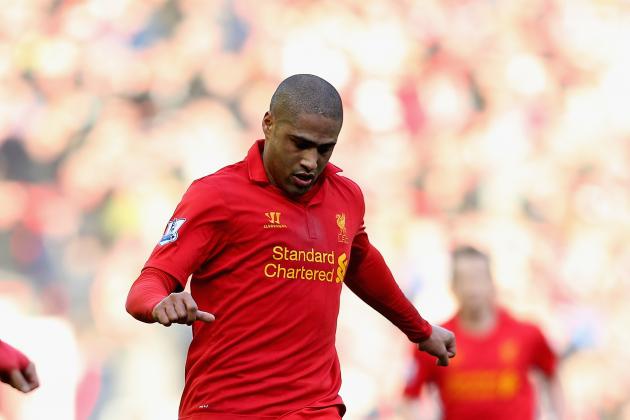 Clive Brunskill/Getty Images

With so much space ahead of them and very little opposition attacking to force them back, Liverpool's full-backs had a big part to play in this game.
Unfortunately for the Reds, neither had great games. Tracking back and winning back possession was no problem, and both regularly contributed to closing out West Ham's lonesome and sporadic attacks, but going the other way they both made frequent poor decisions on the ball.
Jose Enrique's reluctance to release passes quickly was a severe hindrance to the Reds, who needed to maintain a high tempo to break down West Ham, while Johnson was guilty of giving the ball away from dribbles and passes alike. The right-back also passed up a good chance to shoot from just a few yards out.
In a game which was basically attack vs. defence, more quality was needed from these two players.
Glen Johnson: 6/10
Jose Enrique: 6/10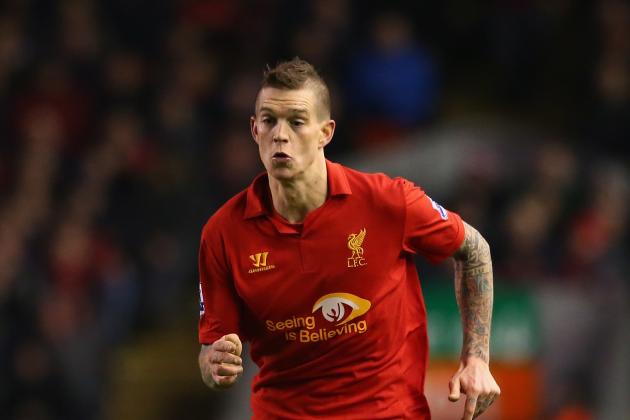 Alex Livesey/Getty Images

Liverpool's two central defenders were heavily involved in the game, constantly recycling possession around the centre circle and also helping to sweep up the infrequent forays forward from West Ham. Liverpool were able to double up in most challenges to win the ball back quickly, and Carragher and Agger were both big parts of that.
Agger of course was instrumental from time to time in launching quick attacks, moving further up the field and even getting a couple of shots away, one of which went very close to scoring and another which yielded a penalty shout for hand ball.
He also made a great block in the first half from a Carlton Cole shot and generally bossed all who tried to encroach in the Liverpool defensive third.
Carragher was similarly strong in the tackle, several times winning one-on-one battles and also launching one raid down the right in attack.
Jamie Carragher: 7/10
Daniel Agger: 8/10 MOTM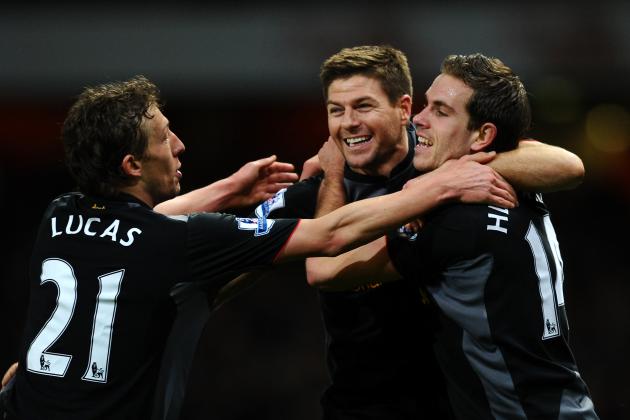 Laurence Griffiths/Getty Images

None was at his best, though Liverpool's midfield trio did largely dominate the match.
Lucas Leiva was in the deepest role, then Steven Gerrard and Jordan Henderson mostly operating as two in front of him, though the exact alignment changed as the game went on.
Lucas was sloppy in possession on a few occasions, but more worrisome was his failure again to track runners through the centre or win tackles against strong opponents, notably Mo Diame. However he did keep play moving quickly in the middle and protected the back two, involved in two-on-one tackles, on several occasions.
The Brazilian also gave away West Ham's biggest chance of the game, a gift of a shot for Carlton Cole—but also made a goal-line clearance with his knee after a West Ham corner.
Gerrard was heavily involved in the match, always looking to switch play and force Liverpool forward, but like with his teammates the killer pass was lacking in the final third of the pitch. Gerrard pressed and probed and several times ran deep into the right channel to try to cross but ultimately could not find the right final ball.
His set-piece delivery was also poor from corners.
Henderson was busy and worked hard and in the first half at least looked a danger in the area but ultimately was rendered a little redundant in the attacking midfield role and was substituted, such was the mass of defenders he was up against.
Lucas Leiva: 5/10
Steven Gerrard: 6/10
Jordan Henderson: 6/10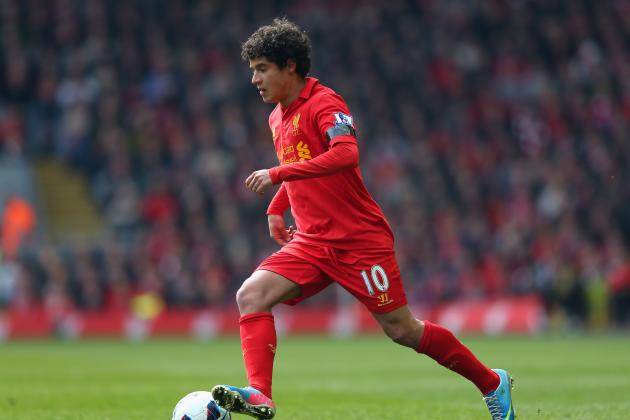 Alex Livesey/Getty Images

Stewart Downing played just the opening 20 minutes of the match before being substituted. There was nothing particularly wrong with his performance, but it quickly became apparent to manager Brendan Rodgers that there was a need for a more direct threat from that inside channel.
Downing had one or two chances while on the pitch but made way for Daniel Sturridge.
Centrally, Luis Suarez was Liverpool's hardest worker, was involved in the most chances and as always was the main go-to man in attack, but he also had one of his poorest games in terms of being on the ball.
Suarez left defenders for dead from time to time with his dribbles and control, but again, final passes, cut-backs or shots were lacking in accuracy or else badly selected. Suarez cut a frustrated figure, but this time much of his woes were of his own making, opting for another twist or turn when a quicker pass might have been the better option.
Liverpool's best attacking player was Philippe Coutinho, who started on the left, also figured on the right and ended up playing in a deeper central-attacking role.
His quality on the ball is unquestioned, and he made good use of the space afforded to him, but was also outmuscled by Diame and Guy Demel at times. Coutinho made frequent runs with the ball at his feet and tested Jaaskelainen on a few occasions but was ultimately unable to find that through pass this time around to fashion a clear chance on goal.
Stewart Downing: 6/10
Luis Suarez: 7/10
Philippe Coutinho: 8/10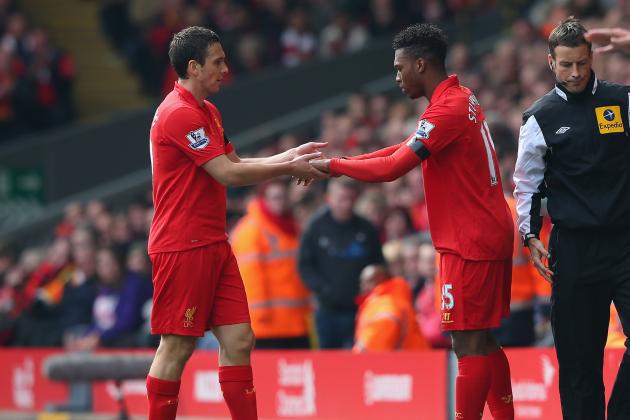 Alex Livesey/Getty Images

Liverpool manager Brendan Rodgers made the early decision to bring on Daniel Sturridge for Stewart Downing, and initially it looked a good decision when he provided a bit more pace and vertical threat for the Reds.
However, following an injury and not playing last week, the forward looked a little off the pace of the game and struggled with his first touch at times. He did crack in a shot or two later in the game, but it all came a bit too rushed and a little too late for Liverpool.
The link with Suarez, so sparkling at the beginning of his time at Anfield, was not present too often against West Ham.
Oussama Assaidi made a rare appearance on the field in the second half to bring a bit more pace and width to Liverpool's play, but aside from a few over-hit crosses, he was unable to have any impact on the game at all.
Daniel Sturridge: 6/10
Oussama Assaidi: n/a
Unused Subs: Brad Jones, Martin Skrtel, Seb Coates, Jonjo Shelvey, Suso