S.F. Giants vs. Cardinals: Live Score, Analysis of Cain-Wainwright Matchup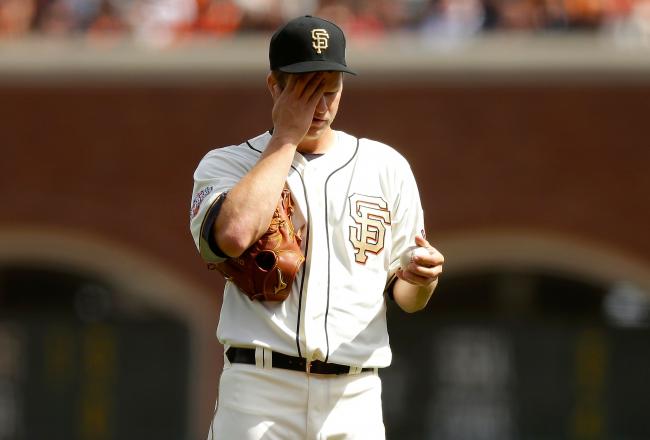 Final Score:
Cardinals 14 - Giants 3
W: Adam Wainwright (1-1)
L: Matt Cain (0-1)
The Cardinals took game three of this series against the Giants moving to 3-3 on the young season.
The loss also sends the Giants to 3-3.
#THATSAWINNER Bats were on fire as #STLCards smacked 15 hits in 14-3 rout of Giants.

— St. Louis Cardinals (@Cardinals) April 7, 2013
#SFGiants lose by a score of 14-3 to the #Cardinals...tomorrow, they welcome the #Rockies to town for a 7:15pm start at AT&T Park.

— San Francisco Giants (@SFGiants) April 7, 2013
Torres sends the second pitch of the at-bat to left field where it's caught by Allen Craig for the final out of the game.
Cardinals win, 14-3.
Kelly will remain in the game and he now faces Andres Torres.
Quiroz keeps the game going with his first hit of the year.
Brandon Belt scored on the play but that liner definitely hit Kelly in his pitching hand.
Hopefully he's alright.
Noonan follows Belt with his first career hit!
Runners on first and second now with two away for pinch-hitter Guillermo Quiroz.
Belt is finally off the schneid, that's his first hit of the season!
Nick Noonan to the plate with one on and two down.
Hunter Pence grounds out to second; two away.
Kelly gets catcher Hector Sanchez to ground out for the first out of the inning.
Giants down to their final two outs.
Tony Cruz remains in the game as the Cardinals catcher while Yadier Molina shifts over to first base.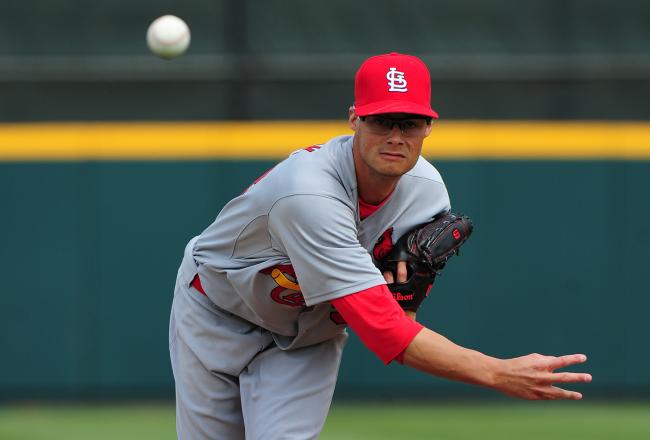 Joe Kelly and his rec-specs enter the game as the Cardinals new pitcher.
Looking to right the ship here with a 10.13 ERA to start the season.
Pitcher Mark Rzepczynski just made his first career plate appearance (per Baseball-Reference.com).
Unfortunately it resulted in a strikeout.
Jon Jay records his second hit of the day, an RBI triple.
Probably could have been an inside the park home run if he wanted it.
Cruz and Wigginton score.
Cards up 14-2 now.
Just heard a Giants fan cheering "let's go seagulls" in a reference to the seagull problem at AT&T Park.
Guess there isn't much else to cheer about at this point.
Kontos gets Jackson swinging on a pitch in the dirt.
Two away for Jon Jay with runners at first and second.
Kontos allows a sacrifice fly to Kozma.
One away in the top of the ninth.
Cardinals now lead 12-2.
Yikes.
Elias still checking, but no #sfgiants starter since 1921 at least has allowed nine runs in an inning before today.

— Henry Schulman (@hankschulman) April 7, 2013
Ty Wigginton registers his second hit of the day.
Bases loaded with nobody out.
Pete Kozma up to bat.
Kontos walked Tony Cruz.
Runners on first and second with nobody out now for Ty Wigginton.
Giants fans have been filing out of the stadium for the last couple of innings.
Look at all the "die hard" #SFGiants fans at AT&T dressed up as green seats.

— ⚾ Jennifer Young ⚾ (@KiddoYoung) April 7, 2013
George Kontos is on the bump for the Giants.
He's got a filthy slider working for him right now.
Molina leads off the ninth with a single up the middle.
Nobody out with Tony Cruz up to the plate.
Buster Posey is the third casualty of the inning.
A pop-up to second for the final out.
Headed to the final inning, Cards 11, Giants 2.
Rzepczynski gets Sandoval on a come-backer to the mound.
Two away.
Mark Rzepczynski is on the hill for the Cards and he promptly gets Pagan to ground out for the first out in the Giants' half of the eighth.
Cardinals fans are already looking forward to the team's home opener tomorrow.
Mat Latos is starting tomorrow. Last year this meant a fun night on Twitter but this year, well, not so much. Disappointing #stlcards #Reds

— Nick(@grobot20) April 7, 2013
This article is
What is the duplicate article?
Why is this article offensive?
Where is this article plagiarized from?
Why is this article poorly edited?