WWE vs. TNA: Who's Been Better This Week? (Mar. 31-Apr. 6, 2013)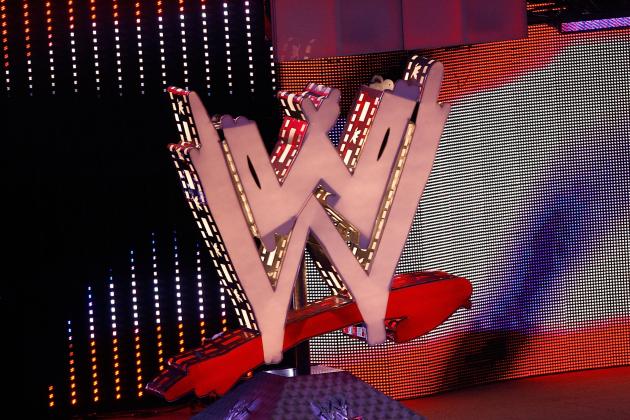 Jim Rogash/Getty Images

Hello, and welcome to my latest weekly WWE vs. TNA article, in which I review the main output of both promotions and pick a winner.
Assuming you're not flattering me by making reading this your first foray into wrestling, you are likely well aware that this was the final week before WrestleMania 29. Did the WWE pull out all the stops to hook us in before its biggest pay-per-view? Let's find out.
Begin Slideshow

»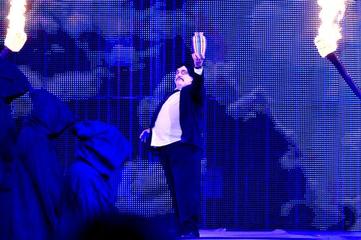 Image: wwe.com
Raw opened with a John Cena promo. That's all I can find to say about it. The crowd managed to say something about it, though. They said "boring" several times.
The Big Show, Sheamus and Randy Orton defeated 3MB in Raw's first match, just like they did on the SmackDown before last. Then The Shield came out, just like the SmackDown before last. But hey, this is the last week of this. Cause for celebration in a way, then.
More successful in building excitement for WrestleMania was Dolph Ziggler vs. Daniel Bryan. Mainly I'm interested to see how Big E Langston wrestles. Beyond Sunday, though, I long for the day when Ziggler and Bryan are given a full 25 minutes.
Shawn Michaels, who's never gone for long enough to miss and who's a very average mic worker anyway, was brought in to try to inject some interest into the Triple H vs. Brock Lesnar match. My only interest is the hope that Lesnar wins and we don't have to see Triple H again. I am a boundless optimist.
Mark Henry squashed Santino Marella, which was immensely enjoyable. That's all Santino should be used for.
Even in a short backstage interview, CM Punk managed to be the best thing in the show up to that point—and that was over halfway through. He told a joke that made me give a little gasp, when he talked about how Paul Bearer's streak of waking up in the mornings had ended. I reckon most people would think that's too far.
Jack Swagger and Zeb Colter beat up Alberto Del Rio with a pair of crutches. That was reasonably interesting.
The Rock announced his intention to run for President. I wouldn't object to that. It would keep him out of wrestling. And out of movies come to that. Dwayne Johnson 2016!
Chris Jericho and Antonio Cesaro displayed some interesting chemistry, but of course it played second fiddle to Fandango's distraction. Fandango vs. Y2J is one of the more interesting prospects on the WrestleMania card. I haven't seen him wrestle, but if they're confident enough to put him against Jericho in his first match and have it at the biggest PPV of the year, he must be something special.
All through the night, we were told we'd see The Undertaker "eviscerate" CM Punk. Punk would be silly to show up for that if it's guaranteed. The qualification was later inserted that they meant verbally eviscerate. I had my doubts about that; Undertaker is not the greatest talker of all time.
Sure enough, he spoke forcefully but didn't say anything particularly notable. The shift in atmosphere, then, as the monks entered was fantastic. When Paul Heyman appeared dressed as Paul Bearer, my jaw dropped. Then the segment just became something else entirely. Absolutely stunning.
Raw was a very average show until the final segment. It really isn't what you want before the biggest PPV of the year. None of it was bad at least, but very little stood out. Really, that just sums up this year's road to WrestleMania. Unspectacular at best, except for the Undertaker and CM Punk segments.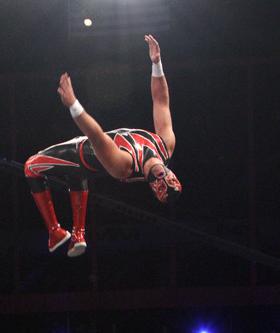 Image: impactwrestling.com
Impact opened with the shock news that D-Lo Brown has been fired by TNA. Then members of the TNA locker room ran in and brawled with the Aces and Eights a little bit. Just when I think they might be introducing new elements here and there, we get this.
There is no entertainment left in seeing them brawl, and the only reason it's any better than The Shield walking down the steps after a match to beat up whoever is that the TNA equivalent is over more quickly. That said, there was a split-second shot of Joseph Park running to the ring as part of Team TNA that made me laugh out loud. Bless him.
The first match was a Knockouts tag team match. This isn't usually an objectionable thing, except—for what I assume was meant to be comic purposes—Joey Ryan was trialling as a Knockouts referee. What it was may take me 200 years to comprehend, but it certainly wasn't funny.
The first successful segment of the show came in the form of the contract signing between the tag team champions Bobby Roode and Austin Aries and the challengers Chavo Guerrero and Hernandez. Contract signings are rarely entertaining, so it was good to see such a fun and imaginative spin on the concept.
This week's Gut Check match was better than the usual. In terms of the promo beforehand, Adam Pearce is a great talker and character. So far as the wrestling goes however, Magno's moonsault—especially considering his size—was incredible.
Magno has a big disadvantage though: he looks like and has the name of the kind of thing an 11-year-old would design on a video game's Create-A-Wrestler, convinced that they'd come up with the greatest thing ever.
Petey Williams, Sonjay Dutt and Mason Andrews put on a great little triple threat match. It opened with a great stream of roll-up pin attempts, finished with a Canadian Destroyer and had a lot of good spots in-between. It was only when I checked after that I realised it only lasted for six minutes.
The final match featured five of Aces and Eights against five of TNA. It was a reasonable watch, but these matches are so inconsequential. We get some variant on the theme almost every week, and it never makes any difference.
The way these things can work is if there's a result depending on who wins. Maybe a hinted defection, maybe a championship getting involved. It wouldn't take much to give things a bit of intrigue, but without it, things are boring.
For the closing segment, Bully Ray talked to Brooke Hogan for a bit. Bully Ray is such an excellent mic worker that that can be enough to generate entertainment—and so it was the case.
There were some good parts in Impact, but it was a slightly mediocre whole. Next week holds a lot of promise, though; after that, we'll really know how things stand in TNA.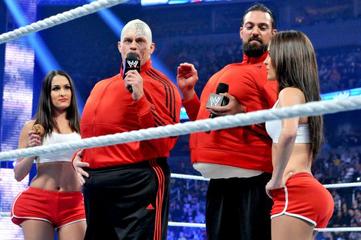 Image: wwe.com
SmackDown opened with Ryback defeating Primo and Epico in a handicap match. We've seen it before, so that wasn't interesting.
Following that, it was over 20 minutes before we saw some original action. Yes, this SmackDown would be largely composed of hyping WrestleMania. As if SmackDown wasn't usually full of enough repeats.
The original action we did eventually get, though, was quite brilliant as Cody Rhodes, Damien Sandow and The Bella Twins came out dressed as Brodus Clay, Sweet T and The Funkadactyls. It was quite funny, especially Cody Rhodes' bald cap and pretend Tensai tattoos.
That morsel of entertainment would have to sustain us for another half an hour before we were blessed with a match. That match was Jack Swagger vs. Kofi Kingston, and it wasn't particularly great.
Despite being a big man, Swagger's looked rather weak when in actual matches throughout the entire buildup to WrestleMania. If I had to guess I'd say he'll defeat Alberto Del Rio, but logically he wouldn't based on his matches.
SmackDown was two matches and one segment, and the rest was a mix of WrestleMania hype and "Aren't we great" propaganda. And yet, when the WWE was genuinely and demonstrably great and actually had legitimate claim to being a sports entertainment phenomenon back in the Attitude Era, did you see it devoting shows to self-aggrandisement like this?
The more they shout, the less they really have to shout about.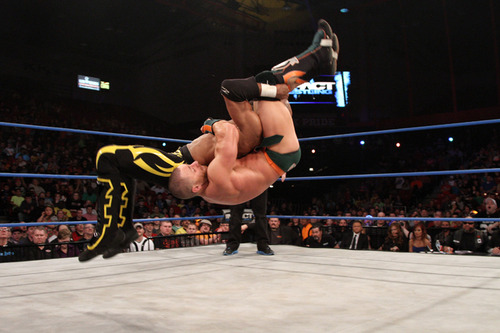 Image: impactwrestling.com
Show of the Week: WWE Raw
Raw was marginally better than Impact, but neither was exceptional. The closing segment of Raw just about swung it for me. SmackDown, to all intents and purposes, wasn't on this week. Of course, this is the last big hype before WrestleMania, so to have such damp squibs of shows as the WWE put out is quite an indictment on it.
Match of the Week: Petey Williams vs. Sonjay Dutt vs. Mason Andrews
At the end of the week, this is the match I most remember. It's good to see the X-Division playing a more frequent role on Impact.
That's almost it for this week. Just one more thing, though: I've written another article today discussing the "Road to WrestleMania" this year with a few predictions here. Do check that out. In the meantime, give me your thoughts in the comments on this week's action and enjoy WrestleMania tonight.