What Michigan Can Learn from Louisville's Close Win over Wichita State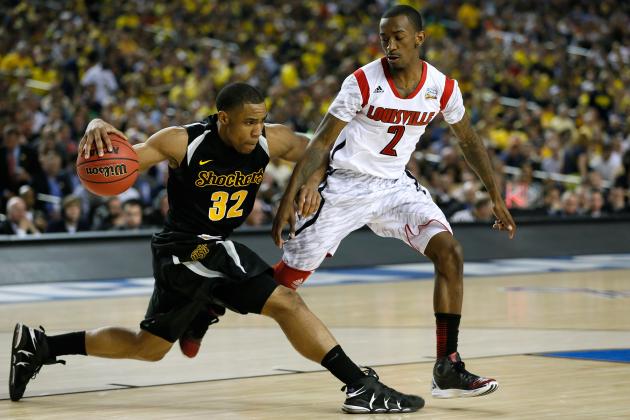 Kevin C. Cox/Getty Images

After rampaging through their first four tournament games, the Louisville Cardinals narrowly escaped Wichita State to earn a date with Michigan in the national title game. As John Beilein and the Wolverines frantically prepare to face the tournament's No. 1 overall seed, you can bet that they'll take a long look at how the ninth-seeded Shockers came within four points of a historic upset.
One huge key to Wichita State's near-surprise was keeping the Louisville press from dictating the tempo. The Shockers committed a mere 10 turnovers, and Michigan—the nation's best team at avoiding the giveaway—has to be heartened by the way Wichita State kept Louisville from getting out and running for large chunks of the game.
Read on for more on the things the Shockers did (and didn't quite do) that can serve as object lessons for Michigan in the run-up to Monday night's championship game.
Begin Slideshow

»
Kevin C. Cox/Getty Images

As much as the Shockers benefited from their usual offensive rebounding show against Louisville, they got a taste of their own medicine on the other end of the floor.
A huge factor in the Cards' second-half comeback was the extra opportunities derived from their 11 offensive boards on the night.
Stopping Gorgui Dieng and Chane Behanan won't be an easy task for undersized Michigan. The Maize and Blue gave up nine offensive rebounds of its own despite sending out bigger-than-normal lineups against Syracuse.
However, boxing out is also about focusing on the task at hand, and it's got to be a point of emphasis if the Wolverines don't want to see good defensive possessions wasted by easy putbacks.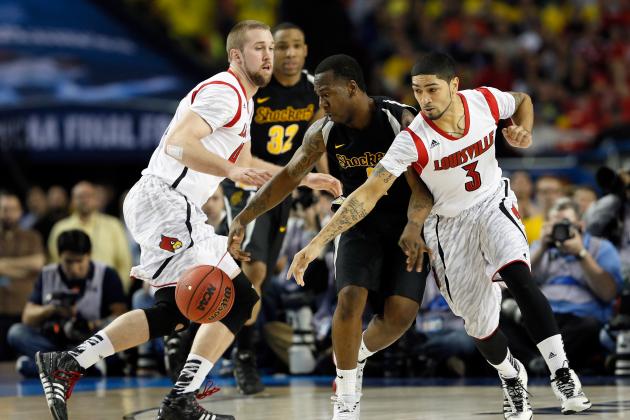 Kevin C. Cox/Getty Images

This one's preaching to the choir for a Wolverine team that turns the ball over less often than any in the nation, not to mention one that already beat Virginia Commonwealth (a.k.a. the only team that gets more steals than Louisville) in this tournament.
However, it bears repeating that avoiding turnovers can make the difference between a win and a loss against the Cardinals.
After all, Wichita State built a huge second-half lead thanks in large measure to a 20-plus minute stretch in which it didn't give the ball away once. Louisville's comeback, not coincidentally, opened with a string of three turnovers forced in under two minutes.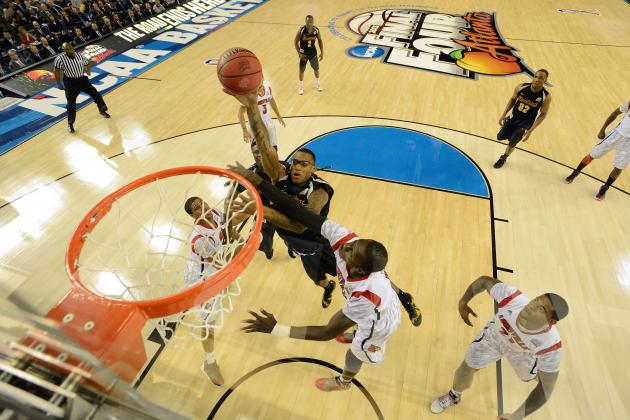 Pool/Getty Images

Even in the absence of the overpowering three-point shooting that helped them beat Gonzaga and Ohio State, the Shockers still gave Louisville's high-powered D a run for its money.
A key factor in that performance was Wichita State's ability to get to the rim, either with offensive rebounds or by passing into the paint.
Not only are shorter-range shots going to be higher-percentage—even with Gorgui Dieng swatting his share—but an aggressive offense is more likely to get the Cards in foul trouble, as Wichita State did with great success.
Michigan can't help being aware of the value of that latter advantage, having just succeeded in fouling both Michael Carter-Williams and Brandon Triche out of their national semifinal game.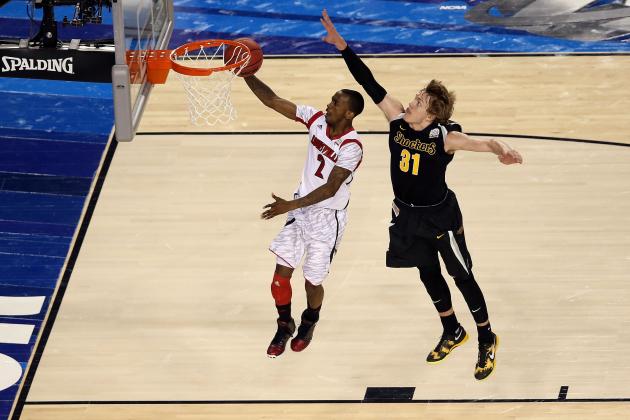 Streeter Lecka/Getty Images

Wichita State was the third team this season to see a 16-point second-half lead evaporate against Louisville.
No team has been better at riding momentum to quick scoring runs than the Cardinals, and even if a lead looks safe against them, it probably isn't.
Michigan, for its part, nearly gave away a late lead of its own by going to the milk-the-clock approach too early against Syracuse. The Wolverines have to keep attacking, even into the final minute of the game, if they want to put Louisville away.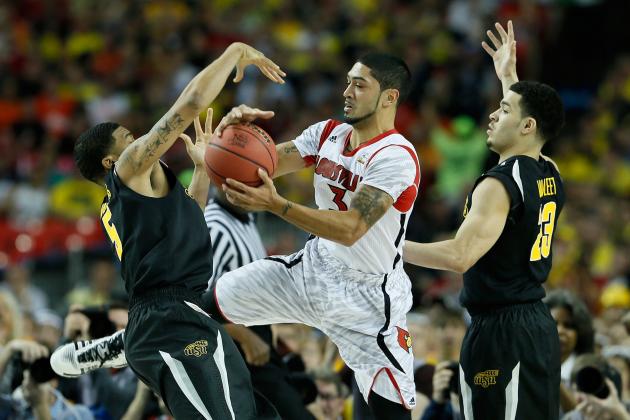 Kevin C. Cox/Getty Images

Wichita State's defense focused on collapsing into the middle and cutting off the dribble penetration of Peyton Siva and Russ Smith. The Cardinals had to win with jump shooting and (behind Smith and Luke Hancock) they just barely did.
Expecting another nine made three-pointers from this shaky collection of shooters is a poor bet, so Michigan's best strategy defensively is to force Louisville to prove that it can find the range for the second game in a row.
Turning Russ Smith into a jump-shooter will also magnify the five-inch height deficit he faces against Wolverine defensive ace Tim Hardaway Jr.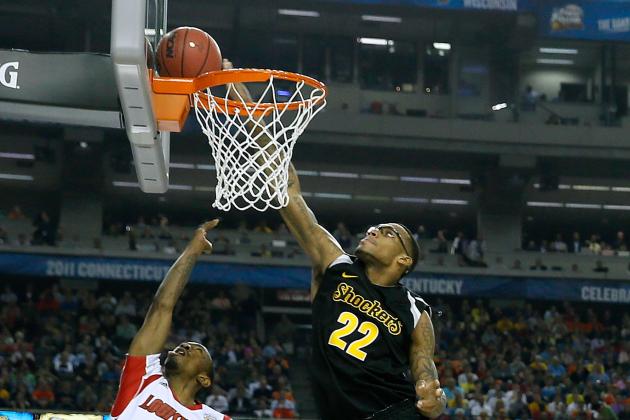 Kevin C. Cox/Getty Images

Louisville has won 34 games by winning the fast-break battle. Russ Smith's breathtaking speed can outrun any defender—unless the defenders are already back waiting for him, as Wichita State's were.
The Shockers held Smith to a paltry six field-goal attempts from inside the three-point arc, a total he usually exceeds by halftime.
If Michigan wants to smother the primary source of the Cards' scoring, it has no better option than to emulate Wichita State and get defenders back to the paint as fast as possible, every single time.