Cornellius Carradine: Video Highlights for Former Florida State DE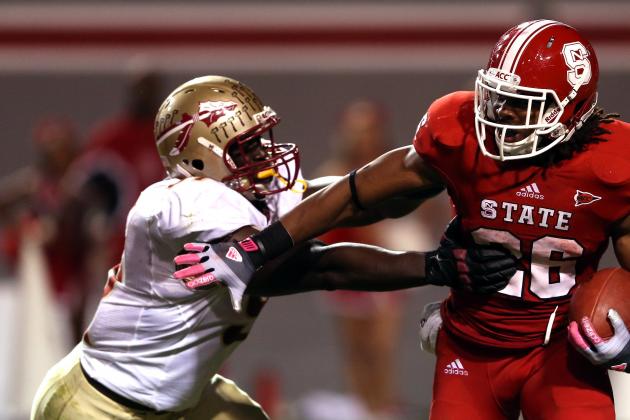 Streeter Lecka/Getty Images

In a strong class of defensive ends, Cornellius "Tank" Carradine is one of the best. Coming from the JUCO ranks, he played backup to Brandon Jenkins before Jenkins suffered a season-ending injury. Carradine stepped in as the starter immediately and never looked back.
Mostly overshadowed by Bjoern Werner, Carradine was able to rack up 11 sacks on the season, falling just 1.5 sacks short of being the team leader.
Standing at 6'5", 265 pounds, "Tank" has the ideal body to play defensive end in 4-3 system.
Late in the season, Carradine suffered a torn ACL against Florida. Were it not for the injury, he may have been the first defensive end to hear his name called at the draft—even ahead of Werner. He has a great combination of athleticism and power, allowing him to beat tackles with a speed rush while also being strong enough to push them back.
Durability is a question with Carradine, but if he responds positively after the injury, he can end up being the best pass-rusher of this draft.
Here are a few highlights of Carradine's college career.
Begin Slideshow

»
When Brandon Jenkins went down with a season-ending foot injury in the first game of the year, Cornellius Carradine stepped in for him and did a fantastic job.
In the video, you can see the constant pressure he's able to create, making a quarterback's life miserable. He has great pursuit and plays every down as if it was his last. He holds his ground at the point of attack and can set the edge on running plays.
At 0:18, you can see him disengage from his blocker and close on the running back, who's trying to stretch his run to the outside. On the next play against Miami, he holds his ground and is able to meet the running back at the line of scrimmage.
He is known for his pass-rushing abilities, but he can also play the run, which makes him a complete defensive end prospect.
Carradine played one of his best games of the season on the biggest stage. Florida State and Clemson are the two best teams in the ACC and whoever wins this game has a step up on the division title.
Clemson came into this game with one of the best offenses in the country. It had a mobile quarterback in Tajh Boyd, two blazing receivers in DeAndre Hopkins and Sammy Watkins and a very good running back in Dwayne Ellington.
This was one of Carradine's best games. He had two sacks, but constantly found himself in the Clemson backfield. He recorded seven tackles, including one on a fake field-goal attempt, which shows his awareness and ability to react.
Carradine was a force against the Tigers and there's no one happier than Tajh Boyd about Carradine heading to the NFL ranks.
Carradine had one of his best games against Clemson, but his best game came against Virginia Tech in Blacksburg. He had 11 tackles and one sack as the 'Noles beat the Hokies and came one step closer to an ACC Championship Game appearance.
On this first play, which is not a sack, he forces quarterback Logan Thomas to get rid of the ball under duress by using his quickness off the edge and a swim move to get to the signal-caller. He has to develop some more pass-rushing moves, but he has this one mastered.
Two plays later, you can see Carradine beat his blocker with the same move and nearly get to Thomas before he releases the ball.
When Carradine becomes more polished as a pass-rusher, there will be few people that will stop him from getting to the quarterback.
Not only can Carradine get to the quarterback while he's still in the pocket, he can chase him down just about anywhere.
On this play, you can see him make a fool of the offensive lineman by beating him easily at the line of scrimmage. When he gets to the backfield, Stephen Morris (who has good speed) begins running for his life and Carradine is able to continue his pursuit, eventually bringing Morris down for the sack.
Carradine plays every down as if it's his last and it's evident when you look at this tape. He never gives up on a play and will keep going until the whistle is blown.
Like I said in the intro slide, Carradine would have been a first-round pick had he not suffered a torn ACL late in the season.
It was late in the game against Florida when he went down and instantly grabbed his right knee. He was going after the Jeff Driskel, but when Driskel stepped up in the pocket, Carradine's knee gave out on him. It looked bad when it happened and the results weren't any better when they came back.
Since it was an injury that occurred without any contact, durability is definitely a question with him. Is there a high probability that it can happen to him again? Will he be 100 percent? Will he reach pre-injury form?
These are the questions teams will be asking themselves, but I think Carradine will come back from this injury without any problems.
He has all the tools to be a great pass-rusher and, if healthy, he will be a perennial Pro Bowler.