5 Late-Round Prospects That Would Be a Perfect Match for 49ers
Geoff Burke/Getty Images
With the NFL draft quickly approaching, teams are readying their draft boards in anticipation for what should be a crazy three days. The San Francisco 49ers are no different.
Everyone usually focuses on the first day, but with this being a relatively deep draft, the late rounds should be quite interesting, especially for a team like the 49ers who are loaded with picks.
With such a talented team already in place, the 49ers will enter this year's draft with all the leverage in the world. Should make a fun day for Niners fans hoping the team comes out with an impact player or two.
Without further ado, here are five late-round prospects that would be a perfect match for Jim Harbaugh's 49ers.
Braxston Cave, C, Notre Dame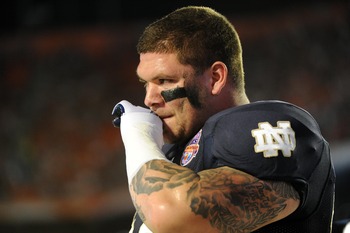 Steve Mitchell-USA TODAY Sports
Braxston Cave doesn't have the footwork or athleticism to be a standout NFL center, but the Notre Dame product does have excellent awareness and strength to man the position.
He isn't a mauler in the form of many of the current 49ers offensive lineman; however, Cave plays with excellent leverage and should be a factor as pass protector.
With the 49ers incorporating more read option and spread formations to the offense, having a steady pass protector could go a long way. In addition, his skill set would complement this run-oriented 49ers line.
If the 49ers can get Cave around the sixth or seventh round, he could be a steal for Trent Baalke.
Mychal Rivera, TE, Tennessee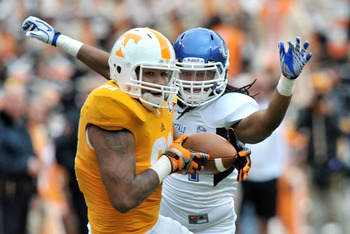 Jim Brown-USA TODAY Sports
Mychal Rivera could end up being the steal of the draft. I love Rivera's skill set and versatility at the next level, especially if paired with such offensive masterminds like Jim Harbaugh and Greg Roman.
Rivera can line at slot, out wide and in line. He even has experience playing in the backfield. This should remind many of the versatile Delanie Walker, who signed with the Tennessee Titans in the earlier stages of free agency.
Like Walker, Rivera lacks ideal size for a tight end at 6'3'', but size isn't everything. Look at Walker as proof.
Rivera isn't the blocker that Delanie Walker was, but he does have the potential to improve in this area. More consistency is needed.
The 49ers could target Rivera somewhere in the fifth or sixth round, but I wouldn't be surprised if the former Tennessee product went earlier.
Terry Hawthorne, CB, Illinois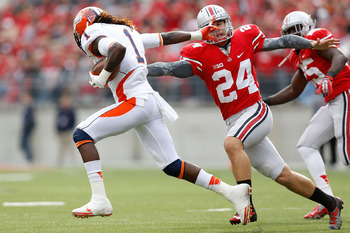 Kirk Irwin/Getty Images
Hawthorne is a very intriguing prospect. He has all the physical tools to be a difference-maker in secondary, but lacks the discipline and ball skills you want in a starting NFL corner.
Fortunately, his weaknesses can be worked with. You can't teach speed and height, and on tape, Hawthorne has plenty of it.
He shows the ability to recover when beat, and is physical enough to play the run quite well. Can play in both man and zone schemes, which gives him some versatility in the 49ers sub packages.
Hawthorne also has excellent awareness when it comes to reading routes, but will need to work on finishing plays, which is why I questioned his ball skills.
Reminds me a lot of Chris Culliver, who the 49ers selected in the third round of the 2011 NFL draft. Culliver was projected to go after the fifth round, but Trent Baalke gambled and selected the South Carolina product earlier than expected.
Like Culliver, Hawthorne has the physical tools to succeed, but lacks the discipline expected from a starting corner.
I can envision a team selecting Hawthorne in the fourth round or even third round, but I say he drops into the third day.
Joe Kruger, DE, Utah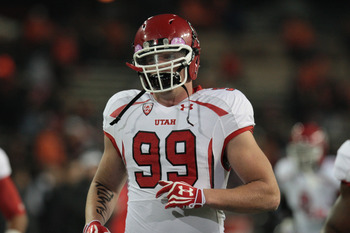 Scott Olmos-USA TODAY Sports
Joe Kruger, brother of Cleveland Browns linebacker Paul Kruger, is a prospect to watch in the NFL draft. At 6'6'' 269, Kruger has the bloodlines and versatility to make his mark at the next level.
Kruger didn't wow anyone while playing at Utah, which is concerning considering he played alongside a player like Star Lotulelei, who many have slated to go in the top five of this year's draft. Consistency was Kruger's issue, though he did show flashes from time to time.
However, the Utah product does have tantalizing versatility. He can line up as a traditional 3-4 or 4-3 defensive end, and even has some potential as a 3-4 rush linebacker.
Kruger has excellent length and footwork, and possesses a great work ethic. He also has excellent quickness for a defensive lineman his size.
If the 49ers selected Kruger in the later stages of the draft, they'll have to be patient with the young lineman. Like his brother, Kruger won't make an immediate impact at the next level.
Joe Vellano, DE/DT, Maryland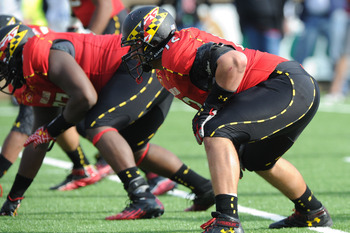 Bob DeChiara-USA TODAY Sports
I have been a big advocate of Joe Vellano for quite a while. Vellano isn't the biggest lineman or even the quickest, but man does he have a motor.
Vellano can also line up at multiple positions alongside a defensive line, though he is best suited as an end in a 3-4 base defense. He even has experience playing in a 3-4 defense at Maryland.
Vellano will never be a star at the next level, but if he develops properly, I can envision him as a nice rotational piece.
Keep Reading

San Francisco 49ers: Like this team?