Johnathan Franklin: Video Highlights for Former UCLA RB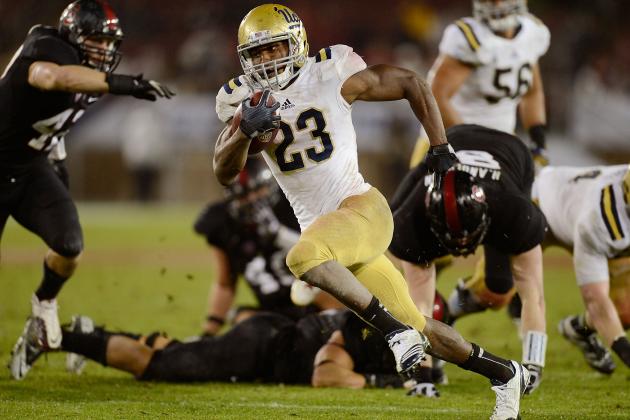 Thearon W. Henderson/Getty Images
Johnathan Franklin is one of the shiftiest running back prospects in this year's draft class. He is very elusive and can make defenders whiff with ease.
Former UCLA standout Johnathan Franklin is a very intriguing running back prospect this year. He is not the largest back to enter the draft this year, but he runs hard and is not afraid of contact.
Franklin has had a number of great runs during his tenure at UCLA mainly because of his one-cut ability after the handoff. He finds the open hole quickly and gets upfield in a hurry.
Due to his shifty hips, nice speed and great vision, Franklin should be able to serve as at least a stellar change-of-pace back at the NFL level.
Here are some of Franklin's most impressive highlights from his days as a Bruin.
Begin Slideshow

»
This run encompasses exactly what Franklin's runs are all about.
An amazing one-cut runner, Franklin has great vision, which allows him to cut quickly when he sees a penetrating defender.
He does this twice during this particular run.
First, directly after the exchange, Franklin sees a linebacker break through the middle of the line and immediately cuts to his right side. This gives him enough daylight to get to the second level.
Next, he sees approaching defenders from the secondary and quickly shifts his hips to cut once more to the right side, which allows him a great angle to get down the sideline.
From there, it is a footrace to the end zone, which Franklin wins handily.
Again, Franklin puts his one-cut ability on display.
He makes himself very small behind the offensive line after the handoff and shows great patience for a hole to open up.
Once he sees daylight, he makes an immediate cut to his left and explodes through the gap.
A defender attempts an arm tackle, but Franklin has enough strength to shed the tackler. Maintaining his balance, Franklin then trudges ahead for plenty of yards after contact before eventually being taken down.
Franklin shows his toughness, as the defender gives up an extra seven yards while trying to take him down.
This is a great video shot from behind the line of scrimmage that really shows off Franklin's one-cut ability when he runs.
Franklin gets the handoff out of the pistol formation and accelerates toward the line of scrimmage. He sees interior offensive linemen being pushed backward and immediately swings his hips to the left. He then plants his right foot and springs to his left side without being touched by a defender.
From there, he accelerates straight ahead and finds the end zone with ease. Finding room in tight spaces is something that he does very well.
Again, this is a great view of a Franklin run from behind the line of scrimmage.
After the handoff, Franklin shifts his hips to the right side, which makes his cuts all the more deadly. During this run, his first cut is so quick it is almost difficult to see.
The impressive thing about this run is his acceleration after the cut. He is back at full speed almost immediately.
That helps Franklin plow forward using his momentum to get through a blocker that is tied up with a defender (someone's head got in front of this part). He maintains his balance and plunges forward into the end zone for a score.
During the first run, Franklin sees a penetrating defender and makes a great cut to his right. This leaves the defender in the dust and gives Franklin a huge gap for an easy score.
The next run is out of the pistol formation again. Franklin shows great patience in allowing his blocks to develop. Once his blockers are engaged, he accelerates quickly up the left sideline and into the open field.
The third run showcases his great vision. He seems to get stuffed on the right side of the line behind a group of engaged blockers, but he cuts inside quickly and decisively to find some space. While being tackled, he keeps his legs churning to allow for a few extra yards before he is brought down.
On the final run, Franklin showcases his ability to get to the outside quickly with a great burst. He gets to the edge quickly and does not allow the defenders to get a good angle on him. He then turns upfield and attempts to cut inside instead of avoiding contact and running out of bounds.
In each run of this quick highlight compilation of Franklin, take notice of the incredible ability that he possesses to make defenders miss by using a simple cut.
This maneuver is not a high-risk move, as he keeps the ball secure throughout. It is quick and decisive and allows him to maintain his momentum through the entire run.
Plenty of times, a defender will try to arm-tackle this running back, but due to his quick acceleration, he is nearly out of reach and won't be brought down without wrapping up.
Due to his great vision and decisiveness, Franklin should be NFL-ready by the time the 2013 season comes around.