Luke Joeckel deserves to be the top pick in the 2013 NFL draft. His outstanding array of skills fits perfectly with everything modern pro offenses try to do.
The ex-Texas A&M left tackle is in the mold of the modern lineman. He bases his game on athleticism and mobility, rather than brute force.
That makes Joeckel an ideal blocker for the zone-based rushing attacks and spread-style passing games proliferating in today's league.
Joeckel is a dream fit for the owners of the draft's top pick, the Kansas City Chiefs. He suits the blocking schemes favored by new head coach Andy Reid.
Joeckel is exactly the kind of nimble-footed, athletic edge-blocker Reid likes to key his zone-based system.
As a longtime proponent of the West Coast offense who places a premium on team speed, Reid values mobile zone-blockers.
That's why they will consider trading current starting left tackle Branden Albert (per ESPN's Adam Schefter). He is more of a power-blocking road grader.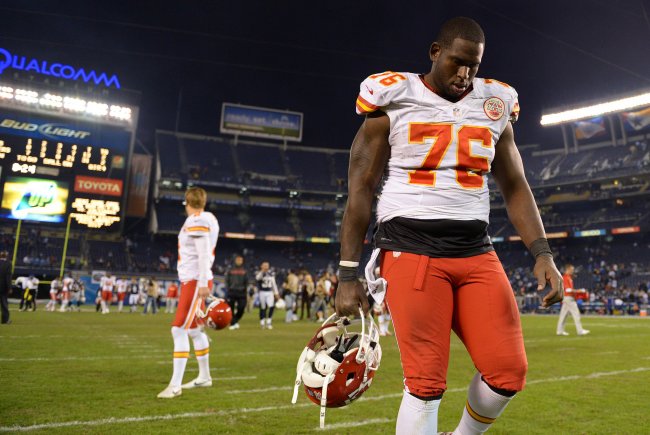 Jake Roth-USA TODAY Sports
When he coached the Philadelphia Eagles, Reid's model for his ideal left tackle was Jason Peters. When healthy, Peters is one of the most athletic players at his position in the NFL.
A look at how Reid used Peters helps show why Joeckel would fit well in Kansas City. The first example reveals the kind of mobility Reid expects in run-blocking.
Here, the Eagles face the Miami Dolphins in Week 14 of the 2011 season. Peters lines up over defensive tackle Randy Starks.
The Eagles run LeSean McCoy behind Peters. The left tackle will have to execute two key blocks.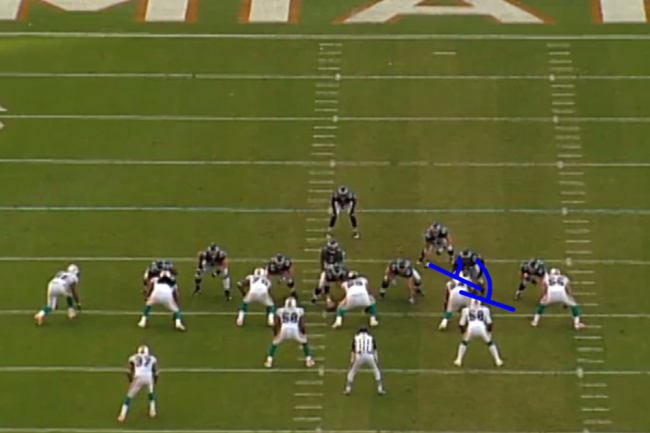 First he must block down on Starks (94). Then Peters must quickly shift to the linebacker level to block Kevin Burnett (56).
At the snap, Peters fires into Starks. He also quickly begins to peel off and head towards Burnett.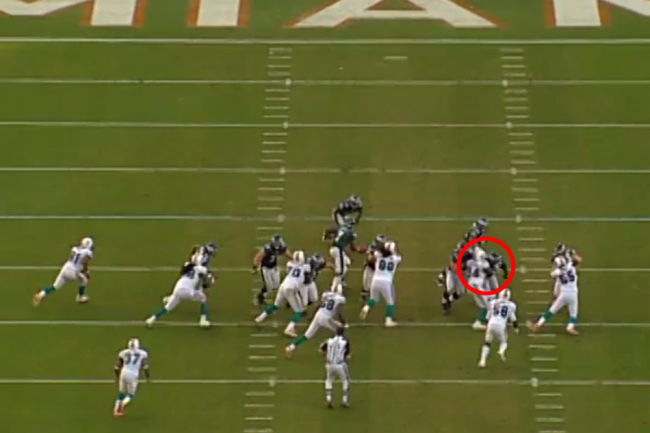 Once he shifts into space, Peters powers Burnett backwards. He keeps moving and creates a clear hole for McCoy.
This is classic zone-blocking. It requires quick-moving linemen who shift into space and shift between more than one block.
It's something Joeckel excels at. He disengages from his first block quickly and stays on blocks out in space. The video below is the perfect example.
Joeckel shifts out into space as quickly as any offensive tackle and punishes defenders in space.
The Chiefs need that kind of mobile blocking to free speedy running backs Jamaal Charles and Dexter McCluster.
Joeckel's zone-blocking prowess suits a league currently being dominated by zone-based running schemes. Two out of the three best rushing offenses in the NFL in 2012 belonged to the Seattle Seahawks and Washington Redskins.
They both base their dominant ground games on zone systems. Joeckel's fluidity and nimble reactions perfectly fit this type of scheme.
The video below shows Joeckel executing one of the key hallmarks of blocking for a zone-running game, the cutback block.
Joeckel executes a perfect cutback block, which is the cornerstone of today's popular zone-running schemes.
Joeckel was also the cornerstone of a spread attack built around the talents of a running quarterback at Texas A&M. He created lanes and stayed on blocks to help generate rushing yards for Johnny Manziel.
Spread sets and option schemes based around running quarterbacks have become increasingly popular in today's NFL. The Redskins used the offense to let Robert Griffin III dominate the league and help capture the team's first division title since 1999.
Inserting Colin Kaepernick and elements of the read-option into their offense helped the San Francisco 49ers reach the Super Bowl. Any scrambling quarterback needs a mobile blocker.
Ronald Martinez/Getty Images
One as dominant as Joeckel with experience blocking for option plays will naturally sit at the top of his draft class.
His experience blocking for a spread offense will also appeal to the Chiefs. Reid's team plans to use some versions of a spread attack after hiring Brad Childress as a "spread game analyst" (per the Associated Press).
Of course, what will define any left tackle at the top of his draft class is pass protection. Joeckel is virtually flawless in this area.
That makes him a coveted prize in the modern league, where passing concepts are expanding. Spread schemes can't function without dominant bookend pass-protectors.
The innovators of the spread-style attack in the pro game were the 1999 St. Louis Rams. They built the foundation of their passing attack on premier left tackle Orlando Pace.
They prioritized a tackle with Pace's skills in the 1997 NFL draft. The Rams traded up to gain that draft's top pick from the New York Jets and promptly selected Pace.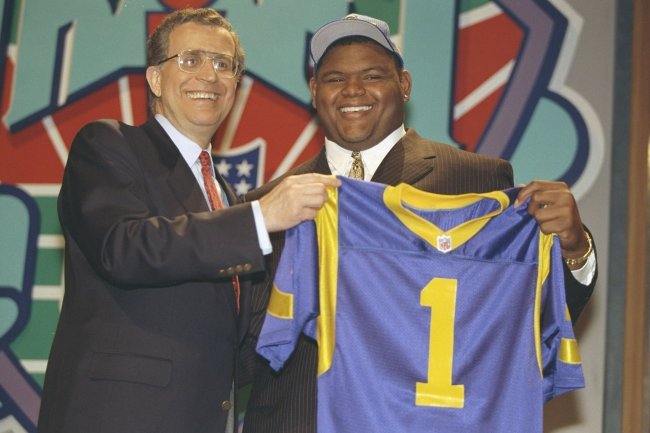 Al Bello/Getty Images
Their high-octane pass attack wouldn't have worked without Pace commanding the edge in pass protection. With more teams running versions of that offense in today's league, Joeckel becomes more valuable.
Joeckel's superior movement skills also make him an invaluable weapon in the passing game.
Again, Reid's offense shows how Joeckel is an ideal first overall pick for the Chiefs. The play is also from Week 14 of the 2011 season, involving the Eagles taking on the Dolphins.
One of the things Reid loves to do is utilize the screen game. He designs a wide variety of screens, intended to exploit the talents of multiple receivers. This demands blockers who can move quickly and effectively in space.
In this example, Reid's offense will set up a wide receiver screen to DeSean Jackson. The key to the play will be the left tackle moving through the defense and clearing the way for Jackson.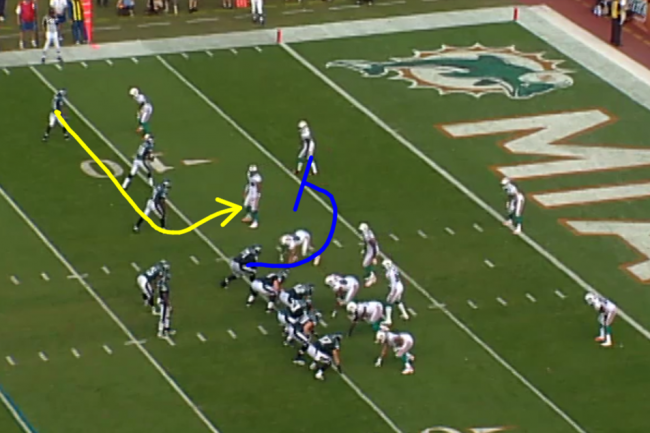 The left tackle, Peters (71), must quickly move out to the middle of the field. He also has to be agile enough to turn and shift his weight on the move and stay in front of Jackson.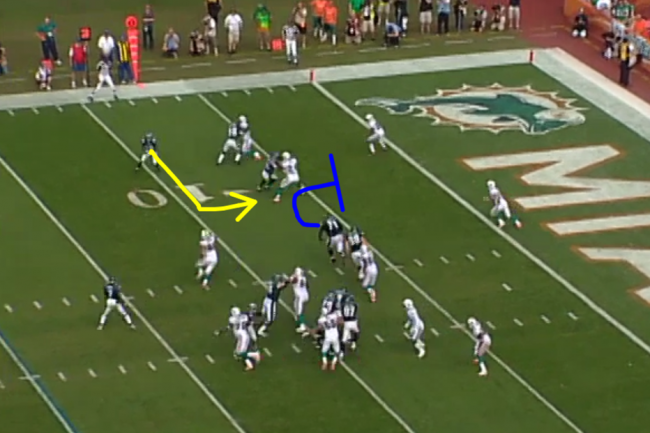 With a greater emphasis on these kinds of plays, linemen become almost like blocking backs. They must be as effective on the move in space as they are out of their stance at the line of scrimmage.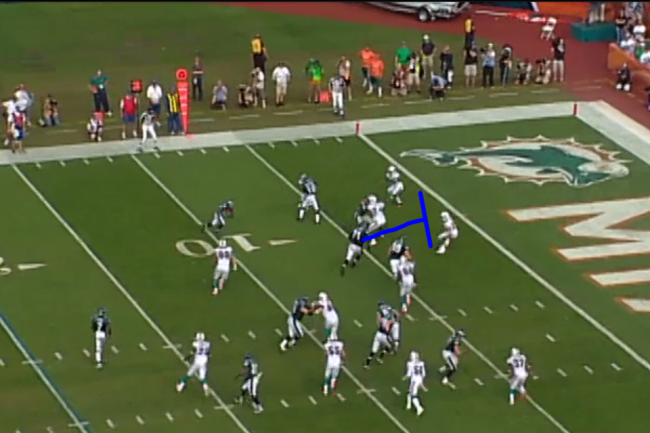 Wide receiver screens such as this one have become standard blitz-beaters in the NFL. So many defenses rely on pre-snap movement and overload pressures to beat a passing game.
Offenses have responded to this blitzing mentality by throwing screens designed to turn and run behind the pressure. That demands quick and agile offensive tackles to act as lead blockers.
The need for that athleticism to cope with an increasing variety of blitzes is what makes Joeckel so valuable. He has a knack for identifying and reacting to multiple pressure.
Precise and nimble footwork allows Joeckel to quickly shift off his initial block and slide into a secondary pass-rusher. Spatial awareness and lateral agility are two of his best attributes.
The video below provides two excellent examples of how Joeckel reacts to pressure from more than one angle.
This video shows two excellent examples of how Joeckel deals with pressure from multiple angles.
On the second play, beginning at the 0:06 mark, Joeckel smoothly shifts his feet to deal with a stunt. He plants his foot to the outside and adjusts to seal off the inside rush of the defensive end. Then he drags his planted foot back to the outside to fend off the looping stunt by the defensive tackle.
Joeckel showcases similar skill at the 0:36 mark. Again he smoothly sets and then shifts to pin the inside rush of the defensive end. Then Joeckel seamlessly turns to nudge the stunting defensive tackle away from the pocket.
With defenses using more and more multiple-blitz concepts, an offensive tackle with Joeckel's ability to diagnose pressure and react quickly becomes a necessity in the modern offense.
Joeckel excels in every area of blocking required for the multifaceted modern offense. He's mobile and keys the running game out in space. He's also adept at reacting to pressure from multiple rushers to allow the passing game to flourish.
Finally, he knows how to block for a mobile quarterback and for the spread-style attack that currently dominates the NFL.
The video below, highlighting Joeckel's performance against South Carolina State, ties together how he excels in each of these areas.
Joeckel excels at every type of blocking required in the modern offense.
At the 0:40 mark, Joeckel quickly moves out to the second level of the defense to block a linebacker on a read-option run from the shotgun.
At 1:32, he shifts out to block two defenders on the edge. This sets up a wide receiver screen.
At the 1:46 mark, he seals off a stunt from the defensive end and nose tackle. This creates an open lane for quarterback Manziel to run through.
The 1:55 mark shows another great example of Joeckel in space. He quickly fires out of his block and slams into a linebacker to key a classic zone cutback run.
Linemen are the foundation of every offensive scheme. Joeckel fits the mold of the modern lineman.
His agility and quickness make him the ideal blocker for the versatility and intricacy of today's offense. That's why he's absolutely deserving of the top pick in the 2013 NFL draft.
All screenshots courtesy of Fox Sports and NFL.com Game Pass.