Abidal Is Back! Cesc's First Hat-Trick and More: 3 Takeaways from Barca's Win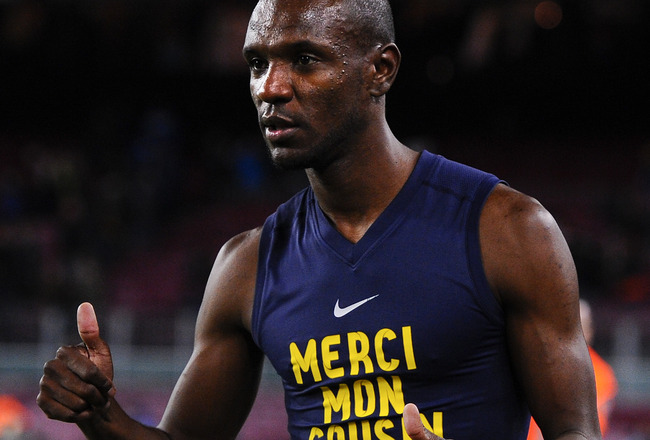 Abi
David Ramos/Getty Images
FC Barcelona got a momentum builder on Saturday as El Blaugrana rolled over RCD Mallorca 5-0 at the Camp Nou.
Cristian Tello had the first shot at goal in the fourth minute as a nice through ball from Andres Iniesta found the kid, but Tello's shot went wide right.
Cesc Fabregas made it 1-0 in the 20th minute as a fantastic give-and-go between him and Alexis Sanchez found the former Arsenal captain past the Mallorca defense when he put the ball past Dudu Aouate for the 1-0 lead
Just two minutes later, Alexis Sanchez found the back of the net as a Cesc's shot was blocked by Aouate and the ball found Sanchez's feet, allowing the Chilean to double the lead.
Barcelona scored two goals in one minute, 40 seconds, the ninth-fastest two consecutive goals this Liga season (via Infostrada Sports).
Fabregas made it 3-0 in the 37th minute as a give-and-go play with Sanchez similar to the second Barca goal gave Cesc his brace on the night.
Just two minutes later, Alexis made it 4-0 thanks to a sweet pass from Fabregas.
Goals from Cesc and Alexis within two minutes...twice in the first half.
Talk about deja vu!
In the second half, Cesc made it 5-0 within one minute as a great pass from Iniesta found Fabregas, who slipped it past Aouate for the fifth Barcelona goal.
Gerard Deulofeu made his first-team debut in the 66th minute as he came in for Cesc Fabregas. Marc Bartra and Martin Montoya had solid games as well.
But the most emotional moment of the game was not a single goal, or even Deulofeu's debut, it was the return of Eric Abidal in the 69th minute. The crowd at the Camp Nou stood and gave an emotional cheer as the Frenchman returned to the pitch after a long road back from his liver transplant recovery.
Welcome back, Abidal!
Final: FC Barcelona 5-0 RCD Mallorca
Let's look at my three takeaways "From the Mind of Xoel" as Barca rolled past Mallorca at the Camp Nou on Saturday.
Vamos!
Cesc Quiets Critics, Deulofeu Debuts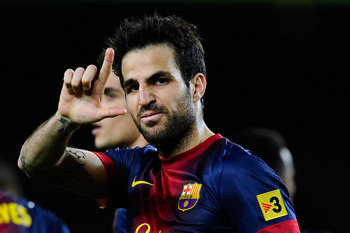 David Ramos/Getty Images
It was Cesc Fabregas' night on Saturday.
Cesc Fabregas was in a bit of bad form over the past few weeks, and his goals and assist were a nice boost of confidence for him, as he may be starting against PSG on Wednesday.
And what a way to shut up his critics by grabbing a hat-trick.
It's not that Cesc listens to what the media says about him, but it is important that Fabregas put all doubts about his ability to contribute to this team to rest.
Cesc channeled his inner Lionel Messi.
Given that it was against a weak Mallorca, I believe Cesc's performance gives him more confidence if he has to replace Messi as the "false nine" against PSG. It also gives Tito Vilanova confidence that if Leo is not ready to start or even play on Wednesday, he knows that Cesc is fully capable of not only making the passes needed, but is also fully confident and ready to score goals.
Oh yeah, did you know that this was Cesc Fabregas's career (via barcastuff)?
Cesc has scored his first hat-trick as a professional player in the 469th game of his career, with Arsenal, Barcelona, and ESP [via mrchip]

— barcastuff (@barcastuff) April 6, 2013
It was nice to see Gerard Deulofeu make his Liga debut on Saturday. He is the leading goal-scorer in the Second Division and will be part of the first squad full-time next season.
Gerard had some good touches on the ball, but it was obvious he struggled to adjust to facing better defenders than he's used to seeing—given the Mallorca defense is nothing special.
Deulofeu needs more time on the pitch to sharpen up his game. Unfortunately for Gerard, I don't see the kid getting more playing time until after Barcelona clinches La Liga. But don't feel bad for him, Deulofeu will get plenty of opportunities for years to come. But for now, Gerard will have to learn by watching his teammates play.
Good job, kid.
Alexis Shows Us He Still Can Have a Big Game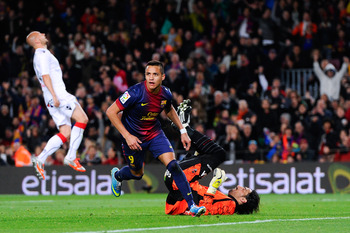 David Ramos/Getty Images
If there was a player who needed a confidence-boosting game more than Cesc Fabregas, it was Alexis Sanchez. After a poor performance against PSG—his saving grace only being the penalty called in his favor—the Chilean needed a morale boost against Mallorca.
Mission accomplished.
But while the goals where great to see, I was more happy to see Alexis set up goals to Cesc. Of course, we've seen Alexis make (and miss) goal opportunities, but to see his connection with Fabregas was the surprising aspect of his performance on Saturday. Nice to see Sanchez get a few assists to pad up the stats.
According to Catalunya Radio, an Inter Milan scout was in attendance to watch a Barcelona forward.
I doubt he or she came to see the contract-extended Cristian Tello. That person was there to see Sanchez, who played in Serie A with Udinese for five seasons.
Even with his two goals and two assists on Saturday against Mallorca, I still believe Alexis Sanchez will not start against PSG on Wednesday. I believe Tito Vilanova will go with David Villa and a now healthy Pedro against the Ligue 1 leaders.
But now Tito has more confidence going to Alexis if he needs to come off the bench against PSG.
Eric Abidal Is Back!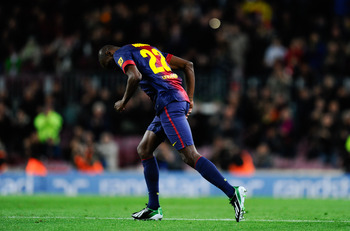 David Ramos/Getty Images
While Cesc Fabregas' first career hat-trick, Alexis Sanchez's brace and two assists, and Gerard Deulofeu's debut would normally be the big headlines of any other game, this night belonged to one man and one man only: Eric Abidal.
As we all know, Abidal has not played in over a year after having a liver transplant.
What a moment to see Abidal pray before he came into the game! Another great moment was seeing Tito Vilanova and Eric together talking and embracing before Abi entered the game.
Eric has overcome so much over the past two years; Saturday was the culmination of all the hard work, faith and belief the Frenchman has had and continues to display in his comeback.
Let's look at some tweets from some of Abidal's teammates and other footballers:
Congratulations to the whole team for the big win today. Especially for Abi, after so much effort, he´s back! Hug!

— Javier Mascherano (@Mascherano) April 6, 2013
Very happy! Great game, cero goles but the best thing is: The return of Abidal! Your ready!#Abidal twitter.com/13_Pinto/statu…

— José Manuel Pinto (@13_Pinto) April 6, 2013
Eric Abidal again!!! 🙏🙏🙏

— Michu (@Michuoviedo) April 6, 2013
Abi eres muy grande, un ejemplo a seguir para todos. #grandeAbi

— Carles Puyol(@Carles5puyol) April 6, 2013
Que alegría la vuelta de Erick Abidal a los campos de fútbol.

— Radamel Falcao (@FALCAO) April 6, 2013
Gran victoria del equipo 5-0 vs Mallorca y grande Abi!!! Muy contento una noche más en el Camp Nou! #ViscaElBarça! twitter.com/MarcBartra91/s…

— Marc Bartra (@MarcBartra91) April 6, 2013
It was Eric Abidal's cousin, Gerard, who donated part of his liver to Eric for the transplant. After the game, Eric's tweet spoke not only for himself, but also on behalf of all Cules around the world:
Merci Gérard...

— Eric Abidal (@EAbidalOfficial) April 6, 2013
Thank you, Gerard.
Thank you, Eric Abidal.
Welcome back, Abi!
FC Barcelona now focus their attention on Paris Saint-Germain and Wednesday night at the Camp Nou.
Xoel, The Voice of FC Barcelona.
Follow me on Twitter for continuous Barca news, live tweets of every game and your questions answered.
Keep Reading

FC Barcelona: Like this team?