Eddie Lacy: Video Highlights for Former Alabama RB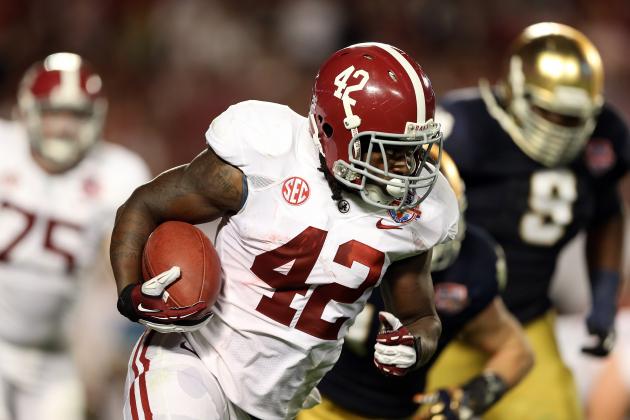 Streeter Lecka/Getty Images
Eddie Lacy is considered by many to be the top running back prospect in this year's draft.
Former Alabama Crimson Tide running back Eddie Lacy is considered by many to be the top running back prospect in this year's draft.
Lacy had a dominant 2012 campaign while starting for Alabama and has proven to be an all-around complete running back that should flourish at the NFL level.
His great size and thick frame along with his limited carries during his collegiate career should make him a very highly regarded prospect by any NFL team in search of a running back. With a patented spin move and deceptive speed, Lacy has churned out plenty of highlight-reel runs during his days at Alabama.
Here are some of the best runs of Lacy's collegiate career.
Begin Slideshow

»
This may have been Lacy's most impressive touchdown run of the 2012 season. He encompasses every aspect of an elite running back during this 73-yard scamper.
First, Lacy hits the hole on the strong side with authority and decisiveness. Great blocking gets him to the second level in a hurry.
In a run like this, at least one tackle usually must be broken. Lacy does this by using his strength to push off a defender easily.
From there, he is off to the races down the sideline. He makes a nice double move and cuts back inside for more yards instead of heading out of bounds.
The cutback gives him a great angle across the middle of the field to outrun the rest of the Missouri defense on his way to the end zone.
Lacy gets the BCS championship game off to a fast start with this 20-yard touchdown run up the gut.
Again, Lacy shows his nice initial burst and decisiveness, which gets him to full speed by the time he hits the line of scrimmage.
He does not have a huge hole to run through, but his momentum carries him through the line with ease.
From there, he shows great patience by allowing his wide receiver to get in front of him and cuts back from behind to get past the last defender and go in for the score.
This run by Lacy shows off two of his greatest features as a runner.
First, his momentum and pad level give him a great advantage over any defender that does not wrap up properly.
Lacy hits the hole with momentum behind him. He quickly lowers his pads when he encounters four Georgia defenders in traffic just beyond the line of scrimmage.
He keeps his pads down and his legs churning, which allows him to slide back to the outside and get away from the grasp of the defense.
Lacy is not done yet, though. He scampers down the sideline and finishes the run with authority while bull-rushing a Georgia defender for more yards before he is forced out of bounds.
The second feature of this run, which is very impressive, happens to be Lacy's stamina.
This run comes with just three minutes left in the third quarter. Lacy obviously has plenty left in the tank to generate such a dominant run at this point of the game.
This nine-yard touchdown run shows off Lacy's pure power.
Inside the 10-yard line on 3rd-and-2, Michigan's defense is looking for the run with nine players in the box and another safety over the top.
Regardless, Alabama chooses to hand it to Lacy and let him use his strength to get the tough yards.
Lacy shows patience behind the line and uses excellent vision to make a last-second cut toward the weak side of the line.
From there, he uses great strength, pad level and momentum to keep his legs churning through a would-be tackler on his way to the end zone.
This run highlights his greatest attributes that will benefit him most at the next level.
This is the reason why a defender cannot attempt to arm-tackle this running back.
Lacy is so strong and runs with so much momentum that it makes it virtually impossible to bring him down without wrapping him up.
After cutting to the weak side of the line, he quickly gets moving upfield at a great pace, which allows him to break three tackles as he cuts through the defense.
From there, Lacy is off to the races and shows off another gear as he outruns the North Texas defense down the sideline and into the end zone.
Lacy runs out of the pistol formation here against a stout Georgia defense.
There are two things to take away from this particular run.
First, Lacy makes himself very small as he bursts through the line, making it difficult to locate him behind his blockers. As he moves through the first wave of defenders, take notice of the great security of the football as he locks both arms tightly around it close to his chest.
Second, he shows that great second gear as he breaks into the open field and burns the remainder of the Georgia defense on his way to the end zone.
Lacy gets some great blocking here on this run as a pulling guard gets out quickly to provide a nice block against a linebacker.
The thing that Lacy does very well here is show patience.
He is known for hitting the line very hard, but he waits here and allows his guard to get on his block before cutting off his back and bursting into the open field.
Once he is in the clear, Lacy shows his brilliant speed by outrunning the rest of the defense and getting in for the Alabama touchdown.
On this short touchdown run, Lacy commits to the play call on the goal line. He allows his fullback to get out in front of him and follows him nicely through a crease in the line.
From there, Lacy uses his great momentum to propel himself though the air like a spear cutting through the interior of Georgia's defense. There was zero chance of stopping him short of the end zone on this run.
Lacy shows his ability to become a threat as a receiver on this play during the BCS championship game.
He waits patiently in the backfield for the play to develop and sneaks through the line to allow himself to become available in the open field.
From there, Lacy uses his patented spin move against the Notre Dame secondary, which allows him to propel himself into the end zone for a seemingly easy score.
This run is from 2010. Lacy was a redshirt freshman this year but already had plenty of the fine attributes that he still carries today.
During this run, he hits his running lane hard and with authority. He does not show a great low-pad level just yet, but he obviously improves upon this later in his career.
He makes two spectacular moves on this short run.
First, he leaps over a fallen teammate while keeping up his acceleration. From there, he is able to bounce off of a defender and spin toward the strong side to finish off the run and get into the end zone.
There are plenty of attributes that Lacy shows off in this run that foreshadow his great success in later years.