NBA Playoff Wild Cards Destined to Ruin Your Team's Season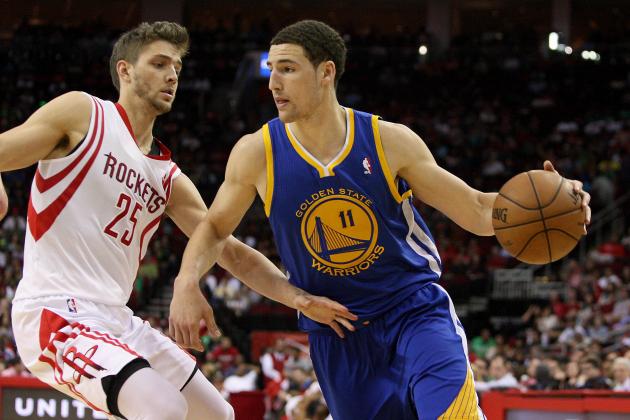 Troy Taormina-USA TODAY Sports

Don't assume that the top-seeded teams will breeze into the later rounds of the 2013 NBA playoffs, because there are a handful of wild cards ready to turn the postseason upside down.
No matter whom the Golden State Warriors face, Mark Jackson's crew will be poised to out-gun them, and they're not the only Western Conference club with the firepower to upend a giant.
Meanwhile, a pair of injury-plagued, hard-nosed Eastern Conference clubs are ready to exceed expectations and ruin the fun for Big Apple franchises.
Who else is primed to wreak first-round havoc, and why are these teams so dangerous?
Begin Slideshow

»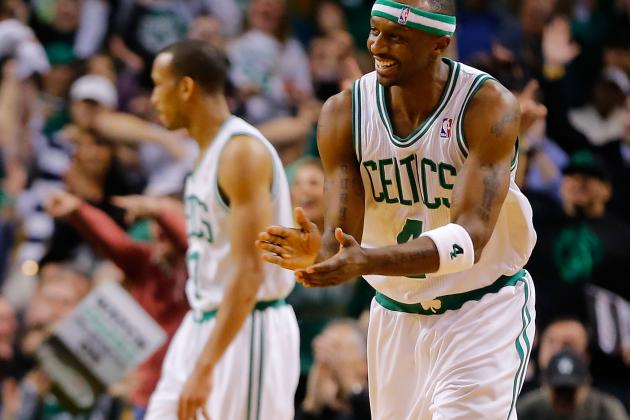 Jared Wickerham/Getty Images

Projected Seed: East No. 7
Potential First-Round Victim: Indiana Pacers or New York Knicks
Once Paul Pierce and Kevin Garnett are back to full strength, the Boston Celtics will be primed to do major damage in the postseason.
Doc Rivers knows how to get the most out of his teams come playoff time, and his 2013 crew has the tools and experience to overachieve.
Whether they face the Indiana Pacers or the New York Knicks, the Celtics will shoot a high percentage while covering the perimeter defensively.
It's not easy to pile up points on Boston because it guards the three-point shot so effectively. Avery Bradley and company allow opponents to shoot a meager 33.4 percent from distance.
If the Knicks or Pacers don't match Boston's mental toughness and execution, their seasons will be in jeopardy.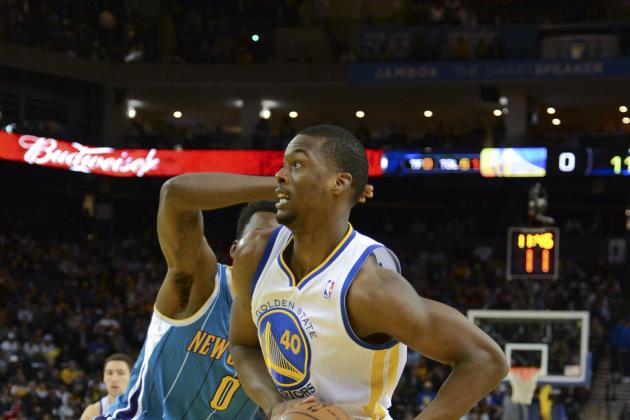 Kyle Terada-USA TODAY Sports

Projected Seed: West No. 6
Potential First-Round Victim: Denver Nuggets or Memphis Grizzlies
Mark Jackson's Golden State Warriors will be a terror in the first round due to three simple ingredients: inside-outside balance, rebounding and star power.
The Dubs will work the glass for 48 minutes, use their bigs to set up their shooters and give opponents a heavy dose of Stephen Curry.
It's extremely tricky for foes to contain Golden State because Klay Thompson keeps defenses honest while post players David Lee and Andrew Bogut are good decision-makers.
That makes Curry's life a little bit easier. As we've seen several times this season, all he needs is a couple of angles to get loose for a big night.
If the defense can hold down the fort, the offense will take care of itself, and an upset will be brewing.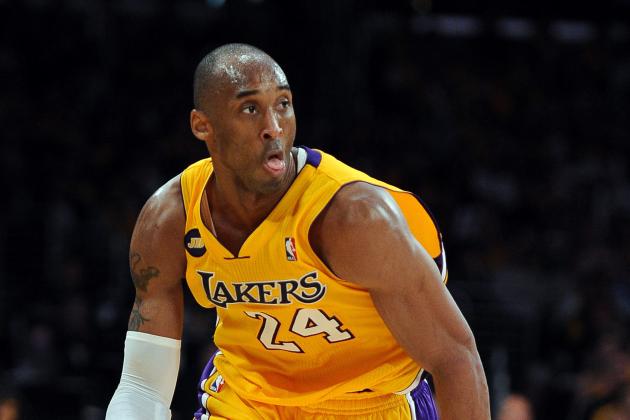 Jayne Kamin-Oncea-USA TODAY Spor

Projected Seed: West No. 8
Potential First-Round Victim: San Antonio Spurs or Oklahoma City Thunder
If a banged-up San Antonio Spurs squad isn't 100 percent clicking entering the first round, the Los Angeles Lakers will pounce.
Kobe Bryant and company fought their way out of a corner all year, so a first-round matchup against the favored Spurs or Thunder won't faze them.
L.A. has the firepower to keep up with any team (102.3 points per game in 2012-13), especially when Dwight Howard and Pau Gasol are both actively involved in the offense.
Defensively, the Lakers have shown glimpses of strength. They need to bottle that up for the postseason, or else a series win isn't feasible.
All of the negativity surrounding the first half of the campaign has made a No. 8-seed playoff appearance seem more positive than usual. It could end up working in L.A.'s favor.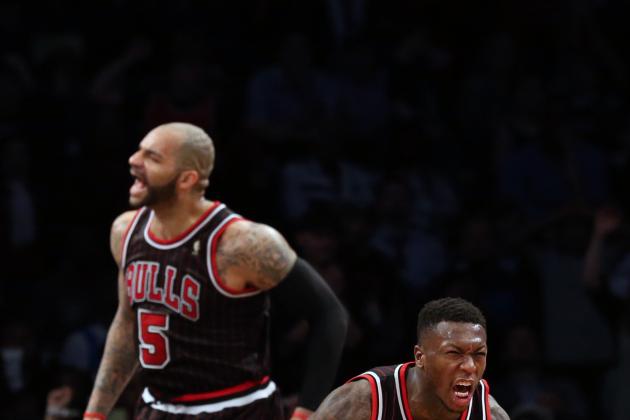 Anthony Gruppuso-USA TODAY Sport

Projected Seed: East No. 5
Potential First-Round Victim: Brooklyn Nets or Indiana Pacers
Regardless of whether or not Derrick Rose comes back, the Chicago Bulls will be more than a tough out in the first round.
A matchup with the Brooklyn Nets would be a defensive-oriented, low-scoring series, even if Deron Williams tries to speed things up.
Chicago may not have the star power that D-Will, Joe Johnson and Brook Lopez bring to Brooklyn, but the Bulls feature a superior defense and a tremendous advantage on the glass.
A matchup with the Indiana Pacers would be a much tighter series, but Tom Thibodeau's bunch still has an opportunity to prevail. Carlos Boozer is back to All-Star form (21 PPG, 13 RPG and 55 percent FG in last five games), and Kirk Hinrich is pushing all of the right buttons as a distributor.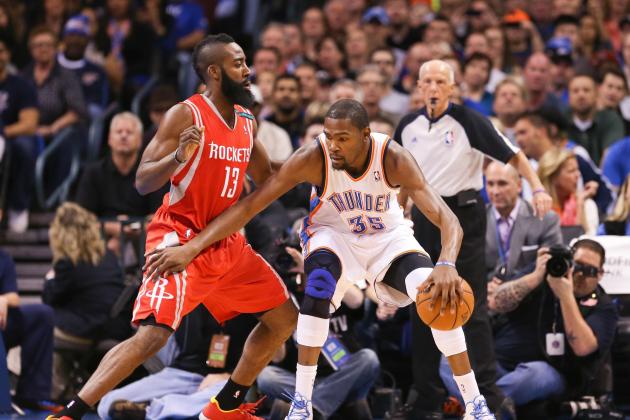 Kevin Jairaj-USA TODAY Sports

Projected Seed: West No. 7
Potential First-Round Victim: Oklahoma City Thunder
An unrelenting attack comprised of countless weapons makes the Houston Rockets an unpredictable force. A meeting with James Harden's former club, the Oklahoma City Thunder, would have a rivalry-type feel.
Hoopsworld.com senior NBA editor Bill Ingram believes that Houston poses a legitimate threat to knock off OKC:
Normally the seventh seed is expected to roll over for the second seed, but if the Thunder and Rockets do, indeed, match up in the first round you can expect a dogfight with plenty of extra drama thrown in... the Rockets have plenty of weapons, and beyond Harden it's never easy to know where Houston's offense is going to come from.
The two squads are currently tied for the league lead in points per game at 106, so each team's goal should be to hold the opponent to around 100 (or 90, in the case of a playoff downtempo).
In a seven-game series, it may be easier for Houston to game-plan how to hold OKC to 90. The Thunder's task is trickier: Harden has so many supplementary weapons, it's difficult to pinpoint whom to contain.
For more hoops talk and interactive analysis, follow me on Twitter: