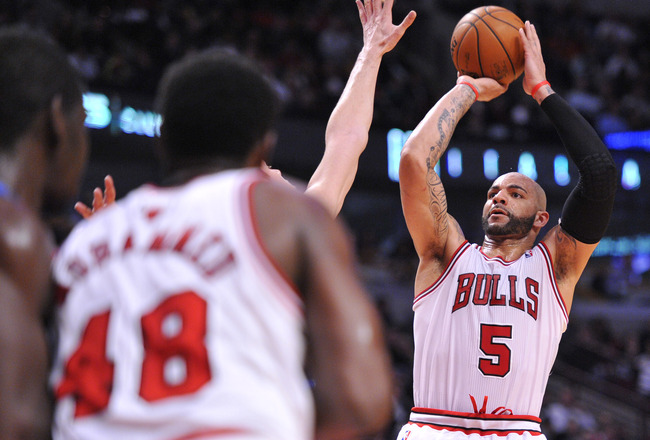 Rob Grabowski-USA TODAY Sports
In what was nothing short of a defensive slugfest, the Chicago Bulls outlasted the Orlando Magic by a score of 87-86. Nate Robinson led the charge with 19 points, thus leading an effort which overcame the injury absence of Joakim Noah.
Robinson was complemented by 12 points and nine rebounds from Carlos Boozer and 11 boards from Nazr Mohammed. The Magic, meanwhile, were led by 16 points and 15 rebounds from Nikola Vucevic and 27 points from Beno Udrih.
So how did it all transpire?
Kirk Hinrich, Point Guard
Overall Grade: B-
Minutes Played: 34
Stat Line
13 points, 4 assists, 3 rebounds, 2 steals, 1 block, 5/9 FG, 2/5 3PT
On this night, Kirk Hinrich played a very efficient game. He tallied 13 points, dished out four assists, grabbed three rebounds, picked up two steals and even blocked a shot.
Unfortunately, this all came on a night in which Beno Udrih scored 27 points with Hinrich as the predominant defender.
Hinrich's statistical production was not unwelcome, as the Bulls struggled to put together any respectable form of offense. With that being said, Hinrich's inability to slow Udrih down was just as significant as his ability to produce.
This is a fair grade for Hinrich's quality performance.
Jimmy Butler, Shooting Guard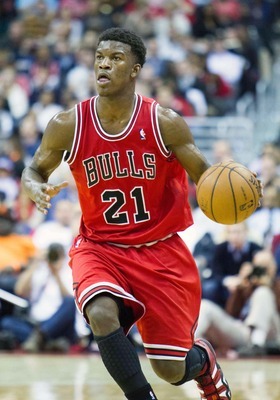 Paul Frederiksen-USA TODAY Sport
Overall Grade: B-
Minutes Played: 43
Stat Line
12 points, 3 rebounds, 1 assist, 2 steals
During the first three quarters, Jimmy Butler struggled to get anything going. Even as Maurice Harkless left due to a knee injury, Butler failed to generate offense as he finished 5-of-13 from the field.
Come the fourth quarter, however, Butler was a key to Chicago's victory.
Butler played tenacious defense, slowing down Beno Udrih and virtually eliminating Orlando's No. 1 offensive threat. For perspective as to why this was important, Udrih scored 27 points for the game.
With Butler defending him in the fourth quarter, however, Udrih didn't score a single point—that's the bottom line about Butler's performance.
Luol Deng, Small Forward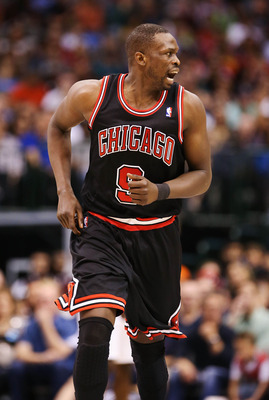 Kevin Jairaj-USA TODAY Sports
Overall Grade: C+
Minutes Played: 41
Stat Line
19 points, 4 rebounds, 2 assists, 1 steal, 1 block, 5/18 FG, 2/5 3PT
For Luol Deng, this wasn't a performance he wants to remember. Not only did he shoot a dreadful 5-of-18 from the field, but Deng did so while taking more shots than any other player in the game.
Fortunately, Deng redeemed himself during the fourth quarter.
With the Bulls struggling to generate consistent offense, Nate Robinson took on the scoring load. As the defense stepped up on Robinson, however, he was forced to kick it out to the perimeter.
Both times that Deng was on the receiving end of those passes, he drained three-point field goals. That's what you call a redemption quarter.
It wasn't pretty, but it was enough.
Carlos Boozer, Power Forward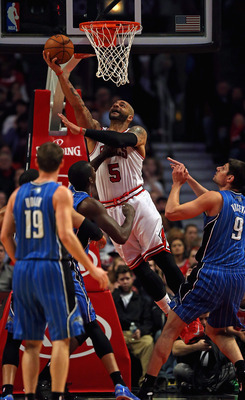 Jonathan Daniel/Getty Images
Overall Grade: B
Minutes Played: 39
Stat Line
12 points, 9 rebounds, 4 assists, 2 steals, 6 turnovers
During a first quarter in which no one was finding offense—Chicago and Orlando combined for 26 points through 10:39—Carlos Boozer was tremendous. When he wasn't working the ball inside for two, he was forcing his man out to the perimeter.
Unfortunately, Boozer picked up two fouls in less than a minute's time.
As the game progressed, Boozer was a quality source of offense on a night in which Chicago failed to get anything going until the final period of play. Even as he struggled with turnovers, Boozer helped space the floor and draw Nikola Vucevic out of the paint.
This was a key to Chicago's fourth-quarter run, as Vucevic found it difficult to recover and crash the boards.
Furthermore, Boozer did an excellent job of moving the basketball. Whether it was out of the high post or along the perimeter, he consistently found teammates in position for open looks.
The play of the game, however, came as Boozer hit the ball out of Vucevic's hands to force a turnover with less than a minute remaining.
Nazr Mohammed, Center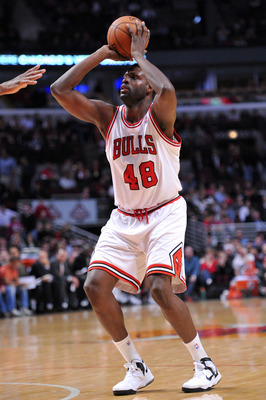 USA TODAY Sports
Overall Grade: B-
Minutes Played: 31
Stat Line
5 points, 11 rebounds, 1 assist, 3 blocks, 1/6 FG
Entering this game, one of the most notable storylines was the absence of Joakim Noah. Matched up against budding star center Nikola Vucevic, the Bulls were going to need Noah's interior presence to keep him off of the glass.
In his absence, 14-year veteran Nazr Mohammed stepped in.
Although Vucevic was stroking it from mid-range, it was Mohammed who forced him out of the paint. For a 35-year-old who averages 9.7 minutes per game, there isn't much more you could have asked for.
This was a quality outing.
Nate Robinson, Sixth Man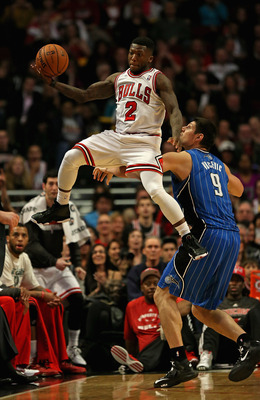 Jonathan Daniel/Getty Images
Overall Grade: A+
Minutes Played: 28
Stat Line
19 points, 5 assists, 3 rebounds, 1 steal, 3/7 3PT
We often make statements for the sake of hyperbole and overzealous appreciation of an individual. What I'm about to write just so happens to be true.
If not for Nate Robinson, this would have been a blowout loss for the Chicago Bulls.
During the first quarter, the Bulls shot 22 percent from the field. A majority of that quarter was spent with Robinson on the bench, as Chicago's sixth man waited impatiently to hit the floor.
When he got his chance, Robinson was sensational.
Regardless of what he did early, this game started for Robinson when he drained a buzzer-beating three-pointer to end the third quarter. Thirty-one seconds into the fourth quarter, Robinson struck with another three-pointer.
That sparked a performance in which Robinson contributed 12 points, two assists and two rebounds—during the fourth quarter alone.
Reserves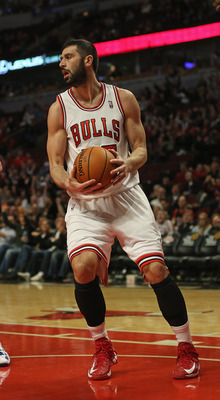 Jonathan Daniel/Getty Images
Overall Grade: A+
Average +/-: plus-5
Collective Stat Line
26 points, 7 rebounds, 7 assists, 3 steals, 1 block, 4/8 3PT
Is this a generous grade for the second unit? There's a strong possibility that it is.
With that being said, Chicago only had two players come off of the bench Friday night—Nate Robinson and Vladimir Radmanovic.
We've already established that Robinson earned an A+, which usually wouldn't factor into this decision. Due to the short nature of the bench, however, it is a factor.
Radmanovic's performance was just icing on the cake.
Radmanovic picked up seven points, four rebounds, two assists, two steals and a block in 23 minutes. More importantly, he was a perfect 3-of-3 from the field and drained a huge three-pointer during the fourth quarter.
Between these two men, the bench gets an A+.
Keep Reading

Chicago Bulls: Like this team?
Load More Stories