Houston Rockets vs. Portland Trail Blazers: Postgame Grades and Analysis for HOU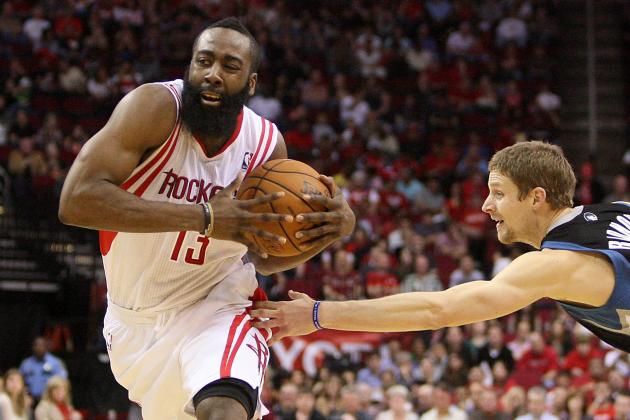 Troy Taormina-USA TODAY Sports
The Rockets continue to muscle their way towards the all-important sixth seed.
The Houston Rockets traveled to the Rose Garden on Friday night for a tilt with the Portland Trail Blazers, and they emerged 116-98 victors.
James Harden led the way for Houston yet again, with 33 points, seven rebounds and six assists. Jeremy Lin chipped in 22 points and eight dimes of his own.
Portland big man LaMarcus Aldridge abused Houston's frontcourt for 24 points and 10 rebounds...in the first half, but the Rockets still led 63-56 at the break. They limited Aldridge to eight second-half points, and Portland struggled to find an alternative.
Houston outshot the Blazers by nearly seven percent in the first half, but a 25-18 rebounding advantage for Portland helped keep it close.
The Rockets ratcheted up both their defense and intensity on the boards in the second half as they cruised to victory. They led by 15 after three quarters and never looked back.
The Trail Blazers ended the game shooting just 41.8 percent, including 2-of-20 from three-point range. Houston shot 12-of-28 from downtown and that alone explains the margin of victory.
Portland came into Friday nine games under .500, but it had been 22-14 at home.
The Rockets have run-and-gunned their way to a 43-33 record, putting them in seventh place and only one game behind the Golden State Warriors.
Sneaking in as the No. 6 seed would almost certainly avoid the San Antonio Spurs and Oklahoma City Thunder in the first round, so you can be sure Houston will fight its way down the stretch.
Now let's mail out the report cards.
Begin Slideshow

»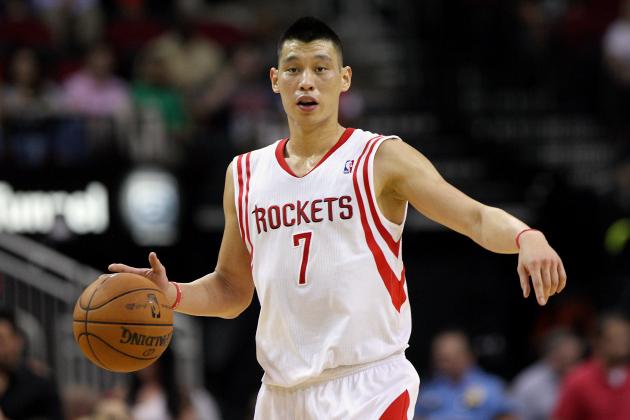 Troy Taormina-USA TODAY Sports

Jeremy Lin, PG: A
Lin ended a strong first half with nine points and five assists. Then he helped blow the game open in the third quarter by scoring seven straight points.
He finished with 22 on 8-of-13 shooting, plus eight assists, four boards and two steals. He also ended the game with a team-high rating of plus-19.
Lin had proved to be the perfect complement to James Harden, and he's practically duplicated the viral numbers he put up for the New York Knicks last season.
The only difference is that this time around, he'll actually be playing in the playoffs.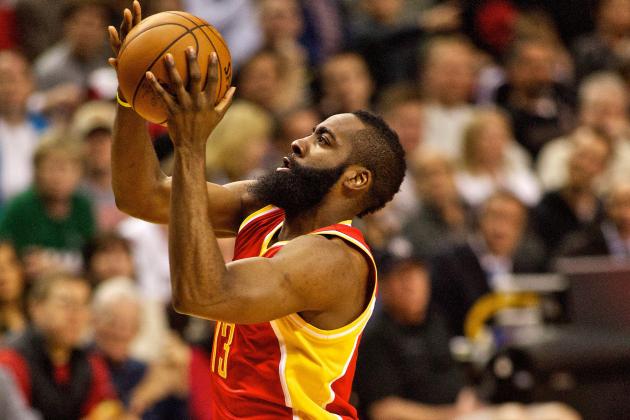 Craig Mitchelldyer-USA TODAY Spo

James Harden, SG: A+
Harden romped his way to 17 points in the first quarter. Though he managed only two points in the second frame, he was obviously just saving himself up for the second half.
Harden dropped 14 more in the second half to finish with a very efficient 33 points (on 11-of-21 shooting). He stuffed the stat sheet with seven rebounds, six assists, a steal and a block.
While he did tie Jeremy Lin for the team-high in turnovers with four, you have to break a few eggs to make an omelet.
Harden's splendid performance on Friday is just further confirmation that Daryl Morey is the shrewdest GM in basketball.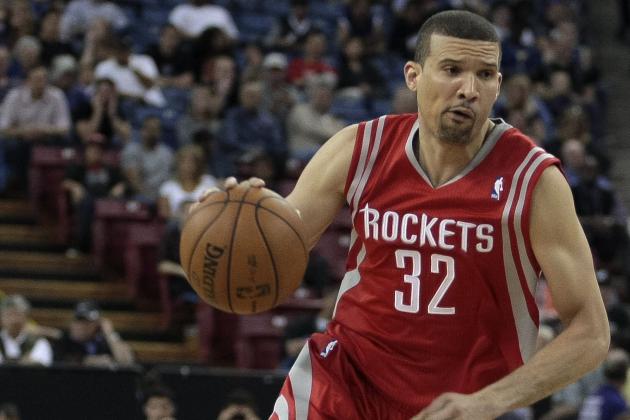 Kelley L Cox-USA TODAY Sports

Francisco Garcia, SF: B
With Chandler Parsons out due to a calf injury, Francisco Garcia got the start at small forward. He seized the opportunity, draining all three of his first-quarter shots, each from beyond the arc.
Garcia came back to Earth in the second frame, attempting another trio of threes and missing all of them.
While Garcia did total 11 points and three steals on the evening, his plus-seven rating suggests that Houston is more effective with other players on the court, even when Parsons has to sit out.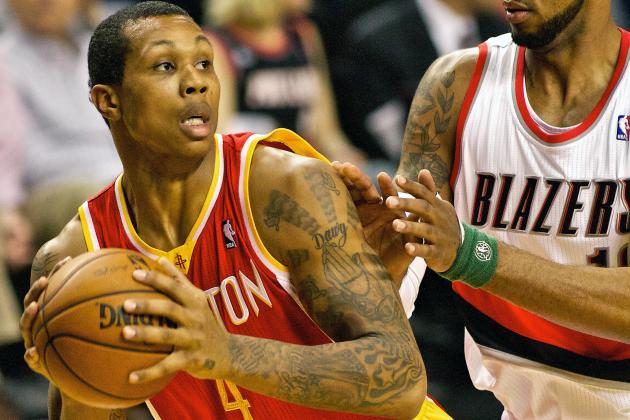 Craig Mitchelldyer-USA TODAY Spo

Greg Smith, PF: B+
Greg Smith's unassuming name is as sneaky as his yeoman play on the court.
He quietly racked up 19 points on 5-of-6 shooting and marched to the foul line a dozen times. He also snagged five rebounds and swatted a shot.
Smith was dishing out some hard fouls in the paint, which resulted in him fouling out with 7:31 left in the game. While I appreciate the toughness and enthusiasm, no one should be fouling out after playing less than 24 minutes and with almost a sixth of the game left to play.
Still, Smith is proving to be yet another cog in Houston's rotating and hot-scoring frontcourt.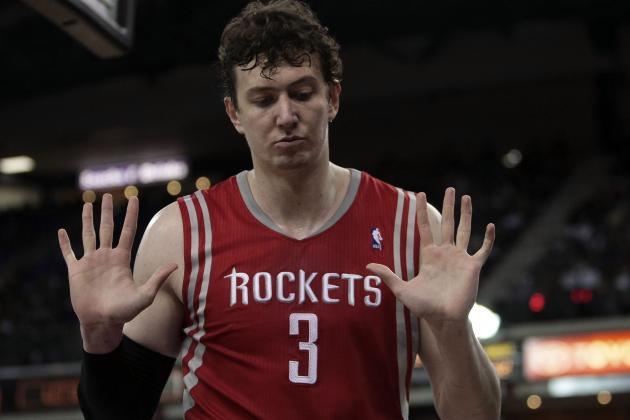 Kelley L Cox-USA TODAY Sports
'Guys, I can't be the entire frontcourt!'
Omer Asik, C: B+
Asik started slowly in the first half, but he got things going after the break and helped erase Houston's deficit on the boards.
Asik finished the night with nine points and 11 rebounds, five of those coming on the offensive glass. He also blocked a shot, as you would expect from the Rockets' only dominant presence on the interior. His plus-16 rating was the second best on the team.
The Turkish national is enjoying a fine season in Houston, and the pressure is squarely on him. While the Rockets have many capable scorers in their frontcourt, outside of Asik they lack the physical presence inside which is so crucial in the playoffs.
Craig Mitchelldyer-USA TODAY Spo

Patrick Beverley, PG: A-
Patrick Beverley had an incredibly efficient night. He made all three of his field-goal attempts for seven points, dished six dimes and grabbed two boards, a steal and a block.
Oh, and he did not commit a turnover in his 22 minutes. Now that is making the most of your opportunities!
He ended the game with a plus-15 rating off the bench, and contributed his best play in the second quarter as Portland briefly contained James Harden.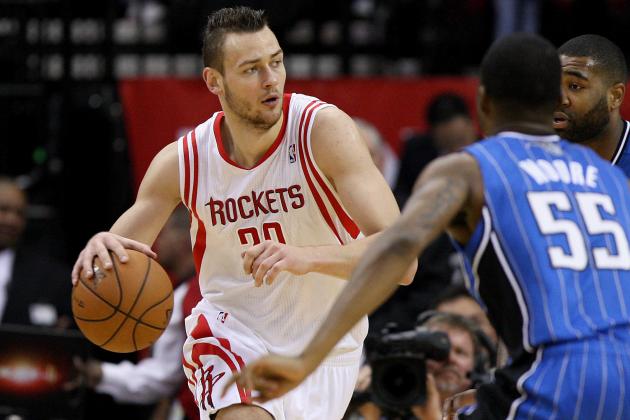 Troy Taormina-USA TODAY Sports

Rest of Bench: C+
Donatas Motiejunas led all Rockets off the bench with 10 points, but those came on just 3-of-10 shooting. He also hauled in seven rebounds and even knocked down a triple for good measure.
James Anderson scored only three points in his 20 minutes, but he did grab four rebounds.
Terrence Jones missed both his shots and lost two turnovers, but he did finish with a plus-10 rating.
Coach Kevin McHale went with a nine-man rotation and refused to institute garbage time until late in the fourth quarter, well after the victory was already in hand.
Thomas Robinson, Aaron Brooks and Tim Ohlbrecht played the final four minutes, tallying two points and a rebound between them.
The Rockets have a tough test next against the Denver Nuggets on Saturday night. They just lost Danilo Gallinari, but they are also 35-3 in the thin air at home.