Milwaukee Bucks vs. New York Knicks: Postgame Grades and Analysis for NYK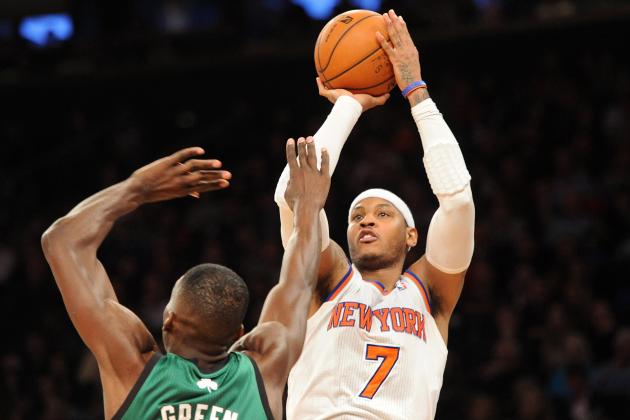 Joe Camporeale-USA TODAY Sports
Carmelo Anthony has been irrepressible in his last three games.
The New York Knicks staked their 10-game winning streak against the Milwaukee Bucks on Friday night, and they surged in the second half to a 101-83 victory.
Carmelo Anthony led the way with 41 points, tying Bernard King for the franchise record of three straight games with 40 or more. J.R. Smith posted another 30-point performance.
Brandon Jennings led Milwaukee with 25 points and J.J. Redick added 18 off the bench.
They did so in front of a Madison Square Garden crowd that honored the 1973 champion Knicks at halftime, with Phil Jackson, Jerry Lucas, Dick Barnett, Bill Bradley, Willis Reed and Earl Monroe on hand. MSG color commentator Walt Frazier pulled double duty as one of the honorees.
Unfortunately, New York trailed, 45-36, when the ceremony took place.
The Knicks played uninspired basketball in the first half. They blew numerous layups and shot only 34.1 percent from the field.
Anthony and Smith combined for 25 points by halftime, but the rest of the team made just five of their 22 field-goal attempts through two quarters.
Redick drained four treys in the second quarter and Milwaukee led by as many as 10 points.
Perhaps inspired by the presence of the Knicks' last championship team, New York emerged in the second half and proceeded to shoot the lights out.
It reeled off a 25-2 run and scored 42 points in the third quarter to redeem itself after a lackluster showing in the first half.
The Knicks shot 8-of-13 from downtown in the third quarter, which ended on a buzzer-beating heave from beyond half court by Jason Kidd. The cherry on the sundae, it banked in, though no word on whether Kidd called "glass" as he released it.
The Bucks closed the gap to just six points with under five minutes remaining, but 'Melo scored the game's next nine points to secure the victory.
It was a wild win that came too close for comfort, but the Knicks extended their streak to 11 and sent their fans and past champs home happy.
New York has opened a six-game lead in the division on the Brooklyn Nets, and it's fighting off the Indiana Pacers for the No. 2 seed in the East.
Milwaukee is locked into the eighth spot, but the Bucks hope to nip the Boston Celtics, who lead them by 2.5 games and thereby would avoid a first-round annihilation from the Miami Heat.
Now let's go inside the game and hand out grades for all the Knickerbockers.
Begin Slideshow

»
Pablo Prigioni: B-
Pablo Prigioni is something of an enigma. He's a conundrum from down under. (Argentina is down under, right?)
In the early going, Prigioni did not inspire the torrid ball movement that has become his trademark. Prigioni managed one assist at the half.
Though he finished with only two points, four assists and three boards, he also posted a team-high rating of plus-23. Prigioni brings a wealth of intangibles that contribute to victory but don't appear in the stat sheet.
He marshals the Knicks offense and brings active hands on defense. His insertion into the starting lineup perfectly coincides with the team's 11-game winning streak, which speaks to Mike Woodson's savvy as a coach.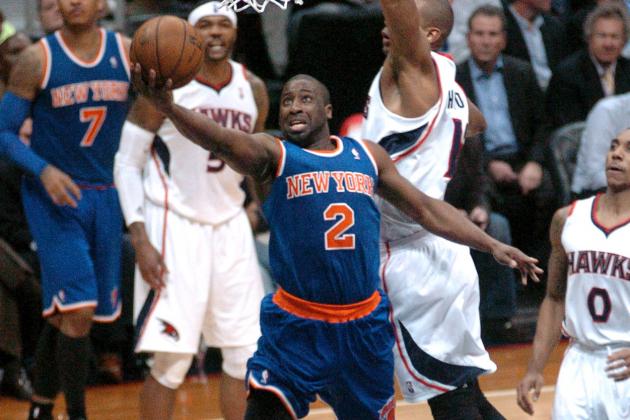 Mike Muszynski-USA TODAY Sports

Raymond Felton: B-
Raymond Felton was one of the slow starters, shooting 0-of-3 and losing a pair of turnovers through two quarters, though he did tally four assists by halftime.
Felton turned it on in the second half, ending the night with nine points and two steals.
One memorable moment came right at the end of the third quarter. Milwaukee held the ball with only a small differential between the game and shot clocks.
Mike Dunleavy repeatedly looked to get the ball to Brandon Jennings, but Felton doggedly denied him the ball. Dunleavy bricked a trey, then Jason Kidd corralled the rebound and nailed a splendid buzzer-beater from somewhere in New Jersey.
That play never happens without Felton's effort on D.
Joe Camporeale-USA TODAY Sports

Iman Shumpert: D
Defying his past modus operandi of starting hot, Iman Shumpert missed all five of his shots in the first half.
Things did not get better from there. Shumpert finished with a goose egg on 0-of-7 shooting, though he did notch three rebounds and a block.
Shump appears to have good days and bad, and this one goes in the latter file.
He still played solid defense and finished with a plus-8 rating, but he was the only Knicks player who saw more than 90 seconds of court time and failed to score.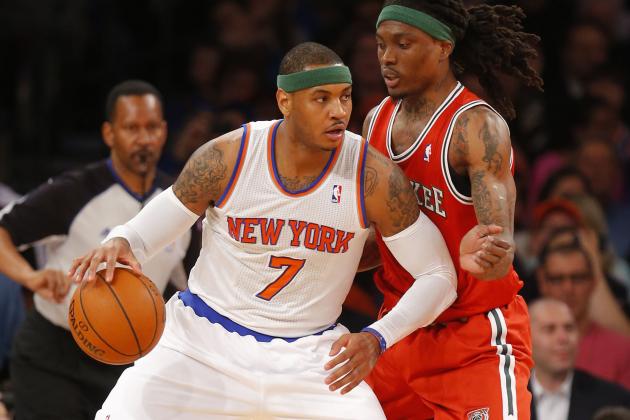 Jim O'Connor-USA TODAY Sports

Carmelo Anthony: A+
Carmelo Anthony turned in another 40-point night as he continued to threaten Kevin Durant for the NBA scoring title. He's racked up 131 points over his last three games, all of them wins for New York.
Anthony paced the Knicks through an otherwise woeful first half.
He scored a dozen points and grabbed nine rebounds, four of them on the offensive glass. But he, too, embodied New York's early sloppiness with four turnovers by halftime.
Then, 'Melo led a completely different team out of the locker room for the third quarter. Anthony dropped 18 points in the frame and played with the heart of a leader.
He responded to the Bucks' run late in the fourth quarter by scoring the game's next nine points, each a successive nail in Milwaukee's coffin. He also snatched 14 rebounds, his season high.
One has to think that Anthony was at least somewhat inspired by so many Hall of Fame Knicks being at Madison Square Garden on Friday night. If 'Melo brings even one title to New York, his name would join the vaunted company honored at halftime.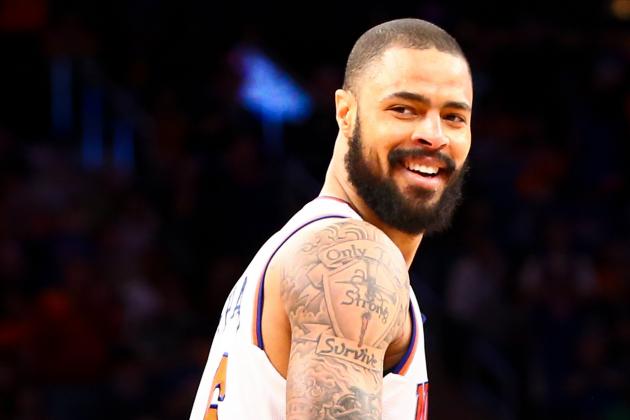 USA TODAY Sports

Tyson Chandler: B-
Tyson Chandler is clearly not yet playing at 100 percent.
He trudged through the first half, missing three shots from short range. He did throw down a pretty alley-oop from Raymond Felton in the first quarter and had six rebounds by the half, but he still appeared to struggle to get his arms above his head.
Nevertheless, Chandler finished with six points, 10 boards and even three assists. The Knicks are thrilled to have him back, even if he is not yet fully healed. Tyson is a gamer and he'll step up if his team needs him.
Kenyon Martin got a chance to rest his ailing knee, while the primary concern must be getting their centers healthy for the playoffs in two week's time.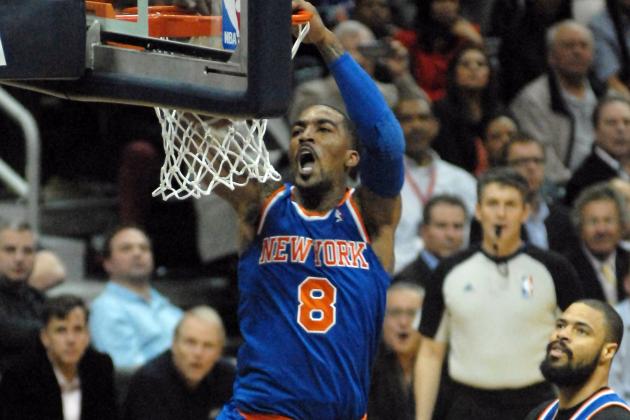 Mike Muszynski-USA TODAY Sports

J.R. Smith, SG: A
J.R. Smith scored a team-high 13 points in the first half, but he also had a team-low rating of minus-10 in that span. That just goes to show what a sea change halftime was for the Knicks.
Smith spurred New York's sensational third quarter along with Carmelo Anthony. J.R. Swish had a dozen points and handed the Knicks a lead which they would not relinquish.
He finished with 30 points on 11-of-22 shooting and elevated his point differential to plus-14. Smith snagged 10 rebounds and two steals, and also committed zero turnovers.
The Knicks have found a potent motivational formula which has sparked their tremendous 11-game streak. It boils down to this: Have 'Melo and J.R. compete to see who can score more points. It's a recipe that yields 60 points every single time.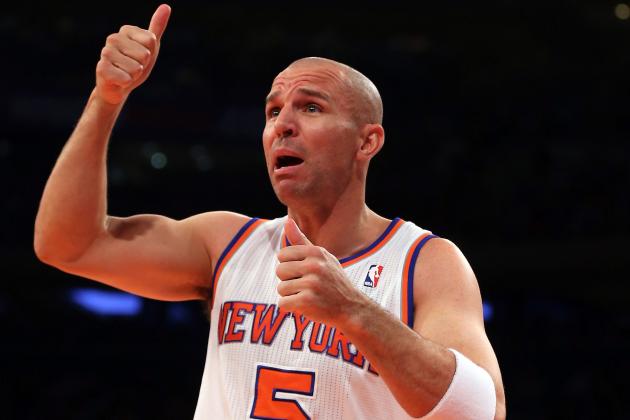 Elsa/Getty Images
Jason Kidd hates jump balls!
Rest of Bench: B-
Jason Kidd turned in yet another handyman act where he does a little bit of everything.
Kidd scored only five points, but one of his buckets was the most memorable shot of the night. It must have been his veteran savvy that helped him bank in a 55-foot buzzer-beater.
He also pulled in seven rebounds to go with his two dimes and one steal.
Steve Novak hit a nice two-pointer off the dribble in the second quarter, but he finished the first half with a team-low rating of minus-10. Ersan Ilyasova victimized him on two different possessions.
Novak shot just 1-of-4 and didn't have the stroke on this night.
Chris Copeland saw more than 11 minutes in the first half, but he scored just three points. His only other stat was three personal fouls when he took a minus-8 rating into the locker room. He drained another triple in the second half as the Knicks piled on Milwaukee.
James White saw about 90 seconds at the end of the game. Marcus Camby was not with the team due to left plantar fasciitis, and Kenyon Martin did not dress because of his sore left knee.
The Knicks have a very tough stretch to end the season, including road contests against the Oklahoma City Thunder and Chicago Bulls over the next three games. They also host the Indiana Pacers and Atlanta Hawks in the season's final four days.
But they're riding high and getting healthier as they aim for 50 wins in their next contest.