Milwaukee Bucks vs. New York Knicks: Live Score, Results and Game Highlights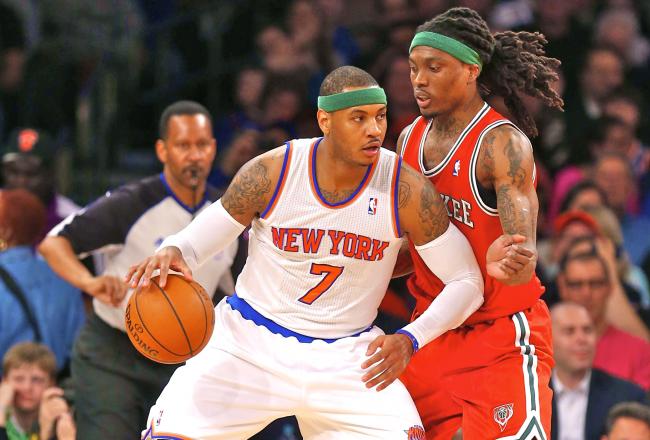 Live commentary on the New York Knickerbockers 101-83 victory over the Milwaukee Bucks on April 5, 2013 at Madison Square Garden in New York, N.Y.
5 Keys to Knicks Victory:
1) Melo Madness: Carmelo Anthony scored 41 points on 17-of-28 shooting, while hitting three three-pointers. He had 14 rebounds and a block, and he looked great the entire third quarter as he put up 19 points in the period.
2) Bench Production: While it was mostly 2-guard J.R. Smith's production, the Knicks bench provided 43 points. Smith's 30 on 11-of-21 shooting was a big part of what helped Melo and the Knicks accumulate 42 points in the third quarter.
3) Low Turnovers: The Knicks only had nine turnovers. Melo had five of those.
4) Rebounding: Knicks win battle of boards 50-40
5) Forcing Turnovers: The Knicks had six steals, and Raymond Felton did another surprisingly good job defensively. Brandon Jennings put up 25 on him, but needed a lot of good picks from teammates to free himself. Felton's just not a good pick and roll defender, and the Bucks also freed Jennings up by featuring Monta Ellis in weak side isolation. Overall, the Knicks handled the Bucks backcourt well, holding Jennings and Ellis to a combined 13-of-33 (39.3%).
KNICKS 101, BUCKS 83 — FINAL
The Knicks picked the right night to impress. The legendary Knicks in attendance are proud.
KNICKS 93, BUCKS 81 — 2:24 4th
ESPN - Knicks honor '73 champs on 40th anniversary es.pn/10BIphr #NBA #Knicks

— The Lyfe Magazine(@TheLyfeBiz) April 6, 2013
In case you were wondering what all the hubabaloo was about.
KNICKS 91, BUCKS 81 — 3:01 4th, Milwaukee Timeout
J.R. Smith and Carmelo Anthony are a combined 22 of 40 from the floor (55%). The combo has combined for 57 of the Knicks 87 points and Melo has a double-double with 11 rebounds. Smith is two boards away from one of his own.
KNICKS 87, BUCKS 78 — 5:46 4th
The united offense and strong passing of the first half for the Bucks has entirely disappeared. The offense is disjoined, erratic and it's leading to a lot of turnovers and poor shots. First half/second half Jekyll and Hyde performances are common from sub-.500 teams.
KNICKS 85, BUCKS 74 — 7:44 4th, Timeout In Play
Jason Kidd hit a heave for the ages to close the third quarter, launching it from three-quarters court as the Knicks just can't seem to miss.
KNICKS 78, BUCKS 66 — End of 3rd
Knicks 1/12 3-point shooting quickly regressed to the mean in 2nd half, then bludgeoned the mean to death with a lead pipe.

— K L Chouinard (@AnaheimAmigos) April 6, 2013
This was one hot shooting New York third quarter. This will be their longest winning streak in 19 years if the torrid pace and domination continues.
KNICKS 73, BUCKS 64 — 1:31 3rd
Earl the Pearl Monroe ran the mic almost the entire third quarter almost for MSG's broadcast. There's few that sound as smooth. He could be ordering a coke and it'd be worth listening to.
KNICKS 73, BUCKS 61 — 2:41 3rd
Carmelo Anthony is 7-of-7 for 19 points in the third quarter. This is what J.J. Redick did plus a bunch in the second, and the Knicks are really rolling in this one. The Knicks went on a 19-2 run before Milwaukee had to burn a 20-second timeout.
KNICKS 67, BUCKS 59 — 4:14 3rd, Milwaukee TImeout
Brandon Jennings ran a little too fast for himself on the last play in transition. He tried to dribble around the back but his body was about a stride to far for the ball to catchup. I don't remember what it was like to outrun your own dribble.
Jennings has 23 points on 8-of-14 shooting.
KNICKS 64, BUCKS 57 — 4:45 3rd
Melo is starting to get hot. This will get New York back in the game fast. If JR Smith can find the range, they'll be on their way. Smith was 5-of-11 in the first half and Melo now has 23 points.
BUCKS 57, KNICKS 51 — 7:45 3rd
I Never Even See That Team Play But Watching This Is Something, I'd Be A Wreck If I Ever Seen A Knicks Championship

— KnicksWithTheKnack (@ThaBlogBully) April 6, 2013
I was born in 1981, about a half-decade after the fireworks. But it's not like I remember a game until the 89-90 season. Video saves us.
Knicks First Half Stats.
First Half Bucks Stats.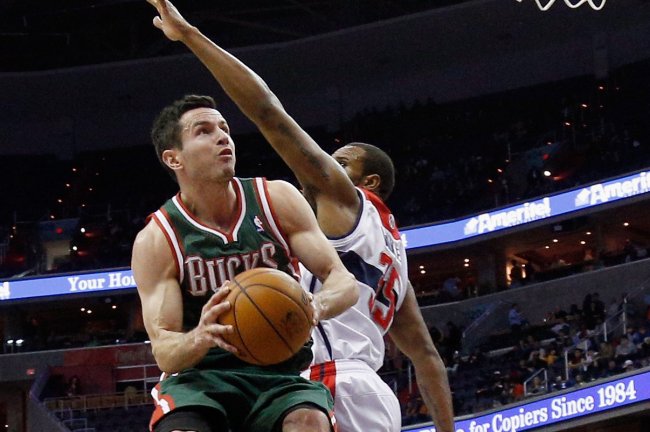 Rob Carr/Getty Images
J.J. Redick's rare missed free throw left him with 13 points, all of which have come in this second quarter. The Bucks gave up a lot to get him, as Tobias Harris has gone on to flourish for Rob Hennigan's Orlando Magic, but Redick was still worth the price to give the Bucks the kind of bench punch that enabled them to outscore the Knicks 26-17 in the period.
BUCKS 45, KNICKS 36 — Halftime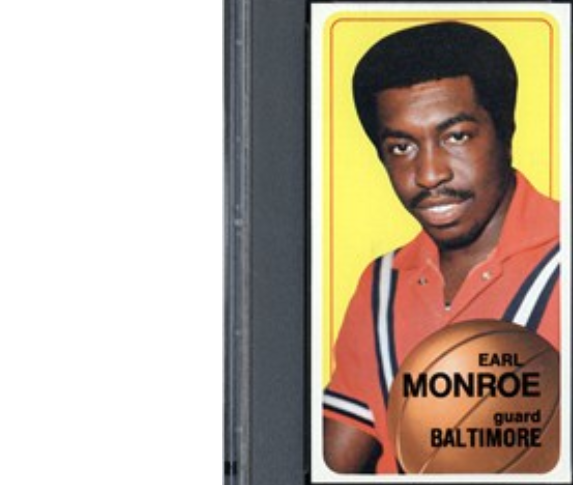 Still celebrating the 73 Knicks, this is my favorite Earl Monroe card. I love my Topps Tall Boys. I have the Wilt, Jerry West, Oscar Robertson. Missing my Lew Alcinder.
BUCKS 43, KNICKS 34 — 1:25 1st
A loose ball foul on Carmelo Anthony gave him his second personal foul, and the Knicks just look a little flat and sluggish. It could be a long night if they keep finding themselves shooting so many late shot clock jumpers and taking it right to the heart of the Bucks tough interior defense.
BUCKS 40, KNICKS 30 — 2:52 2nd, Knicks Timeout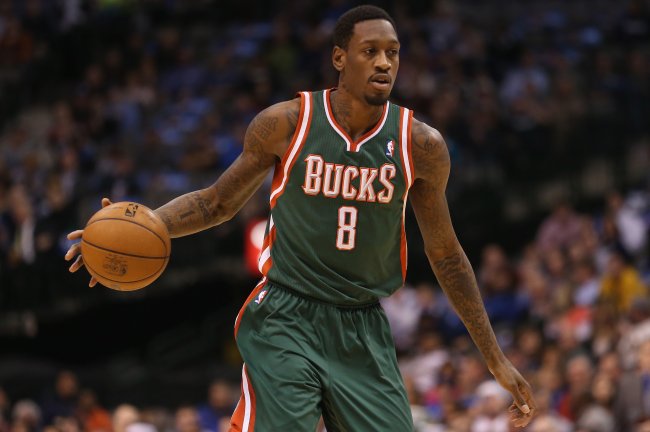 Ronald Martinez/Getty Images
Larry Sanders is like a gazelle going down the court. He's really an exceptional athlete, and his disruptive influence is helping the Bucks force New York into a lot of tougher shots.
Sanders is in contention for Defensive Player of the Year, and he's due for a big pay increase as a free agent this summer. When Bucks GM John Hammond made his "untouchable" list at the NBA trade deadline, it included both guard Brandon Jennings and the defensive demon Sanders.
The Knicks have missed their last nine shots and are at 33 percent shooting on the night.
BUCKS 37, KNICKS 28 — 4:35 2nd
The Knicks burnt another timeout after Carmelo Anthony rejected a shot to cause a shot clock violation.
Anthony can get up off the floor at times, and if his timing were a tad better his length would result in more swats.
BUCKS 34, KNICKS 28 — 5:42 1st, Knicks Timeout
Knicks F Amar'e Stoudemire is donating the money for 1,000 "big heads" of Kevin Ware for Louisville vs. Wichita State.

— Adam Schefter (@AdamSchefter) April 5, 2013
This is good to see. The Kevin Ware knee injury was the most gruesome sports injury I'd ever witnessed. Amar'e is still battling an injury himself, after all.
BUCKS 34, KNICKS 28 — 6:48 2nd, Official Timeout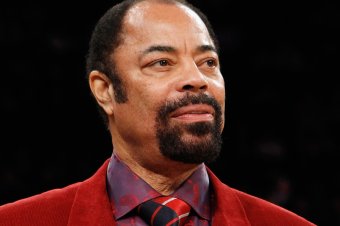 Bruce Bennett/Getty Images
Walt Frazier, Phil Jackson, Jerry Lucas and the New York Knicks were a team of intellectuals. The team read, discussed politics, philosophy, history and whatever else. There's a lot of very smart players who read a lot, but to see a team unite beyond the court and come together as a group of people who share advanced interests is pretty neat.
BUCKS 26, KNICKS 21 — 9:25 1st
Melo missed his last two shots of the first quarter badly, but was still 4-of-8 in the period. The second fell short and J.J. Redick had to heave it the other way as the horn sounded. The Knicks had just one turnover in the quarter, and the Bucks committed just two. But both teams shot a combined 14-for-40 (35%).
KNICKS 19, BUCKS 19 — End of 1st
Melo's been heads-up with that slip move lately to fool his defender when he's getting fronted or about to be fronted. #Knicks

— Jared Zwerling (@JaredZwerling) April 5, 2013
Melo has excelled at this throughout his career, and he's getting so deceptive with it that it seems the opposing player almost never sees it coming. Two points. Melo has dunked twice in the quarter and has 10 points on 4-of-7 shooting. His late three excited the crowd, but it was almost as though he had too much time because he thought about it an extra second and put up a brick that was way off.
KNICKS 19, BUCKS 18 — 1:00 1st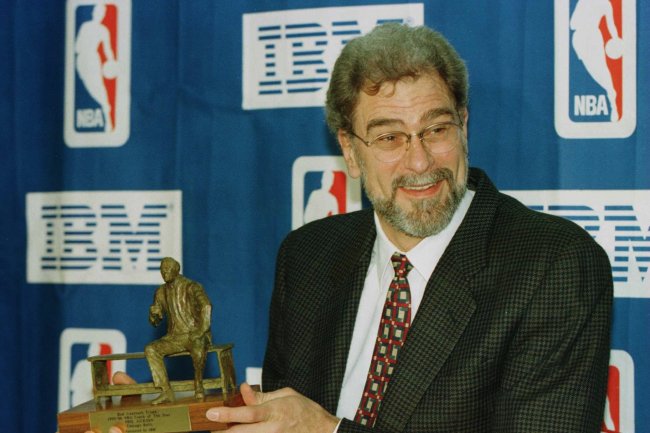 Doug Pensinger/Getty Images
"We knew were were a unique team. Small, Great ball handlers…We did the things I've tried to teach my teams." -Phil Jackson (via MSG broadcast about his time with the Knicks)
This article is
What is the duplicate article?
Why is this article offensive?
Where is this article plagiarized from?
Why is this article poorly edited?