San Francisco Giants: Takeaways from Barry Zito's First Start of 2013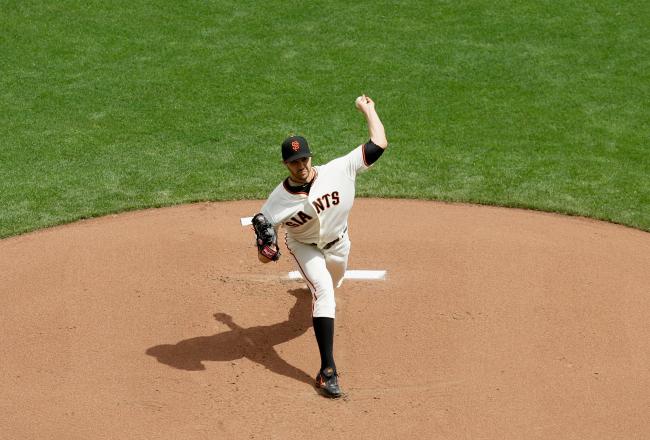 Giants' starter Barry Zito takes the mound against the St. Louis Cardinals during San Francisco's home opener on Friday.
Ezra Shaw/Getty Images
Barry Zito seems to have discovered a dominance over the St. Louis Cardinals recently.
The last time Zito took the mound against St. Louis, the San Francisco Giants were in dire straights. Giants fans will remember that game. It was game five of the 2012 National League Championship Series against the Cardinals where the Giants found themselves trailing St. Louis three games to one.
On the road for game five, it seemed like a foregone conclusion that the Cardinals would beat up on the Giants' lefty who had received so much criticism after signing a seven-year, $126 million contract in 2007. The Cardinals were the hot team. The Giants were not.
Yet Zito's performance during game five was nothing short of incredible. He pitched 7.2 innings of shutout baseball against the Cardinals and even contributed at the plate (mercurynews.com). The Giants then soared after the must-win game, eventually going on to defeat St. Louis in seven games and moving on to win the 2012 World Series.
The lynch-pin of the Giants' success in the playoffs was Zito.
Thus, it only seemed fitting that Zito would take the mound against the Cardinals yesterday during the Giants' home opener. The last time he saw the Cardinals, he dominated them and gave the Giants hope to keep their postseason dreams alive. This time, he picked up right where he left off against a team he shut down a season ago, giving the Giants more hope that 2013 will be just as special.
Following the Giants' opening day ceremonies, Zito took the mound amidst a roar of cheers from Giants fans who, not so long ago, chastised him. It was another moment of redemption for the veteran.
The Cardinals looked just as baffled by Zito's pitching as they did during the NLCS last year. Zito shut out St. Louis, looking strong over seven innings. He allowed only three hits while walking two and striking out four (cbssports.com).
Zito ran into some trouble during the top half of the seventh inning when St. Louis put two runners on base with two outs. Yet Zito was able to retire Cardinals shortstop Pete Kozma on a fly ball to center to end the inning. He finished the game with 102 pitches on the day. Zito then departed to another tremendous ovation, one of which he has been getting used to lately.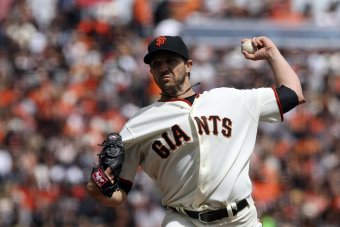 Kelley L Cox-USA TODAY Sports
The Giants went on to beat the Cardinals 1-0, giving Zito his first win of the young season.(cbssports.com).
What this means for the Giants is hard to determine, but signs have to be good.
Zito was ready for the start despite all of the festivities that preceded the Giants' home opener.
He stated:
I would like to stay focused on what I have to do and my process and not get caught up too much in the festivities. It's going to be great for the fans, obviously. That's for them to enjoy. But for us, we have to focus on our tasks. (via mlb.com)
That is a great attitude for a veteran pitcher to have, especially after enduring a tenure with a team that included so many lows. Yet for the Giants, Zito has become somewhat of a good-luck charm as they have now won 15 games in a row in which he has started, including the 2012 postseason (mlb.com). That streak will undoubtedly end at some point, but a solid start including the win is a major plus for Zito and the rest of the Giants rotation.
Zito's resurgence has not gone unnoticed by his Giants teammates.
Right fielder Hunter Pence praised Zito by saying:
Pitching is about deception, and he's got a lot of deception. He's really smart out there and doesn't give you good pitches to hit. Even his strikes are tough to hit. You think you're seeing a cutter out of his hand and it's really the fastball down the middle. And if you protect too much against the cutter, he'll go back outside. (via mercurynews.com)
Hopefully, this start is an indication that Zito will emulate more of the 15-8 season he enjoyed last year and avoid the types of seasons he had in San Francisco years prior. If he can, the Giants pitching staff will be all that much better.
It is hard to tell after one start, but a start like this one is always a good thing.
This article is
What is the duplicate article?
Why is this article offensive?
Where is this article plagiarized from?
Why is this article poorly edited?

San Francisco Giants: Like this team?