5 Things We Learned About the Red Sox in Week One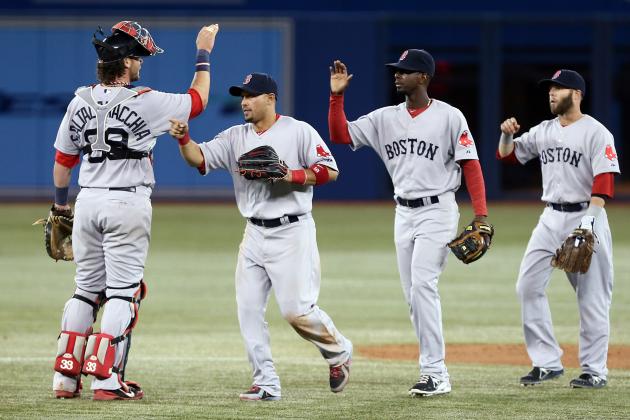 Abelimages/Getty Images

Sure, one week is nothing in the grand scheme of a 162-game season. But after a long spring training, we've finally gotten a legitimate feeling for how the 2013 Red Sox look.
How do they look? Not too shabby.
A Yankees sweep would have been better, but taking two out of three against the Pinstripes—no matter how injured and pathetic they may be—is never a bad thing in Red Sox Nation.
Then the Sox moved on to another division opponent, going another 2-for-3 against the Jays in Toronto and capping the week off with an inspiring 13-0 shutout.
After one week of baseball, the Red Sox are 4-2—their strongest start since 2008—and first place in the AL East.
Here's a list of five things we learned about the Red Sox in the opening week of the season.
Begin Slideshow

»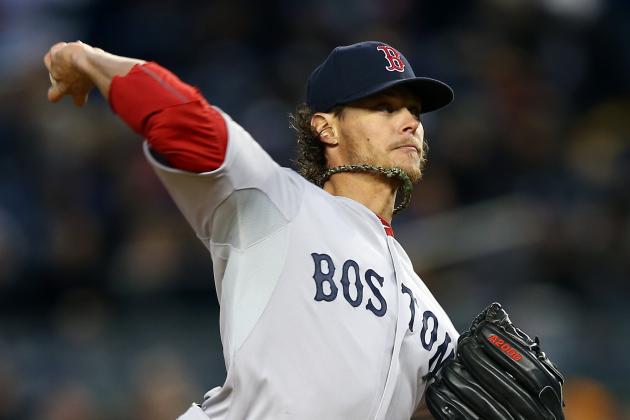 Elsa/Getty Images

Last year, the Red Sox starting rotation was the season's biggest disappointment, especially the performance from Jon Lester, who with the departure of Josh Beckett was supposed to be Boston's ace.
In 2012, Lester went 9-14 with a 4.82 ERA, while Clay Buchholz led the Sox pitchers with an 11-8 record and 4.56 ERA (not exactly something to get excited about).
Both pitchers looked like they were poised to turn things around this year with very impressive and promising spring-training performances. And after their debuts this week, that statement rings even more true.
Opening Day starter Lester had a decent outing on Monday in the 8-2 Red Sox victory; however, he only lasted five innings. On Wednesday, Buchholz rocked it for seven innings.
Buchholz led his team to a 7-2 win, allowing one run (though it was a home run) in seven innings of work, striking out four and walking just two. He also only threw 94 pitches.
This compares to Lester's two runs in just five innings of work, seven strikeouts and two walks on 96 pitches on Monday.
Lester got another start on Sunday and showed that Monday was just a warm-up. Though his day was overshadowed by Will Middlebrooks' three home runs, he stayed strong through seven scoreless innings, this time throwing 100 pitches. He gave up five hits, walked none and struck out six.
Both pitchers look on track for a comeback from a horrendous 2012 and should be big components in Red Sox success.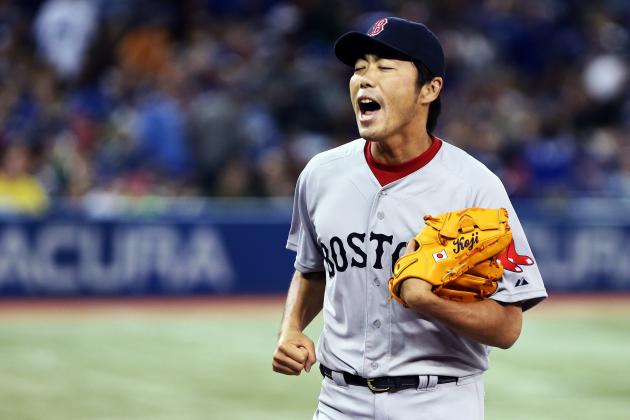 Abelimages/Getty Images
Koji Uehara is likely going to be one of Boston's top relievers this season.
Heading into spring training, the thing Red Sox fans were most confident about was the depth of the bullpen. Sure enough, Red Sox relievers looked strong in Week 1.
Starting with closing, new closer Joel Hanrahan was called upon three times and didn't allow a single run in three innings, giving up just one hit. The Red Sox won all three of those games, and he's collected two saves.
Koji Uehera—the 38-year-old who's looking like he's going to be a top reliever for the Sox this season—didn't allow a hit in his two innings of work over two games. Andrew Bailey, fully recovered from last season's injury, allowed a hit and walked one in 1.1 innings, but he also came out unscathed for runs.
The bullpen did its job in the close 6-4 victory over Toronto on Friday. The score was tied in the seventh off Junichi Tazawa, but then the Pen hunkered down for the rest of the game to hold Toronto to four runs while Boston's offense did the rest.
In Saturday's 5-0 loss to the Jays, in which the bullpen had to take over early when John Lackey was injured in the fifth, Alfredo Aceves gave up a three-run homer in the sixth. But, the Sox relievers didn't allow another run for the next three innings.
And in Monday's home opener against the Yankees, the bullpen took over in the sixth inning and allowed just one hit in four shutout innings. Uehera just needed five pitches for a quick 1-2-3 sixth inning.
The Red Sox bullpen is proving they're something fans can depend on in 2013.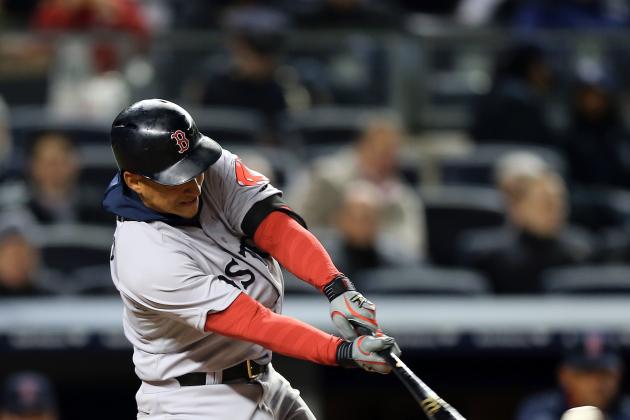 Elsa/Getty Images

Filling in for a recovering Stephen Drew, shortstop Jose Iglesias got himself a starting spot for opening week.
It was a lucky chance for Iglesias to prove himself, not defensively, but at the plate after batting a pathetic .118 in 2012.
Iglesias worked on his swing in the offseason and looked like he had improved in spring training. However, the real test would be in real games.
So far, Iglesias has passed.
In five games (he sat out Saturday after being hit by a pitch in Friday's game), he's batted .529. In fact he's leading the Red Sox in batting average. He's collected nine hits, two of which were doubles, and scored three runs.
With Drew cleared to play, there's no telling how much time Iglesias, who's fully embraced the opportunity, will get this season. He might not even get to stay at the major league level.
But at least if he's sent down, he won't have gone out swinging.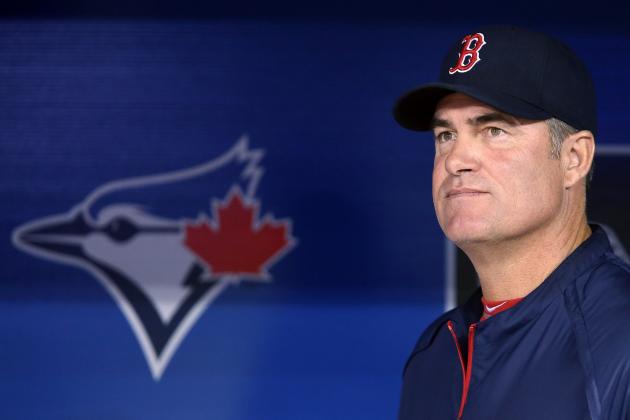 Abelimages/Getty Images

New Red Sox manager John Farrell knew his return to Toronto, where he spent two seasons as manager before butting out of his contract a year early for the "dream job" in Boston, wouldn't be easy.
It was a given that he was going to get booed and that the media would have a field day with it.
Surely, winning two out of three games in the series made his return a little easier. But it was extremely refreshing for Red Sox fans to see just how gracefully Farrell handled the weekend after their media woes with Bobby Valentine last season.
Valentine had a bad habit of inserting his foot in his mouth with the viscous Boston media—always saying the wrong things, throwing his players under the bus and getting defensive.
But not Farrell. Things already look turned around on the game-side of things, considering the Red Sox are a strong 4-2 to start the year. Now Farrell is living up to expectations on other aspects of his managerial duties.
Farrell was booed relentlessly every time he left the safety of the dugout during the Toronto series, yet his only punch back in Friday's game was the tip of his hat and a Red Sox win.
He even gave Toronto fans the benefit of the doubt, saying in his media inquisition:
That to me shows that there's a lot of passion here for baseball. And certainly, I fully respect all the changes that have gone on this offseason with the Blue Jays. I thoroughly enjoyed my time. To work with Alex [Anthopoulos, the GM] and Paul Beeston [CEO] was a great opportunity.
Toronto might not like it, but Boston can respect that.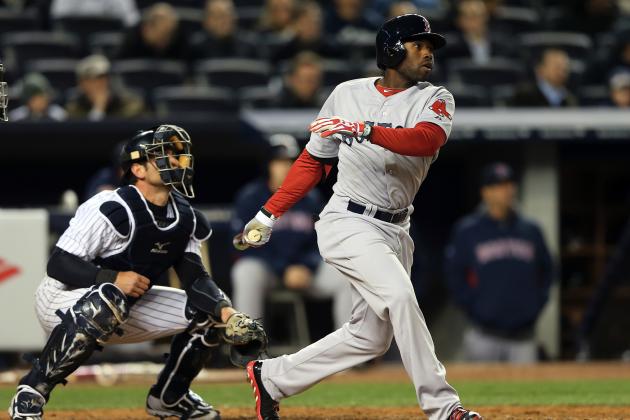 Elsa/Getty Images

After an All-Star spring training performance, outfielder Jackie Bradley Jr. was finally brought up to the majors with David Ortiz starting on the disabled list.
In his major league debut, the 23-year-old proved he can hang with the big guys. During Monday's home opener, Bradley drew two walks against CC Sabathia (three walks on the night total), one of which came during his first at-bat when he was behind 0-2 at the plate.
He scored three runs and even showed off impressive speed when he reached second base on an infield hit with the bases loaded. Defensively, he was equally as impressive.
Then in his second game on Tuesday, Bradley got his first major league hit—a grounder up the middle that missed the dive of New York shortstop Eduardo Nunez and sent Shane Victorino home. He then scored himself two batters later.
He got another hit on Thursday—a double— and another on Friday.
Bradley went 0-7 on Saturday and Sunday, but it's nothing that will get him a quick ticket back to the majors as long as he continues to play like he did in the earlier part of the week.