The Most Exciting Plays in Baseball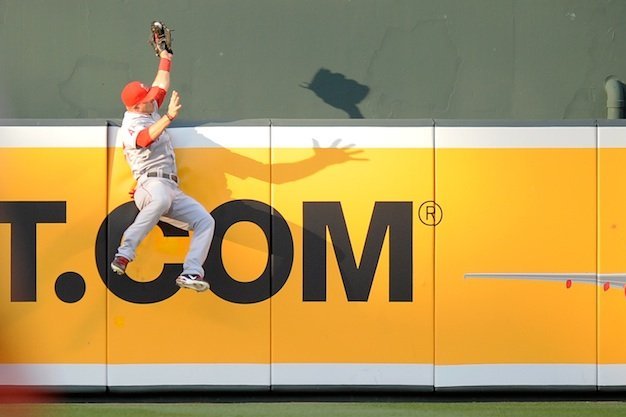 Getty Images
What makes baseball the best sport is the infinite possibilities of occurrences that happen in every single game. While other sports offer their own opportunities for memorable events, the nature of the game of baseball allows for runs to score or be prevented in a multitude of ways.
If you ask anybody what their favorite play in basketball is, most people would either say an alley-oop or a buzzer-beating shot. Football would most likely be a Hail Mary or a kick return for a touchdown. Soccer and hockey are limited to one way to score.
When discussing the most mind-boggling moments in a baseball game, you can ask 100 people and get 100 different responses. I will attempt to organize the top 10 which can be arranged in any number of ways if you ask me.
Begin Slideshow

»
It's supposed to be a simple out when a baserunner commits a mental error and inexplicably runs home on a ground ball to the pitcher. Sometimes, however, chaos ensues—especially if there is a quick runner and some hesitant fielders.
In that situation, the scorecard can end up being filled up with a play such as 1-2-5-1-6-3-4-7. Hopefully, the audience isn't dizzy because that can get tricky to keep up with. Imagine how the manager feels when the runner is safe on a play that should've been converted on one throw if not simply a tag out.
This type of play is not going to make the highlight film, but can be very thrilling and entertaining depending how many throws it takes.
There's something about gambling that entices people. It is one of the ultimate gambles a manager can make by calling for a suicide squeeze. It's the equivalent of stealing a run when done successfully, but when it is botched, it causes everyone to look foolish.
The threat of a squeeze forces opposing managers to call for pitchouts in some late-game scenarios. That is just one aspect of the "cat and mouse" inner game of baseball.
This is one of the undervalued plays in the game.
There has only been 15 unassisted triple plays in baseball history, and only two "walk-off triple plays" which makes it one of the rarest events in the game. The latest one occurred in 2009 by Eric Bruntlett of the Philadelphia Phillies.
The best chance of it happening would be with both runners attempting to steal, a line drive is hit directly at an infielder who makes the catch and proceeds to tag one of the runners and step on the base which the other baserunner made an attempt at.
It is not as difficult as it would seem, but it's still rare considering what needs to occur. Having a threat end on one pitch is just as demoralizing for the offensive team as it is exhilarating for the defensive team.
Controlling the running game is an important aspect for a team to work on. Allowing the opposition to constantly steal bases makes it incredibly difficult to prevent runs. In most cases, it is a player on first attempting to steal second. Every so often, a team will attempt to steal with runners on first and second to create havoc. If they attempt the extremely rare "triple steal," well..they just like to live dangerously.
According to Dayn Perry of CBS Sports, it hasn't occurred in a big league game since 2008 by the Cleveland Indians.
Here is footage of the rare play as it was executed by Vanderbilt in a NCAA Division-I game last season, as they are known for attempting the holy grail of base-running plays.
Here is a prime example of what separates baseball from other sports. If LeBron James is attempting a 30-foot three-pointer, once it leaves his hands, the defense must hope that it does not go in.
In baseball, if a batter drives a ball to the deepest part of the park and it appears to be on its way out, that is only the beginning of the excitement.
An athletic outfielder gives a team the tremendous advantage of being able to scale the wall and take away a potential home run. In this event, the batter is thinking to himself "what do I possibly need to do to get a hit?," while the pitcher is grateful for his outfielder and owes him a nice steak dinner.
"Robbing" a home run is one of the best ways to excite a crowd and provide instant hysteria. In the case of the video above, it combined a great home-run-saving grab with a double play and playoff baseball. It's tough to beat that combo.
The "play at the plate" is baseball's version of a wide receiver coming across the middle attempting to catch a pass, only to have the safety deliver a bone-jarring hit to him that causes the ball to come dislodged.
In some cases, it has become extremely dangerous, notably with Pete Rose ruining Ray Fosse's career in the 1970 All-Star Game.
There is not much contact in baseball, but this is the time it is welcomed. Even if the game isn't on the line, this is an exciting play because something has to give. Either the runner will knock the ball loose, give himself up or find a way to avoid the tag.
In this video, the player certainly found a way to...well just watch it so I don't spoil it. I will say I have never seen anything like it, even in a video game. Unbelievable athleticism.
This play is not rare, but it remains one of the most exhilarating. It's especially true when there is a slow-footed runner on first with a speed burner at the plate.
An every-bases-loaded situation adds tension to a particular situation. Statistically, the hitter benefits greatly from having the bases loaded. The pitcher does not have the luxury of pitching around the hitter and has the threat of allowing four runs on one swing of the bat.
While that is exciting, there is something about watching a player have to leg out all 270 feet of a triple while having all the runners hustle as well. It is simply poetry in motion.
In the video above, the fans are clearly ecstatic about Blake DeWitt's clutch triple, and it encapsulates the longest a play will drag on.
There have only been 26 cases of this in MLB history, which basically makes it as rare as a perfect game. Simply put, if you attend games with the intention of seeing the next "ultimate grand slam" you will most likely be disappointed.
April 16, 2011, was the most recent instance which came off the bat of Brian Bogusevic of the Houston Astros. When he came to the plate the score was 5-2, but he turned defeat into triumph with one mighty swing of the bat.
For a fan, nothing can be better than the feeling of seeing a three-run deficit turn into a one-run walk-off win on one pitch.
This is the penultimate event during a game.
There is really no equivalent to a perfect game in baseball. Don't even suggest bowling, where there's no defense.
It is rare, yet it is entirely feasible as evidence by Felix Hernandez, Philip Humber and Matt Cain tossing perfectos in 2012.
Basketball players do not go an entire game without missing a shot (high-volume shooters, like Carmelo Anthony, of course). Quarterbacks do not last four quarters without throwing an incomplete pass. Heck, some don't even complete 50 percent of their passes (Ex. NY Jets).
Yet in baseball, even with 27 opportunities to mess up, pitchers still find a way to navigate through the lineup three full times without a player to reach base and enough pressure to cause a Mac to crash.
The feat has been accomplished on 23 occasions. There has been numerous near misses, which adds to its aura and mystique.
Sometimes, pitchers have been snake-bitten while attempting to go for a perfect game, such as Milt Pappas being squeezed by Bruce Froemming in 1972. Also, Mike Mussina, Dave Stieb, Armando Galarraga and Yu Darvish allowed two-out singles in the ninth to have their games thwarted.
Being perfect remains a relatively small fraternity, even if some members haven't had such distinguished careers as pitchers who have not joined the club.
Game 7 of the World Series, game on the line, bottom of the ninth, two outs and a man on third. Every kid dreams of being the hero in this situation at the plate by knocking a game-winning and season-ending home run over the fence.
Only one man can say he has experienced this, and that is Bill Mazeroski who did so in 1960 to eliminate the heavily favored New York Yankees.
Joe Carter is the other player to end a World Series with a home run, but his differed slightly in that his team, Toronto Blue Jays, were winning the series three games to two at the time which means they were not facing elimination. His accomplishment is more impressive in the fact that the Blue Jays were trailing which turned upset into victory.
To say this is the most exciting event in a baseball game is an understatement. It transforms a chess match of a game into absolute mayhem.