10 QB Duels We Can't Wait to See in 2013 College Football Season
Sam Greenwood/Getty Images

The 2013 college football season is almost here, so it is time to look at quarterback matchups. Well, we still have a ways to go before kicking things off, but we are closer than we were yesterday.
The quarterback position is arguably the most important in all of sports and when you get two great signal-callers battling it out, it makes for must-see television.
There is an abundance of great quarterbacks in college football and thankfully many of them end up crossing paths during the regular season. Whether you are a fan of the SEC, Pac-12 or a dejected fan of the Big Ten, we can all agree that there are few things better than a terrific quarterback duel.
With many matchups to choose from and a boatload of young quarterbacks taking over the game, here are the battles between signal-callers that you don't want to miss during the upcoming season.
Begin Slideshow

»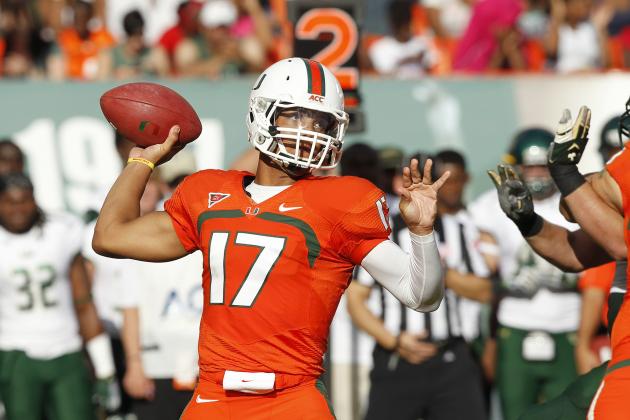 Joel Auerbach/Getty Images

Besides watching Virginia Tech and Miami toward the end of the season because there may be ACC title hopes on the line, this matchup also features two above-average quarterbacks.
You probably weren't paying much attention to the Hurricanes because they likely weren't going to a bowl game last season, thanks to the NCAA. However, Stephen Morris made his mark, throwing for 3,345 yards and 21 touchdowns. Putting up video-game numbers at times, he finished the season on a hot streak, throwing for three touchdowns in each of his last three games
As for Logan Thomas, I know there is a good chance you have already given up on the poor kid. But with his talent and upside, along with this being his last chance to improve his NFL draft stock, it wouldn't be wise to write him off just yet. He still has the ability to make plays in a variety of ways and remains a dark-horse Heisman candidate.
This is a quarterback battle that will generate even more buzz once we inch closer to this ACC showdown.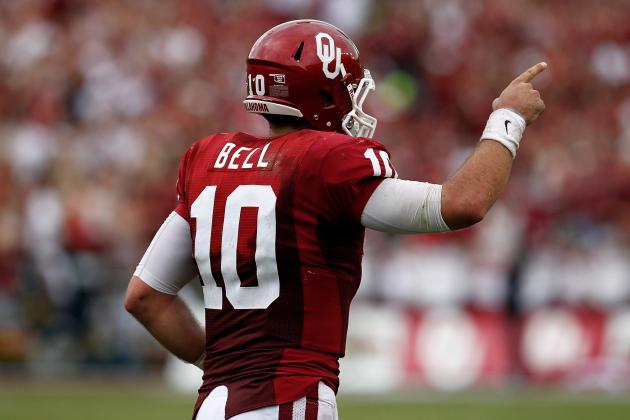 Tom Pennington/Getty Images

The Red River Rivalry has been one-sided the last two seasons in favor of the Oklahoma Sooners. If Texas is going to win this game for the first time since 2009, its quarterback needs to show up.
David Ash actually showed positive signs last year, improving his completion percentage to 67 percent while throwing for 2,600 yards. He still was shaky down the stretch, but Longhorns fans can feel a little more comfortable heading into this game with him under center.
Oklahoma, on the other hand, will have a new quarterback in Blake Bell.. Known more for his aggressive running style, the jury is still out on his passing ability.
This quarterback duel will also be worth watching because of the both teams' suspect defenses. If neither can improve, this may be a track meet.
Tons of yards and points have never hurt anybody.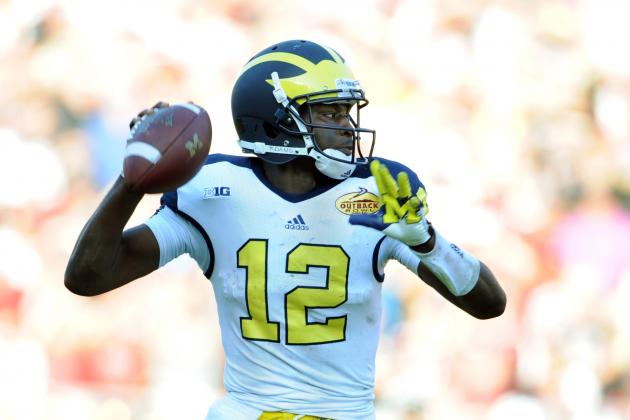 Al Messerschmidt/Getty Images

Usually the rivalry between Notre Dame and Michigan is all about the tradition of the teams. Easily one of the better contests of the year, six of the last nine meetings have been decided by fewer than 10 points.
This season the outcome figures to revolve around the quarterback position. Devin Gardner is considered by many to be a better overall quarterback than Denard Robinson and is expected to thrive in the new pro-style offense Michigan is going to reveal. Everett Golson should be better than he was last season and help give Irish fans that true elite quarterback they have been missing.
Both of these guys are quite young at the position, so you aren't sure what to expect from either one of them. The Notre Dame-Michigan game is early in the year, so this will provide us with our first real look at both of them.
If history is any indication, this should be a good one.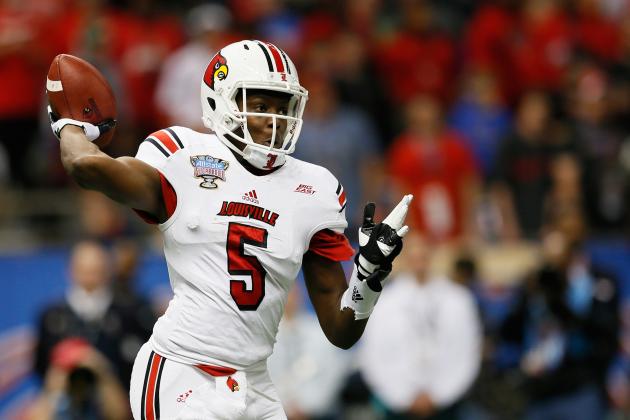 Kevin C. Cox/Getty Images

It is important to note that it is not guaranteed that Munchie Legaux will be the starting quarterback for Cincinnati. Currently in the middle of a quarterback battle, he will certainly have to improve his decision-making if he is going to continue in his starting role.
Just for the rivalry's sake, I hope he earns the job.
Last season Legaux had no problem going on record saying he was a better quarterback than Teddy Bridgewater. The Louisville quarterback responded by throwing for 416 yards, two touchdowns and leading his Cardinals to victory over the Bearcats. Legaux completed less than 50 percent of his passes and threw three interceptions.
Could it have been just a bad day for Legaux?
Regardless, Bridgewater has proven to be a real threat at quarterback and has become a household name over the last several months. Watching him play is going to be a treat whenever the opportunity presents itself, but seeing him take on Legaux one more time would be extra special.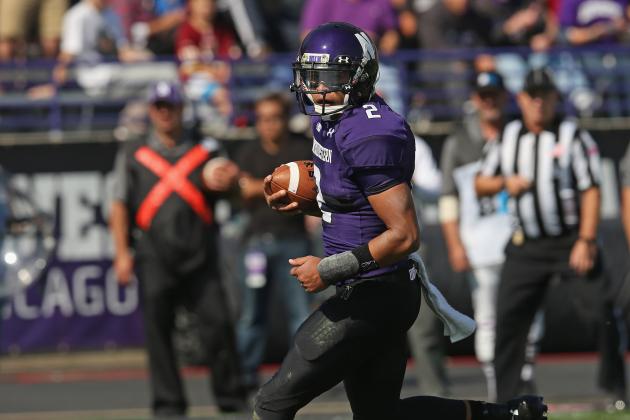 Jonathan Daniel/Getty Images

We all found out why Urban Meyer was so quick to jump at the Ohio State job last season. In Braxton Miller, he has the perfect quarterback to run his spread offense.
In his first season under Meyer, Miller ran for 1,271 yards, 13 scores and improved his completion percentage to 58 percent. With another year under his belt, he is one of the favorites to win the Heisman Trophy.
Kain Colter is also an exciting quarterback who is starting to generate a little buzz with the Wildcats' success. More of a utility player for Northwestern, he is capable of running, passing and even receiving the football. He racked up 894 yards last season on the ground, threw for 872 yards and scored 20 touchdowns.
Northwestern is likely going to stick with a two-quarterback system, but having the chance to see two of the more explosive players in the Big Ten getting after it is going to be an exciting change of pace for this conference.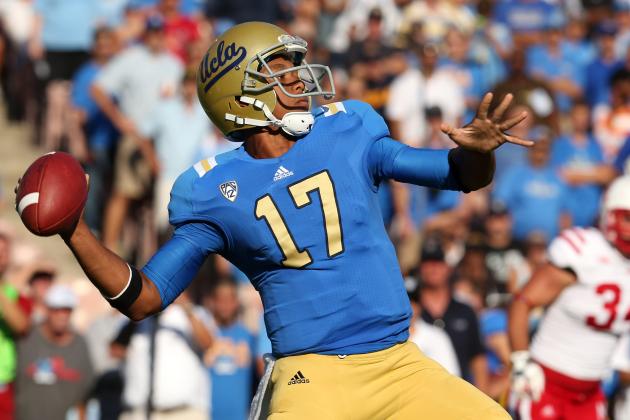 Stephen Dunn/Getty Images

Last season was the year of the freshman quarterback, and Brett Hundley is somebody who should be mentioned in that mix. Passing for 3,745 yards and 29 touchdowns, he caught the Pac-12 by surprise and helped lead UCLA to an impressive season. He also did a good job of showing his dual-threat ability by running for 355 yards and nine scores.
Taylor Martinez was a completely different quarterback for Nebraska last season, as he was more of a passer. Once a quarterback who couldn't hit the broad side of a barn, Martinez improved his completion percentage to 62 percent and threw for 23 touchdowns. He also continued to keep defenses on their heels by setting a career high with 1,019 rushing yards.
When these teams met last season, more than 1,000 yards and 66 points were produced. If you are a fan of offense, this is a game and quarterback battle you don't want to miss.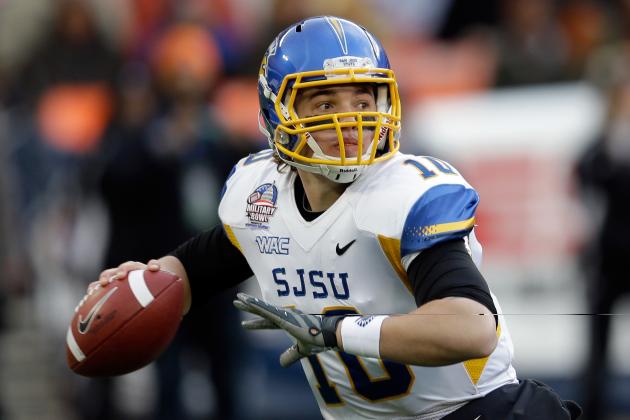 Rob Carr/Getty Images

I know you are probably wondering how this matchup made the list. You probably couldn't name the mascot of San Jose State, and there is a good chance you never heard of either of these quarterbacks.
Don't worry, it won't disappoint.
David Fales was a junior-college transfer who put the Spartans on his back last year, throwing for 4,193 yards, completing 72 percent of his passes and tossing 33 touchdowns. Fales throws a beautiful football and is capable of making all of the throws, which should earn attention from NFL scouts.
Kevin Hogan is a dual-threat quarterback who started to find his groove late in the season. A playmaker at the position, he will help add a new dimension to this Stanford offense.
I'm sure the Stanford-San Jose State game isn't going to be high on your couch potato list. But if you would like to see good quarterback play, you may want to catch a glimpse.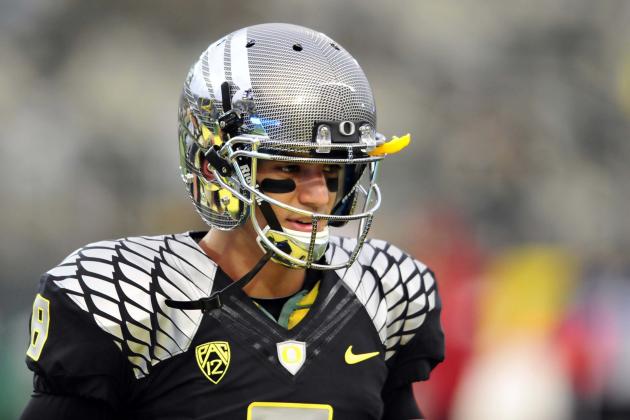 Steve Dykes/Getty Images

If it weren't for Johnny Manziel playing like he had superpowers, all of the attention would have gone toward Marcus Mariota. A freshman quarterback as well, the Oregon Duck passed for 2,677 yards and 32 touchdowns, and rushed for more than 700 yards and five touchdowns as well.
Credit the system all you would like, but Mariota is easily the best quarterback Chip Kelly or Mark Helfrich has ever had in Eugene.
As for Keith Price, he kind of fell off the map last year, but a lot of that had to do with brutal offensive line play. Put anybody behind a line that allows zero time to get off a pass, and there will be little success. Remember, this is a quarterback who threw for more than 3,000 yards and 33 touchdowns in 2011, generating some Heisman buzz.
Now that the offensive line issues have been addressed, this is an interesting Pac-12 battle between quarterbacks who are arguably the best in the Pac-12.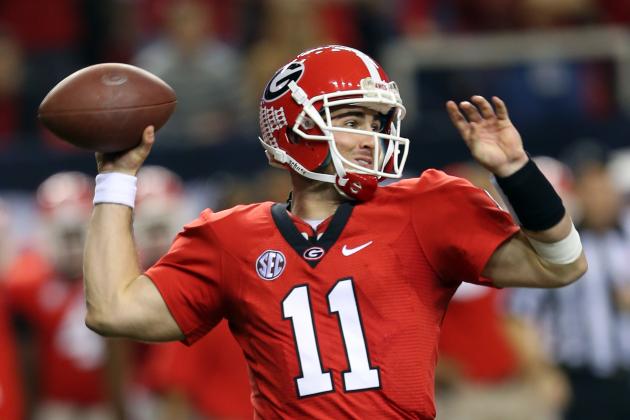 Mike Ehrmann/Getty Images

This is a battle that ranks high on my list because these are arguably the two most underrated quarterbacks in the country. Oh sure, both Aaron Murray and Tajh Boyd receive credit and media attention for playing in respected BCS programs, but either one could legitimately win this year's Heisman Trophy.
Murray has topped 3,000 passing yards in each of the last three seasons. His yards and touchdown numbers have improved each year, and that has happened despite playing behind an offensive line that has been shaky at best.
Boyd isn't talked about nearly as much as he should be; there aren't many signal-callers who have thrown for 69 touchdowns over the last two seasons.
This Georgia-Clemson meeting is must-see television because both teams have incredible firepower offensively, and it all starts at the quarterback position.
Ronald Martinez/Getty Images

There will be so many things to watch for in the rematch of last year's game that nearly left Alabama out of the national championship race. One of the matchups everybody will be talking about is between the Crimson Tide's AJ McCarron and reigning Heisman Trophy winner Johnny Manziel.
McCarron ended up throwing a costly interception in last year's meeting, while Manziel captured everyone's attention with a remarkable performance that showed everybody he had arrived. There hasn't been a defense yet that has figured out how to slow down the Aggies' quarterback. On the other hand, McCarron took his game to another level last year, completing 67 percent of his passes and throwing for 30 touchdowns.
Either of these guys could end up winning the Heisman Trophy, but this meeting has much bigger goals on the line. Both teams will be searching for a national title, and the outcome of this game will likely be decided by which quarterback performs at the highest level.
If you are a fan of college football, this is the regular-season game of the year.