WWE WrestleMania 29: Simulating Every Confirmed Match with WWE '13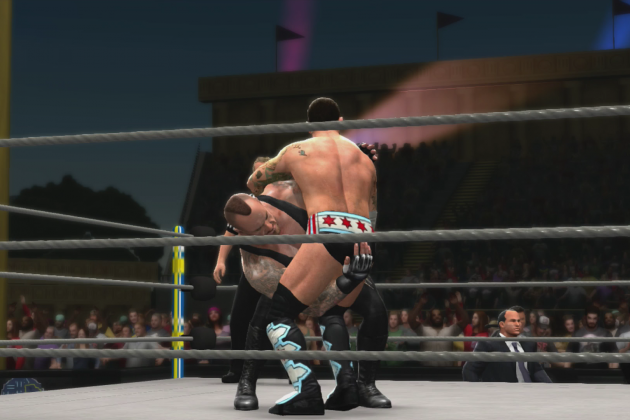 image from WWE 13
WWE 13 offers a wide range of customization options that makes it fairly easy to simulate the matches planned for the WWE's monthly pay-per-views.
With WrestleMania 29 set for Sunday, April 7, it's about time for my simulation post for the greatest spectacle in sports entertainment.
This is the showcase of immortals…in a way.
You could look at this as a preview of sorts, or just a fun way to see what results the game would produce. Though there are a ton of options available, there are still a few details that required adjustments in creating this simulation.
First off, some Superstars and Divas like Fandango, The Funkadactyls, The Shield, Paul Heyman and Zeb Colter aren't officially part of the game's roster.
But thanks to WWE 13's awesome create-a-wrestler function and it's even more awesome community creations feature, gamers can create and share the wrestlers and arenas they build.
Wait until you see the epic WrestleMania 29 arena I downloaded.
Though it's not the official renders of each wrestler, they do serve the purpose for this article.
In relation to specific matches, I needed to split the mixed-gender clash featuring Tons of Funk and the Funkadactyls vs. Rhodes Scholars and Bella Twins.
Every once in a while, WWE television will come up with a match that isn't included in the game, and it can cause some issues when doing a simulation.
For this situation, I just made two separate tag matches because by rule, no man is allowed to compete against a woman in WWE matches, so I thought this was the best way around that.
Now that we got all disclaimers out of the way, here are the results of all 10 matches scheduled for Sunday night.
Begin Slideshow

»
Tensai's new gimmick as Sweet T is working better than every other angle he's ever had in the WWE. This is a slightly altered version of Tensai in the game to capture the TOF angle.
He and Brodus dish out the majority of the pain in this match. Tensai gets the pin on Cody Rhodes, and I believe the rotund tag team will come out victorious on Sunday as well.
I like Cody and Damien Sandow, but it seems they don't have much of a direction right now. Hopefully a loss here will lead to bigger and better singles careers for them both.
I would first like to apologize to my fellow Funkadactyl fans out there. The versions of Cameron and Naomi in this video look more like Cam Newton and Na'il Diggs, but at least the move sets and attributes are correct.
This was actually a pretty solid match, and I personally feel these two teams could have an entertaining feud. I'm not sure they actually need TOF or the Rhodes Scholars involved, though.
Hopefully they're in-ring action in the mixed-gender tag match is as entertaining as the simulation.
The Bellas got the win here, but I think they'll be on the losing team come Sunday night.
From a pure action standpoint, I have the highest hopes for this matchup. Fans can scream "you can't wrestle" at Fandango all they want, but I urge anyone who thinks that to search Johnny Curtis on YouTube.
That was the name Curtis Jonathan Hussey (aka Fandango) wrestled under before the ballroom dancing gimmick.
You will soon see—dude can definitely wrestle.
This is why I'm excited to see how he and Jericho work together. In the simulation, Y2J came out victorious in hilarious fashion.
You'll see the referee is actually blocking Fandango's path to the ropes, so he can't break the Walls of Jericho.
This was a cyber screw job.
Something tells me Big E is going to be a big mess in the ring. I've seen some of his work in NXT and smaller promotions, and while he wasn't horrible athletically, his in-match storytelling and reactions are bizarre.
I hope he proves me wrong...and gets a bigger onesy. That current wrestling attire is obscenely small.
I'd love to see a feud between Ziggler and Bryan, though.
Pitting two of the promotion's best in-ring performers against each other would be great. Mixing in the A.J. angle would make it as complete as any current feud in the WWE.
As for the simulation, things got a little weird toward the end.
Big E and Dolph won by count-out, as Langston drove Kane through the barricade and slammed his face off the ring post. The Big Red Machine was too groggy to get back into the ring.
Check out the masterful use of video transitions at the end (I'm kidding).
I'm looking forward to this match like I'm anticipating another sequel to the Expendables movie. I know it's just going to equate to a lot of meaningless explosions, but I still want to see it.
I'm concerned that these two behemoths won't really be able to show off their strength because of their size.
No matter how good or bad the in-ring action is, I think it's pretty obvious Ryback has to win on Sunday. He's been getting the short end of the stick for a while.
Any more losses could dull the significant momentum he established when he made his first appearance as Ryback on WWE television.
You can file the result of the simulation away in the "no chance" folder. Ryback tapping out is something the WWE would never allow to happen. But that's exactly what went down in this simulated match.
Henry inducted another man into the Hall of Pain, but I'm sure this will be restricted to the video game.
This might have been the best simulated match of the event. The Miz and Barrett went back and forth, and the match featured an awesome stunt from The Miz.
He drops an elbow on Barrett from the top rope onto the announcer's table. In the end, The Miz won with a dancing figure-four leg lock.
I'm thinking he wins on Sunday night as well.
He's been title chasing for the last few months, and I see him walking away with the gold at WrestleMania 29.
I'm hoping to see another remarkable performance from The Shield. The group has been money at the pay-per-views it's appeared in thus far.
Hopefully it can deliver again on Sunday.
It's obvious that it is time for The Shield to lose, or at the very least, it's time for a new twist. The WWE shouldn't allow the trio's appearance to get boring, and unless something notable happens soon, we're headed to Snoozeville.
It seems like John Laurinaitis' return to television fits in here, but it could just be a smoke screen.
The CPU didn't seem to care much for the Big Show in the simulation.
He was tagged in a few times but didn't do anything of note; thus, he is scantly featured in the highlight reel. But the Celtic Warrior and The Viper didn't really need him.
Sheamus got the pin after dominating most of the match.
The WWE has developed this feud well. I'm wondering where it will go from here, but I find it hard to believe these two won't be competing in a submissions-only match somewhere down the line.
On Sunday, I expect Swagger's epic return to the WWE to take another huge step. I think he's going to dethrone Del Rio and add even more heat to his edgy character.
Apparently, WWE 13 agrees with my prediction. In a pretty solid match, Swagger takes out Del Rio despite the efforts from Ricardo Rodriguez.
Beyond the appeal of seeing Lesnar in another match, this one doesn't excite me. Lesnar has beaten Triple H twice already, so it seems obvious The Game is bound to win this one.
The only spin that could be placed on this feud is to have Triple H robbed of the win and his career (which is on the line, per Paul Heyman and Lesnar's stipulations), only to be re-instated by someone at a later date.
Even with that completely speculative outlook, the match still feels a bit stale. The simulation was mildly entertaining, as the two men brawled outside and used ladders and crutches to do damage to each other.
Ultimately, Triple H won after landing the Pedigree on a flat-lying ladder.
It was a pretty cool finish.
I may be in the minority, but I truly hope Punk ends the Undertaker's streak.
It's not because I don't like Taker; he's one of the best characters in wrestling history. But Punk is a special talent that deserves a distinction beyond just being a long-standing former WWE champion.
Ending the streak would etch his name in the professional wrestling history books forever.
This was an epic simulation and it felt the most like a real match. There were momentum shifts, huge moves and Paul Heyman saving Punk from a three-count after Taker hit the Tombstone piledriver.
In the end, a bloodied Punk landed two Go to Sleeps on a bloodied Taker to end the streak. This was a very good match.
I couldn't work in the possibilities of Cena turning heel, but the simulated match was still exciting. The Rock retained the title, but it seems like that just can't happen on Sunday.
We all know that the Great One can't devote enough time to being the champion long term, so this seems like Cena's night to shine. But something feels a little weird about the buildup to this match.
Cena turning heel seems unlikely because of all the real-life charity he does, though it can't be ruled out all together.
I expect him to win, but I'm curious to see how that happens. I suppose that is enough intrigue to make me more than just a little interested in the main event.
Follow me and Franchiseplay, my sports video game alter ego.