Josh Hamilton vs. Texas Rangers: Live Score, Analysis of Angels Star's Return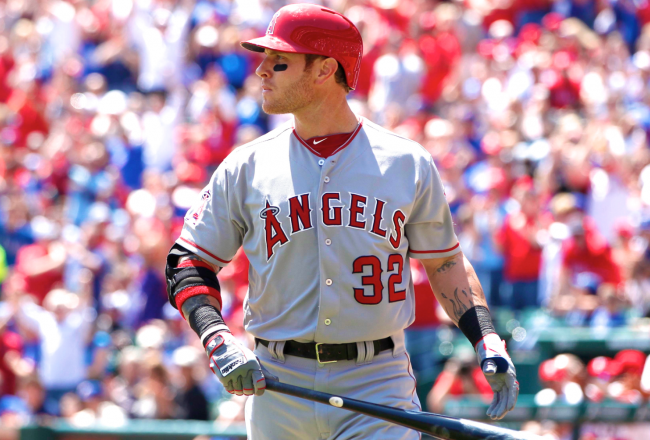 SCORE UPDATE:
FINAL: Texas Rangers 3-2 Los Angeles Angels

HR: LAA- Iannetta (2) TEX- Beltre (1)
W: Scheppers (1-0)
L: Downs (0-1)
S: Nathan (2)
Hamilton 0-for-4, 2 K's
Kendrick swings and hits a fly ball to right-center.
Gentry has it lined up and the Rangers win!
After getting behind 0-2, Trumbo draws a walk.
Tying run on, two-out for Kendrick.
Andrew Romine will pinch-run.
Hamilton flies out to right-center on the first pitch.
Trumbo the last Angel hope.
If the score holds, Scheppers would get the win and Downs would take the loss.
Pujols sends one out to die at the edge of the track in left.
Hamilton gets booed again.
Andrus lines out to second to end the inning.
Joe Nathan on to close it out.
Pujols, Hamilton and Trumbo are in his way.
Kinsler singles to right!
Gentry was not stopping at third and Hamilton's throw hits the catcher's glove late and bounces away.
Rangers pull ahead, 3-2!
Downs gets Baker looking on a pitch inside framed perfectly by Iannetta.
Rangers now 1-for-12 with runners in scoring position.
On a 0-2 count, Gentry steals second.
Pitch was a ball and the potential winning run is in scoring position with one out.
Watching Josh Hamilton play right field is like watching an ostrich knit a sweater.

— Steve Lepore (@stevelepore) April 5, 2013
Gentry singles to short right in front of Hamilton.
Yes, the crowd roars.
Mitch Moreland is called back and Jeff Baker will pinch-hit with one out and Gentry on first.
Scott Downs is next for the Angels out of the pen and he has the fortune of facing the red-hot A.J. Pierzynski.
Pierzynski, on cue, grounds out to second for the first out.
Scheppers induces a comebacker from Trout and he has retired the first two hitters.
Angels do not look comfortable at the plate.
Aybar swings at the first pitch and flies out to right.
A nine-pitch inning for Scheppers. You cannot do any better.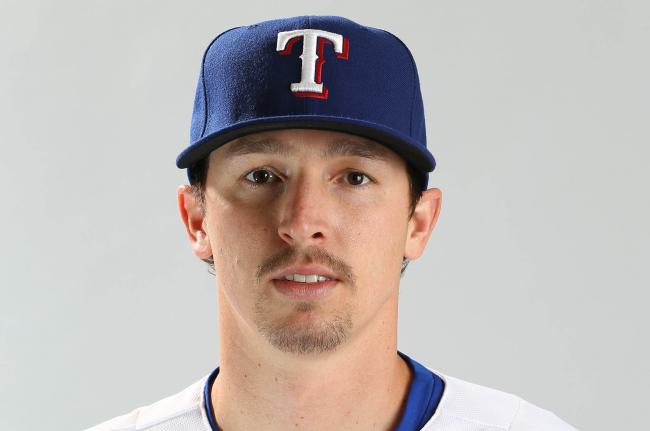 Tanner Scheppers takes over for Holland as we start the eighth.
Bourjos will be the first part of the welcoming committee.
Holland will gladly take the no-decision. He struck out five and was stingy giving up two in seven.
Scheppers gets Bourjos swinging to start the inning.
Richards gets Murphy to strike out swinging on a pitch in the dirt.
The damage is done, however, on Beltre's solo blast and we go to the eighth tied at two.
After Richards retired his first two batters with ease, Cruz follows Beltre's home run with a sharp single to left.
Two out with the go ahead runner on. Action coming quick in the Los Angeles pen.
Vargas will not win this game as Richards could not hold the lead.
After Berkman grounded out to second, Beltre homers to left-center to tie the game!
Yes, sitting in his seats next to GW Bush RT @billyjim47: @evan_p_grant I missed the opening day stuff. Is Nolan @ the game?

— Evan Grant (@Evan_P_Grant) April 5, 2013
Neither has been shown during the game on the Texas feed.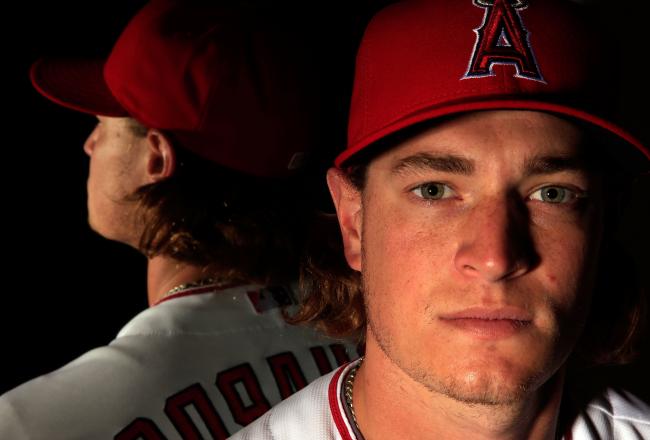 Jepsen is done after one hitter as Garrett Richards comes into pitch.
Elvis Andrus grounds out to short to make him feel comfortable.
Iannetta flies out to left-center to end the inning.
Derek Holland is likely done after 94 pitches and seven innings qualifying for a hard luck loss.
The Rangers stand for God Bless America and stretch trailing 2-1.
Holland pitched a whale of a game.
Callaspo hits a made to order double play ball to third.
Texas converts it around the horn for two quick out.
With runners in scoring position today, Texas is 1-for-11.
That classifies as paltry.
At 83 pitches Derek Holland does start the seventh and Howie Kendrick singles to left.
Kinsler hits a lazy fly out to center and they strand Pierzynski at third.
Vargas stands to get the win if the Angels hold on.
Kevin Jepsen is the new Angels pitcher and Ian Kinsler is the batter.
After a failed hit-and-run attempt, Gentry hits a perfect sacrifice bunt to the mound.
One out with Pierzynski on second for Moreland.
Moreland grounds out to second. Pierzynski moves to third and they come and get Vargas.
This article is
What is the duplicate article?
Why is this article offensive?
Where is this article plagiarized from?
Why is this article poorly edited?