For those who thought Tony Romo has already faced unprecedented pressure in his career, well, the pressure has officially been increased.
He has joined Tom Brady, Joe Flacco and Drew Brees in the $50 million guaranteed quarterback club. The only problem is, the Dallas Cowboys signal-caller has one playoff win in seven years as a starter, and the other three have Super Bowl rings.
Teammate DeMarcus Ware gave his succinct opinion on Romo's current situation on Sirius XM radio (h/t Dallas Morning News): "I feel like everybody is deserving to whatever is given to him, but at the end of the day, to me it's put up or shut up. I'm just being straight-up honest with you."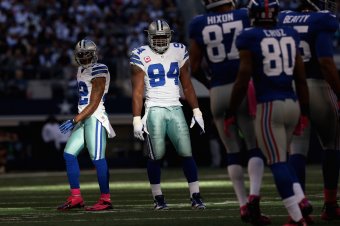 Ronald Martinez/Getty Images
Were the pass-rusher's words a direct shot at Romo?
You can be the judge of that, but Ware certainly seemed to be insinuating now is the time for the quarterback to lead the Cowboys deep into the playoffs.
Romo has actually been one of the league's more productive quarterbacks during the regular season when he has been healthy.
In 2012, Romo, rather quietly, threw for 4,903 yards with 28 touchdowns and 19 interceptions. In 2011, he tossed 31 touchdowns to only 10 interceptions while throwing for 4,184 yards at a 66.3 percent completion percentage—and hardly anyone noticed.
However, regular-season statistics don't win championships, and when the lights have been the brightest, especially in the postseason, Romo has struggled.
First, in 2006, he led the Cowboys to the brink of a wild-card win against the Seahawks in Seattle, but he fumbled the snap on the game-winning, chip-shot field goal.
He nearly scored after the mishandling, but was tackled a yard short.
In 2007, Dallas' best season of the new millennium, the favored 13-3 Cowboys lost to the eventual champion New York Giants in the divisional round.
Romo went 18-for-36 for only 201 yards with a touchdown and the game-ending interception in the end zone.
In 2009, he finally guided his team to postseason victory, a 34-14 trouncing of the Philadelphia Eagles. But in the second round, the Minnesota Vikings dismantled the Cowboys 34-3, and Romo threw for under 200 yards with no touchdowns and an interception.
Last year, with the NFC East crown on the line, he tossed three three interceptions in a loss to the Washington Redskins.
Then again, Dallas' defense allowed 274 yards rushing in defeat.
Tony Romo-- 3 INT on Sunday vs Redskins. He had 3 INT in his previous 8 games entering today.

— ESPN Stats & Info (@ESPNStatsInfo) December 31, 2012
Has Romo been somewhat misunderstood as the Cowboys quarterback?
Undeniably.
In the six seasons in which he has played 13 or more games, Romo has completed 64.3 percent of his passes, thrown for an average of 4,022 yards with 27.6 touchdowns and only 14 interceptions.
Is it "put up or shut up" time for Tony Romo?
For those scoring at home, those numbers are darn good.
However, Romo's teams that, on paper, have been among the league's most talented, have flopped in the playoffs, and they haven't been there since the 2009 campaign.
Therefore, DeMarcus Ware's now famous "put up or shut up" comment is totally in line and fair.
I mean, when your quarterback is guaranteed to make $55 million, which is in the vicinity of the money Super Bowl winners Brady, Brees and Flacco are assured, there isn't any more room for excuses.