The Biggest Super Fans in the NFL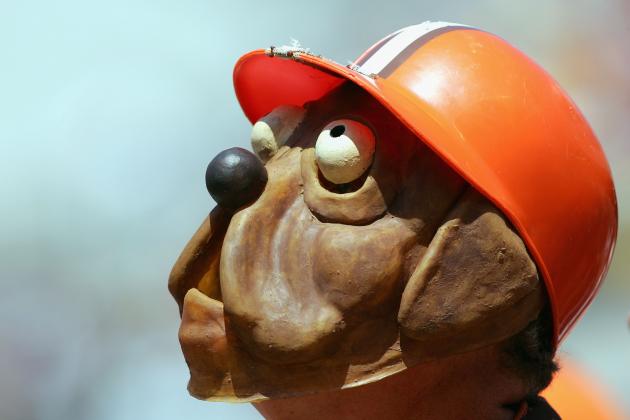 Harry How/Getty Images

It's April, yet all of us are glued to the NFL like its midseason. That's what separates us from the average fan. We eat, sleep and live football 24 hours a day, seven days a week.
There are some, though, who go above and beyond even that.
These fan(atic)s wear their colors proudly—and brightly—for everyone to see. We label them as superfans because they stand out from the norm with their creative costumes or personalities.
Like the players we idolize, they too get a special place in our minds—and through recognition in the form of Hall of Fame inductions.
We'll take a look at a group of the boldest and most passionate NFL fans in the following slideshow.
Begin Slideshow

»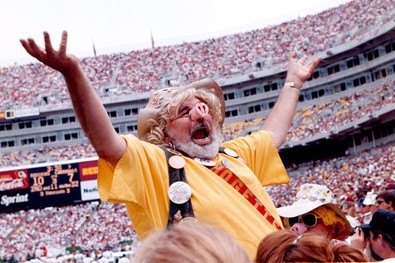 Image source: Washington Post
The decision to step away couldn't have been easy for the Hogettes. For 30 seasons this dedicated group of superfans donned pig snouts and dresses while supporting their favorite team.
With the emergence of Robert Griffin III as a top QB in the league, the 'Skins are on the upswing, making the timing of this decision that much more peculiar. Almost as peculiar as the Hogettes themselves.
Despite their impending and alleged departure from the spotlight, we still think of them as one of the best in the game—for now.
Christopher Hanewinckel-USA TODAY Sports

I don't feel comfortable picking one member of the Oakland Raiders' vaunted Black Hole to single out here. Sure, Spike might be a central figure, but the collective group deserves recognition here.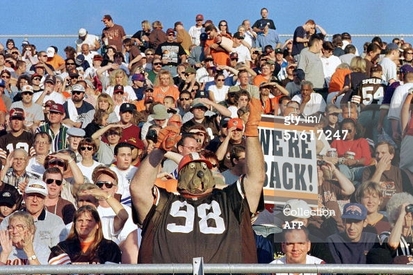 Image source: David Maxwell, Getty
John Big Dawg Thompson is one of the most recognizable superfans in not just Cleveland, Ohio, but in the NFL in its entirety.
Notice I didn't use quotation marks around his moniker, Big Dawg. That's because this iconic fan legally changed his name to include his passion for the Cleveland Browns.
He was a member of the original Dawg Pound of the mid-'80s and also served as a lobbyist for the return of Browns football to Cleveland after the franchise moved to Baltimore in 1995.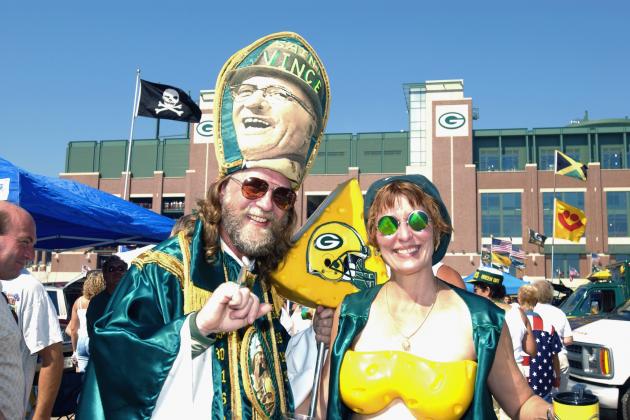 Rebecca Butala/Getty Images

Green Bay Packers superfan John "St. Vince" O'Neil has a bit of a religious following on Sundays. Don't confuse him with the pope, though.
His ascension to stardom began in 1997 during the Green Bay Packers meteoric rise to the Super Bowl. Attending every game since the 1960s, O'Neil dedicated his costume to Vince Lombardi during the Pack's win in New Orleans that year and it stuck.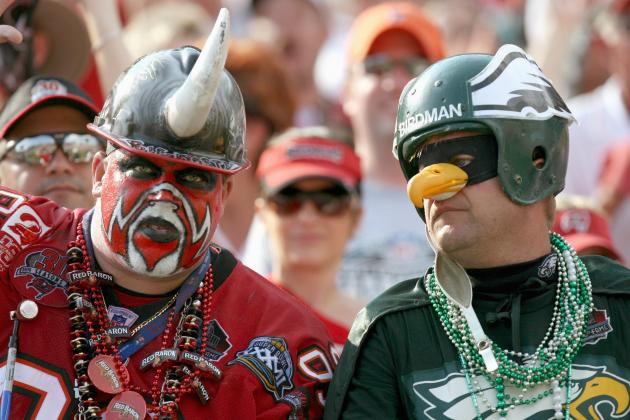 Doug Benc/Getty Images

When you get inducted into the NFL Hall of Fame for being a superfan, you know you're going to make some lists like these.
Keith Kunzig, a.k.a. "Big Nasty," is a crazed Tampa Bay Buccaneers enthusiast that dons a rhino helmet and paints his face red for every game.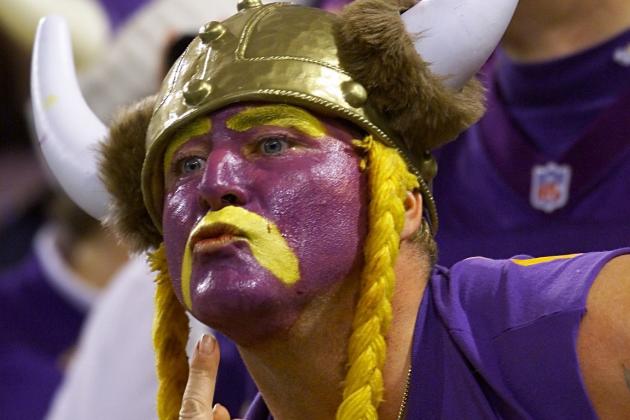 Brian Bahr/Getty Images

Like other superfans, Minnesota's Syd Davy has stood the test of time. He's been an avid fanatic of the Minnesota Vikings since the 1960s.
He dresses in battle dress and is also known as "100 percent Cheese Free."
That persona made him famous after the 1993 season. Davy got dressed up for Halloween that year and never stopped after a big reception from his fellow Vikings fans.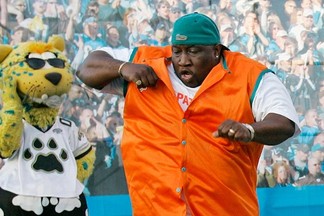 Image source: David J. Phillip, AP
Fireman Ed, the former New York Jets superfan, stepped down during the team's 2012 campaign. That drew the ire of Miami Dolphins superfan Big Pap Pump.
He called out Ed for walking away while the team was losing this past season.
"If you're stepping down because of what you see, getting your butt whupped week-in and week-out and you haven't been to the Super Bowl since Super Bowl III, that is a wuss. That is a wuss," Pump said.
Meanwhile, he remains loyal to a Dolphins franchise that has shown few glimmers of hope in recent seasons.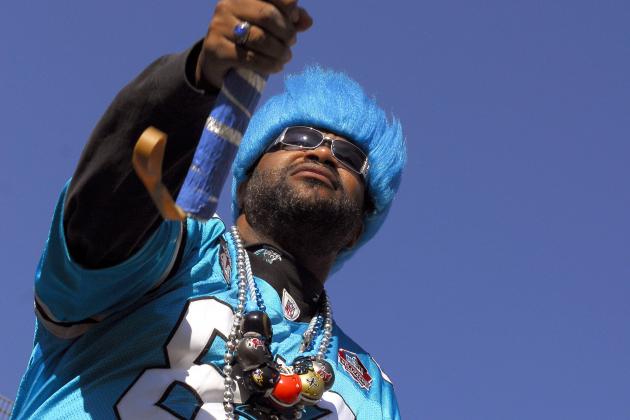 Grant Halverson/Getty Images

There aren't many Carolina Panthers superfans that stand out. But the one who does is Catman. This die-hard Panthers fan is also in the Hall of Fame.
FOX Sports played a joke on him back in 2006, awarding him a car that he had won that turned out to be a toy car.
The public outcry in Catman's support led to the broadcasting company shelling out the cash to purchase him a brand new Ford F-150 pickup truck.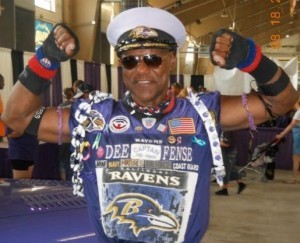 Image source: BaltimoreSportsReport.com
Captain Dee-Fense, the biggest superfan of the Super Bowl-winning Baltimore Ravens, is also a member of the Pro Football Hall of Fame.
He was also recently inducted into the inaugural class of the Hall of Fans.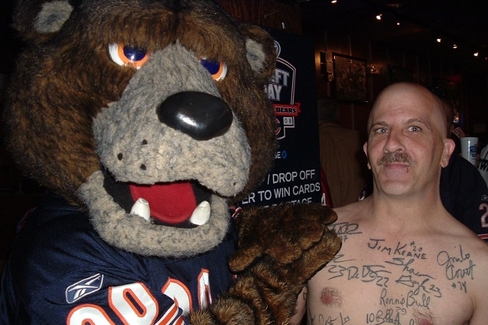 Image Source: WithLeather.Uproxx.com
Chicago Bears superfan Glenn Timmerman just might take the cake for the most obsessed of the obsessed.
Timmerman, a.k.a. the "Tattoed Bears Fan," currently has 140 Bears player autographs tattooed onto his body (according to his website).
He is currently planning on stopping at 150, but why stop there?
Here's a list of the 10 names, from his website, that he is "shooting for":
Julius Peppers

Doug Plank

Wilber Marshall

Matt Suhey

Tim Wrightman

Mike Brown

Jim McMahon

Gale Sayers