Draft Prospects Who Would Fit Perfectly with the Baltimore Ravens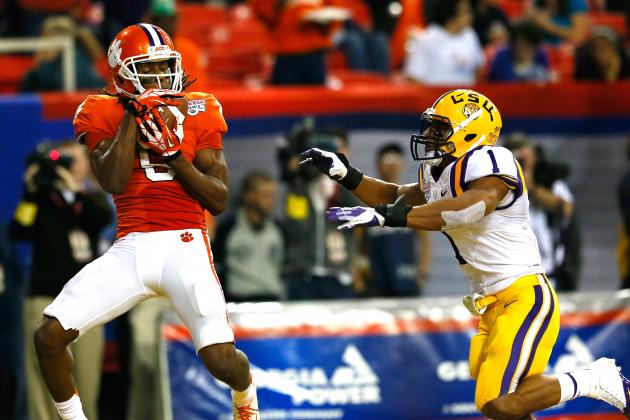 Kevin C. Cox/Getty Images

The Baltimore Ravens may have filled some holes in free agency but they still have plenty of work to do in order to replace guys like Anquan Boldin, Ray Lewis and Bernard Pollard, among others.
With 12 draft picks to work with, though, they should have no trouble filling those holes and finding some excellent reserves to boot.
Some positions will need to be addressed. Nose tackle, inside linebacker, safety, wide receiver and offensive tackle are all big needs, so the Ravens will be sure to look for good fits there. They could also look for a blocking tight end and depth at a variety of positions.
Let's take a look some prospects who would be a good fit for the Ravens, paying special attention to their positional needs and draft position.
Begin Slideshow

»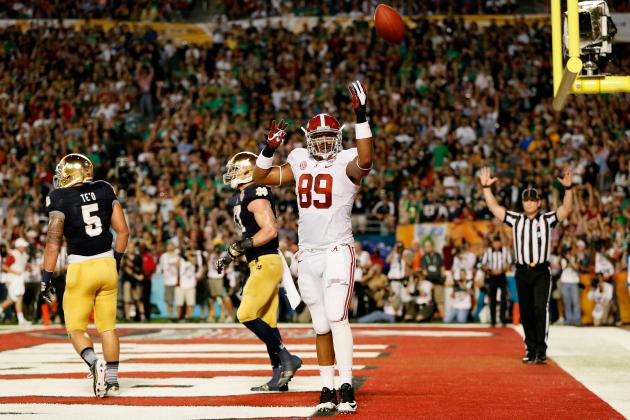 Kevin C. Cox/Getty Images

Late Round Prospects
Michael Williams, Alabama
If the Ravens do choose to use one of their many picks on a tight end, they should be looking for big, powerful blockers. Michael Williams fits the bill perfectly in the latter half of the draft.
First of all, he shares both a position and an Alma Mater with Ravens' GM Ozzie Newsome, a former Alabama tight end himself. Maybe Ozzie would see some of himself in Williams?
Williams is a monstrous blocker who would beef up the Ravens' goal-line packages. He'd be a big upgrade over Ed Dickson as a blocking tight end, making him well worth a pick in the later portion of the draft.
Ben Cotton, Nebraska
By no means a receiving threat, Ben Cotton would be brought on solely to block. Thankfully, he does that very well.
Like Williams, Cotton is an intense and talented blocker who could contribute immediately on special teams and in goal-line packages. He could be available with the Ravens' final pick, where he would be a great selection.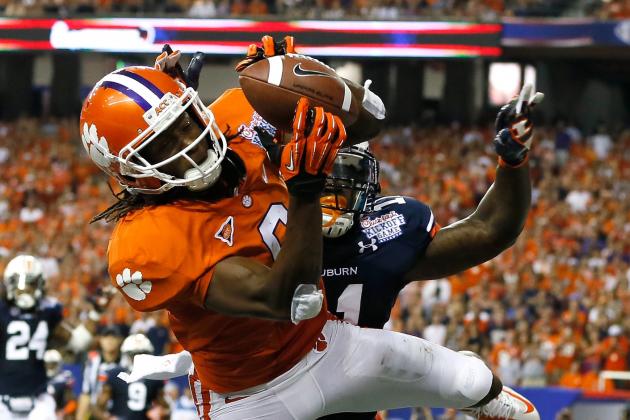 Kevin C. Cox/Getty Images

First-Round Targets
Tavon Austin, West Virginia
The Ravens could score big if Tavon Austin, a Percy Harvin clone, was still on the board at the end of the first round. The quick playmaker would be a worthy, but very different, replacement for Anquan Boldin in the slot while providing even more speed for one of the NFL's fastest receiving corps.
Odds are that Austin will be gone well before the Ravens pick, but he would offer the Ravens an electric target underneath with deep speed to boot.
Mid-Round Targets
DeAndre Hopkins, Clemson
If Austin is a Harvin clone, than DeAndre Hopkins may be an Anquan Boldin clone. Well-built and crafty, the Clemson star was one of the most productive receivers in the nation last season.
Hopkins' body control is reminiscent of the acrobatic grabs that Boldin became famous for as a Raven, but Hopkins is faster and quicker. That combination could be deadly, making Hopkins the perfect target for the second round. He may even be worth a look in the first round.
Quinton Patton, Louisiana Tech
Perhaps the most well-rounded receiver in this draft class is Quinton Patton, a little-known but highly-productive star from Louisiana Tech.
Patton is a superb route-runner with excellent hands. His physical ability is just average, but he is the kind of smart, polished receiver that could contribute early.
Though Patton lacks star potential, he seems like a safe prospect who would be a nice fit in the second or third round.
Late-Round Targets
Conner Vernon, Duke
Yet another productive receiver makes this list, as Conner Vernon is a low-upside but safe pick who would have a solid shot at a roster spot for the Ravens.
Vernon has strong hands, quick feet and excellent technique. His routes and hands are both top-tier, and only his athleticism is keeping Vernon from being a high draft pick.
Don't be fooled by the poor testing numbers, though. Vernon plays faster than he tests, and he has enough speed to succeed in the NFL.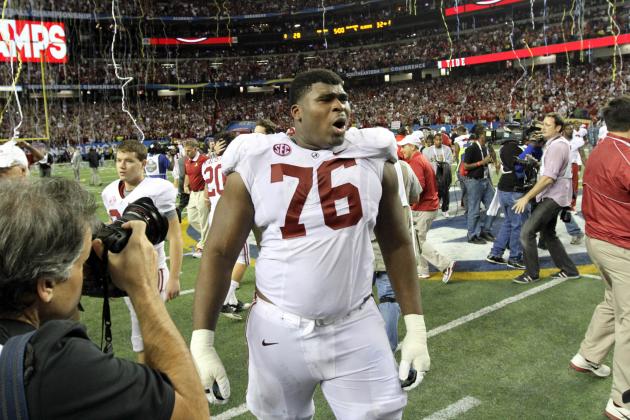 USA TODAY Sports

First-Round Targets
Menelik Watson, Florida State
Ideally, the Ravens would take a look at Menelik Watson in the second round, but his draft stock may force them to think about him even earlier.
Watson is one of just a handful of second-tier players with left tackle potential. Players with his athletic ability are rare, so despite his relative inexperience, Watson will be a hot commodity.
The Ravens need to determine if they could turn Watson's upside into production. If they feel confident, Watson could be a worthy first-round selection. Their need at left tackle is great enough to take that risk.
D.J. Fluker, Alabama
Though Fluker doesn't have left tackle potential, he is a mauler who would be a great fit on the right side for the Ravens.
At 339 pounds, Fluker is among the biggest tackles in the draft, and he plays like it. He also possesses freakishly long arms that help him keep pass rushers at bay and manhandle opponents in the ground game.
Grabbing Fluker in the first would allow the Ravens to keep Kelechi Osemele at his more natural guard position, upgrading two positions in one pick.
Mid-Round Targets
Terron Armstead, Arkansas Pine-Bluff
If the Ravens are serious about getting a potential left tackle, Terron Armstead would be a perfect fit later in the draft. His athleticism and raw ability is second-to-none, but his level of competition is a concern.
On the positive side, the Ravens could afford to let Armstead sit and learn for a year with Michael Oher or possibly even Bryant McKinnie manning the left side. With time, Armstead could be a real find in the second or third round.
David Quessenberry, San Jose State
Another potential left tackle, Quessenberry has the requisite speed and foot-quickness to man the blindside. He'll need some seasoning and added strength, but Quessenberry has all the natural ability to succeed.
Like Armstead, Quessenberry would be a better fit for the Ravens a year from now, but he's worth a shot as a potential starter at left tackle down the road.
Greg McWilliams/Getty Images

First-Round Targets
John Jenkins, NT Georgia
The Ravens are in desperate need of help in the middle of their defense, something John Jenkins could provide in the first round.
Jenkins is a massive lane clogger, who dominated SEC competition despite occasionally playing too high. With some coaching, Jenkins could be even better in the pros. He'd be an immediate starter and a potential star for the Ravens.
Jesse Williams, NT Alabama
Jesse Williams is a similar prospect to Jenkins in that he's massive and incredibly strong. Where Jenkins is a bit quicker, though, Williams is even more stout, rarely getting moved even by double teams.
Simply put, Williams cannot be moved off the line by a single blocker. He demands double-teams, opening up tackling lanes for his teammates while causing a massive pile up at the line of scrimmage.
Though Williams would be just a two-down player, the impact he would make on the Ravens' run defense would be vast. He's worthy of a first-round selection.
Mid-Round Targets
Brandon Williams, Missouri Southern
Another nose tackle the Ravens should be considering is Brandon Williams, who could provide a similar impact to Williams and Jenkins, but in the later rounds.
Williams is massive and absolutely dominated lower-level competition. Williams is quick for his size with significant upside. He could push Terrence Cody right away while being an eventual starter: Not bad for a mid-rounder.
Kwame Geathers, Georgia
Yes, the Ravens need nose tackle help so badly, they need to consider every big-bodied nose tackle in the draft. Kwame Geathers is huge and has NFL bloodlines.
Though not technically-sound at this point his career, Geathers has plenty of potential as a run-stuffer. He's well worth a shot later in the draft, perhaps in the fifth round.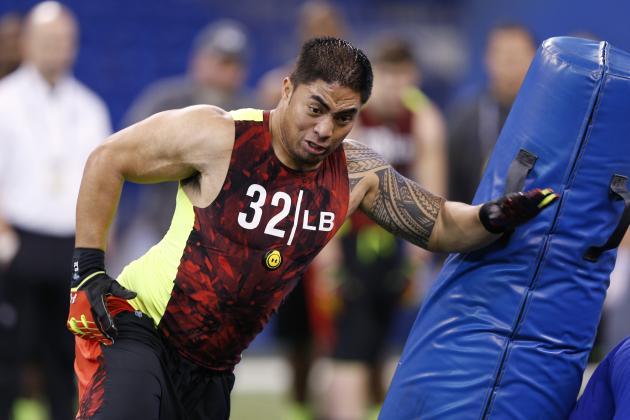 Joe Robbins/Getty Images

First-Round Targets
Manti Te'o, Notre Dame

I hate to admit it, but there is no better fit for Manti Te'o than the Ravens. He is a strong, big-bodied linebacker who would thrive in a 3-4 defense. Te'o would get excellent coaching in Baltimore that would help him develop into a star.
The downside here is that the Ravens need an extra dose of athleticism at inside linebacker, which Te'o doesn't necessarily offer. That being said, Te'o would probably be an immediate starter for the Ravens and instantly become their leading tackler.
No linebacker in this draft has better instincts than Te'o. He plays faster than he times, so the Ravens should at least consider Te'o in the first round.
Kevin Minter, LSU

Though Kevin Minter timed poorly at the combine, he plays very fast, with natural strength and block-shedding ability. He could be a great fit for the Ravens' 3-4 defense.
Minter also has the passion the Ravens love in their linebacker. He's a natural leader who would eventually fill the void left by Ray Lewis. Minter is a great prospect who would be a great fit for the Ravens in the first.
Mid-Round Targets
Arthur Brown, Kansas State
Arthur Brown has been getting serious first-round hype. Though I don't buy that, he is a nice, instinctive defender who would be a nice fit for the Ravens.
Brown would be a nice fit for the Ravens as an active defender, making tackles all over the field and covering running backs and tight ends effectively. He certainly offers the athleticism the Ravens are looking for, and he could be a worthy target in the second round.
Late-Round Targets
Keith Pough, Howard
There may be no player whose tape stands out more than Keith Pough, a small-school linebacker with big-time talent.
Pough is the ultimate pursuer, constantly chasing plays all over the field. He doesn't time well in the 40, but Pough certainly has the athleticism and game speed to make plays all over the field.
As a late-round target, Pough is a high-upside guy who would be a big-time special teams contributor early with starting potential. He should be a target in the fourth or fifth round.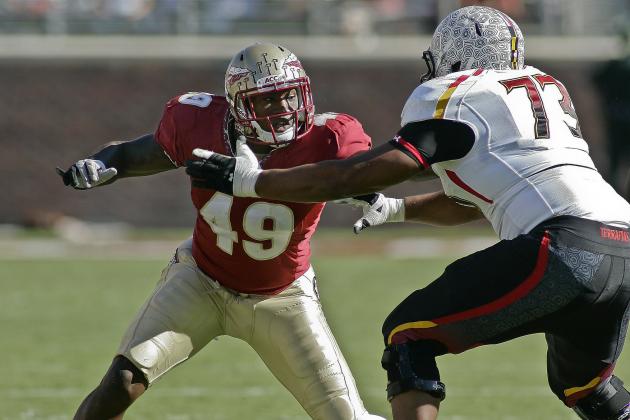 Phil Sears-USA TODAY Sports

First-Round Targets
Jarvis Jones, Georgia

To be honest, I'm not high on the big-name pass rushers in this year's draft. That having been said, there is one guy falling down boards who the Ravens need to keep an eye on. If Jarvis Jones falls far enough, the Ravens could pounce and get the steal of the draft.
Jones is a Von Miller clone, with an elite first-step and ideal instincts. He is the best outside linebacker in this class, and the competition isn't even close. Health concerns and a poor pro day have pushed Jones down, but make no mistake, he's a stud.
Jones could immediately be an elite special teams player in Baltimore while contributing in nickel scenarios either in coverage or as a pass rusher. Watching quarterbacks try to deal with Jones, Terrell Suggs and Elvis Dumervil would be a treat for Ravens fans, making Jones well worth a first-round pick.
Mid-Round Targets
Brandon Jenkins, Florida State
As good as Jones is, the quickest first step in the draft might belong to Brandon Jenkins, a Florida State star who spent most of 2012 sidelined with an injury.
Further, Jenkins is just one of a handful of prospects to display a full pass-rushing repertoire, showcasing multiple moves that make him a big-time pass-rushing threat.
Jenkins has huge upside, and if he checks out medically, the Ravens would be very wise to take him in the third or fourth round.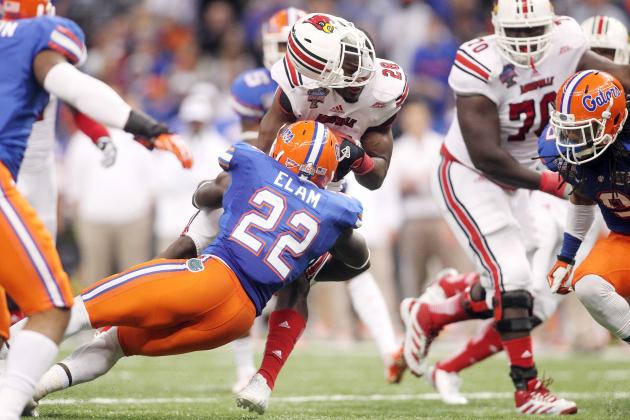 USA Today Sports

First-Round Targets
Matt Elam, Florida
The Ravens filled their need at safety with Michael Huff, but Matt Elam could be worth a first-round selection anyway. He's a big hitter and a talented cover man who would be an upgrade over James Ihedigbo at strong safety.
Elam is also a fiery player with some natural leadership skills, something the Ravens covet. Further, he would be a dynamo on special teams early in his career, as Elam's speed and big-hitting ability could produce some highlight-reel plays.
Safety is no longer the need it once seemed to be, but Elam would probably be an instant starter, and possibly an instant star in Baltimore.
Mid-Round Targets
Eric Reid, LSU
Though Eric Reid is more of a center-fielder, a role currently occupied by Michael Huff, he is a high-upside guy who could really make an impact in the Ravens' secondary down the road.
Reid excels on jump balls, using his height and physicality to win those battles more often than not. He is also an explosive hitter that will make opponents think twice about crossing the middle.
With good coaching, Reid could become a real gem. He's definitely worth a shot in the second or third round.