Pat White Dropped His Lawsuit Against the NFL When He Signed with the Redskins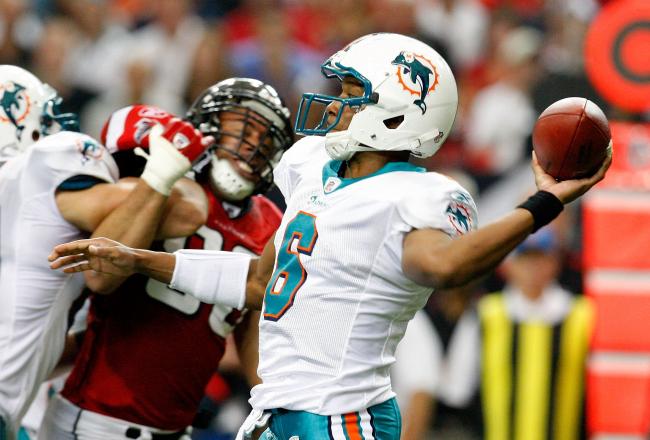 Former Miami Dolphins backup quarterback Pat White signed with the Washington Redskins Wednesday following a two-year hiatus from the NFL.
Kevin C. Cox/Getty Images
The Washington Redskins acquired former Miami Dolphins and West Virginia University quarterback Pat White on Wednesday—the same day he dismissed his first of two lawsuits against the NFL for concussion-related injuries, according to The Washington Times.
He dropped the second lawsuit the day before he signed with the team.
His first lawsuit was filed in federal court against the league in April 2012. In November 2012, White switched lawyers and filed a second lawsuit.
According to court documents obtained by The Washington Times:
"White's complaint alleged a comprehensive, devastating cost from "repeated and chronic head impacts." Permanent injuries, the lawsuit said. Permanent.

"Cognitive and other difficulties, severe headaches, speech issues, memory loss, depression, isolation, mental anguish and diminished self-esteem."

White accused the NFL of concealing the long-term consequences of head injuries. Eleven causes of action in all. Fraud. Negligence. Even added "intentional infliction of emotional distress" and "negligent infliction of emotional distress" in his short-form complaint."
White did not start an NFL game during his one year in the league with the Miami Dolphins—nor did he complete a pass in five attempts. In the 13 games White did play, he was sacked once and ran the ball 21 times for 89 yards.
Bloomberg Business Week website claims up to 4,000 former NFL players are involved in legal action against the NFL for concussion-related injuries or head injuries sustained in their career with the league.
Former Dolphins QB Pat White knocked unconscious after helmet-to-helmet hit January 3, 2010.
All of this prompts several questions to be asked.
First, was part of the deal White signed to rejoin the NFL and the Washington Redskins in particular, an agreement to drop his lawsuit? Second, how could an NFL player such as White claim the league is to blame when actual NFL playing time was as limited as White's?
White did sustain a massive hit against the Pittsburgh Steelers on January 3, 2010, his last NFL game.
Prior to his NFL career, White was the starting quarterback from 2005-08 for the West Virginia University. He played 49 games, compiled a 34-8 record as a starter and led the Mountaineers to victories in the Sugar and Fiesta bowls.
White's college statistics included a 65 percent completion rate, 6,049 passing yards, 56 touchdowns and 23 interceptions in 783 passing attempts. Running the ball, White had 684 carries for 4,480 net yards gained, according to statistics provided by FootballDatabase.com.
After White's release from the Dolphins following the 2009 season, White had a brief stint in professional baseball with the Kansas City Royals, signing with their minor league baseball team in March 2011. He never appeared at spring training and retired from the team shortly thereafter.
In June 2011, he joined the United Football League's Virginia Destroyers only to get cut from the team two months later.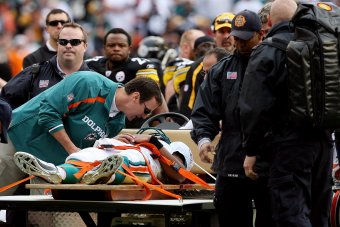 Doug Benc/Getty Images
His career with the Dolphins was limited and he did suffer a hard-hitting injury at the end of the 2009 season. However, with such limited NFL playing time, it would be difficult to prove his lawsuit had any merits whatsoever.
The timing of White dropping both federal lawsuits against the NFL and his subsequent signing by the Redskins could be related, part of the conditions, or completely unrelated. It does raise the question how, as White claims in his lawsuit, he could have "permanent" injuries that suddenly disappear.
More will be written and discussed in the near future on White and the decision to drop his lawsuit against the NFL. It certainly raises some questions as to the validity of his claim and, more importantly, his assertion the league concealed information related to consequences from head injuries.
As a 1992 graduate of WVU, I recall with great enthusiasm White and his abilities as a mobile and accurate quarterback a la Robert Griffin III after him. Now, with the re-signing of Rex Grossman, the Redskins have again added depth to the team and the quarterback position.
My fellow Bleacher Report Washington Redskins writers have already pointed out the team's front office successes in the offseason and given credit where credit is due. Given the salary cap restrictions, the Redskins have outperformed most, if not all, NFL teams over the last month.
With their successful free agency acquisitions and re-signings, the Redskins have assembled an improved and young team. This in turn has allowed the upcoming NFL draft to be more interesting and intriguing as to which direction the team will turn next.
Follow on Twitter @JohnBibb and view previous Bleacher Report articles I have written on the Washington Redskins here.
This article is
What is the duplicate article?
Why is this article offensive?
Where is this article plagiarized from?
Why is this article poorly edited?

Washington Redskins: Like this team?