Washington Wizards' Strengths and Weaknesses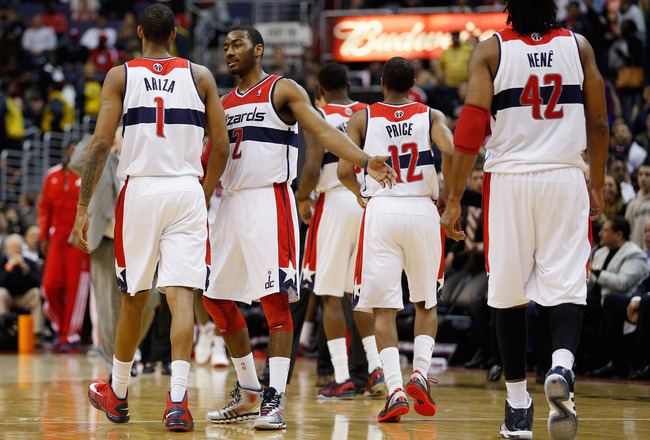 The Washington Wizards have had an up-and-down season, but have some considerable strenghts heading into the 2013-2014 season. However, there are a number of weaknesses that the team must look to fix before they think about making a run for the playoffs.
Rob Carr/Getty Images
With a 28-47 record, there are a number of reasons why Washington Wizards fans should be concerned about the coming years.
Washington started out the season with a 12-game losing streak, while numerous negative Twitter accounts popped up around social media mocking the team—for example "Wiz Win Last Night?" The team's poor record is due to of a number of glaring weaknesses, weaknesses that need to be addressed if the Wizards want to be successful in the NBA.
However, there are a number of reasons why Washington fans should be encouraged about their team. Youth is a considerable strength for Washington, and the roster is clearly built for the future.
Heading into the offseason, Washington would be wise to look at both the team's strengths and weaknesses in order to properly prepare for the future.
The strengths on this list are the true bright spots and deserve more respect than they are getting in the national media. These strengths also must be built around if Washington ever wants to break its streak of five straight losing seasons.
Strength No. 3: Great Defense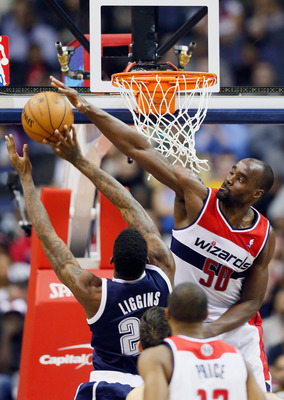 Center Emeka Okafor currently leads the Wizards in rebounds and blocks per game, which is only part of Washington's sixth-ranked defense.
Rob Carr/Getty Images
Ranked sixth in the league in scoring defense, there is no question that for the Wizards, defense is certainly more of a strength than their offense is.
A large part of their strong defense is center Emeka Okafor, who came over to Washington after spending three seasons with the New Orleans Hornets.
Okafor leads the team in rebounds per game and blocks, averaging nine and one per game, respectively.
Besides Okafor, there are a number of players on the Wizards roster who have put up big defensive numbers. 10-year veteran Nené is behind Okafor in rebounds, but still averages over six per game. What's even better for the defense is that most of those rebounds come after the opponent takes a shot.
Six players average three or more defensive rebounds per game, which gets the ball back into John Wall's hands even faster, which is good for the offense.
Defense is something that many NBA teams struggle with perfecting, especially in this age of exceptional athletes, but if Washington continues to put this emphasis on defense, it will certainly set the team up for success.
Strength No. 2: Bradley Beal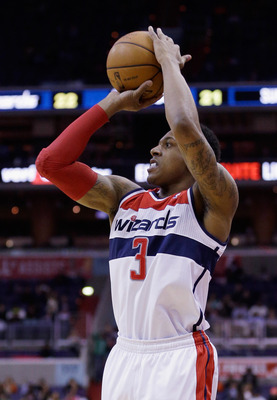 Although he was in and out of the lineup with injury this season, Bradley Beal was still one of the strongest spots in Washington's lineup this season.
Rob Carr/Getty Images
Although he was officially announced as out for the rest of the season, Bradley Beal is still one of the biggest strengths for the Wizards.
At only 19 years old, Beal is certainly the shooting guard of the future in Washington. He was in and out of the lineup this season with various injuries, but when he was in the lineup he was certainly impressive.
In 56 games, Beal averaged 13.9 points per game while shooting 41 percent from the floor.
The rookie out of Florida was a leader for Washington at the beginning of the season when John Wall was out for the first 33 games, and has had some major scoring outbursts, including games of 26, 28 and 29 in various games this season.
Beal has also been strong from the three-point line, shooting over 38 percent from behind the arc.
Under a rookie contract, Beal could still potentially be with Washington for four more years. However, the Wizards would be wise to sign him for even longer because at 19, his potential is unlimited.
Strength No. 1: John Wall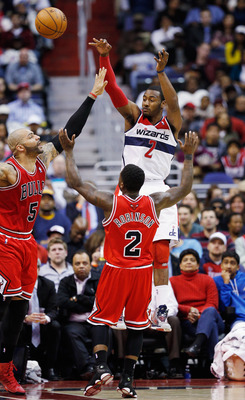 Point guard John Wall is undoubtedly the leader of the Wizards and deserves to be given a max contract this offseason.
Rob Carr/Getty Images
Without a doubt, the biggest strength that Washington has going forward is point guard John Wall.
At only 22 years old, Wall is the undisputed leader of the Wizards and shows no sign of slowing down.
Although he missed the first part of the season with injury, Wall still leads the team in points, assists and steals per game.
While some fans are hesitant to say the starting point guard deserves the max contract he says he is worthy of, Wall is by far the best player on Washington's roster.
Averaging 17.6 points per game, he is the best scoring option for the Wizards when he is on the court and is solid on the other side of the court, averaging just over one steal and over three rebounds per game.
Wall is also the leader of this team, and he commands the respect of his teammates, although he is one of the youngest players on the roster.
When the Wizards are down, he is open to criticizing the team but is leading the charge when the team is on the winning side of things.
As Wall goes, the team goes, and the future of the Wizards will go as far as Wall can take them.
Weakness No. 3: Power Forward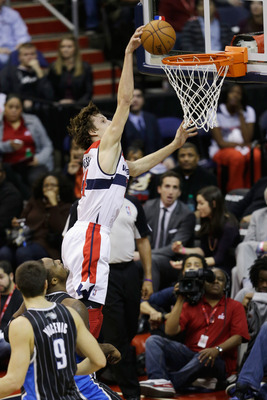 Power forward Jan Vesely has been nothing short of disappointing for Washington since he was taken sixth overall in the 2011 draft.
Rob Carr/Getty Images
The Wizards must do something about the power forward position if they want to break the .500 mark next season.
Currently, Nené is the starter but has been in and out of the lineup with injury throughout the season. While he has been one of the better players for the Wizards this season, averaging just under 13 points per game, he is 30 years old and is traditionally a center to begin with.
His other numbers have been impressive as well, putting up over six rebounds per game, although that number is down from last season, which he split between Washington and the Denver Nuggets.
Besides Nené, there is hardly anyone that would be a serviceable starter at power forward.
Backing up Nené is Trevor Booker, who has made 12 starts but only averages five points per game.
Behind Booker is Cartier Martin, who is shooting below 38 percent from the floor and is third-worst on the team when it comes to two-point shooting percentage.
And Wizards fans don't even want to be reminded of Jan Vesely, who the Wizards drafted sixth overall in the 2011 draft out of the Czech Republic. Vesely has only seen 24 starts in his career and is only averaging a little over two points per game.
Power forward is easily the weakest position on the team and needs to be improved in the offseason if Washington wants to have any success in the frontcourt.
Weakness No. 2: Lack of Depth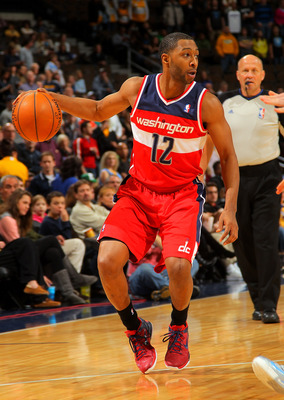 Backing up John Wall at point guard is A.J. Price, who is only shooting 38 percent from the floor.
Doug Pensinger/Getty Images
Looking at the lack of depth at power forward is only the beginning of the problem for the Wizards.
Besides power forward and center, the other positions on the court have a complete lack of depth.
If John Wall were to go down toward the end of the season with an injury, A.J. Price would be filling in at point guard for Washington.
Price is only shooting 38 percent from the floor and averaging just over seven points per game. Price started the season opener for the Wizards and ended up shooting 2-of-13 from the floor and 2-of-9 from three.
During Wall's prolonged absence, Shaun Livingston even saw some time for Washington, only averaging 3.7 points per game.
Depth has also been a problem at shooting guard for Washington. Now with Bradley Beal out for the rest of the year, they'll look toward Garrett Temple to be their top shooter.
That's very concerning for Wizards fans, though, as Temple only averages less than five points per game and only shoots 40 percent from the floor.
This is a considerable downgrade from Beal. While every backup is obviously a downgrade on any NBA roster, it's expected for a backup to at least be serviceable when a star goes down with injury.
Weakness No. 1: Injuries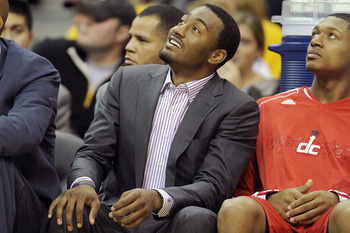 John Wall missed the first 33 games of this year with an injury, which considerably hurt Washington's chance to make the playoffs this season. Jason Miller/Getty Images
Jason Miller/Getty Images
The Wizards have been constantly plagued by injuries this season, which has considerably hurt their chances to make the playoffs.
John Wall missed the first 33 games of the season with injury, and Washington only won five games in that span.
Now, the Wizards took another huge hit with Bradley Beal, as he is out for the year. With Beal out, Washington's chances to play spoiler to any bigger teams essentially is lost.
It almost seemed that as soon as Wall was healthy, Beal would go down with some sort of injury.
Washington also faces an injury to starting power forward Nené, who is currently listed as day-to-day.
Every night, there is always someone missing from the lineup, which forces Wall to take over the team if they want any shot of winning.
Having young talent is always nice, but until Washington can prove that it can stay healthy, the talent means nothing.
Honorable Mentions
Center Emeka Okafor has been the most surprising player for Washington this season, producing on both offense and defense.
Rob Carr/Getty Images
While there are notable strengths and weaknesses in Washington, there are several points that Washington needs to look at.
Strengths
Emeka Okafor
Okafor has been one off the most surprising players for Washington this season. He is easily the best defensive player for the Wizards and also averages just under 10 points per game. His assists, rebounds and free-throw percentage are all up from last year, giving him potential to be a solid veteran on the roster.
Martell Webster
Since John Wall returned to the lineup, Webster has been one of the best players for Washington at small forward. Webster averages over 11 points and just under four rebounds per game. He has started the most games in his career since 2007, giving him plenty of room to grow in the future.
Weaknesses
Poor field-goal percentage
If you aren't shooting the ball well, you aren't going to score any points. No one on the Wizards is shooting better than 48 percent from the floor. Compare that to the Milwaukee Bucks, who are currently eighth in the Eastern Conference. The Bucks have three players who are shooting over 50 percent. The same goes for the second-placed New York Knicks, who have four players over the 50 percent threshold.
Keep Reading

Washington Wizards: Like this team?