Baylor Bears Crush Iowa Hawkeyes for First-Ever NIT Championship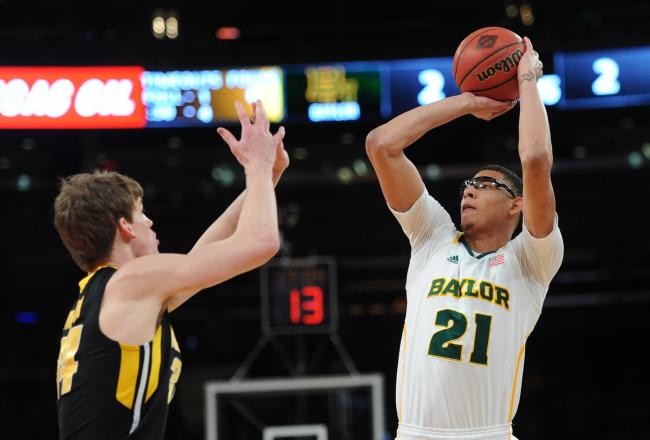 Joe Camporeale-USA TODAY Sports
In a game that they controlled almost from the opening tip, the Baylor Bears pounded the Iowa Hawkeyes, 74-54, to capture the NIT title. The win is the first such championship in program history for Scott Drew's team.
The same players who have dominated all season for Baylor did it again, with 55 of those points coming from the trio of Isaiah Austin, Cory Jefferson and Pierre Jackson. Iowa got a great rebounding effort, but reserve guard Mike Gesell's 13 points made him one of just two Hawkeyes in double digits.
Jackson, one of several seniors capping his Baylor career tonight, also added 10 assists to notch his fourth consecutive double-double. Austin, a freshman who's expected to jump to the NBA, may have put the exclamation point on his own college days with nine rebounds, four assists and five blocks from his center position.
Baylor's defense was the biggest story tonight, as Iowa was held to a disastrous .265 shooting percentage from the field. It's awfully hard to come from behind when your three-point shooters are a combined 5-for-24.
Congratulations to Baylor, which has more than earned the right to call itself the nation's 69th-best team with this championship.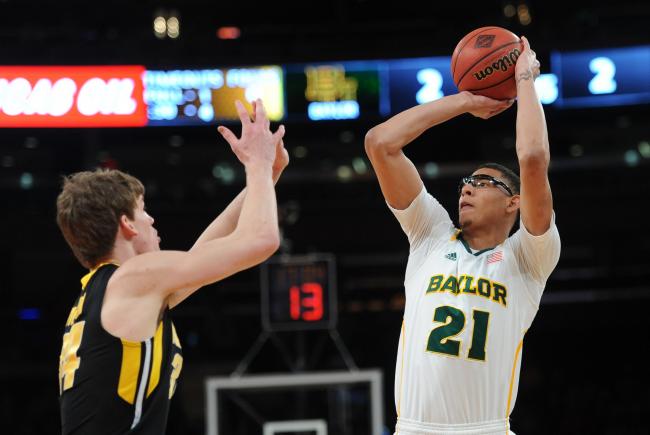 Baylor 74, Iowa 54 (FINAL)
Even if Isaiah Austin has played his last game for Baylor, the Bears' future is bright. Cory Jefferson (23 points, seven boards) will probably be back as a senior, and sophomore-to-be Rico Gathers added six points and four rebounds off the bench.
Also, don't overlook backcourt juniors Brady Heslip and Gary Franklin, who will add some much-needed leadership to next year's squad. Even if L.J. Rose wins the starting point guard spot, the rising soph will certainly benefit from having two steady seniors back there with him.
For Iowa, things are looking even better for 2013-14. Four starters return from tonight's lineup, with only veteran guard Eric May departing. Freshmen Anthony Clemmons and Mike Gesell, both reserves this year, give coach Fran McCaffery two chances to develop a legitimate point guard to lead his offense.
Then, too, a frontcourt that could outrebound Baylor 36-32 even in a 20-point loss is quite an asset to have. If 7'1" Adam Woodbury matures as an offensive weapon before his sophomore year, Iowa's going to be really scary inside.
Baylor 74, Iowa 54 (FINAL)
Baylor starters and coaches celebrate from the bench as Baylor wins its first NIT title. Not much doubt about this one—give the Bears credit for opening a lead and not giving it back.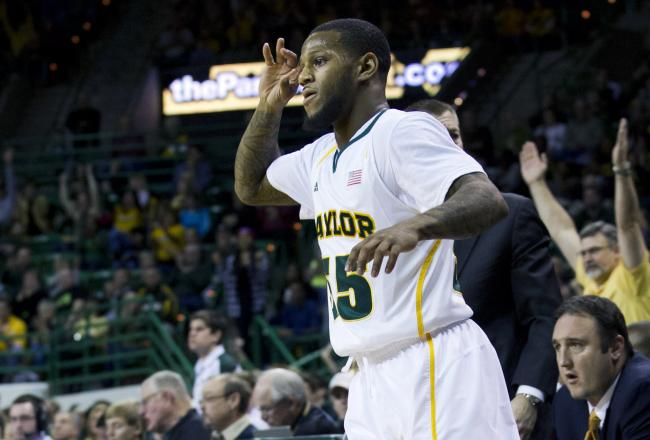 Baylor 74, Iowa 51 (1:14 second half)
Jackson the assist to Austin for a slam to send the Baylor starters to the bench on a high note. Jackson's 10th assist gives him four straight double-doubles in this tournament.
Baylor 68, Iowa 46 (2:10 second half)
Senior Eric May ends his Iowa career by fouling out. Gets a nice hand from the Hawkeye contingent int he crowd.
Baylor 61, Iowa 44 (3:31 second half)
Walton helped into the locker room, appears to have twisted his leg after the collision with May. Hopefully that's nothing serious.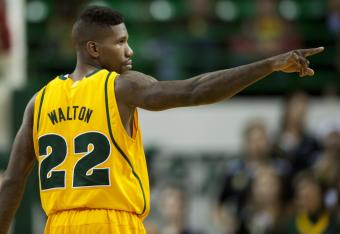 Baylor 61, Iowa 44 (3:31 second half)
Unlucky foul sends A.J. Walton down. He collided with Eric May as both were lunging for a loose ball, and it looked like Walton took a shoulder in the face.
Baylor 60, Iowa 42 (4:03 second half)
Credit to the Hawkeyes, who are still scrapping and hustling even with an insurmountable deficit to overcome. They've played a terrible game, but it hasn't been from lack of effort.
Baylor 60, Iowa 42 (4:55 second half)
For all that Baylor has its share of seniors leaving after tonight's game, the Bears also have a bunch of freshmen who can really play. Nobody expects Isaiah Austin to come back for his sophomore year, but Rico Gathers and L.J. Rose (along with senior-to-be Cory Jefferson) are some kind of nucleus to build around.
All of which is to say, this is far from a meaningless win for the Bears. They have dominated a good Big Ten team from the word go, and that's a great experience to build on for the future.
The Bears will be very different next year, but they'll be awfully good, too.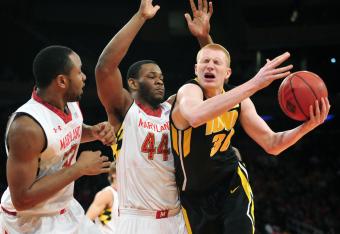 Baylor 60, Iowa 39 (6:0 second half)
White with another basket inside, but he's the only one hitting anything for Iowa. Meanwhile, Baylor getting dunk after dunk on the other end. Competitive phase of this game is over.
Baylor 54, Iowa 37 (7:52 second half)
Fouls starting to add up for Iowa, as Baylor's in the bonus with Jefferson headed to the stripe. Adding insult to injury, Isaiah Austin just benefited from a close non-call on the other end as he got his fifth block of the game.
Baylor 51, Iowa 37 (8:46 second half)
Austin beats the shot clock with a fadeaway jumper. Defensive stops are few and very far between for Iowa, even as their offense shows signs of life.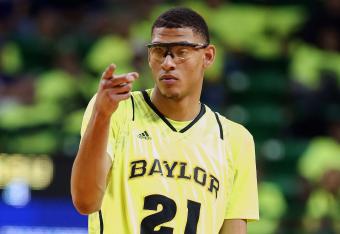 Baylor 46, Iowa 34 (11:13 second half)
Austin with the one-handed alley-oop jam off the inbounds! That'll be on the highlight reels. Not the way Iowa was hoping to get momentum.
Baylor 44, Iowa 34 (11:51 second half)
Considering how much bigger Baylor has played when it comes to defending the paint, it's kind of amazing that Iowa is dominating the glass tonight. Hawkeyes up 28-19 on the boards, including 10 offensive rebounds. The problem is that they're not getting many points out of it: Adam Woodbury and Melsahn Basabe have a total of 11 rebounds and two points between them.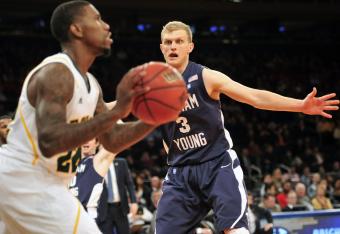 Baylor 42, Iowa 31 (12:45 second half)
What a great way for A.J. Walton to close his Bears career. Austin and Jackson are going to get all the headlines, but Walton now leads Baylor with five assists and five steals, and there's plenty of time left on the clock.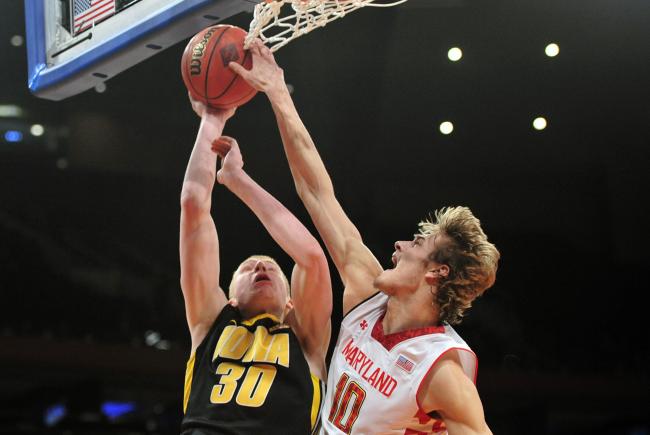 Baylor 42, Iowa 31 (13:34 second half)
Aaron White now shooting 50 percent from the floor, while his team as a whole is shooting 26.3 percent. And White only has six attempts because...?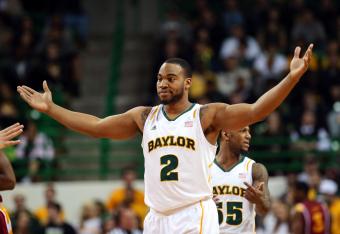 Baylor 37, Iowa 29 (15:02 second half)
Baylor frontcourt—Austin, Jefferson, Rico Gathers, Taurean Prince—shooting a combined 9-for-13 from the field. Iowa not showing the same kind of grit inside that they did in Big Ten play.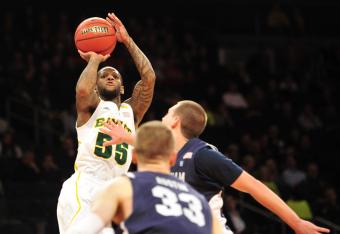 Baylor 35, Iowa 27 (16:27 second half)
Iowa's attempted rally quashed by Baylor's stars. Austin with the assist to Pierre Jackson for three, then a block on the other end to set up Jackson's fast break. Two free throws for Jackson as icing on the cake.
Baylor 27, Iowa 22 (18:27 second half)
Iowa finally pounding the ball inside, but they're missing those shots too. Still, at least they're getting better looks than they did in the first half.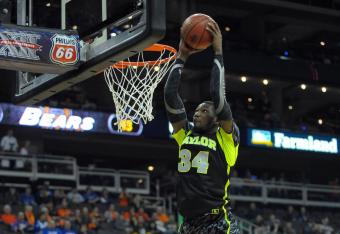 Baylor 27, Iowa 22 (HALFTIME)
Keep an eye on how Cory Jefferson plays to start the second half. Jefferson sat for a long time with two fouls, and trying to avoid a third may make him less aggressive.
If that's the case, Iowa will be glad to see it, because his shot-blocking has been one of many problems for the Hawkeye offense. It'll also give Aaron White a chance to attack off the dribble and get some points in the lane.
If, however, Jefferson comes out attacking as he did in the first half, look for Iowa to fall even further behind. The Hawkeyes have plenty of muscle up front, but no one with the quickness or leaping ability to handle Jefferson.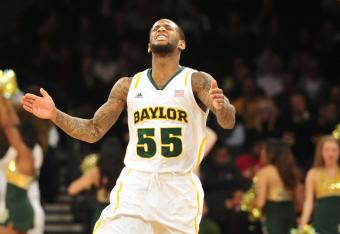 Baylor 27, Iowa 22 (HALFTIME)
Iowa is lucky that Pierre Jackson has been missing some open shots, or else the Hawkeyes would really be in a hole. Jackson is just 1-for-6 from the floor, dragging the Bears' shooting percentage down to a good-but-mortal 42.3.
Iowa, on the other hand, can't hit the broad side of the proverbial barn, as it's shooting 25.9 percent in the first half. Isaiah Austin and Cory Jefferson have so intimidated the Hawkeyes with their defense around the rim that almost every shot has been a jumper, with predictable results.
Iowa needs to fix those problems on both ends: Stop leaving Jackson open, and start going after the shot-blockers as Aaron White finally did shortly before halftime. Otherwise, a five-point Baylor lead is going to become 15 points very quickly.
Baylor 27, Iowa 22 (HALFTIME)
Appropriately, a mental error by Iowa to close the half. Shot clock buzzer sounded as a Baylor shot was coming off the rim, and Hawkeyes thought it was the halftime buzzer and wasted a couple of seconds standing around. Buzzer beater no good on the other end, but they could've gotten closer if somebody had been paying attention to the clock.
Baylor 27, Iowa 22 (0:40 first half)
Five steals for A.J. Walton in the first half are a big part of nine Hawkeye turnovers. Iowa is lucky it's not behind by more.
Baylor 26, Iowa 22 (1:46 first half)
Aaron White finally takes one into Austin's chest, draws the foul and hits both free throws. Iowa needs a lot more of that
Baylor 24, Iowa 20 (3:03 first half)
Dumb loose-ball foul on Prince sends Adam Woodbury to the line, and the freshman hits his free throws. Give Iowa credit for converting the easy points when Baylor feels like handing them an opportunity.
Baylor 24, Iowa 18 (3:44 first half)
Iowa is looking outclassed on offense right now. They aren't trying to attack Austin directly, but he's controlling the paint so effectively that anybody who penetrates is just kicking the ball back out. Ball pressure from Walton and Jackson isn't helping matters any.
This article is
What is the duplicate article?
Why is this article offensive?
Where is this article plagiarized from?
Why is this article poorly edited?