Washington Redskins: 10 Best Players in Franchise History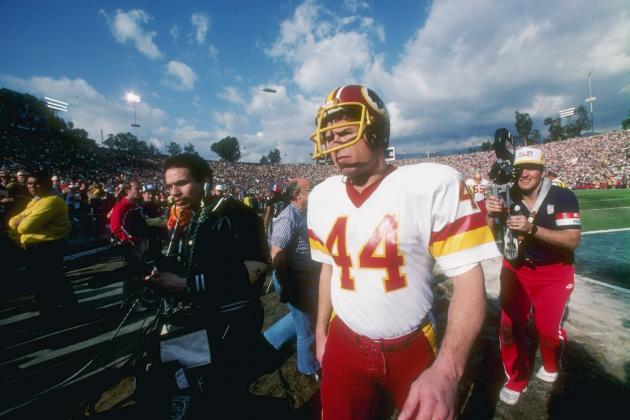 Getty Images/Getty Images
Redskins legend John Riggins.
Between three Super Bowl victories and 26 Hall of Famers, the Washington Redskins are one of the most storied franchises in NFL history.
The franchise was established in 1932 soon after professional football became relevant. The team itself has experienced some big changes over time as they were originally the Boston Braves before changing the name to Redskins in 1933. The team eventually moved to Washington in 1937.
One thing that hasn't changed over time is the legacy of legendary players that have worn the burgundy and gold. From top to bottom, their all-time roster is filled with stars, most notably John Riggins and Sammy Baugh.
Nowadays, their prestige isn't what it used to be, but that doesn't mean they haven't had their fair share of legends.
It's certainly hard to pick just 10 players that perfectly represent the Redskins, but here's my best shot.
Begin Slideshow

»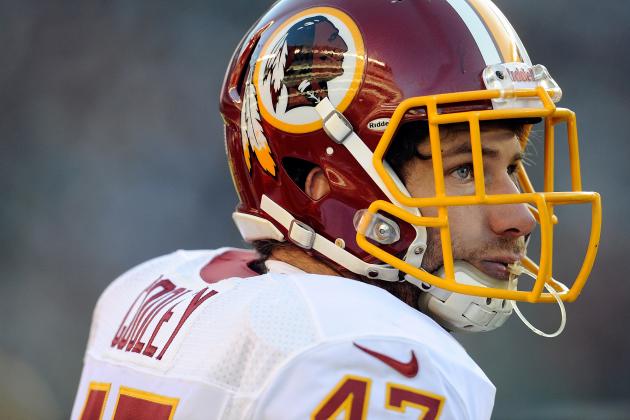 Patrick McDermott/Getty Images
Former Redskins TE Chris Cooley
Russ Grimm, OL (1981-1991)*
Chris Cooley, TE (2004-2012)
Joe Jacoby, OL (1981-1993)
Doug Williams, QB (1986-1989)
Monte Coleman, LB (1979-1994)
Charley Taylor, RB/WR/KR (1964-1977)*
Rick "Doc" Walker, TE (1980-1985)
Bobby Mitchell, RB/KR (1962-1968)*
Sam Huff, LB (1964-1969)*
*Denotes Hall of Fame inductee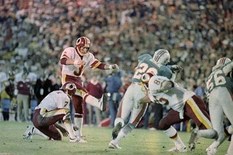 Courtesy of Getty
Years with the team: 1974-1985
Notable Career Stats: 263/397 FGM, 482/512 XPM, 1,207 total points
Mark Moseley is Washington's all-time scoring leader and has a career field-goal percentage of 66 percent.
Although some may not agree with putting a kicker on this list, it's hard to argue with Moseley's production.
He won the NFL's MVP award in 1982—the only kicker to ever do so.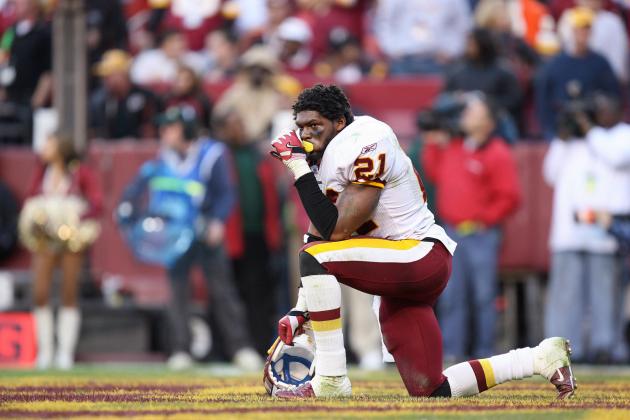 Allen Kee/Getty Images
Rest in peace, Sean.
Years with the team: 2004-2007
Notable Career Stats: 299 tackles, 12 interceptions
Possibly the greatest hitter in team history, Sean Taylor was a legend in the making.
In just 55 games in the league, Taylor had 299 tackles, eight forced fumbles and 12 interceptions.
His career was cut short halfway through the 2007 season when he was shot and killed by an intruder in his Miami home.
Although his NFL story is left unwritten, it is not unfair to say that he would have easily gone down as one of the greatest Redskins of all time, and that is why he makes this list.
Years with the team: 1974-1985
Notable Career Stats: 25,206 yards, 160 touchdowns
Joe Theismann is Washington's all-time leading passer and also led them to a pair of Super Bowls, winning one of them (Super Bowl XVII).
Theismann's career came to a screeching halt against the New York Giants on a Monday night game in December of 1985 when Lawrence Taylor came hot off the edge and sacked him, breaking his leg in the process.
Theismann would never take a professional snap again, and to this day it is one of the most shiver-inducing plays I've ever seen.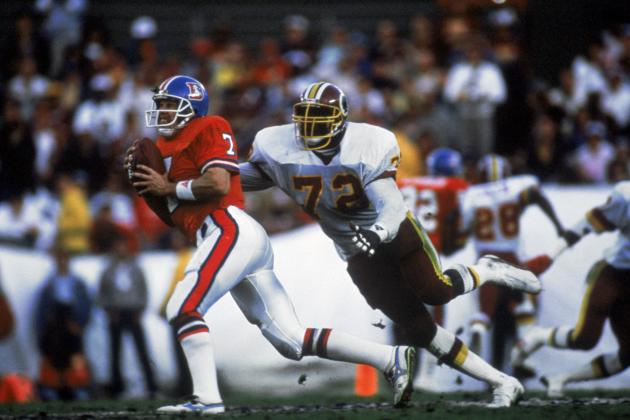 Mike Powell/Getty Images
Dexter Manley sacks John Elway.
Years with the team: 1981-1989
Notable Career Stats: 97.5 sacks, 2 interceptions
Nicknamed the "Secretary of Defense," Dexter Manley was a defensive standout for the Redskins for several years.
Aside from being the Redskins' career sack leader, he also won Super Bowl XXII and Super Bowl XVII with the team.
Manley was an All-Pro selection in 1986.
Years with the team: 1964-1974
Notable Career Stats: 32,224 yards, 255 touchdowns
NFL Hall of Fame class of 1983
Sonny Jurgenson is the second-leading passer in Redskins history and was one of the best quarterbacks in his day.
He played 11 of his 18 years in the league with the Redskins and quickly made a name for himself through his tremendous arm and will to win.
Jurgenson was also a two-time All-Pro and five-time Pro Bowler.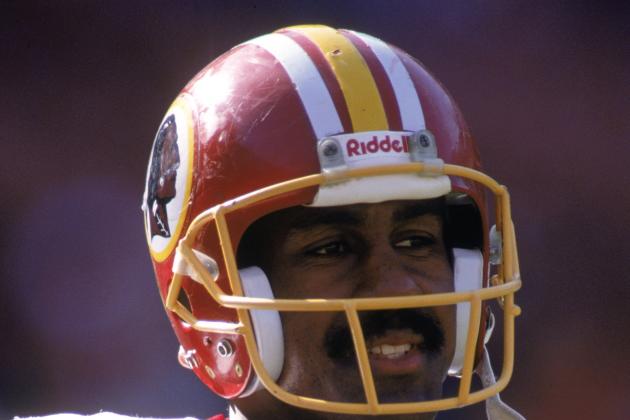 Stephen Dunn/Getty Images
Redskins Hall of Famer Art Monk.
Years with the team: 1980-1993
Notable Career Stats: 12,721 yards, 68 touchdowns
NFL Hall of Fame Inductee class of 2008
Art Monk was drafted by the Redskins in 1980 and went on to have one of the greatest careers for a wide receiver ever.
He is the team's all-time leading receiver and is second in receiving touchdowns in team history.
Monk was considered by many to be a Hall of Fame snub. He was a finalist from 2001 through 2007 before finally being inducted in 2008.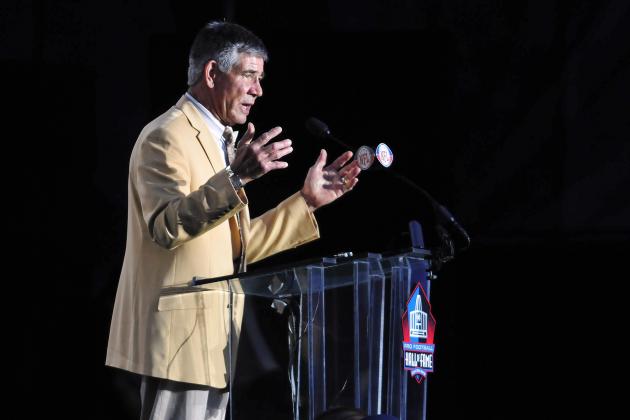 Jason Miller/Getty Images
Chris Hanburger's HOF induction speech.
Years with the team: 1965-1978
Notable Careers Stats: 19 interceptions
NFL Hall of Fame class of 2011
The latest Redskin to enter Canton, Chris Hanburger is arguably the greatest Redskin linebacker of all time.
In 14 seasons, Hanburger tallied nine Pro Bowls and four All-Pro first-team selections.
Hanburger also intercepted an impressive 19 passes in his career. Just to put that in perspective, that's more interceptions than both Junior Seau and Lawrence Taylor.
Hanburger was a beast.
Years with the team: 1976-1985
Notable Career Stats: 11,352 yards, 104 touchdowns
NFL Hall of Fame class of 1992
In nine years with the Redskins, John Riggins made an impact that was unrivaled by most players.
Not only was he a force on the field, but his personality off the field is part of what made him a great fit with the burgundy and gold.
One of several famous plays from "The Diesel" was a run he had in Super Bowl XVII against the Miami Dolphins. With 10 minutes left in the game, Riggo ran 43 yards on 4th-and-1 to put the Redskins up 17-13, a lead they would not surrender.
Courtesy of Getty.
Years with the team: 1937-1952
Notable Career Stats: 21,886 yards, 187 touchdowns
NFL Hall of Fame class of 1963
One of the most remembered players in NFL history, Slingin' Sammy Baugh was a huge innovator when it came to the forward pass.
When Baugh was playing, the league was filled with run-heavy offenses. He helped lead the way for the passing offense's takeover.
Although he is largely famous for his arm, that's not all he did. Baugh also played punter and cornerback for the Redskins.
His No. 33 jersey is now retired, and for good reason.
While he is often considered to be one of the best quarterbacks in league history, he was much more than that. Baugh helped change the way the game is played, and that is what makes him so legendary.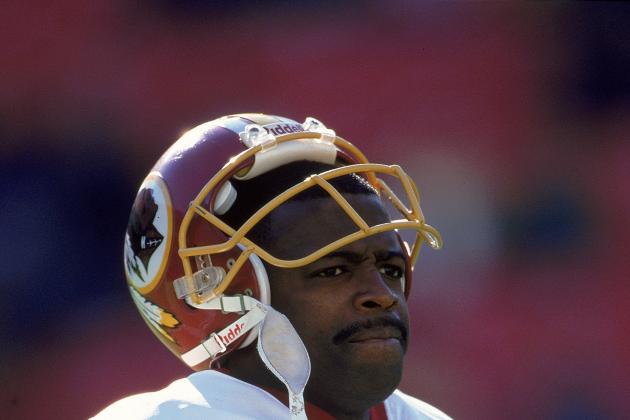 Jamie Squire/Getty Images
The greatest Redskin of all time, Darrell Green.
Years with the team: 1983-2002
Notable Career Stats: 1,159 tackles, 54 interceptions, 8 touchdowns
NFL Hall of Fame class of 2008
Darrell Green is No. 1 on this list for a many reasons.
One of those reasons is that he is the longest-tenured Redskins of all time (20 seasons). Green also has most the career interceptions in team history.
He was a seven-time Pro Bowler and was also named to the NFL's all-decade team in the 1990s.
He is not only one of the best Redskins of all time, but also one of the best cornerbacks of all time.