Biggest Over and Underachieving NBA Teams of 2012-13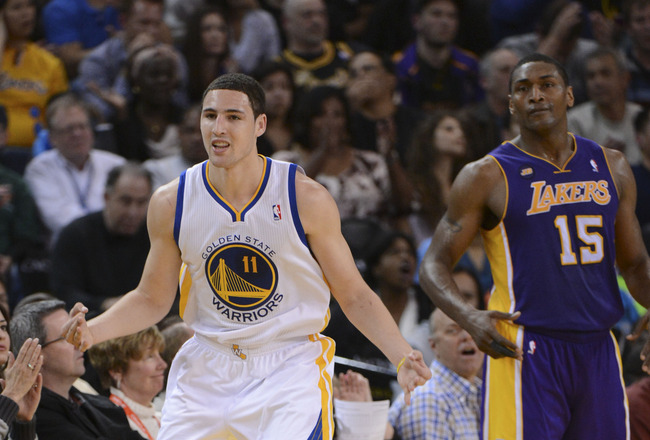 Kyle Terada-USA TODAY Sports
With the NBA playoffs right around the corner, there's no time left for miraculous turnarounds or shattered dreams.
The postseason picture is becoming clearer by the day. Twelve playoff tickets have already been punched. Three of the remaining four could be decided in the coming days.
If teams haven't lived up to their potential by now, they won't. Those clubs fortunate enough to have outperformed their talent level won't be undoing 70-plus games of work now.
For most of the league's 30 teams, the 82-game season has played out as expected.
Among those 12 teams that have already clinched a playoff berth, only one (the Brooklyn Nets) was denied a postseason seat a year ago. And of the 10 teams already eliminated from postseason contention, just one team (the Orlando Magic) didn't experience that same sense of defeat last season.
But several franchises could have never predicted they'd be in their current situation. Whether that's a good or a bad thing depends on which team you're discussing.
Overachiever: Atlanta Hawks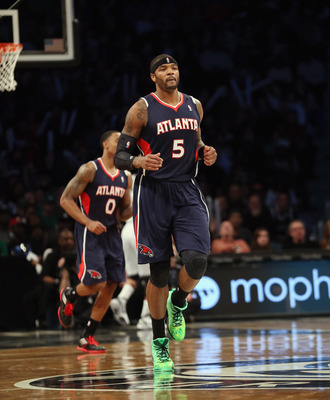 Bruce Bennett/Getty Images
Atlanta Hawks general manager Danny Ferry wasn't thinking about the fate of this season when he dealt Atlanta mainstay Joe Johnson to the Brooklyn Nets last summer.
Ferry's first task was simply freeing up financial space for a franchise that had been littered with good (not great) players working on major contracts. Even if it meant sacrificing this season, Hawks fans were thrilled with Ferry's cost-cutting tactics that have now put Atlanta in prime financial position.
And just to sweeten the deal, this season has been anything but a sacrifice. In fact, if the current standings hold true Atlanta will enter the postseason with the same seed as last season (fifth).
And Ferry should get some of the credit for the team's ability to maintain relevance. He managed to find competent players without sacrificing the cap space he'd just created.
He landed sharpshooter Kyle Korver (45.7 three-point percentage) from the Chicago Bulls in a cash-for-player swap. He replaced the inconsistent Marvin Williams with the more sure-handed Devin Harris. His biggest offseason acquisition, Lou Williams, was having a strong season before his season was cut short by a torn ACL.
But Ferry's best move of the season was the one he didn't make. The impending free agency of Josh Smith had all but backed him into a corner, but he refused to balk at the pennies-on-the-dollar offers that were thrown his way.
Thanks to the steady contributions from Smith (17.4 PPG, 8.5 RPG and 4.3 APG) and Al Horford (17.4 PPG and 10.2 RPG), along with the emergence of fourth-year point guard Jeff Teague (14.8 PPG and 7.1 APG), Atlanta is once again preparing for the NBA's second season.
Underachiever: Dallas Mavericks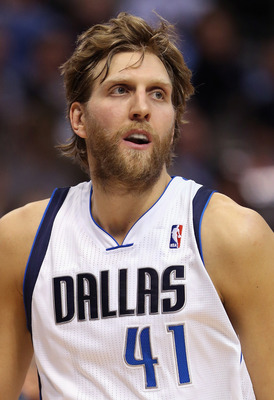 Ronald Martinez/Getty Images
This isn't entirely uncharted territory for the Dallas Mavericks, but certainly a path they haven't traveled in quite some time.
Although not mathematically eliminated from the postseason, a 2.5 game deficit at this point of the season is nearly impossible to overcome—particularly with not one, but two teams standing in their way of a playoff berth.
Short of a concurrent Mavericks surge with a pair of late-season collapses from the Los Angeles Lakers and Utah Jazz, Dallas will be doing nothing more than watching playoff basketball for the first time since the 1999-00 season.
This season was sure to be a test of wills when the Mavericks learned that former MVP Dirk Nowitzki would need knee surgery shortly before the season began. Dallas didn't help its cause when its failed superstar pursuit and desire to embark on another left it plugging its roster with a horde of complementary pieces on one-year deals.
But it's not as if the Mavericks were unable to find talent in the offseason. O.J. Mayo spent the first half of the season building an All-Star claim. Darren Collison infused quickness and athleticism in the backcourt. Elton Brand showed he's got some miles left on his 34-year-old legs.
And Nowitzki wasn't lost for the season, in fact he'll play in more than half of its games.
This might be the least talented team the Mavericks have fielded in quite some time, but not so bereft of talent that Dallas should be at home come playoff time.
Overachiever: Chicago Bulls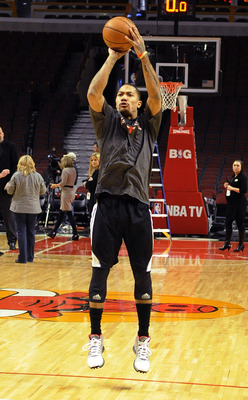 David Banks/Getty Images
The Chicago Bulls weren't sure how long they'd be playing without battered star Derrick Rose, but they always held out hope that their MVP leader would return to the floor at some point this season.
Yet Chicago's remaining games have been trimmed to single digits. And Rose has yet to make an appearance, outside of some pregame workouts that only fueled speculation that his return date was approaching.
But Rose's teammates haven't stood idly by waiting for Rose to lead them to the promised land.
They have instead built one of the league's stingiest defense. Coach Tom Thibodeau's team has allowed just 92.5 points per game (the third lowest average in the league, via ESPN.com)
First-year All-Star Joakim Noah (12.1 PPG, 11.4 RPG, 4.1 APG and 2.2 BPG) has thrust his name into the elite class of centers. Carlos Boozer (15.9 PPG and 9.4 RPG) has worked furiously to remove himself from amnesty talks. Nate Robinson (12.7 PPG), Taj Gibson (7.9 PPG, 5.4 RPG) and Jimmy Butler (7.8 PPG) have kept Chicago's bench packing a punch despite a massive offseason overhaul.
The Bulls may not be a championship contender without a healthy Rose, but they're a tough out in any potential playoff matchup.
Underachiever: Brooklyn Nets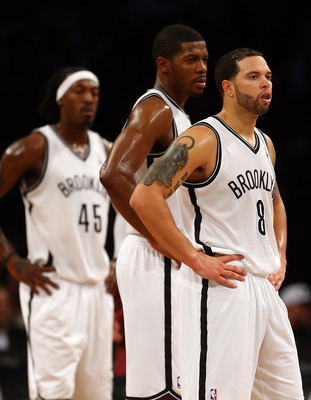 Elsa/Getty Images
For the Brooklyn Nets, the 2012-13 season was one of manufactured hope.
They didn't exactly have recent success to fall back on. Forget the playoffs, the Nets haven't had a .500 season since 2006-07.
But that didn't temper expectations. Not after the team spent the past two seasons collecting a trio of All-Stars (Joe Johnson, Gerald Wallace and Deron Williams). And not with the team finding All-Star production from one of its home-grown products (Brook Lopez).
The Nets have guaranteed an end to their five-year playoff drought. They have put themselves in position to host a first-round playoff series (for now, at least).
But it still feels as if this team hasn't lived up to its mighty potential.
A recent resurgence hasn't completely rescued Williams' numbers from the unsightly realm (43.2 field-goal percentage). And he's actually been a more successful shooter than noted marksman Johnson (42.3 field-goal percentage). Although both players seem fit for an instructional DVD when compared with Wallace (40.0 field-goal percentage).
Lopez continues scoring at an impressive rate (19.1 PPG), but he's too big and too talented to be corralling just 7.0 rebounds in his 30.5 minutes per game. And few teams get less production from the power forward position.
The Nets entered the season with an outside chance of challenging the Miami Heat for the Eastern Conference crown. They'll end it with no guarantees of making it out of the first round.
Overachiever: Memphis Grizzlies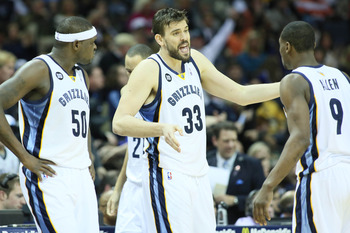 USA TODAY Sports
The Memphis Grizzlies stormed out of the gate this season. By Dec. 7, they were the proud owners of a 14-3 record.
The success wasn't exactly something they'd never experienced. Although the scorching start may have magnified things, this was still a Grizzlies core that had made two playoff runs in coach Lionel Hollins' first two seasons at the helm.
But this season quickly took on a new feel.
Owner Robert Pera, who had only assumed control of the franchise in June, revamped the Memphis front office. He plucked Stu Lash from the player agent ranks and tasked him with overseeing player personnel. He tabbed long-time analytics guru and former ESPN reporter John Hollinger as his next vice president of basketball operations.
The first task for the new regime was cleaning the books. The Grizzlies had four star players (Rudy Gay, Marc Gasol, Zach Randolph and Mike Conley) all operating on appropriately costly deals.
They knew at least one of the four had to go and deemed Gay as the most expendable. He was shipped to the Toronto Raptors in a three-team deal that brought Tayshaun Prince, Ed Davis and Austin Daye to Memphis.
Yet even through such a dramatic change, the Grizzlies have remained one of the most dangerous teams in the Western Conference.
At worst they're a thorn in the side of any contender. At best they're a potential Finals participant.
Underachiever: Boston Celtics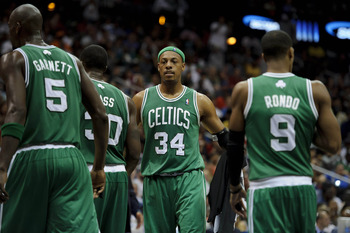 Paul Abell-USA TODAY Sports
There are reasons why the Boston Celtics find themselves with a less-than-impressive record (39-36) and a not so desirable playoff seed (seventh).
Injuries have ravaged coach Doc Rivers' rotation.
Defensive stalwart Avery Bradley started the season on the injured list, working his way back from surgery on both shoulders.
But once he returned to action, Rajon Rondo left. His season was lost after he tore his ACL in late January. Rookie forward Jared Sullinger followed Rondo's unfortunate lead, as a season-ending back surgery ended his season after 45 games.
And injuries continue to plague this team. Kevin Garnett has now missed nine of Boston's last 11 games with inflammation in his left ankle. The sputtering Celtics have a 4-7 record over that stretch.
But it's tough to place all of the blame from this season on injuries alone.
The Celtics were just 18-20 when Rondo was healthy. Their fully-loaded starting five (Rondo, Bradley, Garnett, Paul Pierce and Brandon Bass) were outscored by 16 points in the 123 minutes they shared the floor (via NBA.com).
On the season the Celtics have registered a minus-15 (via NBA.com). They are the only team with a negative scoring differential among the 12 clubs that have clinched a playoff berth.
Boston could redefine its season with a lengthy playoff run.
But how far would it have to advance to meet the lofty expectations stemming from last season's Eastern Conference Finals appearance?
Overachiever: Golden State Warriors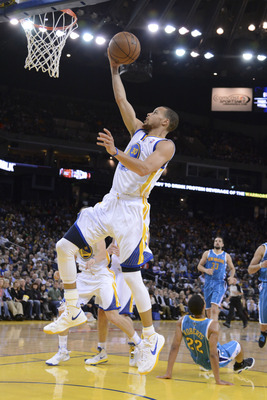 Kyle Terada-USA TODAY Sports
There are so many reasons that the Golden State Warriors should not be in playoff contention, let alone holding the sixth seed in the Western Conference.
Clearly the biggest factor in this team's emergence has been a welcome bill of health for a pair of oft-injured stars (Stephen Curry and Andrew Bogut).
But those injury issues were just among a laundry list of concerns surrounding the franchise.
The Warriors have been tasked with adopting a defensive-minded approach despite having a roster led by a collection of scorers. They have had three different rookies (Harrison Barnes, Festus Ezeli and Draymond Green) factoring heavily in coach Mark Jackson's rotation. The bench was molded around two career journeymen (Jarrett Jack and Carl Landry).
Yet something magical was brewing by the Bay.
The Warriors started winning games on the defensive end. Their rookies looked wise beyond their years.
And as for those reserve journeymen, one of them entrenched himself near the top of the Sixth Man of the Year award race (Jack, 13.2 PPG and 5.5 APG). The other shined in spot duty when Bogut was plagued by a lingering injury, and continues to exert his influence back on the second team.
Golden State has all but locked up its second playoff berth since the 1993-94 season. And while it may not draw a favorable postseason pairing, it's been defying the odds all year long.
Underachiever: Los Angeles Lakers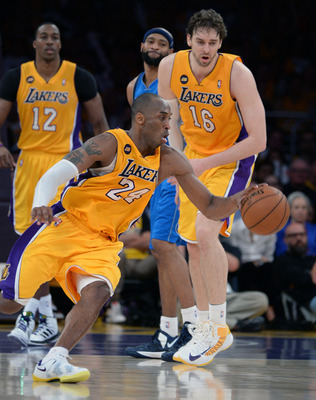 Jayne Kamin-Oncea-USA TODAY Spor
From preseason champs to regular-season chumps?
Even for those that have been along for the entirety of the ride, it's still tough to explain just where things went wrong for the Lakers.
Injuries have no doubt played a factor.
L.A.'s starting five (Steve Nash, Kobe Bryant, Metta World Peace, Pau Gasol and Dwight Howard) have missed a combined 71 games. And that's with Bryant rushing back to the floor just two games after what was deemed a "severe" ankle sprain. And with Howard slicing into the rehab schedule set for him following his April 2012 back surgery.
But even in those rare bits of health, this team has been a resounding disappointment.
The Lakers have gone from a Western Conference favorite to its whipping boy. L.A. is just 22-24 against conference foes on the season, the second worst such record among all 16 teams currently occupying a playoff spot.
Coach Mike D'Antoni's team has been a good offensive group, its 105.5 offensive rating ranks eighth in the league (via NBA.com). But it hasn't been nearly dominant enough to mask its overly generous defense (103.6 points allowed per 100 possessions).
Maybe D'Antoni was the wrong man for the job. Maybe those lofty expectations failed to properly account for the team's age.
Maybe they've just been unfairly bitten by the injury bug.
But no matter where you point the blame, it won't change the outcome.
An outcome that continues to baffle the basketball world.
Keep Reading