Who Should Be Boston Celtics' Clutch 5 in NBA Playoffs?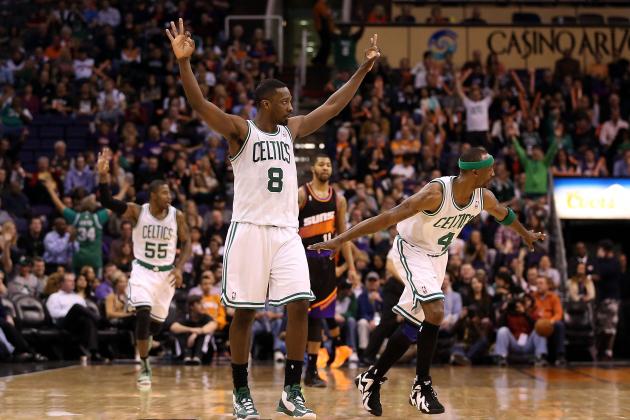 Christian Petersen/Getty Images

You can all relax, Boston Celtics fans. With their win over the Detroit Pistons on Wednesday night, the Celtics have finally clinched a playoff berth. Not that they really had any realistic shot of not making the postseason at this point, but it's still nice for them to have it out of the way.
So, with the playoffs only a couple of weeks away, it's time to start discussing which five players Doc Rivers will have on the floor in the final minutes of postseason contests.
At least two of the names are obvious, but who will Rivers choose to support his two veteran stars? Will he go with strictly defense? Will he want as much offensive firepower possible? Will he want a little bit of both?
Of course, a lot of this depends on the circumstances of the game, but there will more than likely be a main lineup that Rivers will have in mind for crunch time.
Begin Slideshow

»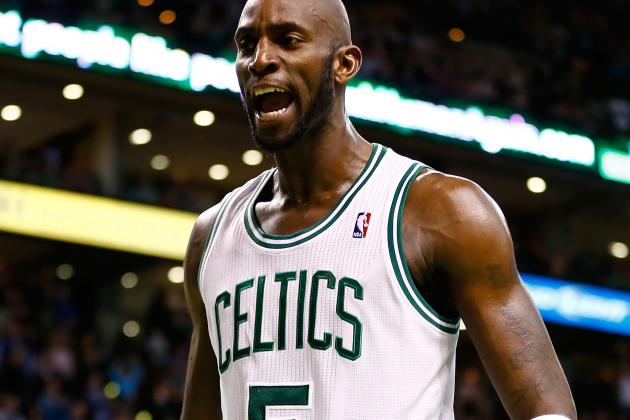 Jared Wickerham/Getty Images

Obviously.
Kevin Garnett has proven that he is the most important Celtic recently, as his team has struggled mightily in the 10 games he has missed since Mar. 16 (Boston has gone 4-6 in those contests). If anyone was doubting whether or not Garnett was the backbone who holds the C's together, the evidence is now there.
The Celtics have given up 100 or more points in seven of those 10 games, demonstrating just how much of an impact K.G. has on the defense.
Garnett's prowess and experience are vital to the crucial minutes of playoff games. Hopefully he comes back 100 percent healthy, because Boston is going nowhere without a good-to-go Garnett.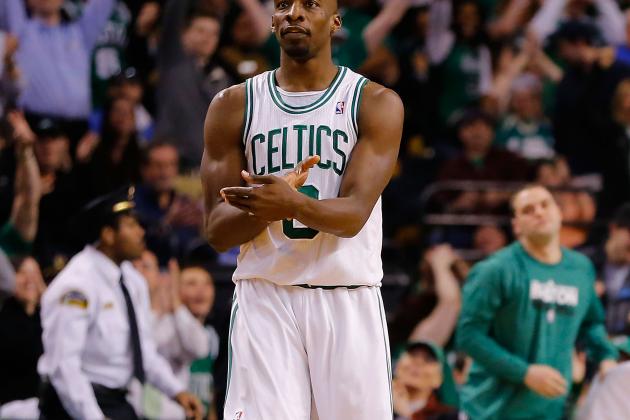 Jared Wickerham/Getty Images

Man, how things have changed for Jeff Green.
Early on in the season, people were questioning whether or not he would ever be a consistent contributor. Some fans were bemoaning the contract he was given by Danny Ainge, growing more and more frustrated with each passing game.
Now, Green is frequently the Celtics' go-to guy down the stretch, demonstrating the ability to dominate on both ends of the floor and put the team on his back.
Wednesday's night win over the Pistons was a perfect example, as Green scored 34 points and came up with several huge plays during the latter stages of the fourth quarter to secure a rather big win for Boston.
Green can play either forward position, and with Paul Pierce also on the floor, he will be the Celtics' 4 in crunchtime. He is a matchup nightmare for opponents, as he can pound smaller forwards in the post and take the bigger guys out to the perimeter and burn them.
Green will also likely be assigned to defend the opposition's best swingman, as he has done with LeBron James a couple of times already this season.
Uncle Jeff's versatility is going to pay huge dividends in the playoffs.
Jared Wickerham/Getty Images

Like Garnett, Pierce is a no-brainer.
Remaining one of the most deadly clutch shooters in the league at the age of 35, Pierce is an absolute must for any late-game lineup.
With the emergence of Green, Pierce thankfully no longer has to be saddled with the responsibility of expending so much energy defensively. Normally, Pierce would be the one who defended guys like LeBron and Kobe Bryant. Now, he can just focus on his offense as Green takes that load off of him on the other end.
Thanks to Uncle Jeff, The Truth may now be more dangerous than ever in the waning moments of playoff games.
Jared Wickerham/Getty Images

Say what you want about Jason Terry's inconsistency throughout 2012-13, but the fact is that the Celtics need him on the court when the chips are down in the postseason.
After all, Terry is one of the few players in the league who can rival Pierce when it comes to clutch shooting, and he has the hardware to show for it.
Is JET a bit of a liability defensively? Yes, but when you're in the playoffs, you want your most experienced players out there. You also want to be confident that the guy is going to have nerves of steel, and Terry certainly fits that description.
Terry is also a great candidate for the pick-and-roll. He will likely be the primary ball-handler, and with Garnett's lethal mid-range jump shooting ability, the two of them working together could be a deadly combination over the course of a seven-game series.
It seems to be almost a foregone conclusion that Terry is going to hit at least one huge shot for Boston in the postseason. He does it each and every year in the playoffs, so why would this time be any different?
Doesn't the image of JET hitting a go-ahead three-pointer off a misdirection play to win a series-turning game seem very appropriate?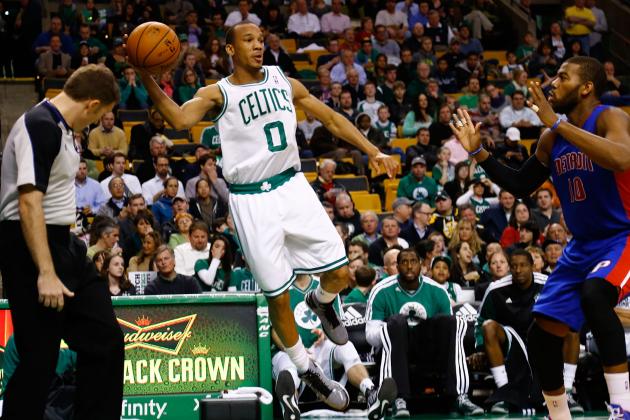 Jared Wickerham/Getty Images

That brings us to the Celtics' perimeter defensive stalwart.
You don't just need to score when the going gets tough. You need to get stops.
Having Avery Bradley on the floor to harass opposing point guards will take some time off the shot clock and perhaps force the opposition into a poor shot.
We've seen it ad nauseam with Bradley.
He applies so much pressure to ball-handlers that eight or more seconds have already elapsed before the opponent gets into their set.
Boston will have enough offense with the likes of Garnett, Pierce, Green and Terry. All it needs from Bradley is tenacious D and the occasional corner three.