10 Biggest Wild Cards Competing in the UFC Right Now
Mark J. Rebilas-USA TODAY Sports

Wild thing, you make my heart sing.
It's one of the many lines used in the Major League movies to describe Rick "Wild Thing" Vaughn. Other than looking like a wild animal at times, the nickname was used to describe Vaughn's pitching abilities early in the film.
Yet, with the help of some correctional lenses, Vaughn went on to become the savior of the fictional Cleveland Indians team. The same could be said of the fighters appearing on this list.
Sometimes they come in looking like "Scumbag Steve" on his first day of kickboxing class, while other times they can execute a game plan to perfection.
And other guys on this list don't have to worry about their performances in the Octagon as much as their performances in front of a microphone.
It's the prospect of not knowing what you're going to get when the lights go on that make these fighters the biggest wild cards still on the UFC roster.
Begin Slideshow

»
Ron Chenoy-USA TODAY Sports

Melvin Guillard may go down as one of the biggest "what if" stories in MMA history. Breaking into the UFC on the second season of The Ultimate Fighter, Guillard instantly became a draw due to his brash personality.
But Guillard wasn't all talk, as he was clearly one of the most athletically gifted fighters and has always had explosive KO power in his hands. Unfortunately for Guillard, personal demons seem to have always held him back.
The lightweight became a legitimate contender under the tutelage of Greg Jackson, but Guillard left for the "Blackzilians" and has now switched camps once more.
Guillard can be one heck of a fighter when he's on, but that tends to be a 50-50 proposition these days.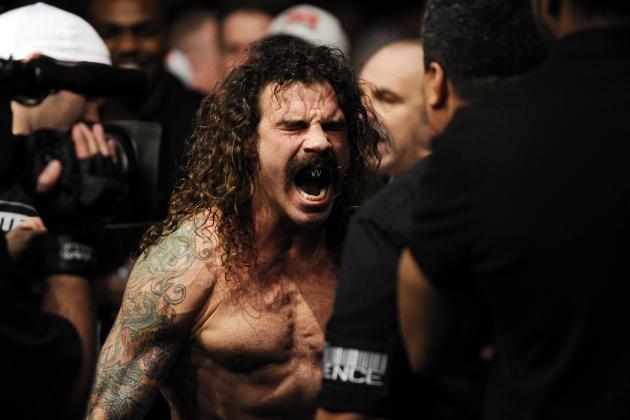 David Banks-USA TODAY Sports

Remember when Clay Guida used to be everyone's favorite fighter because of how exciting he was? Pepperidge Farm remembers.
They seem to be about the only ones these days, as Guida has gone from one of the more popular fighters to outcast in a matter of minutes. It started with Guida's incredibly bizarre performance against Gray Maynard.
Normally an aggressive fighter, Guida plotted on the outside, attempting to avoid Maynard's strikes while offering virtually nothing in return. The scene got so bad that Maynard invited Guida to hit him with his hands at his waist.
Guida just defeated a very good featherweight in his 145-pound debut but it may take only one boring loss for Dana White to question whether or not to keep "The Carpenter" on the roster. With his job possibly in question, will Guida revert back to his old ways or hope that the smart strategy he's been employing keeps him in the win column?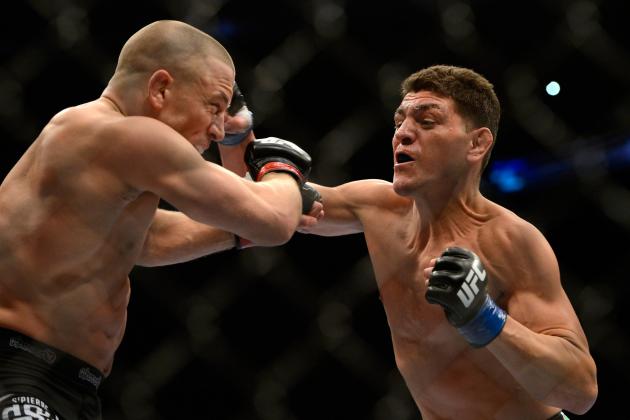 Eric Bolte-USA TODAY Sports

Nick Diaz is the epitome of a wild card. Nobody, including the man himself, knows what Diaz will do next.
We've come to expect Diaz's taunting in the cage, but his actions at UFC 158 show Diaz has no qualms about hitting after the bell either. The late cheap shots are just a speck on a resume of questionable decisions that Diaz has made throughout his career.
The craziness doesn't end with Diaz's time spent in a cage either, as the Stockton bad boy has no qualms about telling everyone just what's on his mind. Only problem is that the majority of his speeches make sense only in his mind.
Diaz will willingly trade punches with anyone and always look to press the action during a fight, just don't ask him why he lost if you'd like to get any sleep that night.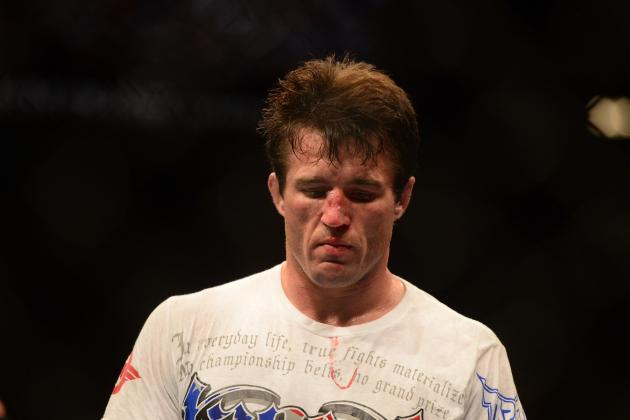 Mark J. Rebilas-USA TODAY Sports

Chael Sonnen has been fairly quiet since his rivalry with Anderson Silva, but we all know what Chael P. Sonnen is capable of.
Sonnen isn't a wild card for how he fights; everyone knows what to expect. It's his actions outside the cage that leave some people scratching their heads at times.
The former middleweight title challenger went on a verbal rampage during his rivalry with Silva that caused many fans to dislike Sonnen. I don't think I've ever seen an entire country rally against a single athlete like the Brazilians did with Sonnen.
The closest thing I can think of is Shawn Michaels and Canada, and that pales in comparison to the anti-Sonnen crowd.
As long as Sonnen continues to be a big draw, expect the UFC to put him front and center for everyone to wait in anticipation of what Chael P. Sonnen will say next.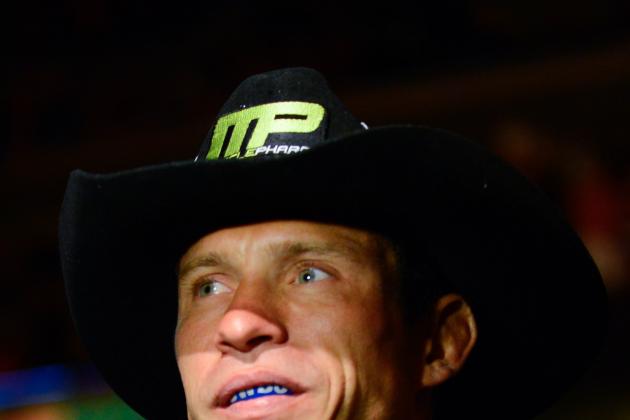 Ron Chenoy-USA TODAY Sports

Donald Cerrone may be a bit predictable in that everyone knows he comes to throw leather each time he steps in the Octagon, but that doesn't mean he's a one-trick pony.
Cerrone may be known for his vaunted kickboxing skills, but it's his ground game that will catch opponents off guard. Cerrone will of course look to land a knockout blow during the fight, but has found himself the winner as a result of submission far more times than knockout in his career.
Add in his daredevil personality, and Cerrone definitely qualifies as a wild card outside the Octagon as well. With an affinity for danger and risk, Cerrone loves to do everything full force—both in and out of the cage.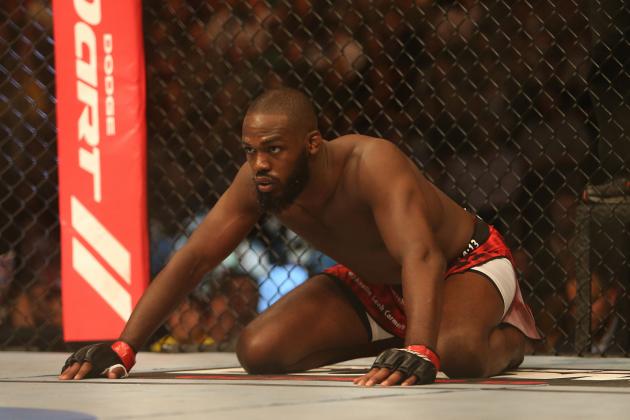 Tom Szczerbowski-USA TODAY Sports

Jon Jones has been one of the most dominant champions in UFC history, and at such a young age, could go down as the best fighter in MMA history if he keeps this up.
What makes Jones a wild card is the fact he has so many ways to attack. It's not just his striking or wrestling credentials to have to worry about; it's the way he can blend them together to execute a perfect game plan.
His physical gifts give him a huge advantage in the striking department due to his size and reach while his wrestling background provides Jones with a solid base to work with while on the ground.
The UFC lightweight champ also isn't afraid to try some spinning attacks that come out of left field at times but can cause some serious damage.
Jones also is no stranger to making headlines out of the Octagon but has shown that a fighter can be successful while being a wild card.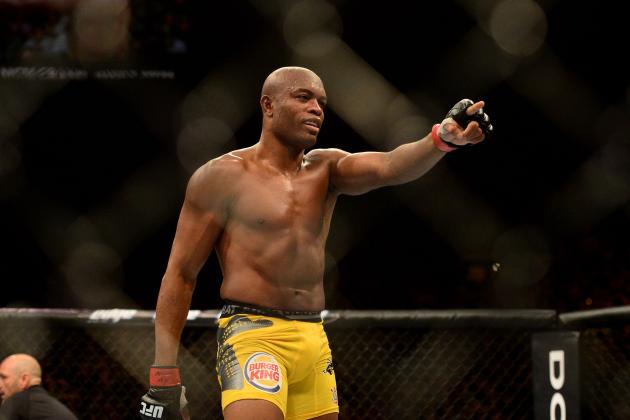 Mark J. Rebilas-USA TODAY Sports

Anderson Silva makes this list because there really is no predicting what "The Spider" will do once the cage door closes. However, fans know it will be exciting.
Silva has found a way to win in virtually every fashion imaginable. He dominated Rich Franklin twice, absolutely destroyed Chris Leben in his UFC debut, and had to make a comeback victory against Chael Sonnen. Add in all the devastating knockouts that highlight his career, and you have one of the most dynamic fighters in MMA history.
The Brazilian is a wild card due to his creativity and willingness to toy with an opponent like a cat playing with a sparkly toy.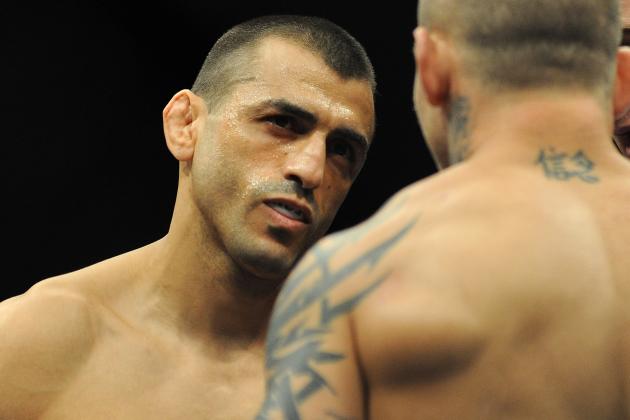 Matt Roberts/Getty Images

George Sotiropoulos was once a very promising lightweight contender; however, three straight losses have effectively derailed his hype train.
Sotiropoulos has a questionable chin (at best) but his jiu-jitsu game more than makes up for it. It's effectively a grappler's version of possessing one-punch KO ability, as Sotiropoulos has tapped out some very respectable foes.
We've seen Sotiropoulos get in trouble if the fight stays on the feet, but if he can get it to the ground there are very few at 155 pounds who can hang with him. The "what if" question goes hand in hand with being called a wild card in MMA.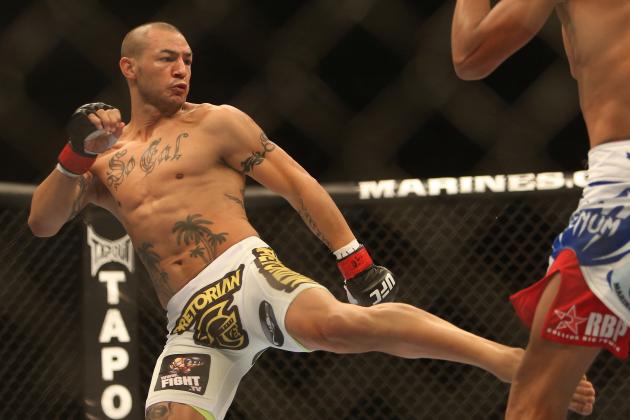 Tom Szczerbowski-USA TODAY Sports

Cub Swanson has become one of the best featherweights in the world but can certainly qualify as a wild card.
For one, there's his mediocre 2009-2011 campaigns that saw Swanson alternate between wins and losses. During that span Swanson was brutally KO'ed by Jose Aldo with a double-flying knee attack and tapped out by Ricardo Lamas.
There's also Swanson's tendency to forgo a game plan and "wing it." We've seen in the past where Swanson has attacked with reckless abandon, and that's always a 50-50 game inside the Octagon.
However, Swanson definitely deserves credit for turning his career around and is one of the few comeback stories that appears to be on its way to a happy ending.
USA TODAY Sports

Ronaldo "Jacare" Souza is a name that needs no introduction within the BJJ world. However, Souza is a relative unknown to MMA fans despite being a former Strikeforce middleweight champion.
That could change with his UFC debut, which is scheduled for May 18 on network TV.
What makes Souza a wild card isn't some out-of-bounds personality but rather his improvement in his striking game. We already know Souza is perhaps the best pure grappler in MMA not named Roger Gracie, but we've seen him improve his MMA game a lot faster than his grappling counterpart.
If Souza continues to improve his striking and becomes a more dynamic striker, it can only help his grappling game. We should have an answer to how far he's improved his stand up game as he draws the tough Constantinos Philippou in his UFC debut.