Stedman Bailey: Video Highlights for Former West Virginia WR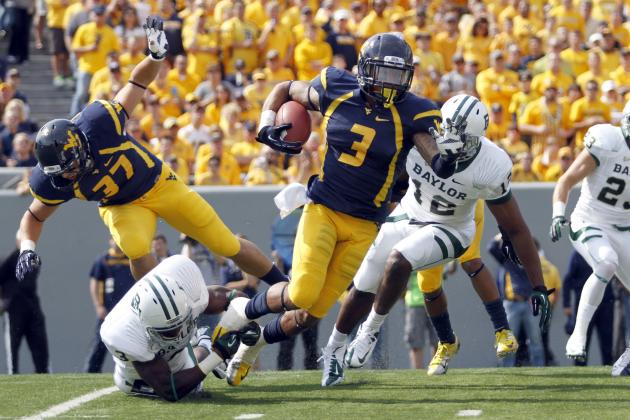 Justin K. Aller/Getty Images

From a statistical standpoint, Stedman Bailey was West Virginia's best receiver in 2012—not Tavon Austin. Still, Bailey will likely be the second Mountaineer wideout off the board in April's draft.
This highly productive receiver benefited from the stellar play of quarterback Geno Smith and a powerhouse offense that generated nearly 40 points a game last season.
With 114 receptions, 25 touchdowns and 1,622 receiving yards to his name in 2012, Bailey earned second-team AP All-American honors. On top of that, Bailey also set a school record for consecutive 100-yard receiving games when he managed the feat against Maryland, LSU, Bowling Green, UConn and Syracuse.
Here are 10 video highlights from Bailey's collegiate career.
Begin Slideshow

»
In yet another 100-yard receiving game for Bailey, he and former high school teammate Geno Smith hooked up for a 59-yard score in the second quarter against Cincinnati in 2011. The Mountaineers would end up winning the game 24-21 after trailing late.
Simple and sweet. Bailey gets behind the secondary and makes a fluid catch on his way to six points.
In what was the highest-scoring opener in school history, West Virginia put up a 69-34 beatdown of Marshall. Bailey had nine receptions for 104 yards and two touchdowns on the day.
Bailey had the honor of putting up the first points on the board with a 32-yard touchdown catch from Geno Smith in the first quarter. On a beautiful over-the-shoulder throw from Smith, Bailey made the grab look effortless as he reached up over the defender and kept his feet in bounds.
Bailey's 40-yard dash at the combine clocked in at an average 4.52 seconds (per NFL.com), but his game speed looks a lot faster on film. Against UConn in 2011, Geno Smith hit Bailey for an 84-yard score in the third quarter—just one of his seven catches that game.
Check out Bailey's acceleration and quickness as he's able to make the catch, change direction and beat UConn's defenders in a straight-line footrace.
Bailey and Morris Claiborne went at it all night when the two squared off in 2011. While Claiborne may have gotten the last laugh as his team went on to win the game, Bailey did get his jab in when he blazed right past Claiborne for a 20-yard score.
Claiborne would go on to become the sixth overall pick of the Dallas Cowboys in the 2011 draft, which may or may not prove that Bailey can go up against some of the better cover guys at the next level.
In a final score that reflected the outcome of a Baylor-West Virginia basketball game, the Mountaineers held off a surging Bears team for a 70-63 victory in Morgantown.
On his way to a school record five touchdowns, Bailey pulled down an 87-yard touchdown pass from Geno Smith and displayed track-star speed—granted he was wide open, but it was still a worthy highlight.
Down by 10 in the third quarter, West Virginia rallied to score 20 unanswered points in a come-from-behind victory against Rutgers in 2011.
A 19-yard touchdown catch by Bailey in the corner of the end zone triggered the comeback. With tight coverage and no real height advantage, Bailey keeps his eyes on the ball and tips it to himself in spectacular fashion.
With the game tied at 27 and only 13 seconds left on the clock, the Mountaineers faced a 4th-and-10 at South Florida's 42-yard line and needed to convert in order to keep the drive alive. Geno Smith dropped back and hit a diving Bailey, who reeled in a 26-yard completion to help set up the game-winning field goal.
Bailey's catch against South Florida displayed his athleticism as well as his ability in the clutch.
The Mountaineers may have lost the game, but Bailey still put on a show against the Orange on the road. His only touchdown catch of the game came on a 64-yard bomb down the sideline by Geno Smith.
With little space to work with and defenders all over him, Bailey somehow manages to make the catch and have the presence of mind to evade two defenders while staying inbounds—a combination of freakish athleticism and balance.
In a close 21-20 victory over Pittsburgh in 2011, Bailey set a school record for receiving yards when he amassed 1,117 yards on the season after catching three passes for 80 yards against the Panthers.
Bailey's play of the game came in the second quarter when he caught a 63-yard strike from Geno Smith and delivered a menacing stiff arm to clear the way for a score. Pay close attention to the way Bailey was able to instantly change direction after the catch and use his speed to make it to the pylon.
In a back-and-forth shootout with Louisville during the 2011 season, Bailey and the Mountaineers lost 38-35 in the final minutes after the team was unable to recover an onside kick. Bailey, who had two critical drops, finished the game with eight receptions for 118 yards and two touchdowns.
Despite the mental mistakes on his part, Bailey demonstrated some superior hand-eye coordination and athleticism when he hauled in a pass with a Louisville defender all over him down the sideline. Did I mention he caught that ball one-handed?