Predicting Who Will Ultimately Win Each Deal of 2013 NHL Trade Deadline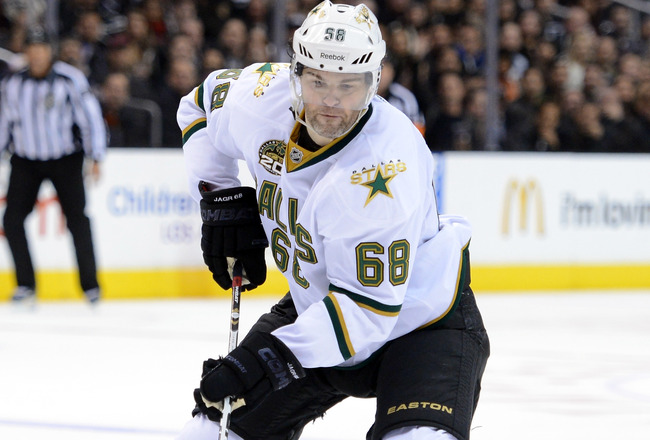 Jaromir Jagr will be attempting to help the Boston Bruins have a successful playoff run.
Harry How/Getty Images
The trade deadline is always significant in the NHL.
Teams that have Stanley Cup aspirations get a chance to improve their roster heading into the home stretch of the season while preparing for the playoffs.
In some cases, teams have added depth players to get support for existing stars, while in other cases star players are brought in to give a team more strength and explosiveness.
Here's who will ultimately win the major deals done prior to the trade deadline.
Calgary Flames Trade Jarome Iginla to Pittsburgh Penguins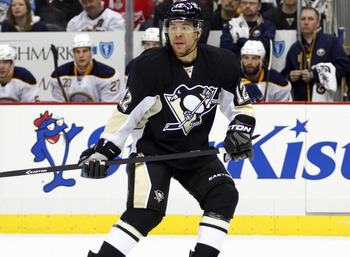 Justin K. Aller/Getty Images
While this deal was actually made a few days before the deadline, it does constitute a deadline deal.
Calgary traded its longtime star to Pittsburgh because Jarome Iginla was in the final year of his contract and the Flames were not going anywhere this season.
While the Penguins have plenty of scoring with Sidney Crosby, Evgeni Malkin, Chris Kunitz and James Neal, you don't say no to a future Hall of Famer with a blistering shot and excellent net-front presence.
While the Pens have lost two straight games after winning 15 in a row, Iginla still brings a lot to the table and is the kind of player who will make a difference in the third period of close games.
The key for the Penguins is the return of Crosby (broken jaw). He is the best player in the game and a strong complementary player like Iginla can help Pittsburgh make a run. If Crosby is not the same player when he returns, the Pens are in trouble and this deal won't be a difference maker.
The Flames got a first-round pick and two developing players. Calgary general manager Jay Feaster has been criticized for not getting enough, but Iginla had just a month to go before he could leave as a free agent and the Flames would not have gotten anything for him.
Both sides win, as long as Crosby returns at full strength.
Calgary Flames Trade Jay Bouwmeester to St. Louis Blues
Once the Jarome Iginla deal was made, it seemed sure that Calgary would trade other key players prior to the deadline.
The Flames traded puck-moving defenseman Jay Bouwmeester to the St. Louis Blues for two developing players, a 2013 or 2014 first-round pick and a conditional fourth-round pick in 2013.
Bouwmeester is a solid defenseman who can contribute in the offensive zone, and appeared to be the kind of player who would help any contender. However, it was a bit of a surprise that he was traded St. Louis.
The Blues have a better crew of defensemen than most contenders and they can use more scoring. Still, Bouwmeester is an asset.
It seems Feaster got solid value in this deal for Bouwmeester, and Calgary wins this deal.
Buffalo Sabres Trade Robyn Regehr to Los Angeles Kings
The Buffalo Sabres were in sell mode because they have had a disappointing season and are on the outside of the playoffs looking in.
They traded Robyn Regehr to the Los Angeles Kings with an eye towards the future and received second-round picks in 2014 and 2015. That's good value.
Injuries have hurt the Kings on the blue line, so Regehr is a solid fit. Additionally, Regehr played for Kings head coach Darryl Sutter in Calgary and that should help him fit right in and make a solid contribution right away.
Both sides do well in this deal, but grade the Kings as winners for getting this hard-hitting defenseman.
Dallas Stars Trade Derek Roy to Vancouver Canucks
The Stars came to the conclusion that they are not going to be a major playoff factor, so they started moving key players prior to the trade deadline.
That played into Derek Roy's favor, as he ends up in Vancouver. The Canucks have needed help up front as a result of Ryan Kesler's injuries. Roy is skilled as a passer and a playmaker, but he is not going to win many battles in the dirty areas.
The Stars get defense prospect Kevin Connauton and a second-round pick in this year's draft. Connauton should eventually be a solid contributor. Both teams win in this trade.
Dallas Stars Trade Jaromir Jagr to Boston Bruins
The Boston Bruins gave up two moderate prospects in Lane McDermid and Cody Payne and a conditional second-round pick this year for future Hall of Famer Jaromir Jagr.
If the Bruins win two rounds of the playoffs and get to the conference finals, that second-round pick becomes a first-round pick.
Bruins general manager Peter Chiarelli hopes that he gives the Stars the first-round pick. Jagr can't dominate a game the way he used to, but he can still score and should be able to upgrade the Bruins' stumbling power play. With Patrice Bergeron (concussion) sidelined temporarily, the Bruins need Jagr to jump right in and show what he can do.
Jagr is quite creative, has a wicked shot and can't be bulled off the puck when he has it on the boards.
Big win for the Bruins and solid win for the Stars.
San Jose Sharks Trade Ryane Clowe to New York Rangers
Ryane Clowe had not scored a goal all season with the San Jose Sharks, but that changed as soon as he arrived in New York.
He got one goal in the first period of New York's 6-1 victory over the Pittsburgh Penguins on April 3, and added another in the second period for extra measure.
The Rangers got Clowe for his grit and nastiness, not his goal scoring. He should give them an element that has been missing from their team this year.
The Rangers sent the Sharks three draft picks, including second and third-round selections this year.
Clowe will give the Rangers more toughness, but they still need goal scoring.
Both teams should be pleased with this deal.
Ottawa Senators Trade Ben Bishop to Tampa Bay Lightning
The Senators have a wealth at the goaltending position, while the Lightning have struggled in that area.
That's why Ottawa traded solid goaltender Ben Bishop to Tampa Bay for the exciting rookie Cory Conacher.
Since the Senators have Craig Anderson and Robin Lehner in goal, they could afford to trade a solid young goalie. The Lightning thought they had a big-time netminder in Anders Lindback, but he has not played effectively this season (2.88 goals against average, .903 save percentage).
Conacher was very hot early, but he has slowed down recently. Still, he has a slew of offensive moves and that should pay off for the Sens.
Bishop and Conacher are both good players who have a chance to be great. The Senators also got a fourth-round pick in this year's draft.
Both teams get what they want, but the Senators get the edge because of the added draft pick.
New York Rangers Trade Marian Gaborik to Columbus Blue Jackets
The Rangers have struggled to score goals all season. If they were going to make a big deal at the deadline, it seemed likely it would be for a legitimate goal scorer.
Instead they sent Marian Gaborik to Columbus. Gaborik has scored 40 or more goals three times in his career. However, he did not always see eye-to-eye with high-pressure coach John Tortorella.
The Rangers received three hard-nosed players in Derick Brassard, Derek Dorsett and John Moore for Gaborik and two prospects. The Blue Jackets also received a 2014 draft pick.
In their first game in New York, Brassard and Moore each scored goals for the Rangers.
However, it seems like the Rangers are weaker offensively despite the early success the team had in their first game against Pittsburgh.
Columbus is much improved with Gaborik on the team and the Blue Jackets win this deal.
Buffalo Sabres Trade Jason Pominville to Minnesota Wild
The Minnesota Wild is making a run at the Northwest Division title, and the acquisition of former Buffalo Sabres captain Jason Pominville should help them.
Pominville is a solid offensive player who can score, pass, create plays and hustle in the defensive end. He should complement Zach Parise quite well.
The Wild gave up two solid prospects in goalie Matt Hackett and forward Johan Larsson along with first and second-round draft picks.
Pominville will provide a big lift to the Wild, but the Sabres got quite a bit in return and win the deal.
Nashville Predators Trade Martin Erat to Washington Capitals
After a terrible start this year, the Washington Capitals are soaring and have an excellent chance to win the Southeast Division title.
The acquisition of Martin Erat gives them a hard worker and a dependable goal scorer.
However, the Caps gave up Filip Forsberg, their top pick in last summer's draft. Forsberg is not ready to compete at the NHL level, but he has game-changing characteristics and has the potential to be a superstar.
The Capitals have sacrificed some of their future for a shot to do something this year. They overpaid and will regret this deal. Nashville wins this trade.
Keep Reading