Fantasy Baseball 2013: Early Lopsided Trades You Can Sneak by Your Competitors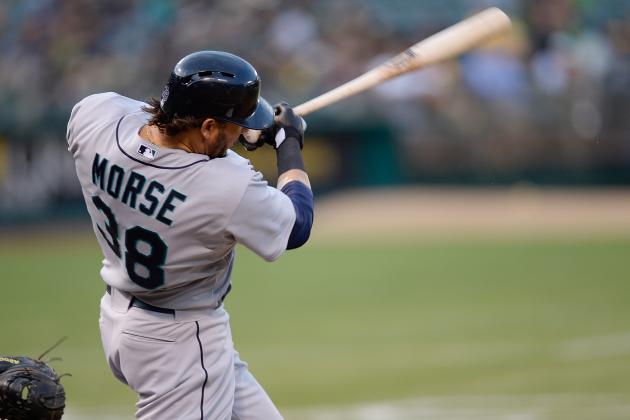 Thearon W. Henderson/Getty Images
Mike Morse has already crushed an MLB-best three homers in 2013, which is exactly why you should consider trading him now.
It's never too soon to start trading.
The buy-low, sell-high strategy is still the name of the game when it comes to pulling off a fantasy swap, but let's give that approach a bit of a twist.
Because it's still the first week of the season, rather than simply rolling off a bunch of specific players, here are some wide-ranging guidelines—or archetypes, if you will—to keep in mind as you consider sending out proposals to get a jump on those over-eager owners in your league.
Along with each archetype comes the proper strategy (i.e., trade away or trade for) and a few examples of players who fit that mold.
Begin Slideshow

»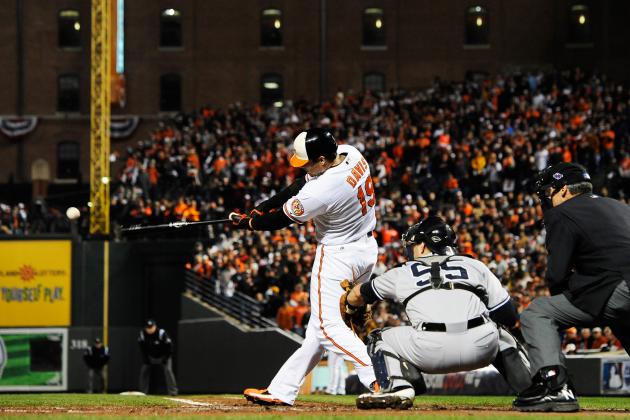 Patrick McDermott/Getty Images

Don't misinterpret this one, folks.
The idea is not to peddle a hitter you drafted in hopes of enjoying a breakout or big season in-the-making. After all, not every hot-starting hitter is fool's gold.
Some, though, might be, and for various reasons. Maybe you own Seattle's Mike Morse (three homers in his first three games) or Baltimore's Chris Davis (two homers and seven RBI in two contests). Sure, they each have a 30-homer campaign on their résumé, but if you don't fully trust them, you might be able to find another owner who gets caught up in their super stats so far.
Morse, for instance, is in a below-average offensive lineup, will play half his games in a pitcher's park and has an injury history to worry about. Davis, as we all know, is a strikeout machine who could do more harm than good to your batting average.
The other type of player to consider here is someone like Gerardo Parra—hitting .500 (8-for-16) with a homer and steal in his first three games—who likely will return to a backup role once his fellow Diamondback outfielders get healthy.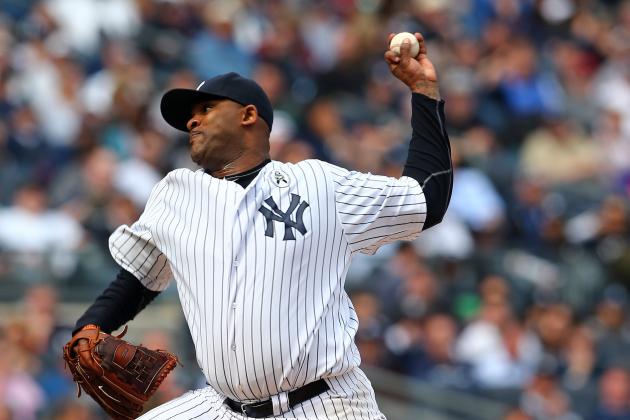 Elsa/Getty Images

By the very nature of the sport, pitchers' values fluctuate much more—and much more rapidly—than hitters': Pitching once every five days puts a much brighter spotlight on starters each time they toe the rubber.
Thus, a bad outing or three can make it seem like the sky is falling, causing owners to panic and in turn leading them to make regrettable reactionary trades.
There's already plenty of concern over CC Sabathia's diminished velocity in his Opening Day start against the Red Sox (four runs, eight hits, four walks in five innings), and the Yankees lefty is also coming off offseason surgery. Put 'em together and you've got a recipe for the opportunity to obtain a potential SP 2 at a rock-bottom price.
Same goes for the Phillies' Roy Halladay—five runs, six hits, three walks in 3.1 innings in his first outing—except the furor over his poor spring, lack of velo and advancing age (soon to be 36) is even louder, which means the price to acquire is even lower.
In these types of cases, there are obvious risks both with the player (performance and health) and to your fantasy categories (ERA, WHIP), so you should only be making a move if you can afford to stash the pitcher on your bench until he turns things around. If he doesn't, as MLB Lead Writer Zach Rymer wrote about Halladay, well, that's why you also need to make sure the cost is minimal enough that the potential payoff outweighs the potential loss.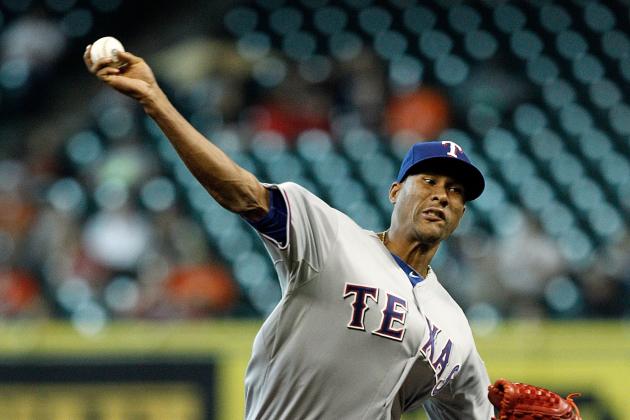 Bob Levey/Getty Images

This archetype has two different avenues: The first is a pitcher who is transitioning from reliever to starter a la Alexi Ogando; the second is one recovering from recent major arm surgery, like Brett Anderson.
Both the Rangers' right-hander and the A's southpaw had very strong showings in their first turns through the rotation, and they're also quality pitchers capable of being great for stretches. So why even consider trading them?
It's about getting ahead of the limited-innings game. Ogando threw just 66 frames as a reliever in 2012, while Anderson was just shy of that (about 60 between the majors and minors) while working his way back from Tommy John surgery.
The likelihood that either of these arms will be given much more than 150 innings—let alone last that many—in 2013 is very low, so enjoy them early on, but look to dangle them before all the shutdown talk starts up. By then, it's already too late.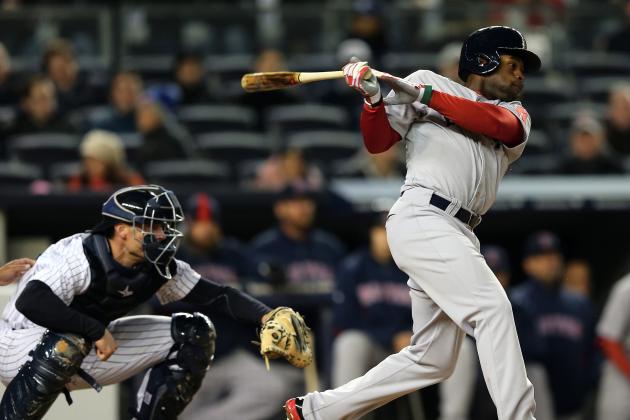 Elsa/Getty Images

Every owner wants to get his hands on the next big thing.
Following a season that saw some historic rookie campaigns from once-in-a-generation types Mike Trout and Bryce Harper, it may be easier than ever to fall into the trap of expecting more of the same from 2013's rookie class.
While a handful (or more) of first-year players will surely prove to be worth starting on your fantasy roster, it's also difficult to determine who they will be ahead of time. In a sense, because every rookie is an unknown, they all have that certain just-imagine-what-he's-capable-of magic about them. That often makes them all too hard to pass up for other owners.
If you drafted or picked up, say, the Red Sox' Jackie Bradley, the Twins' Aaron Hicks or even the Marlins' Jose Fernandez, now's as good a time as any to consider cashing in on those blue chips. Could you regret it? Sure. But you're more likely to land a proven player capable of consistent and solid production.
Jeff Zelevansky/Getty Images

On draft day, owners tend to stay far, far away from injured players, treating them like vile, roster-spot killing creatures of the night.
Once the light switch of the season gets flicked on, though, rehabbing veterans on their way back suddenly morph into appealing, wish-I-had-him-now commodities.
The key here is to target players who A) should be able to return to their previous productive selves and B) are expected to come back soon.
You might be tempted to reach out to Brandon Beachy's owner and offer a warm body for the Braves' right-hander who's recovering from elbow ligament replacement surgery, but there's plenty of risk in taking on a player who who is coming off a major procedure and who won't even be able to help you for a few months.
Instead, give a shout to the owner with David Ortiz or Brian McCann idling in his DL spot. While it can be tricky to steal a quality hitter who's only a few weeks away, especially if the owner is counting on said player, it's also possible the owner either has grown tired of waiting or simply needs to fill out the active roster with someone who can help right now.
Like maybe one of those players mentioned on the first slide.
Got any more players to trade away or trade for? Let me know in the comments or on Twitter @JayCat11.