Predictions for MLB's 7 Must-See Games of the Weekend
Christian Petersen/Getty Images

As we approach the first weekend of the 2013 MLB season, there are already plenty of story lines worth watching in the early going this season.
From big-money free agents making their season debut to highly-touted rookies getting a taste of the big leagues to a homecoming for one of baseball's biggest stars, there is a lot to look forward to this weekend.
So here are the seven must-see games of the upcoming weekend (including Friday) of baseball.
Begin Slideshow

»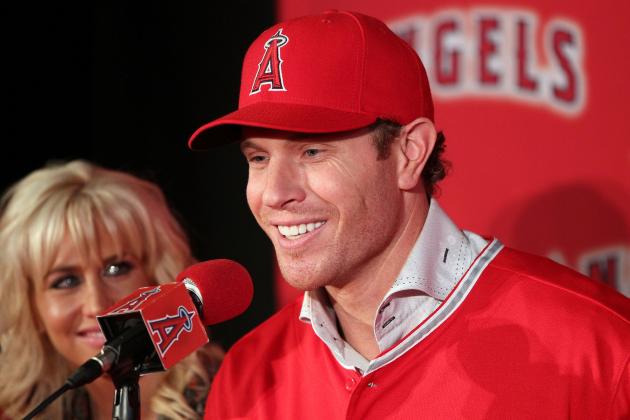 Victor Decolongon/Getty Images

Storyline
The story here is slugger Josh Hamilton in his return to Texas, where he spent the past five seasons before signing a five-year, $125 million deal to join the Angels this offseason.
It will be interesting to see how the fans respond to Hamilton, as he was booed for his struggles down the stretch last season before spurning Texas to sign with their division rivals.
Hamilton is off to a slow start as he's 1-for-12 to open the season, though he did deliver a two-run single in the team's loss on Thursday.
The game will also be the first start in an Angels uniform for Jason Vargas, as he'll square off against Derek Holland.
Prediction
Holland shuts down Hamilton, who goes 0-for-4 while boos rain down on him from the stands. He'll get the last laugh though and come through with his first home run of the season later in the series.
The game turns out to be a pitcher's duel between the two high-powered offenses, and the Rangers manage to come out on top.
Rangers 2, Angels 1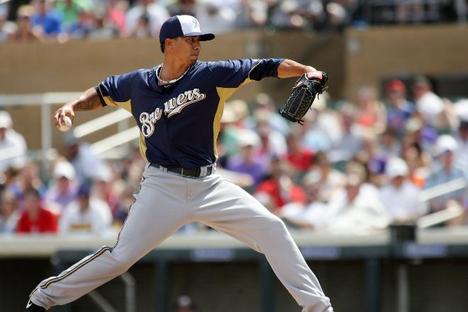 Photo Credit: Milwaukee Wisconsin Journal-Sentinel
Storyline
Kyle Lohse, easily one of the top five starting pitchers on the free-agent market this offseason, became the poster boy for what's wrong with the new qualifying offer system this winter.
The ace of the Cardinals' staff last season, he struggled to find work this winter due to the draft pick compensation attached to signing him.
He finally signed with Milwaukee on March 25, in time to make one spring appearance in which he went 3.2 innings and allowed four hits and one earned run.
He makes his debut opposite last season's surprise NL Rookie of the Year candidate Wade Miley, in a matchup of two teams expected to be on the fringe of contention in the National League this season.
Predictions
Lohse pitches well, but is pulled after five innings while he continues to get into the flow of things, leaving with a 3-0 lead.
The Brewers' bullpen, which was their Achilles' heel last season, coughs things up as John Axford continues his rocky start to the 2013 campaign.
Milwaukee announces Jim Henderson will slide into the closer's role for the time being while Axford works things out in middle relief.
Diamondbacks 5, Brewers 3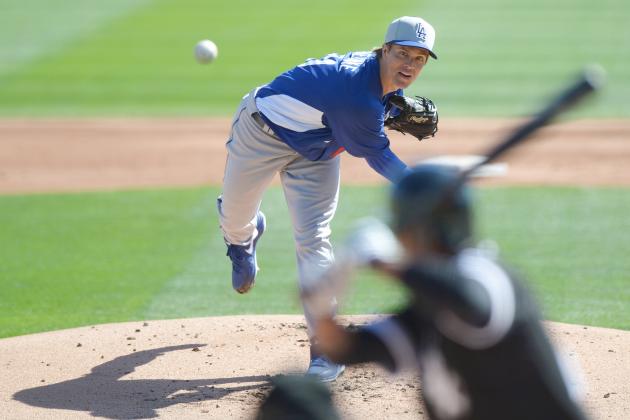 Jake Roth-USA TODAY Sports

Storyline
The big story here is the debut of the Dodgers' $147 million man, Zack Greinke.
Greinke was limited by elbow soreness this spring, making just four appearances while allowing 15 hits and eight earned runs over 13 innings of work.
Opposing him will be Jonathan Sanchez, whose career has taken a sharp downturn since he left the Giants. Over 15 starts last season, he posted a 8.07 ERA and 11.4 H/9.
He won a spot with the Pirates on a minor league deal this spring, despite a 5.50 ERA and 1.56 WHIP over seven appearances.
Predictions
Greinke shines in his Dodgers debut, throwing six shutout innings before turning things over to the bullpen.
Sanchez is absolutely shelled, not making it out of the third inning, and the Pirates already begin considering other options for the rotation. Gerrit Cole? Probably not yet.
Dodgers 7, Pirates 1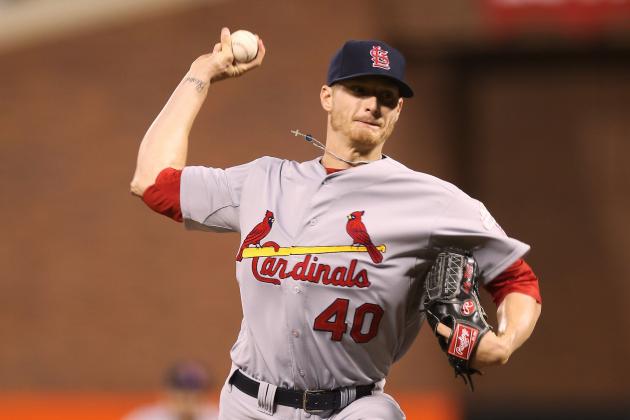 Christian Petersen/Getty Images

Storyline
With Kyle Lohse gone and Chris Carpenter injured, Cardinals top prospect Shelby Miller secured the No. 5 spot in the rotation this spring, and he'll make his second big league start on Saturday.
The 22-year-old made six appearances (one start) down the stretch last season, allowing just nine hits and two earned runs over 13.2 innings of work while striking out 16.
He has the stuff to be a future ace, and he'll get to go up against the reigning champs to kick things off this season, opposite Ryan Vogelsong.
Prediction
I don't think he'll quite be Matt Harvey impressive (7 IP, 1 H, 10 K), but I expect Miller to come out of the gates with a terrific debut.
He'll be motivated to prove he's ready to take on a bigger role, and we'll say six shutout innings with seven strikeouts for the NL Rookie of the Year candidate.
Cardinals 4, Giants 1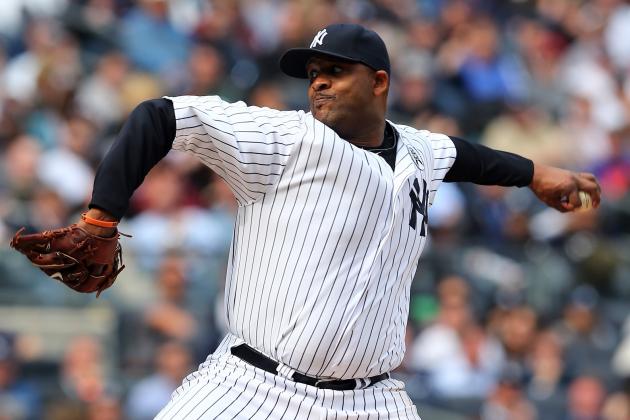 Elsa/Getty Images

Storyline
A nationally televised game that will air on TBS, both teams have their rotations rolling back over as CC Sabathia will square off against Justin Verlander.
Sabathia struggled in the opener as his velocity was notably down, and he'll be looking to prove that was a fluke. He'll have his hands full though with Verlander and a potent Tigers lineup.
The Yankees have kicked off their season with a pair of losses to the Red Sox, and we all know how quickly New York tends to press the panic button, so this could be hailed as a must-win if they lose a few more between now and then.
Prediction
There's nothing to the diminished velocity Sabathia showed in the opener, as he and Verlander match each other inning for inning in a good old-fashioned pitcher's duel.
The Tigers manage to chase Sabathia in the eighth, scratching across a pair of runs to come away with the victory as Verlander tosses a complete game shutout.
Tigers 2, Yankees 0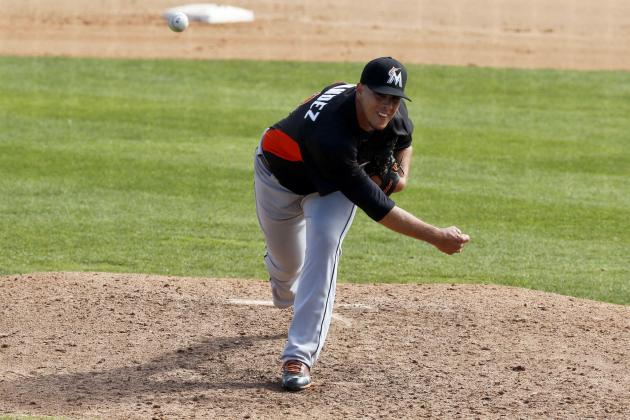 Derick Hingle-USA TODAY Sports

Storyline
The Marlins aren't going to fall into the category of "must-watch" very often this season, but the debut of 20-year-old Jose Fernandez is worth tuning into.
A surprise addition to the Opening Day roster following injuries to Nathan Eovaldi and Henderson Alvarez, Fernandez has not thrown a pitch above High Single-A to this point in his career.
That said, he absolutely dominated at that level in his first full pro season last year, going 14-1 with a 1.75 ERA and 158 strikeouts in 134 innings.
All signs point to him sticking in the Miami rotation provided he pitches well enough, and getting things started with a strong outing would help.
Prediction
The Marlins have nothing to play for this season, so they're going to be plenty careful with Fernandez, at least in the early going.
I'll say he goes five solid innings, allowing a pair of runs on a home run to Ike Davis, and leaves after 80-plus pitches with his team trailing 2-1.
The offense scratches across a run to give him a no decision, but the Mets come out on top.
Mets 5, Marlins 2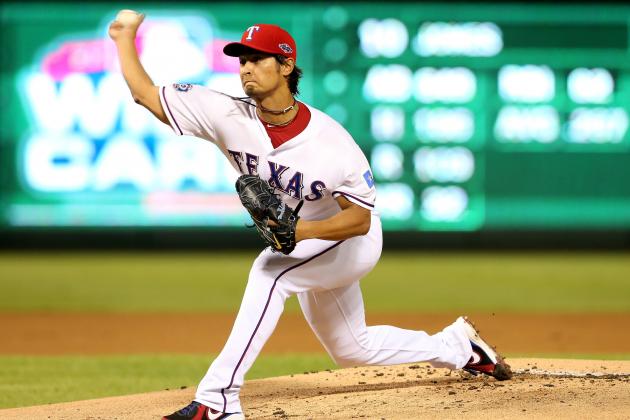 Ronald Martinez/Getty Images

Storyline
I know, I already have the first game from this series on here, but this one also qualifies as a must-watch as Yu Darvish will take the mound for his second start of the season following his near-perfect game last time out.
Darvish threw 8.2 innings of perfect ball at the Astros on Tuesday before Houston shortstop Marwin Gonzalez broke things up with a single up the middle.
Granted it was against the Astros, but the outing was impressive nonetheless as he struck out 14 and needed just 111 pitches to do it.
Taking the mound for the Angels will be ace Jered Weaver, in what will be as good a matchup as you'll find so far this season.
Prediction
Darvish is solid, but nowhere near perfect while facing a lineup that contains actual hitters. Josh Hamilton makes up for a rough first two games to the series when he crushes a three-run homer off the Rangers' ace.
Darvish is chased in the sixth, and the Angels continue to pile it on against the Texas bullpen as they avoid the series sweep with a big win.
Angels 7, Rangers 1