The Top 10 Wide Receivers the Vikings Should Select on Draft Day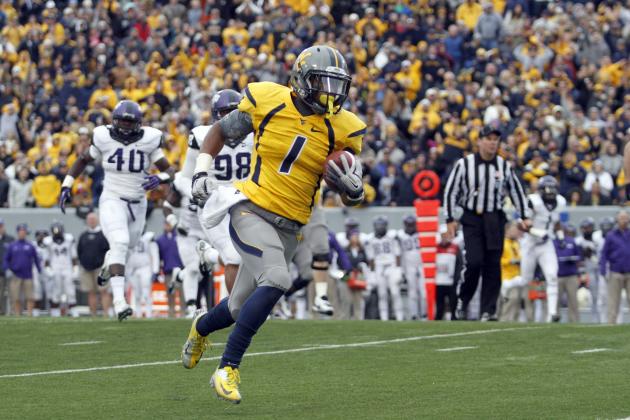 Justin K. Aller/Getty Images

Let's face facts. The Minnesota Vikings need to improve their passing attack in 2013 if they hope to make a deeper run into the playoffs.
Hampered by Percy Harvin's injury and a sub-par receiving core, the Vikings ranked 31st overall through the air (via NFL.com).
That's worse than the Arizona Cardinals and New York Jets passing games—which were widely recognized as two of the worst aerial attacks to come along in a while.
But there is light at the end of the tunnel. The Vikings went out and signed big-time free agent wideout Greg Jennings to a five-year, $47 million dollar contract.
With the addition of Jennings and the development of tight-end Kyle Rudolph, the Vikings have been focused on improving their dismal aerial attack in 2013.
So what's the last piece to the puzzle? It's utilizing one of their draft picks in April and selecting a talented, young wide receiving prospect that can help set the offense ablaze.
Start the slideshow and check out the rankings for each receiver the Vikings should take in the upcoming draft.
Begin Slideshow

»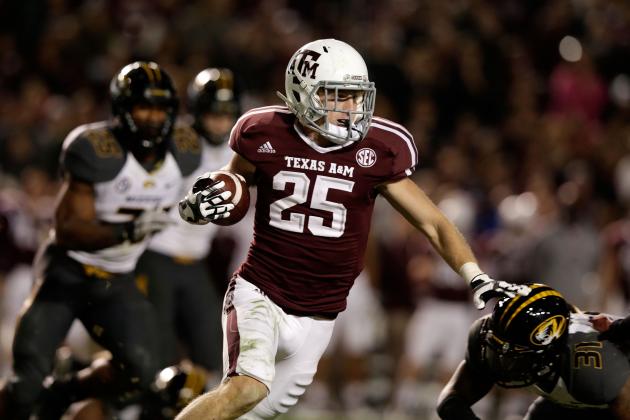 Scott Halleran/Getty Images

Ryan Swope out of Texas A&M is an interesting prospect for the Vikings.
A quality football player that doesn't possess a flashy skill set, Swope has the prototypical build and lateral movements to become a prolific slot receiver in the NFL.
Although he doesn't have breakaway speed, what makes Ryan Swope such an interesting option for Minnesota is that he has always been a model of consistency and has a tremendous work ethic.
While the Vikings could benefit from Swope's presence on the field, the combination of having Jarius Wright on their roster and the limited upside of Swope as a playmaker could stop them from selecting this Texas A&M product.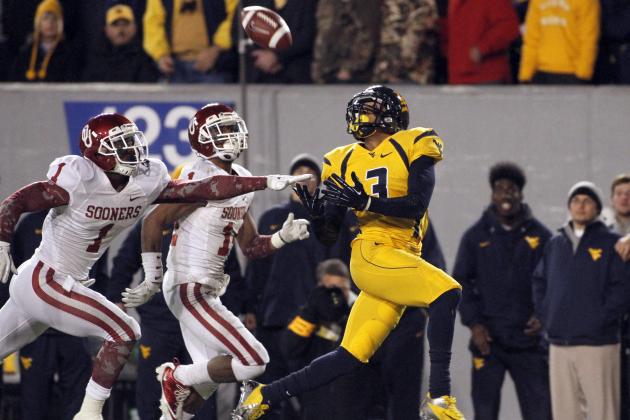 Justin K. Aller/Getty Images

Former West Virginia stand out Stedman Bailey is climbing up a lot of draft boards thanks to his soft hands and outstanding route running ability.
During this evaluation process, the 5'10", 188-pound receiver has been ragged on for his lack of explosive athleticism. But when you factor everything else in, Bailey has all the makings to be a quality target for quarterbacks in this league.
On tape what stands out most about Bailey is his ability to catch passes in tight spaces and make great reads on balls thrown over his shoulder.
Having caught 114 passes during his 2012 campaign at West Virginia, Bailey has proven that he can be a consistent threat on every snap, which is something the Vikings would benefit from.
With his ability to line up as the two or even in the slot, Stedman Bailey would be a welcome addition to the Vikings' roster in 2013.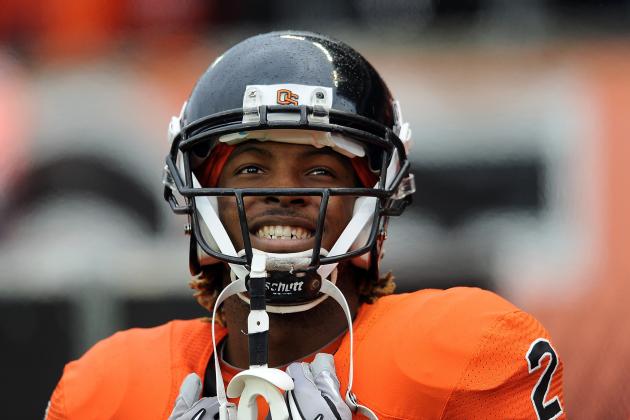 Steve Dykes/Getty Images

Markus Wheaton is one of the most intriguing receivers in April's draft.
With a 4.44 pre-combine 40-yard dash behind him, the 6'1" former Oregon State star has shown scouts that he can be a big play threat on Sundays.
Stretching the field is something the Vikings drastically need to improve on in 2013, and Wheaton looks like he can help right away in that department.
Another interesting factor Wheaton brings to the table is his ability to be involved in the rushing attack.
While at Oregon State, Wheaton was used on fly-sweeps and end-arounds thanks to his elite speed and shiftiness.
If the Vikings are looking to add a guy who can make defenses sweat and stretch the ball downfield, Markus Wheaton would be a nice addition.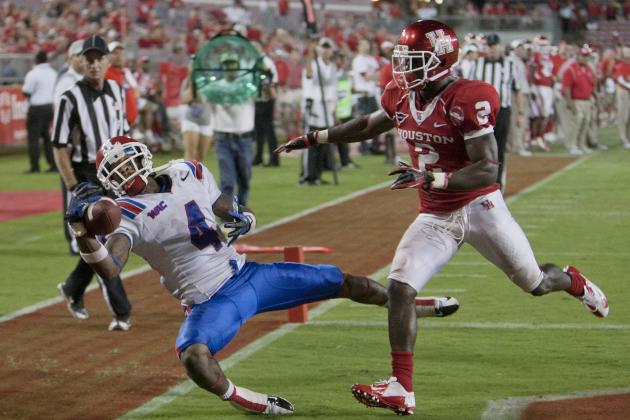 Bob Levey/Getty Images

Quinton Patton is another name that has been creeping up draft boards as of late.
Patton, the former Louisiana Tech product, has been projected to go anywhere from the late first round to early round three in April's draft.
So what's the reason Patton has been climbing so many boards? Simple, it's his football smarts and ability to make big plays that stand out most.
He's a gifted route runner with great vision when he touches the ball. Patton's ability to also run block is a huge reason the Vikings should consider selecting him in the draft.
While the Vikings offense has to improve their passing attack, it's no secret that it always runs through Adrian Peterson. Having a receiver who can seal the edge and block downfield will benefit Adrian Peterson as well as Christian Ponder.
The knocks on Patton have been that he can't be anything more than a possession guy who will struggle if he is asked to become more then a second option in the offense.
But that's what the scouts are for. If the Vikings feel like Patton fits the bill, his blocking ability mixed with his football smarts would make him a solid addition to the team.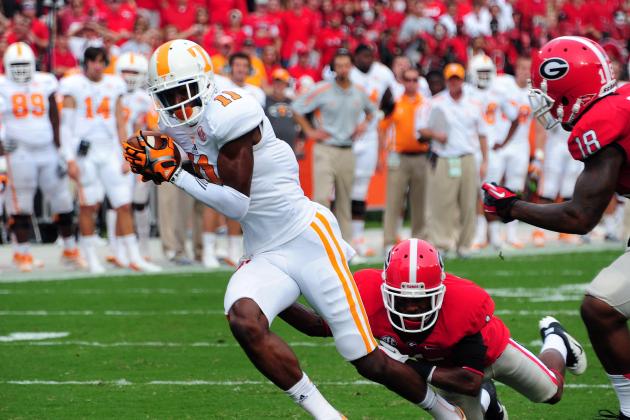 Scott Cunningham/Getty Images

Justin Hunter is the sexiest prospect the Vikings can go after on draft day.
Standing at a massive 6'4", it's clear that Hunter is a freak athletically.
With great speed, having soft hands and being impressive in jump ball situations, Justin Hunter would add an element to the Vikings passing attack unseen since the days of Randy Moss.
Just like Moss, Hunter has a lean build which sometimes hampers his ability to stay healthy.
But the biggest knock on Hunter isn't injury concerns. It's that he is extremely unpolished and can get emotional at times.
Whether it's his poor body language or mental state, Hunter seems to check out on plays, which doesn't bode well for the team that drafts him.
If the Vikings take a chance on the size, speed and potential of Justin Hunter, then they will need to make sure that he is committed to improving and playing hard everyday.
He is a tremendous risk-reward player, but hey, so was Randy Moss.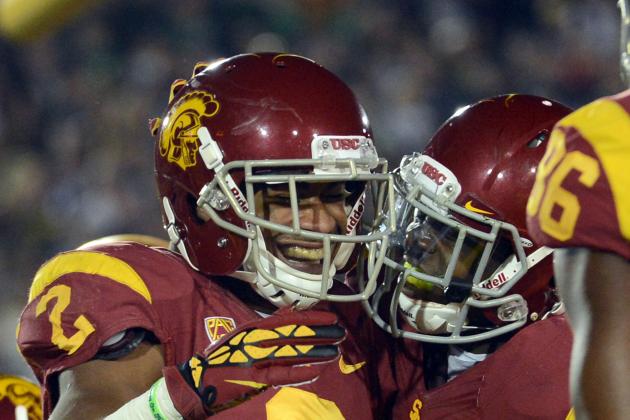 Harry How/Getty Images

Robert Woods' name has gotten lost in the pre-draft conversation when it comes to wide receivers. With guys like Cordarrelle Patterson, DeAndre Hopkins and other names being floated around, Woods has fallen off the radar for most scouts.
Standing at 6'1", Woods has been criticized for being too small to become a legitimate number two receiver in this league.
But to his credit, Woods has already improved his game. Coming off a great combine and an even better pro day (watch this catch), Robert Woods has impressed Vikings' wide receivers coach George Stewart
With great hands, tremendous character and the ability to run consistent, quality routes, Robert Woods has all the makings to become an excellent option for the Vikings passing attack.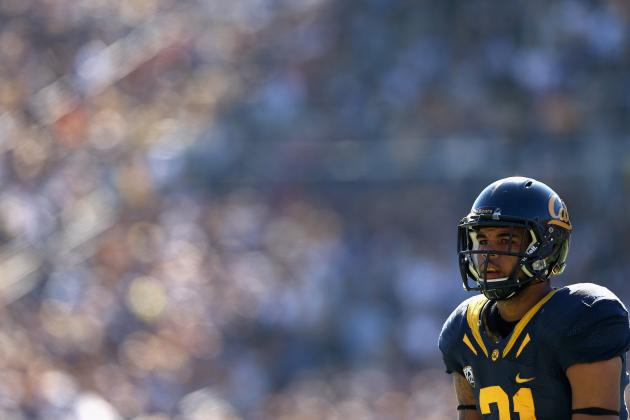 Ezra Shaw/Getty Images

Keenan Allen, the 6'2" product out of Cal, has been falling down draft boards as of late.
Hampered by a lingering hamstring issue and a knee problem, Allen did not work out at his pro day.
With injury always being a major concern when drafting a player, Allen will need to impress at a private workout before the draft if he hopes to be selected in the first round.
If Allen can overcome this minor setback and impress Vikings' scouts, he could be a nice pick up come draft day.
Being one of the most versatile and athletic receivers in the draft, Allen carries that Percy Harvin vibe with him.
Sure, Harvin is a bit faster, but both men are similar in the way that they can do major damage with the ball in their hands.
If the Vikings take him, look for Allen to be used a lot in the return game and ground game on top of his role in the passing attack.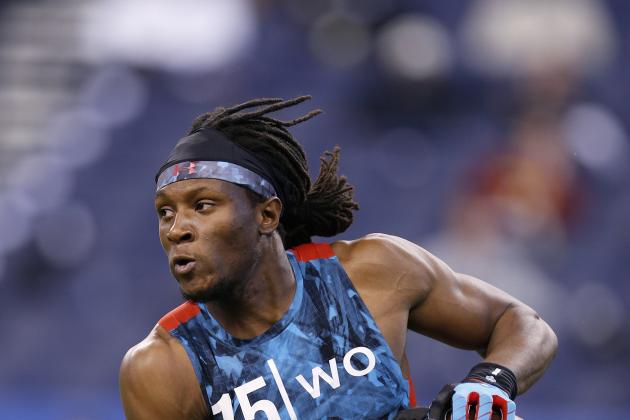 Joe Robbins/Getty Images

There's not much else to say except that DeAndre Hopkins out of Clemson would be a great pick for the Vikings.
Similar to Reggie Wayne, Hopkins may not be the biggest or fastest guy on the field, but his football smarts and ability to deceive defenders with his routes makes him extremely tough to stop.
A guy most scouts are high on, Hopkins could end up being the best receiver taken in April's draft down the line.
Adding a guy like this to the Vikings aerial attack would pay off huge dividends for Christian Ponder and company.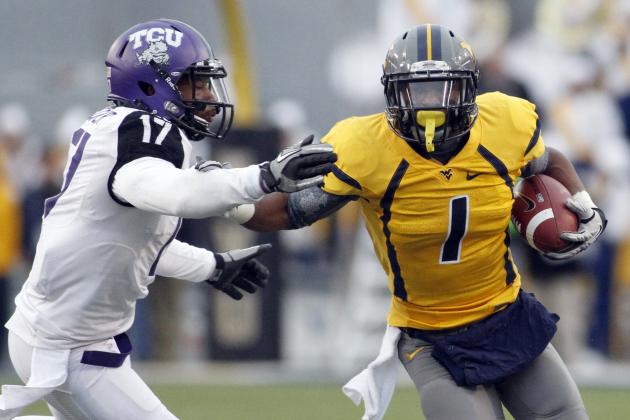 Justin K. Aller/Getty Images

Tavon Austin, the former West Virginia product, is one of the hottest names on draft boards this year.
A versatile player with blazing speed, Austin has a chance to be something special in the NFL.
The most gifted athlete of the 2013 receiving class, Austin is loaded with a shock and awe skill set. From his explosive lateral movements to his ability to plant his foot in the ground and change direction on a dime, this kid is a unique talent.
Being compared to Percy Harvin by a lot of scouts, most Vikings fans would be thrilled to see Austin throw on a purple uniform and replace Harvin from the get go.
While the Vikings' scouts will have to break down how durable and explosive Austin truly is, the reward of drafting him heavily outweighs the risk.
The Vikings would be wise to pick Tavon Austin if he falls to Minnesota in the first round.
A rare triple-threat commodity, Tavon Austin has a chance to really help the Vikings improve as a franchise.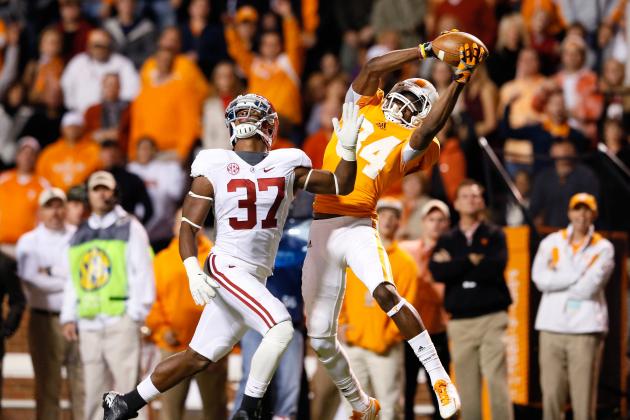 Kevin C. Cox/Getty Images

Look, there's no getting around it. Former Tennessee wideout Cordarrelle Patterson is incredibly talented.
Drawing comparisons to Atlanta Falcons' wide receiver Julio Jones, Patterson should be the first receiver taken in April's draft.
He's a fluid athlete with tremendous release and burst off the line of scrimmage. A confident player, Patterson runs with the ball in his hands like no one can stop him.
Aggressive, smart and immensely skilled, Cordarrelle Patterson has all the makings to become an elite NFL receiver.
If the Vikings want to take a guy who could potentially be a star player, Patterson should be their first pick.