WWE WrestleMania 29: How 10 Superstars Will Fare in Their Big Stage Debut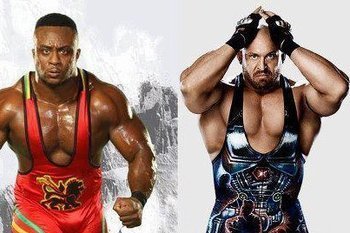 How will Ryback and Big E Langston fare in their WrestleMania debuts? (photo courtesy of facebook.com)
WrestleMania 29 will feature a mix of veteran Superstars as well as those making their debut on the big stage. Although some WWE fans may criticize the company for not pushing the younger talent, ten Superstars will be making their WrestleMania debut this year.
Only one, Big E. Langston will be challenging for a championship, but The Shield will attempt to continue its' dominance against three top Superstars in WWE.
How will each fare in their first match at the show of shows?
Here I will break down each Superstar's chances in their first WrestleMania match and any special moments fans should expect from him, her or them.
Damien Sandow
photo courtesy of wwe.com
The Intellectual Savior of the Masses will be making his WrestleMania debut alongside his best friend Cody Rhodes.
Sandow has impressed the WWE Universe with his incredible mic skills, but Team Rhodes Scholars have been demoted.
Instead of winning the tag team titles from Team Hell No as early as Royal Rumble, Sandow and Rhodes will be facing Tons of Funk in a meaningless eight-person tag match at the show of shows.
Hopefully, Sandow will be given some time on the mic prior to the match. Unfortunately for Sandow, I don't see his team winning the match.
How will he fare in his big stage debut? Impressive mic work, but a loss in his match.
Ryback

Ryback and Mark Henry compete in a bench press competition.

Ryback has developed into a top babyface in WWE and in strong need of a WrestleMania moment.
After plans with Big Show didn't come to fruition, Ryback will now face another monster in the company, Mark Henry. Ryback should do very well in his WrestleMania debut and beyond.
After WrestleMania, Ryback could receive another push to challenge for the WWE title. When The Rock leaves WWE for Hollywood again, it leaves the company without a big star in the title picture.
However, the only way Ryback could enter a feud with John Cena or whomever the World Champion is, is if he wins at WrestleMania.
How will he fare in his big stage debut? Ryback will have his WrestleMania moment when he delivers Shell Shocked to Mark Henry and wins the match.
Funkadactyls

Funkadactyls vs. Bella Twins

The Funkadactyls, Cameron and Naomi, will be making their WrestleMania debut in the aforementioned eight-person tag match.
Some credit must go to the Funkadactyls as they have been receiving more focus and attention than the Divas champion. Cameron and Naomi began the gimmick by just dancing with Brodus Clay without getting involved in matches.
When the Bella Twins returned to WWE, it gave the Funkadactyls another pair of Divas to feud with. The men in the match may be involved with the majority of the match, but expect the Funkadactyls and Bella Twins to have their moments.
How will they fare in their big stage debut? They will have some sort of WrestleMania moment against the Bella Twins and their team will win the match.
Fandango

Fandango attacks Chris Jericho

After weeks of teased matches against the likes of Kofi Kingston and Justin Gabriel, Fandango will finally make his wrestling debut at WrestleMania against Chris Jericho.
Some WWE fans may see this as an insult to Jericho, but Fandango has actually been quite impressive in his promos. Plus, his leg drop from the top rope will surely be a sight to see at MetLife Stadium.
When speaking with various wrestling fans, people seem to be split on who will win this match. However, everyone agrees that Fandango will be the last man standing. If he wins, he will clearly be the one standing. If he loses the match, expect Fandango to attack Chris Jericho and send him off WWE TV for the next Fozzy tour.
How will he fare in his big stage debut? Win or lose, Fandango will be dancing all over Jericho when the match is over.
The Shield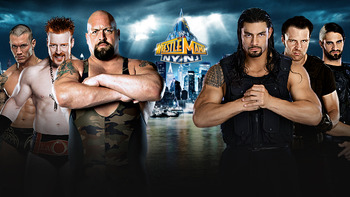 photo courtesy of wwe.com
Dean Ambrose, Roman Reigns and Seth Rollins will all be making their WrestleMania debuts against the team of Randy Orton, Sheamus and Big Show.
The Shield has been impressive since debuting at Survivor Series and has yet to be defeated as a team. At the show of shows, expect each Superstar to have some sort of moment.
Roman Reigns will likely powerbomb Big Show, but he may need Rollins and Ambrose's help. Rollins will take some sort of serious bump during the match, similar to his bump at WWE TLC 2012. Finally, Ambrose needs to have a WrestleMania moment, but his strengths have come on the mic. Perhaps Ambrose will deliver a pipebomb of his own.
How will they fare in their big stage debut? Each will have his moment and they will win the match.
Big E. Langston

Langston attacks Kane and Bryan

Big E. Langston will not only be making his WrestleMania debut, but his main roster in-ring debut as well. It will be in the WWE Tag Team Title match along with Dolph Ziggler.
Langston has been acting as Ziggler and AJ Lee's bodyguard since making his main roster debut, but he really should win this match. Langston and Ziggler don't necessarily need to win the titles, but they could still win the match by disqualification.
Either way, Langston was very impressive the way he manhandled Kane recently. We should expect to see a similar situation at WrestleMania.
How will he fare in his big stage debut? Win or lose, Langston will have a WrestleMania moment involving Kane.
Brodus Clay

Brodus Clay and Tensai's dance off that leads to their tag team.

Brodus Clay is the fourth Superstar on this list involved in the eight-person tag match involving Tons of Funk and Team Rhodes Scholars.
Clay's direction has not always been clear, but thanks to Sweet T (Tensai), a tag team title reign could be in the Funkasaurus' future.
Clay's dancing before and after matches have been entertaining for the young audience members. WrestleMania is all about entertainment, which is why Tons of Funk should win.
Either way though, expect Brodus Clay to lead a huge dance party at the conclusion of the match. Last year, Clay danced at WrestleMania 28, but did not have a match.
How will he fare in his big stage debut? Brodus Clay will lead a WrestleMania level dance party after the match.
How do you think these 10 Superstars will fare in their WrestleMania debuts? Please share your thoughts in the comment section below.
For live coverage at WrestleMania, Axxess, Hall of Fame and Raw be sure to follow me on Twitter (@sethgutt). Check out my site guttwrenchpowerblog.com.
Like GuTTWrenchPowerBlog on Facebook here.
Keep Reading