Minnesota Vikings 2013 Draft: Full 7-Round Mock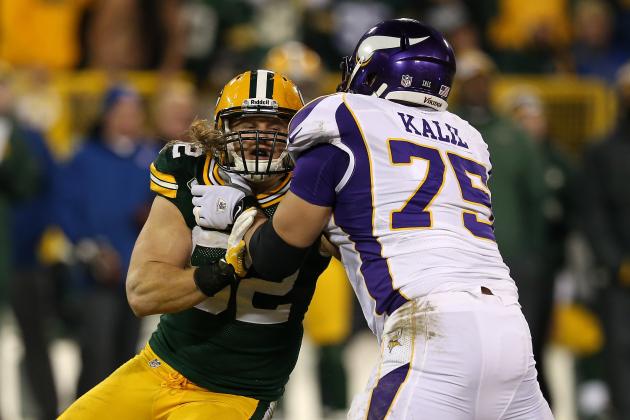 Jonathan Daniel/Getty Images
Can the Vikings hit paydirt again in Round 1?
What an exciting time of year for Minnesota Vikings fans everywhere.
The Vikings surprised many last year by making the playoffs, but as many NFL fans can attest, that could be a blessing or a curse. As we all await to see how it will play out this season, the Vikings go into the 2013 season with high hopes.
First things first, however.
Free agency brought the Vikings a nice addition in former Packers receiver Greg Jennings, who should be a pivotal part of the offense. You don't offer a guy nearly $50 million to be eye candy or a distraction so Adrian Peterson can run the ball.
The question remains of how aggressive the Vikings will be in adding another receiver to the mix via the draft, so here are my opinions and predictions for the Vikings' upcoming draft.
Begin Slideshow

»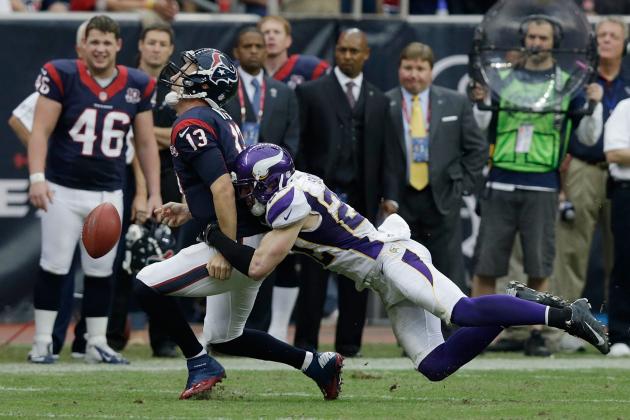 Scott Halleran/Getty Images

Let's look at the positions of priority for the Vikings—MLB, DT, WR, CB, OLB, OG and S. These needs are also closely aligned with DraftTek.com and other football outlets.
Here are the Vikings' current roster players for each aforementioned position.
MLB: Audie Cole, Tyrone McKenzie
DT: Kevin Williams, Letroy Guion, Fred Evans, Christian Ballard (but at 283 is DE weight)
WR: Greg Jennings, Jerome Simpson, Jarius Wright, Stephen Burton, Greg Childs (IR)
CB: Chris Cook, Josh Robinson, A.J. Jefferson, Brandon Burton, Marcus Sherels
OLB: Chad Greenway, Erin Henderson, Marvin Mitchell, Larry Dean
OG: Charlie Johnson, Brandon Fusco, Seth Allen (newly signed), DeMarcus Love
S: Harrison Smith, Mistral Raymond, Jamarca Sanford, Andrew Sendejo, Robert Blanton
By looking at those names, it's safe to say that the Vikings must address the MLB position as a priority.
Playing general manager Rick Spielman, I would seriously consider selling the 25th pick in the first round in order to gain additional middle-round picks. Unfortunately, with a draft that has quality depth, it does not make for a seller's market, so the Vikings may find it tough to find a suitor if they want to trade there.
I am not going to speculate one way or the other, but giving up pick No. 25 for another third-, fourth- and second-round pick next year would be pretty good bartering.
The problem with this mock draft it that, as most mock drafts go, the picks could go a number of ways, and not just with players, but with positions as well.
If Tavon Austin falls to No. 23 and the Vikings select him, then all bets are off after that.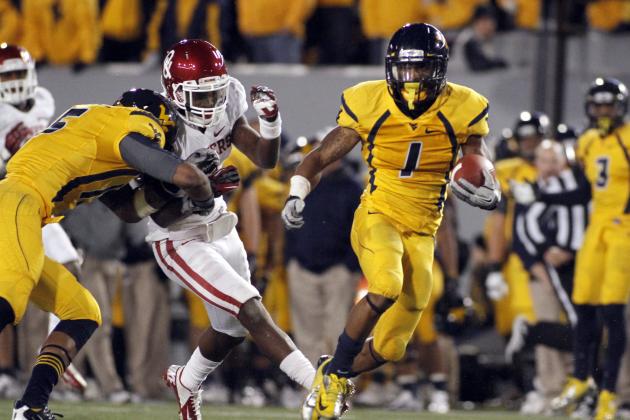 Justin K. Aller/Getty Images
Will Austin be there at No. 23, and if so, will the Vikings select him?
To keep or not to keep both first-round selections becomes the great question of the day.
Here is something to consider. If you look at various mock drafts, you will see predictions are all over the place, and that means two things: 1) Teams have certain needs, but there may not be the caliber of player they desire when they pick, so they go with the next best option, or 2) there are several players they like, so they simply toss a coin.
It would be great if the Vikings had three third-rounders, three fourth-rounders and three fifth-rounders, but they don't. They could if they make some trades, but it seems unlikely.
This article will stay true to the current picks as of the date of this article.
Pick 23: With MLB being a priority, the following players are considered first-round talent.
Alec Ogletree (Georgia), Manti Te'o (Notre Dame) and Kevin Minter (LSU). Of the three, I feel Ogletree may be there due to off-the-field issues, so do the Vikings overlook that? The Vikings, historically, have had issues with players and DUIs, so it would seem likely they would pass on Ogletree if he were available.
Several teams, along with the Vikings, have a need at MLB, namely the Giants, Bills, Bengals, Chiefs, Colts and Titans. The question is whether these teams have higher needs than MLB, and whether they sign free agents between now and April 25.
Most have the Bills taking a QB, OT or DE; the Bears an OLB, OL or TE; the Chiefs an OT or DT; the Bengals a BPA; and the Giants a DE or ILB. So, there is a very good chance that at least one of the three mentioned above will be there at No. 23.
The Vikings could also look at one of the top DTs at this spot as well, but when you have two ILBs on the roster, it's pretty obvious.
It's safe to say that Kawann Short (Purdue), Sylvester Williams (UNC), Sheldon Richardson (Missouri) and Johnathan Hankins (Ohio State) may all be there at No. 23. Even if three are there, the Vikings can wait to No. 25 to get one of them and go for a player at another position like WR.
Speaking of WR, if Tavon Austin makes it to this point, the Vikings would be hard-pressed not to take him.
The Colts sit at No. 24, and word has it they are in the market for an MLB and/or WR, so it could get tricky. I know many Vikings fans are clamoring for a WR here, but with the addition of Jennings, it mitigates the absolute need at this point.
Patience—there are plenty of good receivers that will be available in Rounds 2-4.
Bold prediction: The Jets take Austin or maybe Tyler Eifert at No. 9.
Prediction: Manti Te'o, Notre Dame. I want to say Minter here, but lately, the Vikings have had a predilection for Notre Dame players, so the trend continues. Te'o brings an energy the Vikings have needed since Scott Studwell, and wouldn't it be great if Te'o had a career like that? Bottom line: The guy knows how to play the game, has great instincts and could step in as a starter.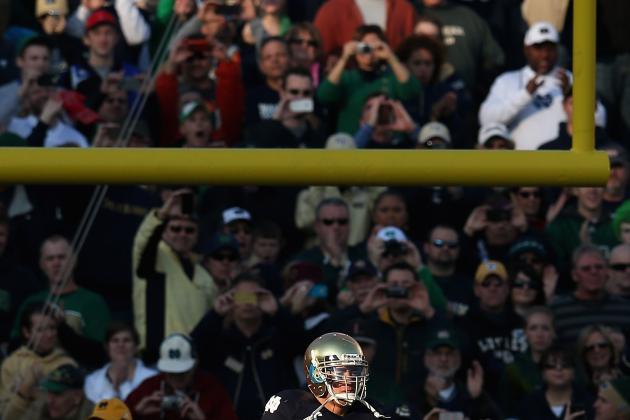 Jonathan Daniel/Getty Images
What is Te'o's real draft value?
I am going to make a bold prediction. Invariably, someone is bound to draft West Virginia quarterback Geno Smith, but with the Raiders trading for Matt Flynn, Carson Palmer going to Arizona and the Bills signing Kevin Kolb, it is possible that Smith could slide.
This would be a great position for the Vikings to trade back and allow someone to move up and take Smith here. Ultimately, I do not see that happening, but you never know.
Pick 25: If the Vikings go MLB at No. 23, it would make sense to go DT or WR, but which way?
Again, I feel strongly the Vikings will try and trade back, but if they keep this pick, I think it depends on which WR is here.
There are four receivers with first-round talent: Cordarelle Patterson, (Tennessee), Tavon Austin (WVU), Keenan Allen (Cal) and DeAndre Hopkins (Clemson).
It is possible that Patterson and Austin will be gone, but if it comes down to Allen and Hopkins, both would be solid picks. Allen and Hopkins possess speed to go deep, but if the Vikings believe that Simpson will step up, it is unlikely they will choose a receiver here.
If it is Allen and Hopkins, the more polished of the two is Allen, but Hopkins has more upside.
Depending on which DTs are available, or who the Vikings feel best fits their scheme, DT is also a possibility.
With four defensive tackles on the roster, it would be easy to push this position to the second round, and with a deep pool at this position, it seems pretty likely. However, there are a few guys that are clearly more talented than others.
Two thoughts: The Vikings could go real big here and look at Hankins of Ohio State pulling in at 320 pounds, or they can go for a guy that may be a mirror of Kevin Williams with good size, speed and a penchant to rush the pocket in Sylvester Williams of UNC.
Prediction: Johnathan Hankins, 6'3", 320 pounds, DT, Ohio State
With Guion and Evans rotating, and Ballard now around 283 pounds, the Vikings need some real girth in the middle. Williams can still get it done, and if the Vikings are hard-pressed, they can still grab another DT in the third or fourth rounds.
This is a wild-card pick because if the Vikings trade back, they can still grab a very good DT in Round 2, such as Jesse Williams (6'3", 323 pounds) from Alabama, or Brandon Williams (6'1", 341 pounds) of Missouri Southern. Maybe even Jonathan Jenkins (6'3", 358 pounds) from Georgia might be there as well. This is a deep position, so no need to panic here.
Notables: LB Kevin Minter (LSU) or DT Sylvester Williams (UNC)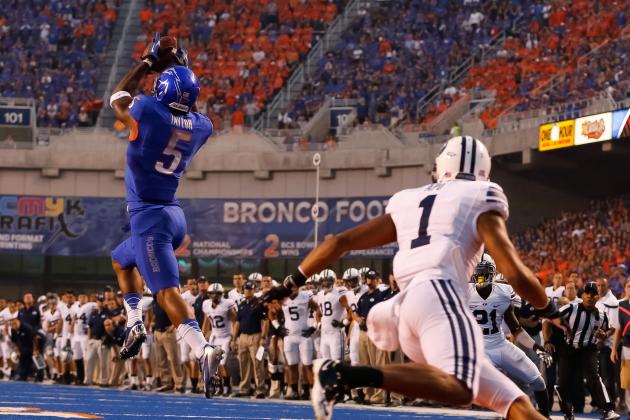 Otto Kitsinger III/Getty Images

Here is where things get interesting.
By now, the Vikings should have addressed the middle of their defense at MLB and DT. Do they turn their attention to the offense now for a WR, or stay with defense and consider cornerback or safety?
Honestly, I do not believe the Vikings will select a safety here. With the re-signing of Jamarca Sanford and having decent depth with Mistral Raymond and Robert Blanton, the Vikings are not hard-pressed to select one unless a stud drops into their lap.
I am thinking the Vikings will look at WR or CB.
Each year, there is much talk about this player or that player climbing the boards in April, just a few weeks from the draft. I do not buy into that because it comes back to haunt teams more than help them.
I know many of you are screaming wide receiver here, but the top guys are gone and now it's time to wait until Round 3 to grab a possible sleeper. Besides, what if Childs is ready come camp time?
Prediction: Jamar Taylor, CB, Boise State
Taylor, at 5'11", 192 pounds, ran a 4.39 40-yard dash, put up 22 reps at 225 pounds and finished with a 4.06 shuttle time at the NFL Scouting Combine. Taylor is a solid corner who is comfortable in man coverage. With his quickness and speed, he would be a welcome addition.
Taylor has great straight-line speed but can be prone to giving up too much space if not in man-press. He is a good tackler who is not afraid to stick his nose in there but can occasionally get caught with his head down, so that is something he will have to work on, and given the new rules, he will undoubtedly be forced to do that.
Exception: If Winfield returns, look for the Vikings to push this position to Round 3 or 4.
Notables: CB Blidi Wreh-Wilson (UConn). Big, fast, zone-type DB could also figure in the mix.
CB Darius Slay (Mississippi State). A 4.36-40 time at the combine helped his stock, and playing across from Banks, Slay had to deal with man-to-man a lot and acquitted himself well.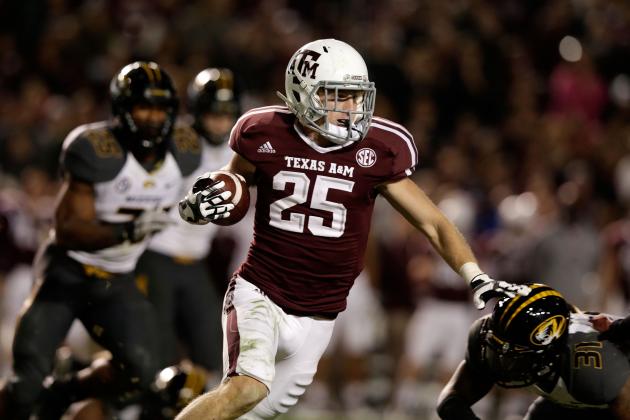 Scott Halleran/Getty Images

OK, the yelling can stop; the Vikings look at WR here.
If the Vikings grab a receiver in Rounds 1 or 2, they could look at corner here, but since I have corner in the second, this position is on the intermediate needs list.
Given the depth I pointed out earlier, it may not appear as though the Vikings are as desperate as once thought. Jennings is a great addition and if Simpson does develop as the SE receiver, then that is considerable punch, but if there are worries, the Vikings will undoubtedly look to receiver here.
Prediction: Ryan Swope of Texas A&M. Swope is fast, strong, built well to handle the middle of the field and played well against elite competition in Alabama, Oklahoma and Mississippi State. His 4.34 40-time, 16 reps at 225 and a 4.21 shuttle shows speed, strength and quickness.
Ideally, the Vikings may want to keep Jarius Wright in the slot where he played late in the year for Percy Harvin, but Wright's speed could be better suited for the outside. Swope could challenge for the SE position, but Swope does most of his damage out of the slot and would be an ideal fit opposite Rudolph to work the middle of the field.
What I like about Swope is his versatility. He reminds me of Danny Amendola but is built more solidly.
Notables: WR Da'Rick Rogers (Tennessee Tech). There is no doubting Rogers' ability, but attitude and work ethic may be issues.
WR Davonte Christopher (Utah). This may be a bit high for Christopher, as he is seen as a possible project given he is a former QB, but he has great straight-line speed and is shifty. At 6'1", 200 pounds, he has the frame for SE. Christopher would be a solid Round 4 selection.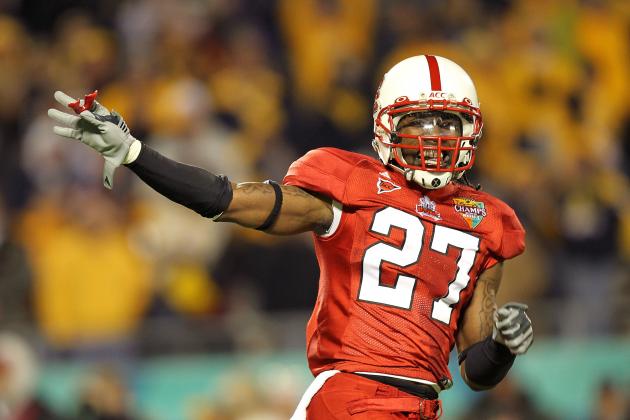 Mike Ehrmann/Getty Images

With all the immediate needs addressed, the Vikings have two picks to play with here. I see this as a sleeper/depth round.
Two positions that could use depth or possible takeovers in a year or two are OLB and S. I think the Vikings would be wise to address both needs in this round.
Pick No. 5 prediction: OLB Sean Porter (Texas A&M). At 6'1", 229 pounds, Porter could look to add weight, but there is no denying his productivity. A&M changed its defense last year, so Porter did not get as many opportunities to make plays in the backfield. Taking over for Von Miller as a junior, Porter had 79 tackles, 17 TFL and 9.5 sacks. His production dipped this past year, but it may have been the scheme. He played well against top competition and good tackles, so if Porter can be put in the right defense, he could be a surprise player.
Pick 23 prediction: S Earl Wolff (NC State). At 6'1", 207 pounds (with a 4.44-40 time), Wolff has great run instincts, and at the East-West Shrine game, he made his presence felt. As a senior, he racked up 119 tackles, one FF and two interceptions. As a junior, he had 105 tackles, three FF and three interceptions, so the productivity is there.
Notables: S Josh Evans (Florida). Evans was a solid piece to Florida's defense. He is considered a good run defender and did well in pass coverage.
OLB Zaviar Gooden (Missouri). Gooden is a specimen, but at 234 pounds, he will need to add to his frame. Some scouts do not believe Gooden played to his athletic ability, so motivation to earn a spot on an NFL roster might be the ticket this young man needs to incentivize him, if you will.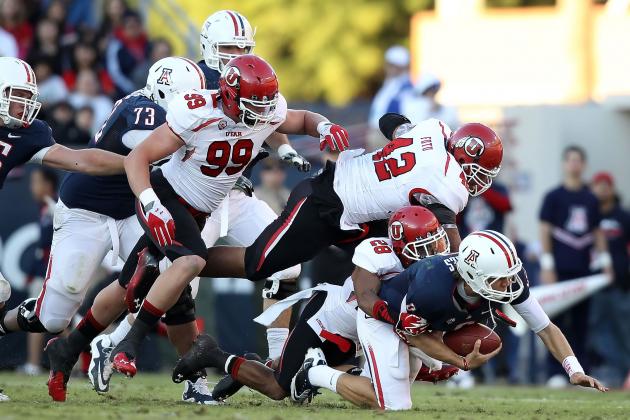 Christian Petersen/Getty Images

Rounds 1 through 4 are potentially immediate contributor rounds, so it is expected that the six picks will, in one way or another, be able to contribute this year, some possibly becoming starters.
So here we are in Round 5. There are many directions the Vikings can go. I have three thoughts: LB again, DE or OG. Here is a breakdown of possible guys at their respective positions that may go here.
LB: Why LB again? If the Vikings do not land MLB in Round 1 with Te'o, Minter or Ogletree, there is a real chance that will be addressed in Round 4 with maybe A.J. Klein (6'1", 250 pounds) out of Iowa State. There are some of you out there who would prefer Klein over Te'o. I cannot completely disagree, but there's a reason Te'o is ranked as a Round 1 guy and Klein is slated to go in Rounds 4-5.
With that said, OLB Jelani Jenkins (6'1", 243 pounds) out of Florida may go here.
DE: Why DE, you say? Well, Jared Allen is 31 and Brian Robison is 29. Not exactly over the hill, but with only Everson Griffen and D'Aundre Reed (mentioning Charles Johnson is a waste of typed space), the Vikings need to think about depth. If Christian Ballard could shed about 10 pounds, he could shift to end, but I am thinking down the road to 2014. Griffen is a FA and will be highly sought after while Allen and Robison will each be a year older.
This is not a great DE draft, but let me throw out two names at you: Wes Horton (6'5", 260 pounds) out of USC and Joe Kruger (6'6", 269 pounds) out of Utah. Both players have potential to get in the mix.
OG: Many fans have been clamoring for the Vikings to take a guard. I have defended the Vikings offensive line with this: "A chain is only as strong as its weakest link."
There is no doubt the interior has not been its strong point, but Adrian Peterson rushed for over 2,000 yards. We just need some depth. So, here are a couple of names: Hugh Thornton (6'3", 320 pounds) out of Illinois and Garrett Gilkey (6'5", 314 pounds) out of Chadron State.
Both players could be solid backups and possibly push for a starting position in a year or two. Hey, they found Fusco and Sullivan in the later rounds, so don't count out the Vikings and their late-round offensive-linemen draft genius.
Prediction: DE Joe Kruger (Utah) Why? If for nothing else, he adds depth. We saw when Allen went out, Griffen came in and did his job, but when Robison went out, it wasn't the same. And has D'Aundre Reed improved since being drafted in 2011? He appeared in six games in 2012 and has zero stats to show for it.
Insurance pick: G Garrett Gilkey (Chadron State). Gilkey, despite being from a small school, did very well at the Senior Bowl against better competition and has an NFL body. He played tackle in college, so a move inside is where he is suited best.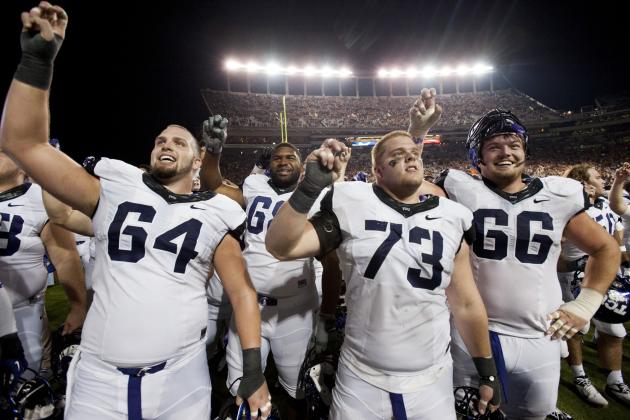 Cooper Neill/Getty Images

Are you still with me? Good, because this is where the fun really lies, the late rounds, and still four picks to go.
OK, here is what we have so far, according to me: MLB, DT, CB, WR, S, OLB and DE. Not bad, but there may be a repeat position picked already, and that will most likely be based on Best Player Available (BPA).
OK, we're in Round 6 now, so let's look at offense, unless the Vikings go that route in Round 5, as my insurance pick suggests.
Positions to consider: OG, CB, WR, RB
G: Basically, one name left for me: Blaize Foltz (6'4", 310 pounds) out of TCU. Very productive player who did well as a run-blocker and pass protector. He has good size and seems adequate at both run- and pass-blocking.
CB: Brandon McGee (5'11", 193 pounds) out of Miami. He is talented but inconsistent (go figure for a corner this late in the draft). McGee could be a standout special teams player to start his career, as indicated with his 4.40-40 time. Several scouting reports have McGee as a late-round sleeper, so the Vikings better not snooze on this one.
WR: I'm not sure this guy will be here because of his size and speed, but Marcus Davis (6'3", 220 pounds) out of Virginia Tech could be a good pick. He is still learning how to play the position, but if he is still here, I would be stunned. Another guy to consider, and sticking with VA Tech, is Davis' battery-mate, Corey Fuller.
At 6'2", 207 pounds (with a 4.43-40 time), Fuller offers better upside than Davis. He is quick, elusive and has the speed necessary to get past DBs. He needs work on his techniques and route running and needs to step up his game in the run game, but Peterson would not waste time filling his ear with kind words about blocking.
RB: What, running back? Well, unless Toby Gerhart enjoys playing here and there, the Vikings will most likely lose the patient, more-than-adequate backup in free agency next year. That is why I want the Vikings to trade him now so they can get value for him, not some supplemental pick in 2015.
With that said, there are three guys here: Marcus Lattimore (6'0", 218 pounds, 4.58-40) out of South Carolina, Rex Burkhead (5'10", 214 pounds, 4.73-40) out of Nebraska and Dennis Johnson (5'9", 213 pounds, 4.54-40) out of Arkansas.
Lattimore: The injury looms large, but at this point, that is not a big risk.
Burkhead: High-quality individual, great character, tough, hard-nosed worker who had nagging injury riddled year.
Johnson: Very productive back who took over for Knile Davis. Solid runner and passer.
Pick: G Blaize Foltz, TCU. It just makes sense at this point if the Vikings have not already addressed this position.
Alternate pick: CB Brandon McGee, Miami. Again, if Winfield does return, the Vikings still need to look at depth here, and McGee could earn his stripes on special teams before challenging as a starter, if ever.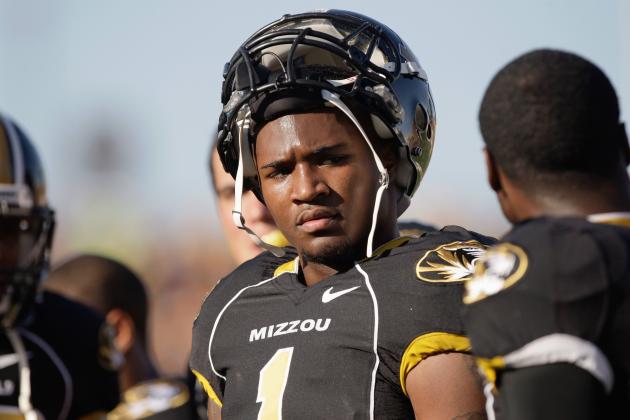 Jamie Squire/Getty Images

At this point, it's basically BPAs and special-teams guys.
For the most part, it's positions that are generally safety, corner and linebacker. So, let's get one each.
Safety: Zeke Motta, Notre Dame. Yeah, I know, guess I have a thing for the Golden Domers as well.
Corner: Kip Edwards (6'1", 200 pounds) out of Missouri or Branden Smith (5'11", 182 pounds, 4.53-40) out of Georgia.
Linebacker: OLB Kenny Tate (6'4", 230 pounds, 4.7-40) out of Maryland. I know, I know...Maryland! Or, OLB Cameron Lawrence (6'3", 240 pounds, 4.7-40) out of Mississippi State.
Well, there you have it. A brief recap looks like this:
MLB, DT, two CBs, two OLBs, WR, two S, G and DE.
The most glaring thing is only three offensive players. There is no doubt the Vikings could look at running back and another wide receiver to add into the mix, but there is some age and impending free agency on the defense that needs to be addressed.
Remember, the draft is not always about this year, but the years ahead, and good GMs and head coaches will always keep the windshield of the future clean and clear so they can see potential speed bumps.
With a smart draft that yields perhaps two starters this year and a few more in the future, plus adding significant depth, the Vikings should be in the conversation for a while...hopefully, right?