Florida Football: Week 3 Spring Practice Stock Report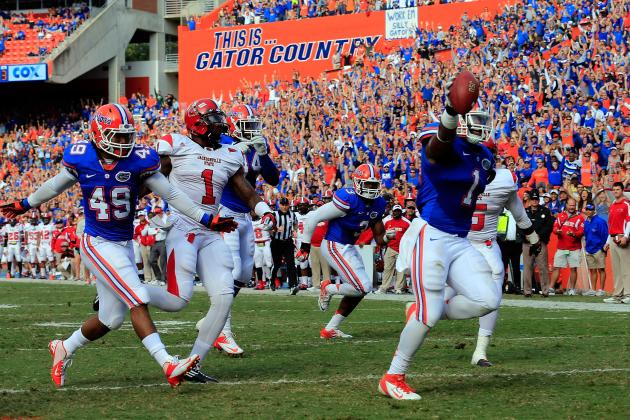 Sam Greenwood/Getty Images

Spring practice for the Florida Gators will draw to a close this Saturday, April 6, at the Swamp. Gator players and staff will then have another short break before summer camp gets underway and things really start to heat up (literally and figuratively).
As the spring schedule draws to a close, some have risen to the occasion during the final days of workouts. Whether it be a freshman trying to make a name for himself or a returning upperclassman adjusting to a new role, someone at nearly every position has stepped up and drawn the attention of Will Muschamp and his fellow coaches.
Others, meanwhile, have left themselves at a disadvantage for the final summer push. Injuries and poor play have taken their toll, forcing a few Gators to pick up their game before the season begins in late August.
For now, however, here is one final look at the biggest risers and fallers of the Gators' spring festivities.
Begin Slideshow

»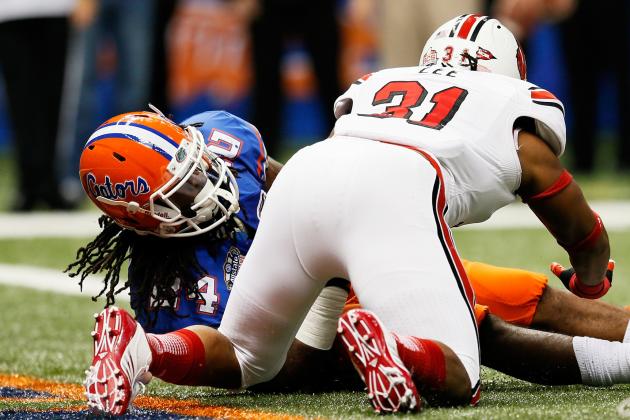 Kevin C. Cox/Getty Images
Jones scores during the Sugar Bowl.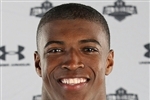 Safety prospect Keanu Neal, photo via 247sports.com
The departures of Josh Evans and Matt Elam have forced new defensive coordinator D.J. Durkin to look for proper replacements during the past few weeks. Unfortunately, no one at the position has performed anywhere near the same level as those two.
Muschamp told the Orlando Sentinel that communication is not the problem. No one has simply been able to make plays with regularity.
Redshirt freshman Marcus Maye has looked the best of anyone thus far. He and the other safeties may also be getting help in the form of cornerback Jaylen Watkins, who will possibly be moved to fill the void.
Freshmen Keanu Neal and Marcell Harris may be potential wild cards in this position battle once they arrive on campus. Both were highly touted recruits and could make the most of the opportunity.
Until they get to Gainesville, however, the safety position will likely remain an issue.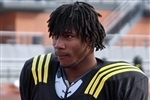 Daniel McMillian, photo via 247sports.com
Speaking of freshmen, Daniel McMillian has made his presence known during the past week. The early-enrolled linebacker's work ethic has been a particularly noticeable trait.
In fact, Muschamp told the Florida Times-Union that McMillian "is the right guy to get coaching" and that he recently found the high school standout watching nearly two hours of film on his own accord.
With Alex Anzalone recovering from surgery, McMillian is taking advantage of his opportunity to stand out among the freshman linebackers. He more than likely will not be a starter once the season begins, but he should still see significant playing time.
If McMillian can continue to show a willingness to learn the playbook and excel on the practice field, he could make a huge impact sooner than many seem to think.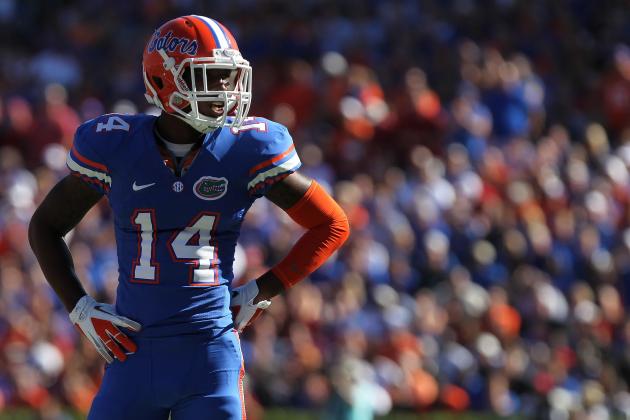 Kim Klement-USA TODAY Sports
Watkins was a valuable defender last season.
I previously mentioned that Jaylen Watkins might be seeing a change of scenery on the field. However, his possible move to safety should by no means be considered a promotion.
In fact, the proposed position transfer is a result of his slide down the depth chart at cornerback.
A starter last season, Watkins now finds himself third among corners, behind both Marcus Roberson and Loucheiz Purifoy. This is especially unsettling because Purifoy has spent an extended amount of time on offense this spring. Simply put, Watkins has struggled in recent days.
With that being said, he is currently the best option on the roster in terms of finding a replacement safety. Perhaps the move will be a favor in disguise for Watkins. The Gator coaches would surely be banking on this because they need the same playmaker that recorded three interceptions last season.
Antonio Morrison is apparently still riding the momentum from his thunderous hit on Florida State quarterback E.J. Manuel this past season. He has progressively improved throughout spring practice, and he looks primed to emerge as an anchor of the Gator defense.
Tight end Kent Taylor can now relate with Manuel. As ESPN's Mike DiRocco reported, Morrison recently clobbered the athletic tight end during a team drill and drew an earful from his head coach.
If Morrison is that physical during practice drills, Gator fans can only hope he will be a one-man wrecking crew during the season.
The loss of both Jelani Jenkins and Jon Bostic is a huge obstacle that Florida will have to overcome. If Morrison continues to assert himself as a heavy hitter and an on-field leader, the Gator linebacking corps can remain a feared unit among SEC defenses.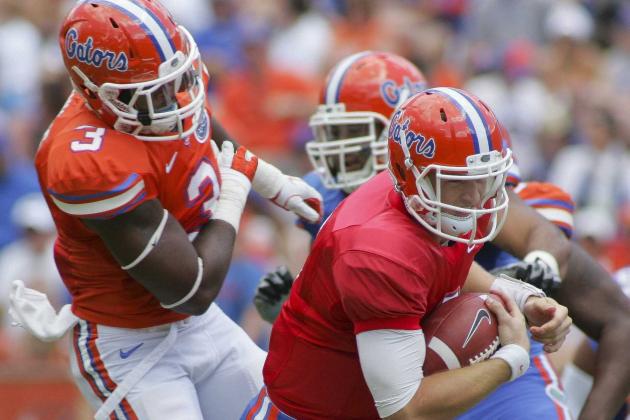 Phil Sears-USA TODAY Sports
Jeff Driskel scrambles during the 2012 spring game.
Actually, I guess it is no longer correct to call the Orange and Blue Debut a spring game. No matter which term you prefer, however, one must admit that the event has lost a significant amount of luster after its emergency format change.
In case you have yet to hear the news, Will Muschamp announced on Tuesday that he and his staff have decided to "cancel" the Gators' annual spring contest. Instead, the team will essentially hold an open practice at Florida Field during which fans will be able to get a first-hand look at the players as they participate in various drills.
With half of Florida's offensive line injured and key players at other positions facing physical maladies of their own, the decision to alter the format of the event is a smart one. There is no good reason to risk further problems by playing a scrimmage that does not count towards anything.
Still, Gator fans were excited to have the opportunity to see their squad in a live-game situation for the first time since a resurgent 2012 campaign. Unfortunately, it looks as though the wait will have to continue.