UFC on Fuel 9: Who's on the Hot Seat on Gegard Mousasi vs. Ilir Latifi Card
Mark J. Rebilas-USA TODAY Sports

UFC on Fuel 9 will go down on Saturday from the Ericsson Globe Arena in Stockholm, Sweden. In a very unfortunate change of plans, the original main event between Alexander Gustafsson and Gegard Mousasi has given way to Mousasi versus injury replacement Ilir Latifi. That change was necessitated when Gustafsson was cut in training and removed from the fight.
The late change shines a spotlight on Mousasi, putting him in the position of being the guy that's supposed to walk right over the unheard-of opponent. You know, no pressure or anything.
Mousasi is not the only fighter on the card that will be facing scrutiny. Some will be in a must-win situation because of their record, while others will be in that spot because of the hype that will accompany them to the Octagon.
What follows are the fighters on the proverbial hot seat heading into Saturday's fight card.
Begin Slideshow

»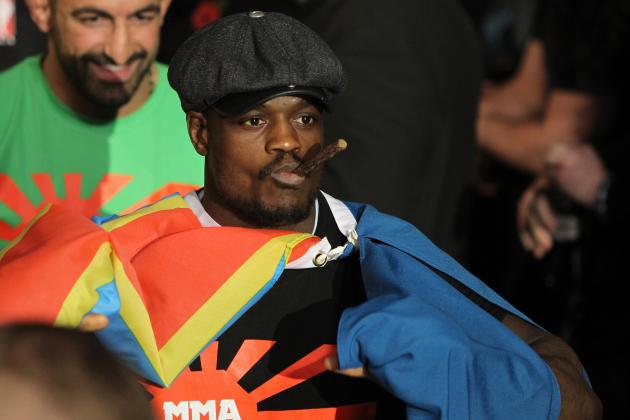 Josh Hedges/Zuffa LLC via Getty Images
When Papy Abedi signed with the UFC he had a record of 8-0, with only one of those fights going to decision. Five of the other seven ended via TKO and the two others were submission victories.
The hype machine was in full effect for Abedi before he sauntered to the Octagon for the first time. And Abedi didn't disappoint when he walked to the cage draped in the flags of Sweden and the Democratic Republic of Congo, while sporting a flat cap with an unlit cigar jammed in his maw.
Three minutes and 32 seconds into his debut fight, fans were left wondering if they had been misled when it came to Abedi. Sure, Abedi looked confident early in the fight, but when his opponent, Thiago Alves, dropped him and teed off from full mount, Abedi gave up his back and quickly tapped to a rear-naked choke.
Perhaps hubris had gotten the better of Abedi in his UFC debut. Maybe stepping in to face a fighter of Alves' caliber was the wrong move for a UFC debut.
A step down in the level of competition in his next fight saw Abedi last a bit longer (4:33 of Round 1), but the fight ended with the same result. In that bout James Head followed the same blueprint that Alves used to earn the rear-naked choke submission.
Entering UFC on Fuel 9, Abedi's back will be against the wall. If he loses his first three fights inside the Octagon, it's doubtful that he'll need a phone call from the UFC to let him know his time with the promotion has come to an end.
Rafael Suanes-USA TODAY Sports

Tom Lawlor is one of the more colorful personalities in the UFC. His weigh-in and fight entrances have always been anticipated and talked-about events. The problem for Lawlor lies in his inability to string together consecutive wins.
Lawlor enters Saturday's card with a UFC record of 4-4, with the last two consecutive wins of his career being his first two bouts in the UFC. Those fights, wins over Kyle Kingsbury and C.B. Dollaway, took place in 2008 and 2009.
Lawlor knows his UFC life is on the line in Sweden, saying (via Yahoo.com):
If I lose this fight, I won't be fighting in the UFC unless it's the most exciting fight in the history of man. And based on my past fight record, that's probably not going to happen. I pretty much have to walk out with a win to keep my job.
Lawlor's last fight was a split-decision loss to Francis Carmont on the pay-per-view portion of UFC 158. On Saturday he will face Michael Kuiper on the Facebook portion of UFC on Fuel 9.
It's funny how the hype machine works in mixed martial arts. Once a fighter gets any type of buzz, they seem to quickly morph into the "next big thing."
Often that buzz is difficult for fighters to live up to.
One fighter making his UFC debut in Sweden is in that situation. Conor McGregor, former Cage Warriors champion in both the lightweight and featherweight divisions, is that fighter.
It would be easy for McGregor to disown the hype that accompanies his UFC debut. After all, many fighters have wilted under the bright lights of the UFC. But McGregor seems to be embracing the talk surrounding his debut. Speaking to ESPN, the 12-2 fighter said, "There's no doubt about it, I'm stealing the show on April 6 in Sweden."
A bold proclamation for sure, but McGregor wasn't done, adding, "I'll be in contention [for Dana White's top-10 favourite fighters]. I'll be in contention!"
It's one thing to have high expectations placed upon you by fans and pundits, but when you take those expectations and raise them up a notch with your own boasts, it puts a spotlight on you—a spotlight that may become very unforgiving if things don't go as well as you expect.
The pressure will be on McGregor to live up to his words on Saturday. If he fails to do so, I'm sure many fans will be there to remind him of those words.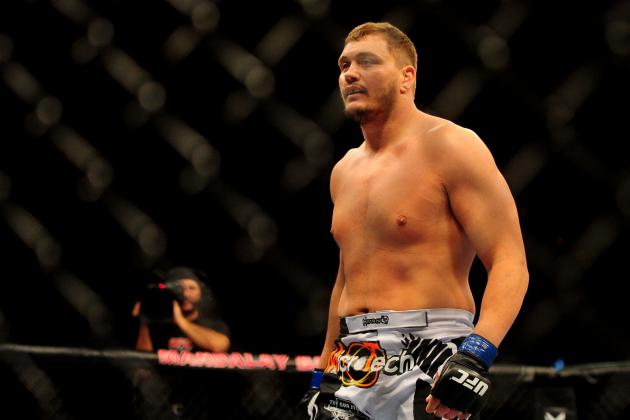 Mark J. Rebilas-USA TODAY Sports

Matt Mitrione is one of those rare fighters that has fought only inside the Octagon. His UFC career started off strong, as the man known as "Meathead" put together a 5-0 run, but things have taken a turn for the worse for Mitrione over the last year-and-a-half.
He dropped a unanimous decision to Cheick Kongo in October 2011 and was then booked to face Philip De Fries, the man he will meet on April 6. The fight is not a rematch, as a somewhat odd string of events caused the bout to be scrapped.
First, Mitrione was asked to face Daniel Cormier in Strikeforce when his original opponent, Frank Mir was injured. Mitrione said, thanks, but no thanks, but how about you give me a bout with Quinton "Rampage" Jackson? The UFC, having booked Mitrione to face De Fries, did not accommodate that request.
They did, however, accommodate Mitrione when Roy Nelson was left without an opponent for the season finale of The Ultimate Fighter 16.
Mitrione did not fare well in that bout, losing by way of first-round TKO.
Entering UFC on Fuel 9, Mitirone has two consecutive losses and a refusal to step up when asked for a solid by the UFC to his name—not exactly the recipe for long-term employment if he loses to De Fries.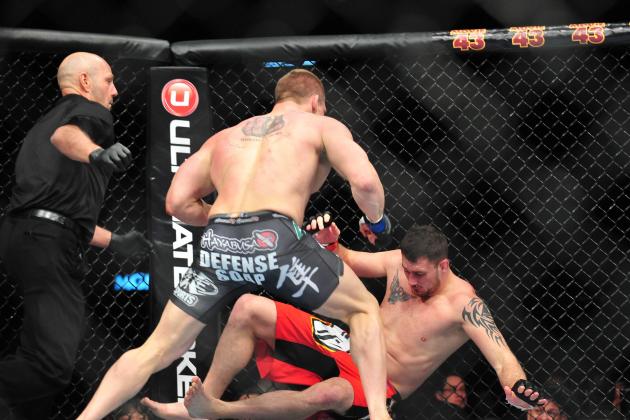 Gary A. Vasquez-USA TODAY Sports

Phil De Fries is 2-2 in the UFC.
The fact that both his wins have come against fighters that are no longer employed with the UFC says the pressure is on when he faces Matt Mitrione on Saturday. It also doesn't help that his two losses have both been by knockout and totaled 2:47 of fight time.
De Fries should have some motivation when he steps in to face Matt Mitrione. The last time they were booked to fight, Mitrione seemingly had no real interest in facing De Fries, as he actively campaigned for other fights.
The Mitrione versus De Fries matchup looks like it will be the one true loser leaves town bout on the UFC on Fuel 9 fight card.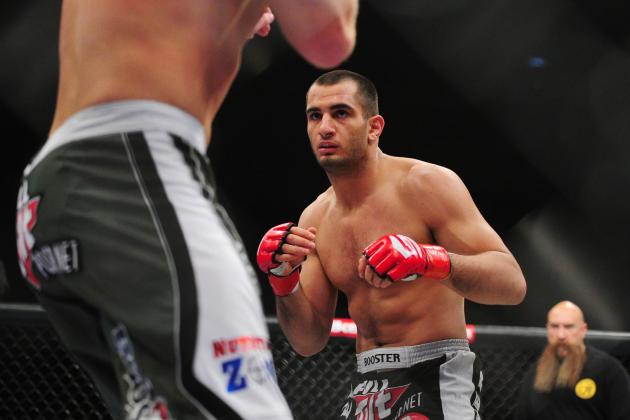 Mark J. Rebilas-USA TODAY Sports

Gegard Mousasi is in one of the worst spots a fighter can be in heading into Saturday's UFC on Fuel 9 main event. His original opponent, Alexander Gustafsson, was forced from the card when the Swedish MMA Federation would not allow him to fight due to a cut sustained in training camp.
Mousasi now faces a virtual unknown in Ilir Latifi in the main event.
If the odds stay where they opened, Mousasi will be the largest favorite in UFC history. A loss to Latifi, however unlikely that may be, would send Mousasi's stock plummeting. Anything short of a dominating finish and Mousasi can expect some backlash from fans in this one.