Seattle Mariners: One Bold Prediction for Every Player on 25-Man Roster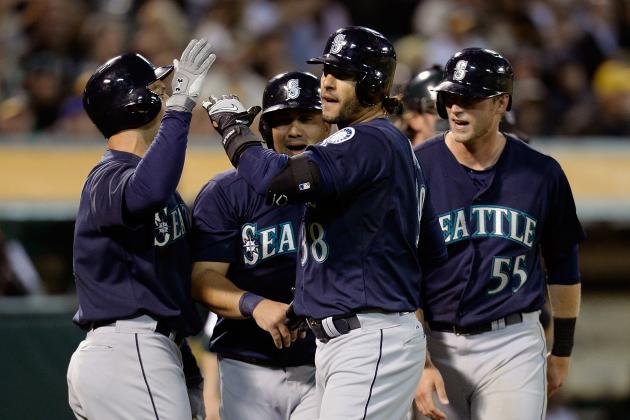 Thearon W. Henderson/Getty Images

The season is young, but the Seattle Mariners are looking good in their first series of 2013. The M's have a new look and a new feel about them this year. Young players are another year older, and the addition of veteran bats have proved valuable and the team seems to have a new found swagger and confidence, boosted by an impressive spring in which the club tallied 22 victories and slugged a league-high 58 homers.
In the grand scheme of things, spring training doesn't really matter. But the hot start the Mariners got off to has to bode well for them going forward, and they have the ability to surprise many and might be the surprise team this season.
When making predictions, one must be optimistic yet realistic. Keeping that in mind, here is one bold prediction for every player on Seattle's 25-man roster.
All statistics via MLB.com, ESPN.com and baseball-reference.com.
Begin Slideshow

»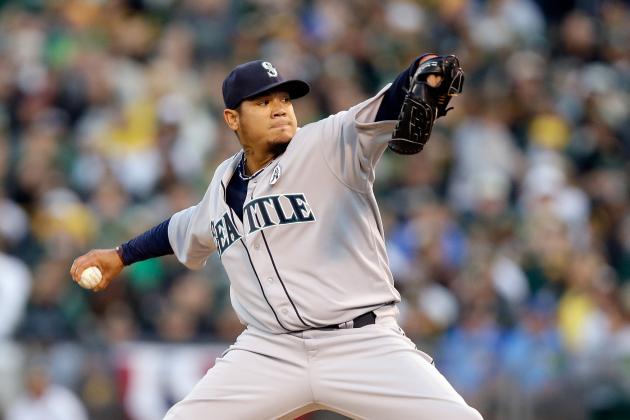 Ezra Shaw/Getty Images

He'll have a ton of competition, but the end of 2013 will result in a second Cy Young Award for King Felix Hernandez.
He's already off to a great start, throwing 7.2 shutout innings while striking out eight and yielding just three hits en route to an Opening Day victory.
Hernandez's new enormous contract will provide unprecedented motivation, and an improved offense will cut down on 1-0 losses and no decisions.
Expect Felix to have his best season to date, beating out fellow American League aces Justin Verlander, David Price and others for the trophy.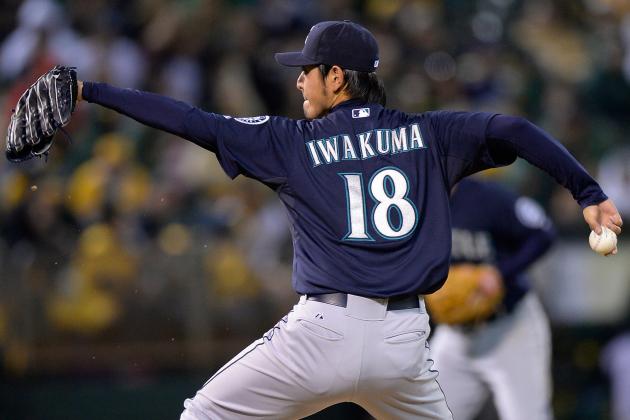 Thearon W. Henderson/Getty Images

A nine-game winner a season ago, Hisashi Iwakuma will have more opportunities to rack up W's this season as a full-time starter.
While 12 wins doesn't seem adequate for a No. 2 starter, Iwakuma's value to the team is well represented by his command and ability to keep runs off the scoreboard.
One hindrance on Iwakuma's record is his innings. He pitched seven innings or more just five times last season, leaving the bullpen with much work to do and a lot of time left in the game for things to change. If he can consistently throw into the seventh or eighth, his win total will surely be higher, and much of that depends in Eric Wedge's confidence in leaving him out there.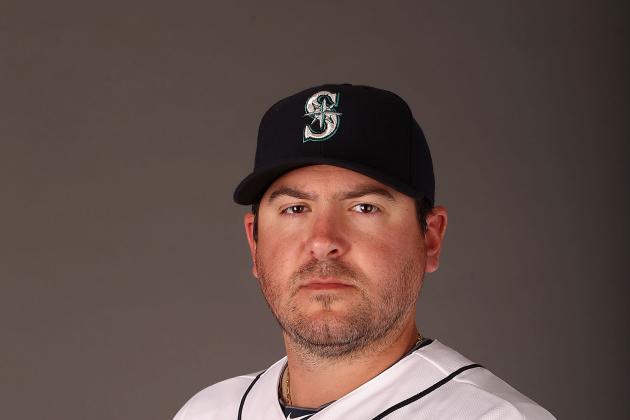 Christian Petersen/Getty Images

As aforementioned, spring training means very little over all. But newly acquired lefty starter Joe Saunders struggled mightily, finishing with an ERA of 11.57.
Hopefully he comes around and winds up being a solid middle of the rotation guy, but given his inconsistency last season, I can see Saunders getting sent packing before the trade deadline in exchange for a prospect or in a package for another starter.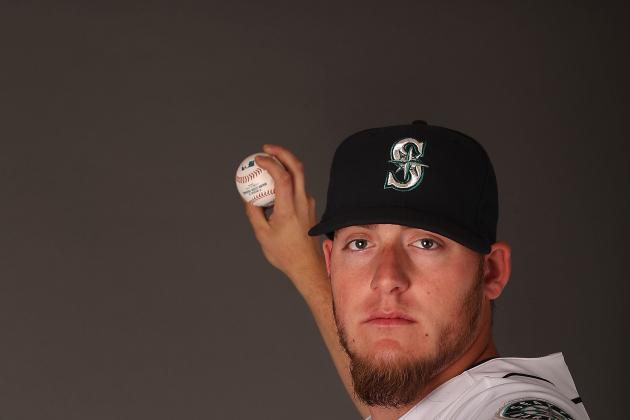 Christian Petersen/Getty Images

It won't be easy, but 22-year-old rookie hurler Brandon Maurer will take home the AL Rookie of the Year award come season's end.
Being in the starting rotation to open the season will give him plenty of opportunities so succeed, and despite flying under the radar for first half, Maurer will begin to make headlines late in the season and emerge as the league's best rookie.
Otto Greule Jr/Getty Images

Right-handed starter Blake Beavan is only 24 years old and already has parts of two major league seasons under his belt.
He's hovered right around .500 each season (16-17 career) and this year he'll finally get over the hump and post a positive win/loss ratio while lowering his ERA, which is already very respectable at 4.37.
Beavan will emerge as a solid starter and solidify himself as a starter for years to come.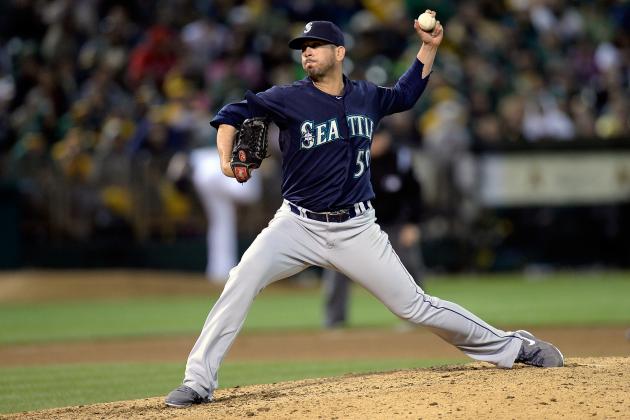 Thearon W. Henderson/Getty Images

Oliver Perez appeared in 33 games for the Mariners last season and pitched well, so well that re-signing him was among top offseason priorities.
Although he hasn't started a game since 2010, he had started all but one game in his career up to that point.
Perez will definitely be granted a few spot starts this season due to injury or struggles within the rotation.
He has zero career saves, but Perez's ability to make hitters swing and miss will offer an opportunity to save a game or two this season.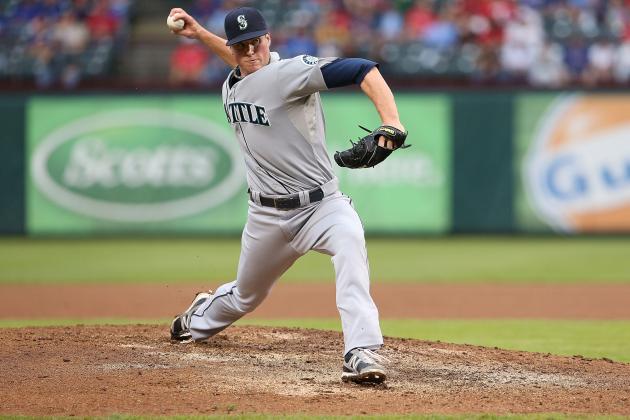 Ronald Martinez/Getty Images

Young fireballer Carter Capps made his first Opening Day roster this season, and he has improved quickly in a short amount of time.
Last season he averaged 10.1 strikeouts per nine innings, so with more innings this year (I'm guessing around 60) his strikeout total should be among the leaders of relief pitchers.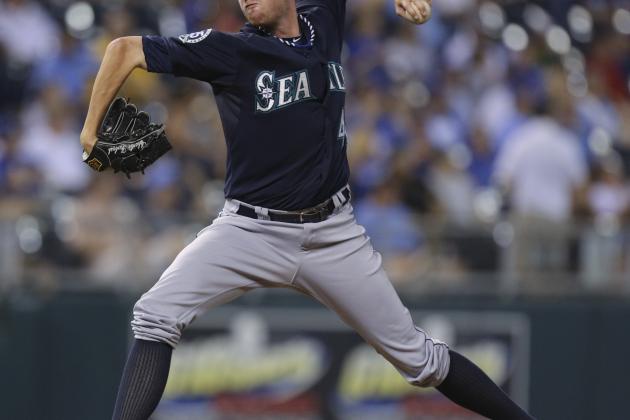 Ed Zurga/Getty Images

Charlie Furbush had the best season of his career last year, the only one of which he made all of his appearances out of the bullpen.
He poses a huge threat to left-handed batters with his slider and awkward arm angle and possesses good command, the perfect eighth-inning setup man.
All of Seattle's relievers are candidates to be setup men, but Furbush's qualities boost him to the front.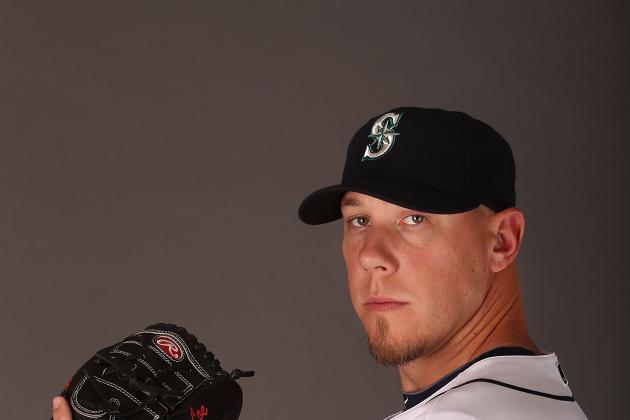 Christian Petersen/Getty Images

Veteran Kameron Loe's numbers have been slowly declining over the last few seasons, and I see him continuing the trend in 2013.
Once Josh Kinney and Erasmo Ramirez return from the disabled list, Loe could find himself in the minor leagues.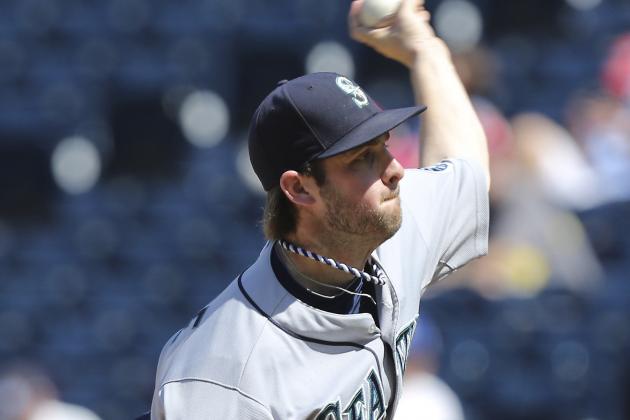 Ed Zurga/Getty Images

Lucas Luetge dominates left-handed hitters. Unfortunately, right-handers feast off him.
Last season, his first in the majors, Luetge held opposing left-handed hitters to a .193 average while righties hit .318.
The nature of batting lineups often disallows left-handed relievers to face more than one batter per outing, given the opportunity Luetge can retire several in a row.
He'll continue to excel against left-handed hitters and cement himself as a premier left-handed specialist in baseball.
Otto Greule Jr/Getty Images

Another young pitcher with a powerful arm, second-year player Stephen Pryor, like Capps, strikes outs hitters frequently.
He'll also get more innings this year, and if he keeps fanning 10.4 batters per nine innings, 80 K's should be a piece of cake.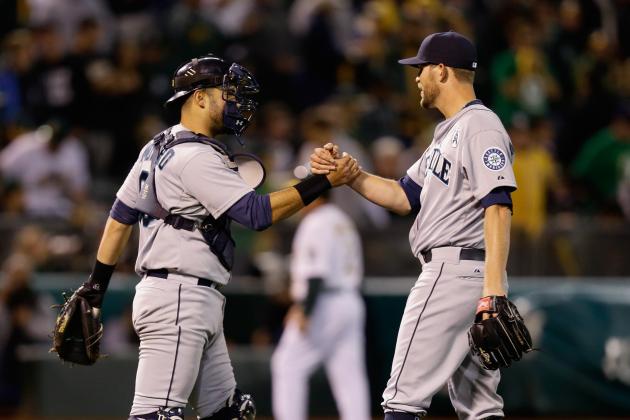 Ezra Shaw/Getty Images

After experiencing success in his first season as a closer last year, Tom "The Bartender" Wilhelmsen will continue to dominate the ninth inning and earn himself an All-Star appearance.
His 95-plus MPH fastball will continue to blow by hitters and Wilhelmsen should have no trouble earning the respect of fellow players, managers and fans en route to an All-Star season with at least 40 saves.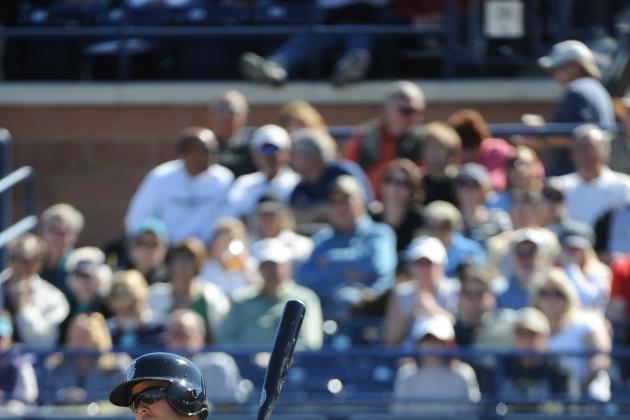 Rich Pilling/Getty Images

He's still only 23, but Jesus Montero has power to all fields and we haven't seen its full potential.
Shortened fences at Safeco Field will help the M's historically bad offense score more runs, and added big bats will take some pressure off Montero.
Twenty-five may be a little ambitious, but it's an amount well within Montero's capabilities.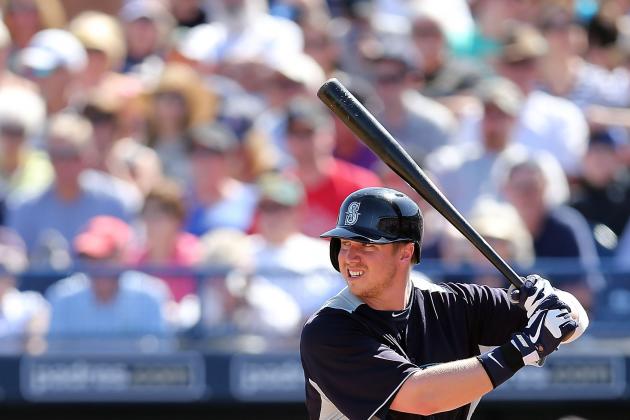 Christian Petersen/Getty Images

Many, including myself, have dubbed 2013 as a make it or break it year for Justin Smoak and his future with the Mariners.
The tail end of last season was encouraging, and his .407 average in spring training adds to the excitement of what could be in '13.
Even through the first two games this year, Smoak's shown improved patience at the plate, drawing three walks.
I think Smoak will keep it up and turn it around to the tune of .250, 25 HR and 80 RBI.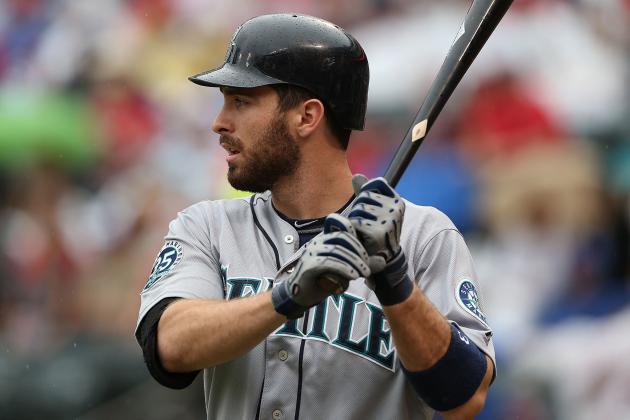 Ronald Martinez/Getty Images

After suffering through a sophomore slump in 2012, second baseman Dustin Ackley is poised to rebound and get his batting average up.
He hit 12 homers last season—more than I thought he was capable of—and it seemed as if he were swinging too hard on occasion, pressing to hit the long ball.
This year, as long as Ackley can stay back and focus on making solid contact, his average will improve which is a positive even if his power numbers drop.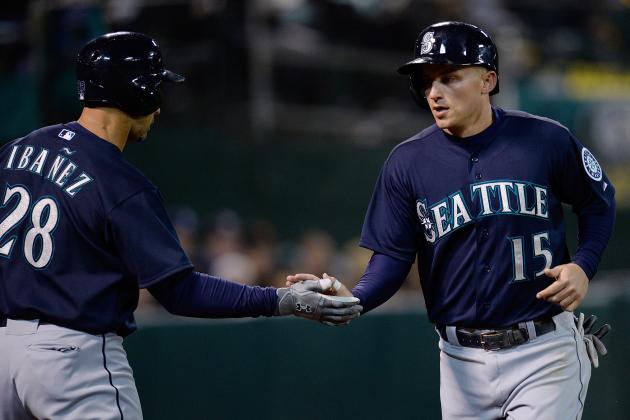 Thearon W. Henderson/Getty Images

Coming off a season in which he led the team in several offensive categories including home runs and RBI, needless to say much will be expected from him again this season.
Seager swiped 13 bags last year in 18 attempts. With the loss of speed as a result of Jason Bay, Mike Morse and Raul Ibanez assuming outfield positions previously held by Eric Thames, Casper Wells and Trayvon Robinson, Seager is one of few guys with base-stealing ability and should be given more opportunities.
Seager's emerging as a great all-around player, and I fully expect him to finish the year with 20 home runs and 20 stolen bases.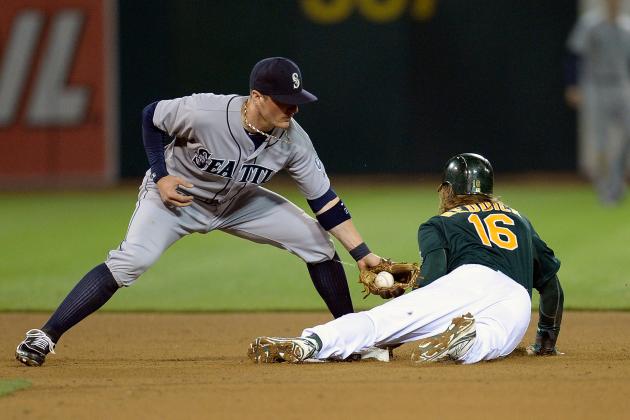 Thearon W. Henderson/Getty Images

A Gold Glove snub a season ago, Brendan Ryan excels at shortstop and is bound get recognized for his play this year.
He had a DWAR of 3.6 last season and committed just nine errors in 601 chances, good for a .985 fielding percentage.
There's no reason Ryan won't keep up his defensive prowess, and maybe hit the ball a little as well.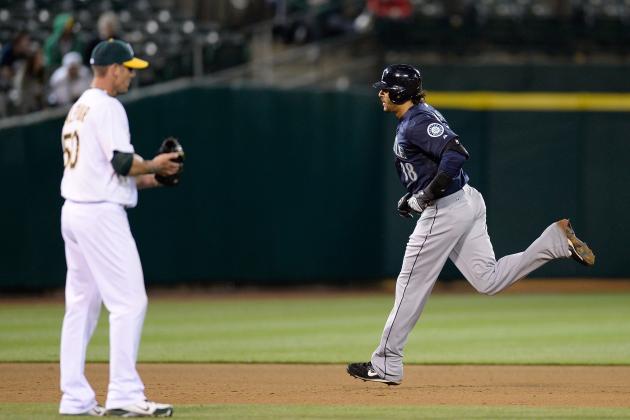 Thearon W. Henderson/Getty Images

Michael Morse's career high for home runs in a season is 31, but he looks ready to eclipse that this year.
He's off to a hot start with two (and hit his third as I write this) and Morse seems happy to be back with Seattle and motivated because of it.
He'll likely strike out often as usual, but if Morse can belt 30 bombs, the offense could be good enough to propel the team to the postseason.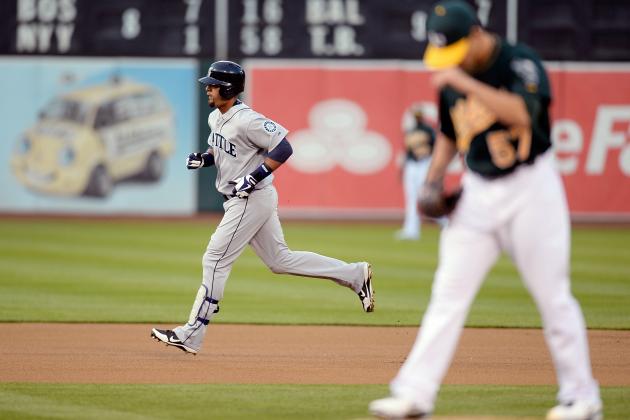 Thearon W. Henderson/Getty Images

Center fielder Franklin Gutierrez has suffered long-term injuries each of the last two seasons, so naturally he's due to stay healthy.
When he does he's extremely valuable defensively and has the ability to hit for average and for power. His health is valuable to the Mariners' success to say the least, especially with less capable defensive outfielders available as replacements.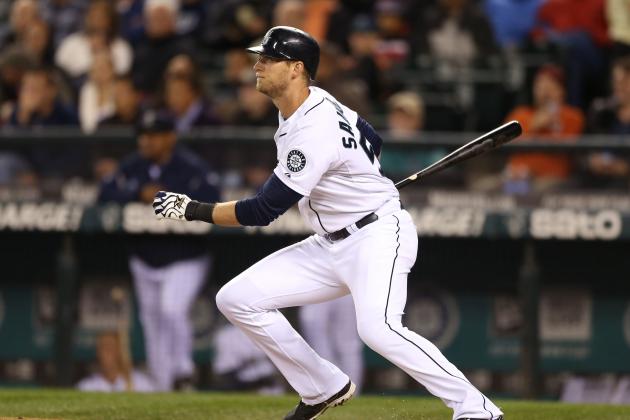 Otto Greule Jr/Getty Images

Michael Saunders is another guy who's coming off a season full of career bests. I pinned last year as a make or break for Saunders, and he swayed me by significantly upping his batting average and showing off a bit of power and athleticism.
I'm going out on a bit of a limb by saying Saunders will hit 20 home runs and steal 30 bases, but he has the athleticism and raw talent to do both.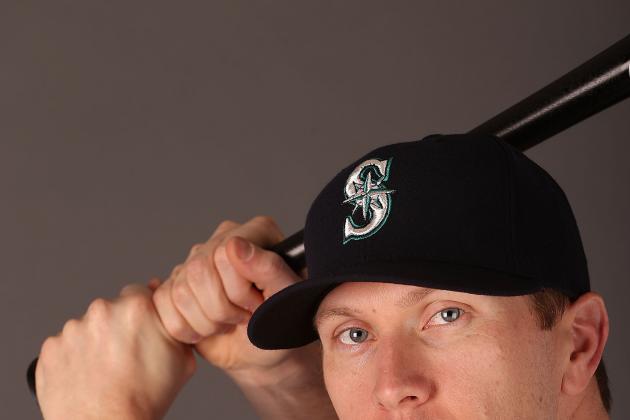 Christian Petersen/Getty Images

Something tells me Jason Bay is finally at the end of his three-year slump. Maybe it's wishful optimism, but I really think Bay is ready to contribute and make a difference for the Mariners.
He went to school in the Pacific Northwest (Gonzaga) and he has little pressure on him; most people expect more of the same struggles.
He won't be back to his 36-homer, 119-RBI self. Not by a long shot. But I don't think .250/12/40 is out of the question from a reserve role.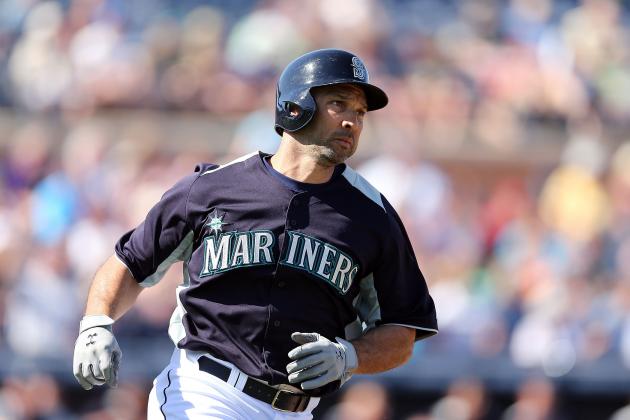 Christian Petersen/Getty Images

Whether it be remembered for nostalgic or historic purposes, 2013 will be important for Raul Ibanez's career.
If it's his last season, it'll be remembered widely in Seattle as the return of a great hitter and fan favorite. Maybe he'll relive his signature postseason heroism.
Either way, all of Raul's accomplishments will be appreciated and honored by Seattle faithful.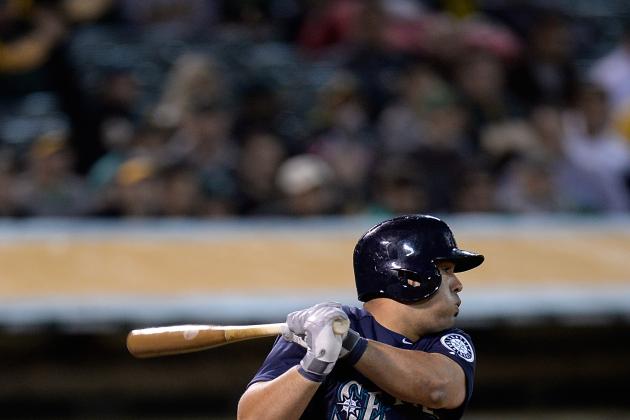 Thearon W. Henderson/Getty Images

Kendrys Morales hasn't quite been the same since a bizarre leg injury abruptly ended his 2010 season and kept him out for the entirety of 2011.
He came back about as well as anyone could have expected, hitting 22 home runs, which figures to be the total this year.
Morales can't be expected to repeat his 34-HR, 108-RBI 2012 campaign, but he definitely still has power and the ability to drive in runs on a regular basis.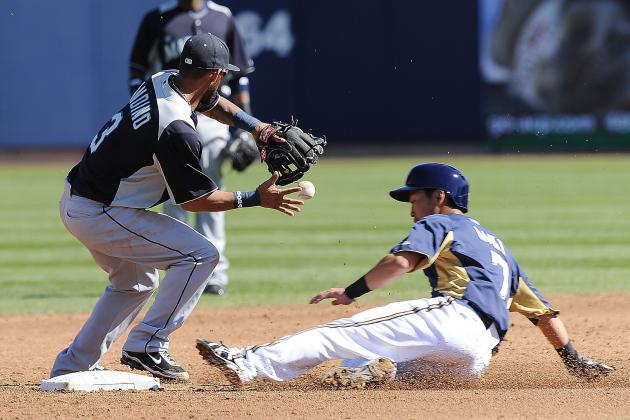 Norm Hall/Getty Images

Being the lone backup infielder, newcomer Robert Andino will find himself getting regular playing time in 2013.
He won't wow you with his bat or speed, but he's a solid infielder who can play the outfield if needed. Eric Wedge has already made it apparent that he's going to rotate guys frequently this season, so Andino will likely play all over the field in two thirds of games this season.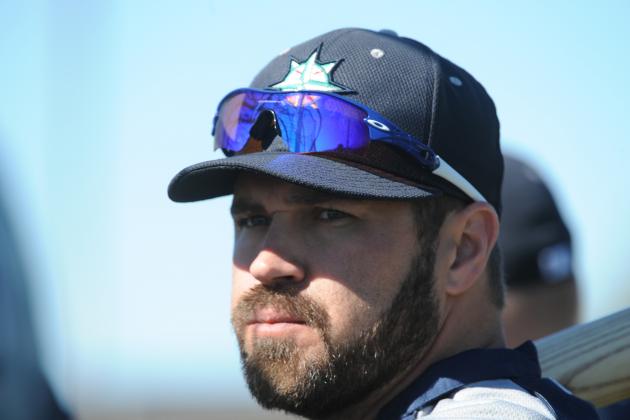 Rich Pilling/Getty Images

Backup catcher John Jaso was sent to Oakland this season before many people realized his talent and value to the club.
His replacement, veteran Kelly Shoppach, will provide similar production. He's got some pop in his bat and is above average behind the plate as well as provide veteran leadership.
Shoppach will be the perfect backup as the Mariners await the arrival of Mike Zunino.