In Brian Dozier's last game he played at Target Field in the 2012 season, which came on August 12 against the Tampa Bay Rays, he threw to first with one out and the bases loaded in the 10th inning instead of trying to end the inning with a double play or a throw home to prevent a run from scoring.
Brandon Jennings sauntered home to put Tampa ahead and things unraveled from there, eventually leading to a 7-3 loss.
"It's bad luck, but at the same time you've got to make sure you get one out," Dozier said at the time. "We, for sure, 100 percent, would not turn the double play."
Dozier was sent down after that game and was not recalled when the roster expanded to 40 in the final month of the year. That decision alone did not cost him a spot on the team—he was batting .234/.271/.332 and had made 15 errors at shortstop—but it is not an ideal way to end your season.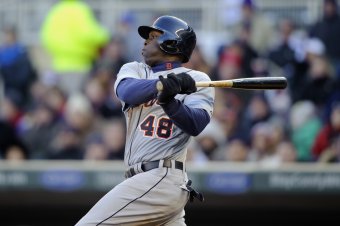 Hannah Foslien/Getty Images
Dozier enters this season with a change in position. He is now playing second base and batting eighth in the lineup with the opportunity to snag the two-hole if he hits well at the beginning of the year. (I'm going to make the assumption that the Twins don't see Joe Mauer as an ideal table setter.)
What comes of Dozier has yet to be seen. He struggled in his first season, but so did other top prospects like Torii Hunter. As an eighth-round selection in 2009, he will not get the leeway a blue-chipper would—at least among the Twins faithful.
What he did do, however, is make a high-stakes decision in Wednesday's game against Hunter and the Detroit Tigers that resulted in a walk-off win for the Twins.
He stood on first base in the bottom of the ninth with Eduardo Escobar at the plate and Jamey Carroll at third. With the team down 2-1, he represented the winning run. Escobar hit lefty Phil Coke's first offering directly at the bullpens in left-center.
Carroll knew he was going to score. There was only one out on the board. But Dozier had to decide if he should stay near first in the case that the ball was caught by either left fielder Andy Dirks or center fielder Austin Jackson, or book it towards second with the intent of scoring the winning run.
The decision to tag up was safe: Escobar's hit—whether it was caught or not—would tie the game with one out left and leadoff hitter Aaron Hicks due up.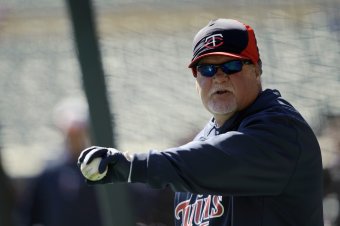 Hannah Foslien/Getty Images
The decision to head home was not: If Dirks or Jackson caught the ball and Dozier was too far away from first, the inning would end on a double play.
"When that ball was hit, everybody on the bench was saying 'tag up,'" admitted manager Ron Gardenhire. "He was the only one that did the right thing. I don't know how he knew they were going to miss that ball, but he did it."
It was a gusty day outside and balls typically hang a bit when they are hit to left-center. "We were all yelling to tag too because of the way the wind carries the ball here," said Gardenhire in reference to his coaching staff, "but he went to second and scored on it."
"The ball kept carrying," said Dozier, who had the best view of the situation being as he was on the field and heading towards second base. "I saw Jackson look to the left fielder two or three times, they didn't know, somebody didn't call it."
Dozier relied on principle to make his decision, stating that the team's paramount rule in that situation is to score on a double. That sort of thought process is sound, but it did cost him in the Rays game, where he decided to attend to the No. 1 objective—get an out—but also allowed a runner to score in a situation where he could have either thrown home or turned a double play.
"Our No. 1 rule is to make sure you score on a double, that's No. 1," he said. "That [ball] kept drifting and drifting. I was going to come back and tag, but at the same time the more [the ball] drifts, the more you have to keep going with it."
The main difference between the decision he made back in August and the one he made on Wednesday, however, is that he was aggressive.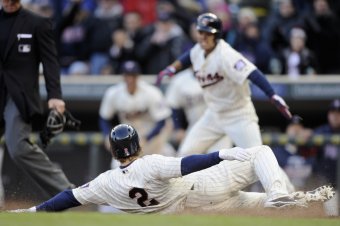 Hannah Foslien/Getty Images
The safe play with one out and the bases loaded is for the shortstop to throw to first and just get an out. The aggressive play is to try and turn a double play either by throwing to second or home (with the hope that the catcher can throw out the batter).
He went with the safe route.
Today he gambled and it paid off. He had a better look at the situation than his teammates and his manager and he decided to go for it. "If he had gave me the stop sign, I might have run through it," he said in reference to third base coach Joe Vavra. "Once it hit the wall or whatever, I was looking back over my shoulder and it had a high bounce up, that's when I knew I had it."
And it made for one hell of an exciting play and a win for the Twins, who are 1-1 for the first time since 2010.
Here's to more aggressive play from Mr. Dozier this season! After all, we all know fortune favors the bold.
All quotes were obtained firsthand, unless otherwise indicated.
Tom Schreier covers the Twins for Bleacher Report and writes for TheFanManifesto.com. Visit his Kinja blog to see his previous work.