The 12 Biggest Draft Mistakes in Miami Dolphins History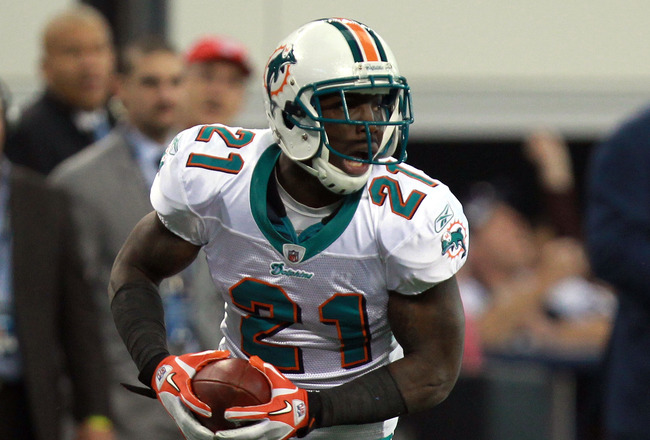 Ronald Martinez/Getty Images
The Miami Dolphins experienced something in 2012 that the franchise had not experienced in quite some time.
They actually had a pretty good draft.
Ryan Tannehill, the promising and potential franchise quarterback, was taken in the first round. Jonathan Martin could end up being a very serviceable left tackle for Miami (if he isn't moved back to the right side). Lamar Miller and Olivier Vernon were both great finds by Jeff Ireland, the former getting set to take over as Miami's feature back and the latter earning a reputation as a special teams playmaker.
Even some of the Dolphins' late picks turned in decent performances as off-the-bench rotational guys (Kheeston Randall, Josh Kaddu). Michael Egnew obviously has work to do, and a couple of other late picks didn't pan out, but overall 2012 was one of the team's best drafts in recent memory.
That's good, because Miami's past is fraught with draft mistakes. As we continue to prepare for the 2013 NFL draft later this month, let's take a look at some of the Dolphins' most egregious errors and hope they don't make similar blunders this year.
(Note: These are not in any particular order.)
Missing on Randy Moss in 1998
I'm sure you remember this guy.
Brian Bahr/Getty Images
Jimmy Johnson may have assembled a sturdy defense in Miami and steered the team to a couple of playoff appearances, but he was never the same head coach the Dallas Cowboys or the Miami Hurricanes enjoyed.
Among his missteps was the 1998 NFL draft. The Dolphins had the 19th pick, and Johnson had his eye on Randy Moss. He assumed there was no way Moss would drop that far, so when Green Bay proposed a trade to move up, the Dolphins took the deal. Moss would be drafted by the Minnesota Vikings with the 21st pick.
The Dolphins, now picking at 29, selected John Avery. Remember him?
You're right, we don't either. Because Avery was traded to Denver the very next season.
Hold on, folks. It doesn't get any prettier from this point.
Drafting Eric Kumerow in 1988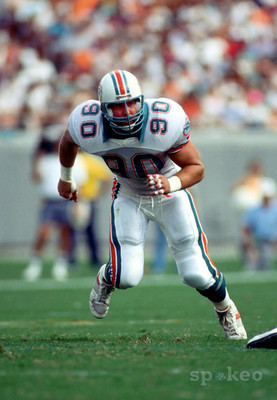 The first round of the 1988 NFL draft didn't exactly produce a ton of high-profile players. Sure, Michael Irvin and Tim Brown were both selected, but it was an overall pretty average round.
Somehow the Dolphins still managed to find a player who was below average.
They took Eric Kumerow, former Ohio State outside linebacker. He was with Miami for three years and played in 42 games, but he never started. A first-round pick who doesn't even start a single game?
That's the ultimate sign of a wasted pick.
Drafting Yatil Green in 1997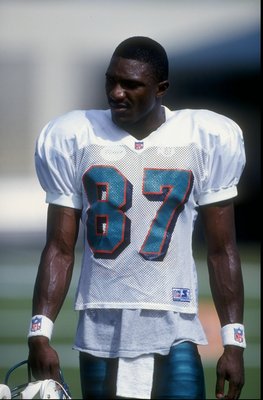 Eliot J. Schechter/Getty Images
Yatil Green probably seemed like a solid move for Miami in 1997. A homegrown talent from the University of Miami, Green looked like an ideal talent for the Dolphins to pick up.
They did, in the first round.
Fast forward a few months to the first day of training camp, when Green tore his ACL. A rough start to the youngster's career, no doubt. He worked hard to recover and be ready for the 1998 season...
...But he tore the same ACL in camp the following year.
Finally, in 1999, Green was able to see the field. He played in nine games yet only recorded 234 yards on 18 receptions. After being released by Miami, then picked up and cut by both the New York Jets and Oakland Raiders, Green exited the NFL without ever catching a touchdown.
Drafting Guy Benjamin to Be Bob Griese's Heir
In 1978, the legendary Bob Griese's career was winding down. The Dolphins knew they would need a replacement soon.
Enter Stanford's Guy Benjamin. Drafted in the second round of the 1978 NFL draft, Benjamin would sit behind Griese for two years. Once his scholarship was completed, he would step into the spotlight and lead the Dolphins.
Except he didn't.
Instead, he played in seven games for the Dolphins and threw only 12 passes. Granted, he completed nine of those passes, but we're basically grasping for straws at that point.
The good news for Benjamin at least? He would gain a Super Bowl ring with the San Francisco 49ers as Joe Montana's backup a few years later (see above photo).
Taking Billy Milner in 1995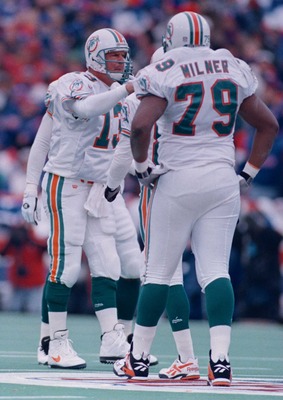 Rick Stewart/Getty Images
Here's one that looms so grimly, because Billy Milner actually showed promise.
He started nine games as a rookie and earned a spot on the all-rookie team.
Then, the very next year, he was traded to the St. Louis Rams. In his third year, he suffered a career-ending neck injury.
It's a shame the man's career was cut short by injury. But it's an even greater shame the Dolphins drafted the promising tackle only to ship him away a year later.
Drafting J.J. Johnson as the Solution at Running Back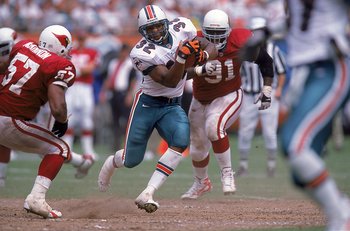 Andy Lyons/Getty Images
From Ricky Williams to Ronnie Brown to Reggie Bush, the Dolphins have enjoyed relatively strong running back play over the past eight or so years.
That wasn't always the case, though. For awhile the Dolphins couldn't seem to find the answer at running back. In 1999, they tried yet again to find the solution by drafting J.J. Johnson in the second round (although it was Miami's first pick thanks to a trade in the first round).
Johnson was fine as a rookie, leading the team with only 558 yards. But he only started four games for the Fins in 1999. That number dropped to one in 2000, and then to zero in 2001 when he only saw five carries. After that, he basically disappeared from the league.
Not exactly the solution Miami had been searching for.
Taking Jamar Fletcher Instead of Drew Brees in 2001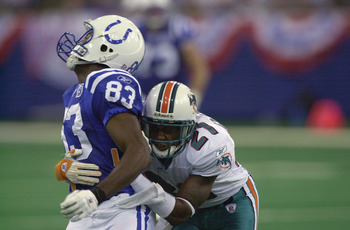 Jonathan Daniel/Getty Images
Just about every Dolphins fan remembers the disastrous decision to sign free agent quarterback Daunte Culpepper instead of fellow free agent quarterback Drew Brees. The team believed Brees' shoulder was essentially tattered beyond repair and so they passed.
Brees is now one of the NFL's best quarterbacks. Culpepper is not in the league and hasn't been for some time.
However, what you may not remember is that the Dolphins could have drafted Brees in the first place. He wasn't selected until the second round. The Dolphins could have taken him in the first, yet they instead opted to go with Jamar Fletcher, a cornerback from Wisconsin.
Fletcher spent three highly unremarkable years in Miami before finding his way to San Diego.
So that's twice the Dolphins missed out on Drew Brees.
Pretty Much the Entire 2003 Draft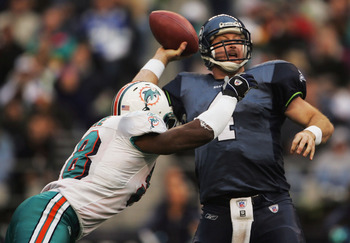 Jeff Gross/Getty Images
In Miami's defense, its 2003 draft was already somewhat handicapped from the beginning. Its first-round pick had been traded to New Orleans in exchange for Ricky Williams.
But that doesn't excuse the awful stream of players Miami picked in this draft. Eddie Moore was Miami's first official pick, and the linebacker from Tennessee struggled to ever get on the field. He ultimately played in just 18 games.
Next was offensive tackle Wade Smith, who played in 22 games before he was released. Just to get to the only decent player in this draft (Yeremiah Bell in the sixth round), you have to sift through painful picks like Taylor Whitley, Donald Lee, J.R. Tolver, Corey Jenkins and Tim Provost.
If ever there was such a thing as a draft mulligan, Miami would have been all over it in 2003.
Drafting Ted Ginn Jr. in 2007
Doug Benc/Getty Images
In 2007, everyone expected the quarterback-starved Dolphins to draft Brady Quinn with their first pick. As it turns out, it was a wise decision not to take Quinn, but Miami didn't exactly end up with a stud instead.
Ted Ginn Jr. was one of the most electric players in the nation at Ohio State. But his success never quite translated to the NFL. The speedy receiver was an OK return man for the Dolphins, racking up three total kickoff and punt return touchdowns over three years.
Ginn was never a great receiver, though. His best season came in 2008 when he caught 56 passes for 790 yards and two touchdowns. Those are decent numbers for a No. 2 receiver, but they're pretty lackluster for a guy who was drafted in the top 10.
Ginn was released after three seasons in Miami. He isn't really missed.
Doubling Down on Corners in 2009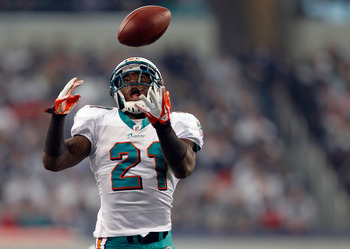 Is he trying to catch the ball with his hands or his mouth?
Tom Pennington/Getty Images
The Dolphins recognized a need in the secondary heading into the 2009 offseason and chose to address it in the draft. They doubled down on corners, taking Vontae Davis in the first round and Sean Smith in the second.
They were supposed to be the next great cornerback duo in Miami. Sam Madison and Patrick Surtain, they were not.
Davis was arguably the better of the two, although that isn't saying much. Billed as a lockdown corner, he never quite displayed those traits during his three-year tenure in Miami. He did snatch nine interceptions, so he wasn't completely inactive in the backfield.
Smith, on the other hand, was wildly inconsistent. After three years of middling performance, he stepped into Miami's top corner spot in 2012. He started the year strong, but it wasn't long before the old, wonky Sean Smith returned.
Four years later, both players are suiting up elsewhere. The Dolphins could very likely double down on corners again in the 2013 draft.
Hopefully, Jeff Ireland has learned his lesson.
Drafting Chad Henne in 2008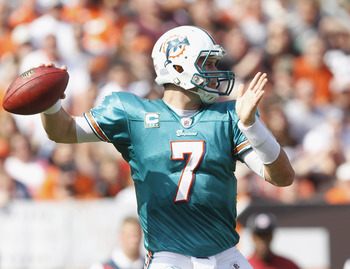 Matt Sullivan/Getty Images
Before the embodiment of hope that is Ryan Tannehill came along in 2012, there was Chad Henne, the latest in a long, long line of quarterbacks trying to replace Dan Marino.
And like those before him, Henne was not the answer.
He showed flashes of greatness, like in the Monday night opener against New England in 2011. Henne threw for 416 yards and two touchdowns, but he was eventually out-dueled by Tom Brady.
Ultimately, it would be Henne's inconsistency and his fragility that would lead to his failure in Miami. A few weeks after his big game against the Patriots, Henne separated his shoulder and was placed on IR. It was his last time putting on a Dolphins uniform.
Henne finished his time in Miami with 31 touchdowns and 37 interceptions. Winning quarterbacks don't put up those kinds of numbers.
Passing on Matt Ryan and Joe Flacco in 2008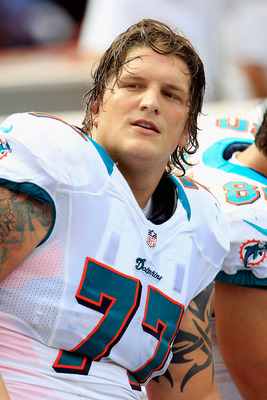 Chris Trotman/Getty Images
Allow me to go ahead and clarify something.
Selecting Jake Long with the first overall pick in 2008 was not an inherently bad move. The Dolphins got a four-time Pro Bowler and one-time All-Pro left tackle. He was arguably the best at his position for a couple years with Miami.
Then he started to wear down. As his injuries piled up, his performance dropped. Cue 2012, when Long didn't even finish the season after a torn triceps injury earned him a spot on IR.
Now, after playing out his rookie contract, Long signed a new deal with the St. Louis Rams. The Dolphins' former first overall pick has degraded and defected.
Meanwhile, Miami could have solved its quarterback problem much sooner. Matt Ryan was a possibility, who in 2012 was fifth in the NFL with 4,719 yards. He led the Atlanta Falcons to the NFC Championship Game as well.
Joe Flacco was another possibility. Say what you want about Flacco's own inconsistencies and his newly signed, absurd contract. Thanks in large part to his postseason play, the Baltimore Ravens are the current NFL champions.
Now ask yourself: How many games did Jake Long directly win for the Dolphins?
Keep Reading

Miami Dolphins: Like this team?