WrestleMania XXIX: Full Analysis & Review of Entire Card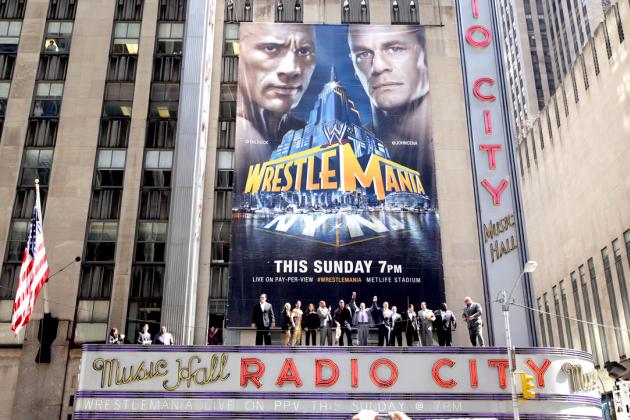 photo by wwe.com
Two days. Two days and all the speculation and prediction will end. Because in two days, WWE will present WrestleMania, pro wrestling's largest event, for the 29th consecutive year.
And I for one am looking forward to it.
Though this card may not have been the result of the most creative, most imaginative booking we have ever seen, there is still plenty here to sink your teeth into. This past Monday Night Raw was fairly successful in building more hype and anticipation for the event.
Especially in the last segment. But we will get to that one a bit later.
Some of the real interest in this year's event lies with the undercard, where we have an intriguing match between Alberto Del Rio and Jack Swagger for the World Heavyweight Championship. There's also the surprise booking of Fandango vs. Chris Jericho and the powerhouse match-up of Mark Henry vs. Ryback.
Of course these matches and more are all in an effort to enhance the triple main event, featuring three bouts that may be rematches, but should still deliver nonetheless.
Triple H vs. Brock Lesnar, CM Punk vs. The Undertaker and John Cena vs. The Rock. All of these Superstars are very comfortable on the main-event stage and are very accustomed to the pressure that the bright lights of WrestleMania brings.
They, like the rest of the WWE talents booked, will surely be ready for the company's biggest night of the year.
So let's have a look, shall we?
Begin Slideshow

»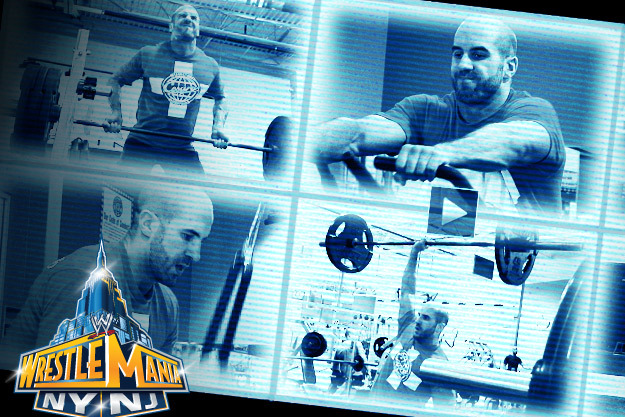 photo by wwe.com
There is a video posted over at wwe.com, and it gives fans a sneak peek at United States Champion Antonio Cesaro's "WrestleMania workout."
As of this writing, however, Cesaro is nowhere to be found on the current WrestleMania card. I can honestly think of no reason why the company would show this video yet not book him in some capacity.
Of course the pre-show features only one match thus far, so there is time for Cesaro to flex his muscles, perhaps in a battle royale.
This has been done before and it would not take a large amount of time, depending on the number of participants in the match
Stay tuned for this one.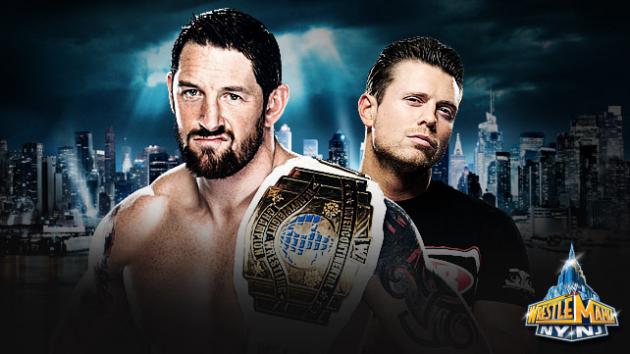 photo by wwe.com
Right from the start, I have to say that I am rather surprised that this match is taking place during the pre-show. This one is for the Intercontinental Championship after all, and it features two established WWE Superstars.
Miz and Barrett have mixed it up before, so they are comfortable with each other in the ring, and this match is important for both men.
For Miz, he is still trying to find his way as a babyface, as at times he looks out of his element. Maybe that's because we are so used to seeing him as a heel and his booking has not been as beneficial for him as it could be.
Using Ric Flair as his mentor on TV seemed like a way to get him over over but so far the biggest gripe from fans has been about Miz's inability to properly execute Flair's Figure Four Leglock.
On the surface, this may not seem like a big deal, but when you are recognized as a Superstar who has been given The Nature Boy's stamp of approval, then everything you do will be analyzed from top to bottom.
This match will be at least a modest opportunity for Miz to shine, to show what he can do and to prove that he deserves the fans' attention and respect.
As for Wade Barrett, he just needs a win. To be Intercontinental Champion, Wade tends to lose quite often and there are moments when I wonder why exactly he was given the title in the first place.
Beating The Miz would be the end of a contender that Wade faced head on, feuded with, and defeated. He could then move on to the next challenge, eventually improving his win/loss record.
Despite who goes over, I believe this match will be worth watching. And, it should be a great way to kick off WrestleMania 29.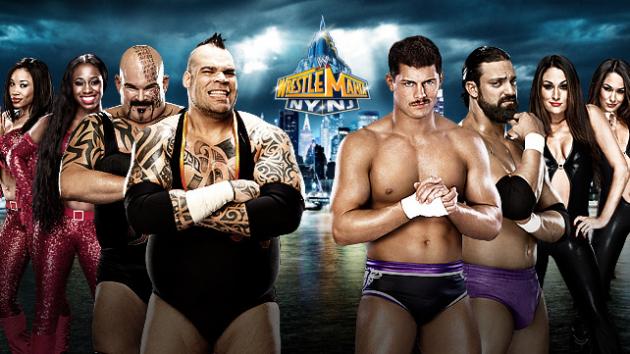 photo by wwe.com
For many fans, this is the match that should have been booked for the WrestleMania pre-show.
There are no titles involved, no special stipulations, and there is no real rivalry here. This bout, for all intents and purposes, is one that was likely created solely to entertain.
There's nothing wrong with that of course. Entertainment is the name of the game for WWE, and there is plenty of opportunity for that in this match.
Team Rhodes Scholars is a very good tandem, and their reunion has been one that has gotten over pretty well so far. Damien Sandow is very funny, a straight man with great timing, whose mission to educate the "unwashed masses" is one that never fails to make fans smile.
Cody Rhodes is, well, the other straight man of the team, and he has the same elitist attitude that his partner possesses. Cody has really found himself in Rhodes Scholars and he is just as effective at entertaining the crowd as Sandow is.
On the other side, of course, is Brodus Clay, who is always good for a laugh and the Funkadactyls, Cameron and Naomi, who are fresh faces in the Divas division and are both talented in the ring.
The only odd man out here is Tensai, who is now known as Sweet T. As we all know, T's heel gimmick fell flat and now he is paired with Brodus by default. For T, this is less about the fact that no storyline is being advanced by this match than it is yet another moment that he will be trying to find himself in this new tag team.
But, regardless of the reason why, this match was chosen to be on the main card of WrestleMania 29. Here's hoping that all involved step up their games in a very big way.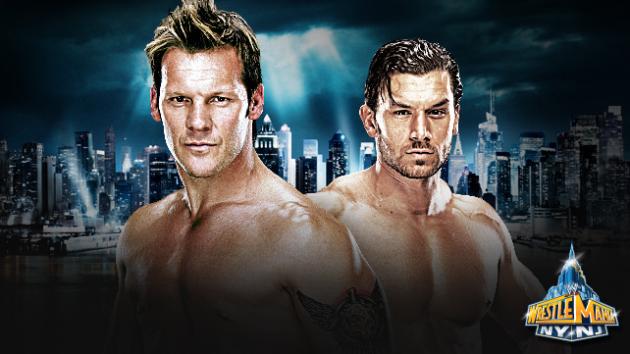 photo by wwe.com
Fandango, the man who has yet to do much of anything in WWE, is getting the biggest match of his career when he faces off against Chris Jericho.
This is not the bout that many of us expected to see however, as for months it appeared as though Chris would take his long-running rivalry with Dolph Ziggler to WWE's Grandest Stage of Them All.
Dolph defeats Chris, cashes in his Money in the Bank briefcase later in the night and becomes the World Heavyweight Champion.
This was completely plausible, made sense in every way and would have certainly been the outcome that Ziggler's supporters would love to have seen.
But instead we have Y2J, one of the best talents that the company has ever seen, giving the rub to someone who, again, has done practically nothing since his debut as a ballroom-dancing heel.
Though this match does not seem as though it fits, and even though Fandango quite frankly has not earned a WrestleMania match this early in his career, the fact is that WWE has to develop its younger talent.
The only way the company can move ahead and grow in the future is if it cultivates its untested crop of new workers now.
Using the WrestleMania stage as the platform to do this may not be sensible to many fans but for Fandango, who has gone from zero to 100 with this move, it's now time to sink or swim.
Can he get it done with the whole world watching? What will his style be? How will he work with Chris Jericho, in many ways a legend in WWE?
Will he make it, or indeed wash out, as many fans believe he will?
To me, it speaks to the confidence that not only WWE has in him, but also to the confidence that Jericho has in him. If Fandango were not ready, if he was not prepared for this WrestleMania moment, then I find it hard to believe that Chris would not have been the first man to let WWE know a long time ago.
I'm very curious as to how this match will play out. For me, there's a lot of drama in the unknown and though some fans have dismissed Fandango already, I want to see him work on April 7 before I pass any judgement.
Put your dance shoes on, kid. It's nearly showtime.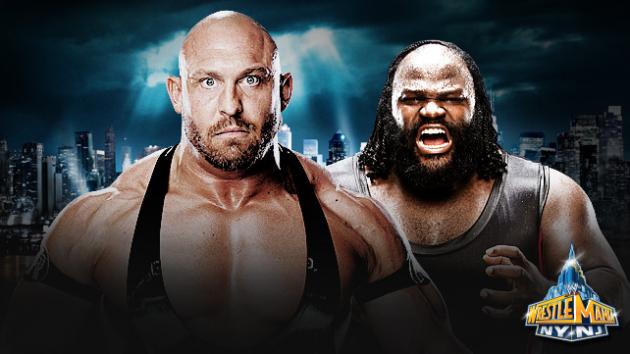 photo by wwe.com
Mark Henry is pound for pound the strongest man in WWE. World's Strongest is not just a nickname, it's what Henry is. It's who he is.
And this is what he does.
The tough bruiser gimmick is not successful for every man who has ever run it. The fact is that the crowd has to believe it, to buy into the intimidation factor that the talent has and if he is legitimately capable of physically hurting someone.
This is a slam dunk for Mark Henry, who fans have accepted as being all of the above and then some.
Ryback, at one time, was challenging CM Punk for the WWE Championship. He seemed to be on the way up, a fresh face who was getting the opportunity of a lifetime. The sky was the limit until three other fresh faces known as The Shield debuted and brought Ryback's momentum to a screeching halt.
Since proving unable to stop The Shield, Ryback has been in a holding pattern. WWE still appears to be committed to him, but he is not where he was before. Perhaps booking him against Mark Henry is a way to get Ryback on the right path, to get over more with the crowd who at times, are fairly divided on him.
Being tested physically by Henry may be just what Ryback needs. This will be a chance for him to show his strength, to give him an opponent who can stand toe to toe with him, to test his resolve.
After all, in a company that features several strong workers, Ryback would eventually run into someone who would take the best he has and not blink.
Mark Henry did ruin the bench press challenge with Ryback recently on SmackDown however, when he held the bar down against Ryback's throat. But, Mark is a heel and when a heel is threatened he instantly reacts, doing whatever is necessary to gain the advantage.
Mark has proven that he is willing to do whatever it takes to top the younger Ryback. I expect on Sunday that this match will be a hard-hitting, smash-mouth war that should be entertaining and beneficial for both Superstars.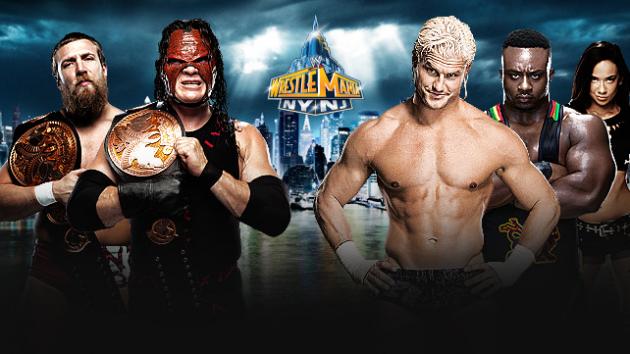 photo by wwe.com
Since becoming WWE Tag Team Champions, Kane and Daniel Bryan have been unstoppable. They have defeated every team put in front of them, rolling through the competition as if they weren't there and entertaining fans in the process.
Team Hell No managed to catch lightning in a bottle with their unique mix of humor, technical prowess and physical strength. Two personalities, who on the surface have nothing to do with each other, meshed together as if it were written that way.
They have been on top of the tag team division since September 2012 and no team has been able to touch them. But for some fans, it's time for a change.
Though their partnership has been extremely successful, it does seem as though the time has come for a shake up. After all, for two combustible talents who most of the time are ready to kill each other, the likelihood of tagging together for an extended period of time seems impossible. It has worked so far, but how long will it last?
The answer to that may lie with Dolph Ziggler and Big E Langston, who could care less about Kane and Bryan's issues with each other. All they want is the WWE Tag Team Titles and seemed primed and ready to take them on April 7.
Ziggler and Langston are completely unknown as a tag team, as Big E has yet to work an actual match on TV. But because of Langston's size and strength, combined with Dolph's technical ability, they may be the perfect match for Team Hell No at WrestleMania.
Indeed, Kane is evenly matched against Langston in terms of size and power, which does not happen all that often for The Big Red Machine. Kane is used to throwing his weight around against smaller opponents and getting his way because of it. But now, he is faced with someone who is not easily thrown anywhere.
Ziggler is considered by many to be one of the best in-ring performers that WWE has. The same can be said for Daniel Bryan, as both men continue to impress every time they step into the ring. Their recent matches against each other have been five-star, and that will surely be the case at WrestleMania.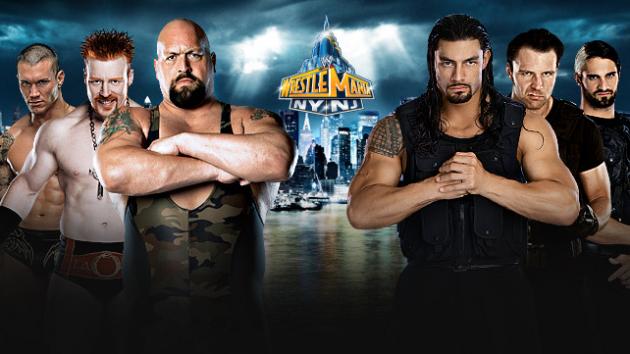 photo by wwe.com
The Shield will finally face their day of reckoning at WrestleMania when they face off against three of the best and toughest performers that the company has.
Of course, we have heard this before. The fact is that John Cena, Sheamus and Ryback could not get it done against Roman Reigns, Dean Ambrose and Seth Rollins at Elimination Chamber back in February. Cena and company were the best that WWE had to offer yet they could not bring home the win.
Now, for Team WWE Version 2, Cena has been replaced by Randy Orton, and Ryback has been replaced by The Big Show. But will it make a difference?
The Shield have been the hottest property that WWE has presented in a very long time. They have power in Reigns, technical skill in Ambrose and resiliency in Rollins. They also have a gang mentality which has kept them above anyone or any team who has ever stood before them.
Like a deadly pack of wolves, when one goes down, one takes his place. No WWE Superstar has been able to withstand their swarming tactics and at the end of the day, they are totally dominant.
But in a situation like this when the company is so obviously "under siege," it has to respond in kind. The trio of Orton, Sheamus and Show may seem like an odd combination but perhaps this is what WWE needs to finally put an end to The Shield.
Sheamus and Orton may be on the same page, but they do not fully trust Big Show, who has had heat with both of them before. But without Cena, who usually plays by the rules and Ryback who cannot get a leg up on The Shield, Sheamus now has two partners who have no problem bending or breaking the rules to get the job done.
Big Show is not easily bested and Randy is not easily outsmarted. Sheamus is tough as nails and has come back from a beating before. They may be the perfect force to combat Ambrose, Rollins and Reigns.
This is a match that is full of possibilities and it's the end that I am very intrigued by. Will WWE take a chance on The Shield losing momentum with a loss? Or will the three NXT graduates be victorious once again, in an angle that eventually could become very monotonous if something new does not happen?
Will we still believe in The Shield after WrestleMania 29?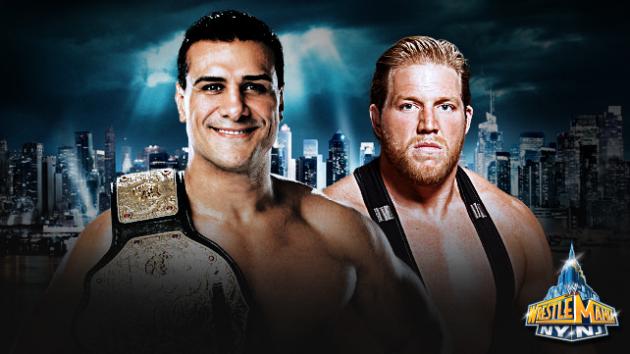 photo by wwe.com
Alberto Del Rio has been under fire for many months now in WWE. The first sign of trouble came from the fact that he could not buy a win.
His losing streak grew nearly every time he stepped through the ropes. The former WWE Champion, who was once on top, had now slid all the way down to nothing as many fans began to wonder it it was just a matter of time before he eventually left the company.
Then, he turned babyface, which ultimately brought him the World Heavyweight Championship, and a much more respectable win/loss record. But the criticism did not end, as many fans complained that he simply was not a very believable face.
Indeed, the most entertaining, most likable thing about Del Rio has been his ring announcer Ricardo Rodriguez, who fans took to almost immediately. But so far that has not always translated into a full face pop for Alberto.
But now, Alberto Del Rio has a heel in Jack Swagger that could potentially get him over the way WWE wants. Swagger's anti-immigration rhetoric is aimed directly at the World Champion and for the first time, fans have a reason to believe in, and cheer for, Del Rio.
Swagger and his mentor Zeb Colter have been the perfect foil for Del Rio, as the "Real American" gimmick is targeted straight toward a Superstar like the man formerly called the Mexican Aristocrat.
Swagger is focused on taking out his frustrations with the current state of the country on Alberto, who ironically represents in many ways the true idea of America. He is a man who received an opportunity and made the best of it. And now he is being mocked for his efforts.
This rivalry that at one time was red hot, has cooled down quite a bit but that will surely not stop both men from giving their all at WrestleMania. Though the World Title is still considered the company's secondary championship, it still has real significance and is only as relevant as the matches wrestled to earn it.
It will be interesting to see just how much chemistry Alberto Del Rio and Jack Swagger have at WrestleMania, and if that ability to put on a great match will carry over into a longer lasting feud.
Del Rio needs a good heel to increase his foothold as a babyface and Swagger needs the belt to continue upward, building on the smug, patriotic arrogance that has gotten him this far.
photo by wwe.com
Whoever said the boss wasn't willing to get his hands dirty?
For WWE Chief Operating Officer Triple H, WrestleMania 29 will be just another day at the office, as he laces up the boots to take on the former UFC Champion Brock Lesnar. The two have had heat since last year, and this match could be the last chapter in this feud.
And for The Game's WWE career, which is on the line. While the "surprise" stipulation made by Paul Heyman was not that much of a surprise to fans, the fact is that it was really the only selling point left that could draw enough interest and drama so this match could be featured at WrestleMania.
The problem here is that neither Hunter nor Brock are full-time performers in WWE anymore. They are even less than part time and though both are legends in the company, there is simply not enough meat there for fans to really sink their teeth into.
Having said that, WWE has done a pretty good job of the build-up for this match, though there has not been a lot of physical contact in the last couple of weeks. Of course, Vince McMahon does not want to give anything away for free and with all of the recent focus on the two main events, Hunter and Brock have had to make do with the time they have received so far.
But that should not stop them from turning in an action-packed match at Mania, as this one is a no holds barred bout. And putting a weapon in the hands of a weapon like Brock Lesnar could mean the difference between Triple H having his arm raised at the end and living to fight another day, or accepting that gold watch and goodbye celebration on Monday night.
The real point of interest for me, though, is the last-minute addition of Shawn Michaels, who will be in the corner of his best friend, Triple H. This poses a couple of questions for me, namely why not make this happen before?
Why wait until the last minute, to throw the Heartbreak Kid into the mix? Was it solely for the purpose of getting the WrestleMania buyrate up? Or was it perhaps for something a bit more sinister?
Shawn Michaels made no attempt to stop Triple H on this past Monday Night Raw. He made no effort at talking down The Game, to perhaps change his mind concerning this showdown with Lesnar. For Shawn, who has seemingly always had Hunter's best interests at heart in the past, this was a bit surprising.
Could we maybe see some huge twist at the end of this match at WrestleMania? Could the completely unexpected happen as Shawn gives the Sweet Chin Music to Triple H? Or will he not be a factor at all in this match?
Despite what happens, the fact is that both Brock Lesnar and Triple H know how to get it done on the main event level. They will both be at their best at WrestleMania 29 and will surely give fans a match to remember.
Business as usual.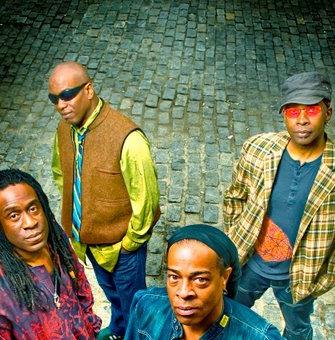 photo by livingcolour.com
That's right, folks. CM Punk is finally getting a grand entrance at WrestleMania.
According to their Twitter account and later confirmed by Punk himself, Living Colour will be performing "Cult of Personality" at WrestleMania.
We're excited to announce that we will be performing at #WRESTLEMANIA for @cmpunk and the WWE!

— Living Colour (@LivingColour) April 4, 2013
Time to let the cat out of the bag!@livingcolour will be playing me to and from the ring Sunday at #Wrestlemaina. #cultofpersonality

— CM Punk (@CMPunk) April 4, 2013
I have to say that I actually thought this would have happened at last year's WrestleMania. After all, Punk was still babyface and enjoying his run as WWE Champion. It seemed as though it would have been a great fit for him and for the fans.
But now, that Punk is undoubtedly the top heel in the company, to be played out live? An interesting time for it to happen, to say the least.
Of course, Triple H had the same courtesy, thanks to Motorhead, back when Hunter was the heel to beat in WWE. And, CM Punk is nothing if not the kind of talent to one-up the guy who came before him.
I am looking forward to this one.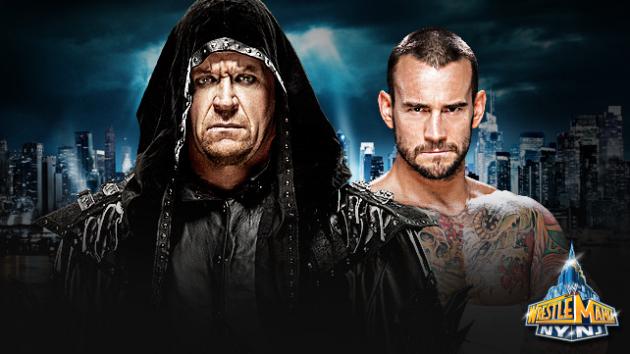 photo by wwe.com
"Why Johnny Ringo, you looked as if somebody just walked all over your grave."
Doc Holiday's words from Tombstone would have made the perfect soundbite from the segment involving CM Punk and The Undertaker on this past Monday Night Raw. For the first time that I can recall, I can honestly say that a pro wrestling angle made me cringe a little.
And it was because of the fact that Punk poured out the urn onto The Undertaker. We all know that whatever the substance was, it was meant for dramatic effect only, which was hopefully understood by all when it happened. But that did not lessen the shock value of the moment.
For me, that is what has made this particular WrestleMania match the must-see bout of the night. Punk has found a way through the weeks since the match was announced, to build anticipation for fans.
With his constant disrespect of Paul Bearer and his brazen arrogance in disregarding the Undertaker's mystique, Punk has proven himself to be absolutely fearless.
Historically speaking, for the most part, the heel will talk a good game, but eventually will back down. But this is not the case for CM Punk, who has been on the offense against Taker from day one.
For years, Undertaker has played the psychology game on his opponents. He gets into their heads with the theatrics of his character, using the pyro, the blue lights, and the fog to psych out his opponent before he even enters the ring.
Undertaker is feared, and respected, for what he is and who he is. But CM Punk? He is not impressed.
But The Deadman will likely not be up for Punk's games on April 7. He will be out for retribution, to make The Best in the World atone for his sins. Undertaker will be focused on bringing down the full wrath from the House of Bearer onto Punk, forcing a judgment day upon him.
Do we really expect Punk to break Undertaker's streak at WrestleMania? Maybe not. Is this match fully deserving of main-event status? Absolutely.
This is the aged gunfighter, the last outlaw who relies on his reputation and experience to keep him alive, having a showdown with a young gunslinger who has no respect and believes he cannot be killed.
Doc Holliday would have fit right in.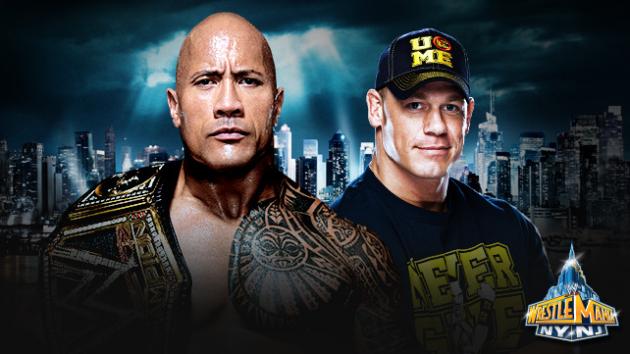 photo by wwe.com
Last match, people.
John Cena made it known on Raw that he believes The Rock did not beat him at last year's WrestleMania. He feels that had it not been for his insistence on using The People's Elbow against Rocky, he would have eventually won the match.
In other words, The Rock did not have a prayer.
The fact is, John is very used to winning. He always comes through in the big matches and it's that reputation for being the best that has made his entire WWE career. He is accustomed to being the man to beat in WWE.
But then 2012 happened and everything changed. With the exception of his match against Brock Lesnar at Extreme Rules, John's year was not a good one.
CM Punk was riding high as WWE Champion, a title that Cena could not regain and The Rock rode off into the sunset with a WrestleMania victory over him.
Add in the fact that John unsuccessfully cashed in his Money in the Bank and you suddenly have a situation in which Cena is seemingly no longer the primary focus of the company.
Of course, that is all storyline, as John has always been considered WWE's top guy. But for the sake of this rivalry with The Rock, John Cena is a man who is desperately trying to convince everyone that he is still the man.
The Rock is not a believer, however, as The People's Champ has already conquered John once already. Though he does have respect for Cena after facing him last year, the fact is Rocky is supremely confident in his ability to defeat anyone at any time.
The thoughts of potentially losing to Cena at WrestleMania 29 are nowhere near the mind of The Rock, who has nothing to prove but proves it anyway.
I have to say that of all the matches on this WrestleMania card, this is actually the one that I am the least interested in seeing. For me, the only real drama that could come from this is if Cena were to lose.
Imagining John accepting the handshake of a victorious Rock who is still the WWE Champion, only to give him an Attitude Adjustment and leave him lying in the ring, is very intriguing indeed.
But to anticipate a heel turn that may not ever come is perhaps a waste of time as the best thing to do is trust that John and The Rock will bring it on April 7. They have the world's attention and they're in the main event of WWE's biggest pay-per-view of the year. All that's left is to impress.
Here's hoping they do.